'The wok hei was amazing': What it's really like to eat Singapore food at New York's Urban Hawker
Chicken rice for US$19 and Hokkien mee for US$18? Is the price worth it? Does the food even taste authentic? We tried it out for ourselves and asked other Singaporeans and Americans.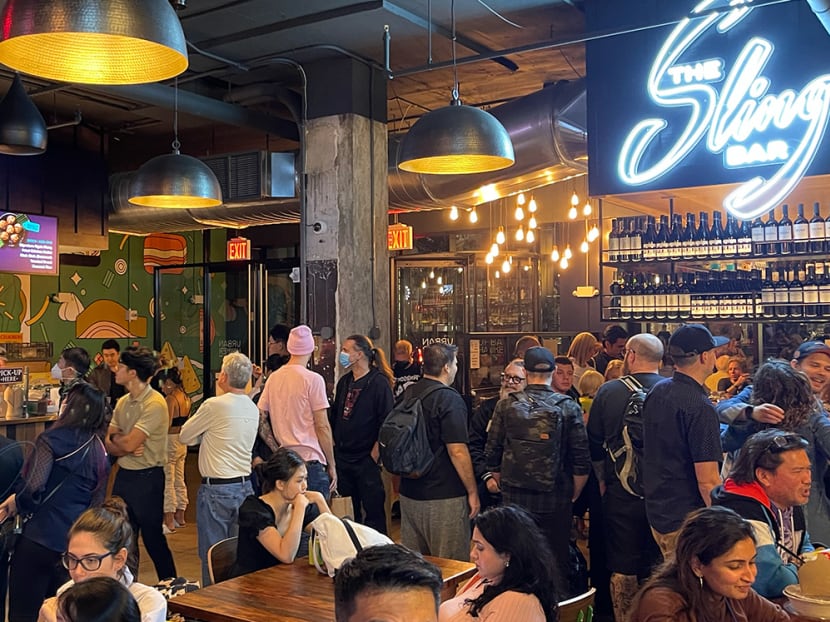 The experience of walking into Urban Hawker is surreal. The smell of food being cooked permeates the air, the entire place is packed so you must hang around tables to try and "chope" a spot, and there are tray return racks that remain empty and forlorn.
In other words, it feels almost exactly like walking into a food court in Singapore – except this place is right next to Times Square in New York, on the literal other side of the world.
For Singaporeans back at home who can go to hotspots like Amoy Street Food Centre, Old Airport Road Food Centre, or (my personal favourite) Tiong Bahru Market pretty much any day of the week, walking into a food court or hawker centre probably doesn't seem like a novel experience.
But for myself and many other Singaporeans living in New York, the nearest hawker centre is a 19-hour plane ride away – that's why walking into Urban Hawker feels incredibly special.
As numerous articles have already mentioned, Urban Hawker exists because of KF Seetoh, the founder of Makansutra, who collaborated with the late legendary Anthony Bourdain for a similar food hall at New York's Pier 57 several years ago.
Although the project eventually fell through, there were many who didn't give up hope. "It was unfortunate that the project fell through – RIP, Anthony – but I'm glad that KF Seetoh revived it! I was ecstatic about having good hawker fare near me in Manhattan," shared James Ong, a 37-year-old Singaporean tech professional working in the city.
"KOPITIAM LEVEL OF SHIOK!"
Urban Hawker's 11 Singaporean food vendors and six local New York outlets combine to offer numerous food items close to every Singaporean's heart: Chicken rice from Hainan Jones, Hokkien mee from Prawnaholic Collections, nasi biryani and roti prata from Mamak's Corner, and seafood white bee hoon from White Restaurant, just to name a few.
So how was the food, exactly?
I paid my first visit to Urban Hawker during its soft launch, as did what feels like 79 per cent of the Singaporean population of New York. The queues for food at every stall were almost ridiculously long, with the wait for a plate of Hainan Jones' chicken rice taking the longest – at least a good half an hour.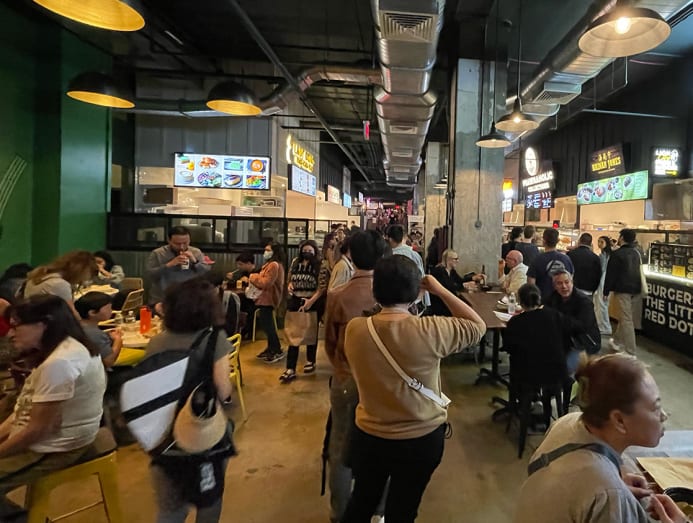 But as any Singaporean knows, good food is well worth the wait – so was it really?
Unanimously, every Singaporean I talked to raved about the food, with comments such as "the quality of food is very high! Kopitiam level of shiok!" and "it tastes like Singapore".
The standouts were, by far, Hainan Jones' chicken rice, and Prawnaholic Collections' Hokkien mee, which were mentioned by every Singaporean I approached.
Shiyan Seet, a Singaporean tech product manager, claimed Hainan Jones' as "the best chicken rice I had outside of Singapore", while Ong said he "had to hold back tears as (he) gobbled down the poached chicken".
Personally, I thought the rice was a little too wet for my liking, but both the poached and roast chicken were incredibly succulent and juicy. Paired with the dark soya sauce and chilli sauce, I might have needed some tissues for my tears.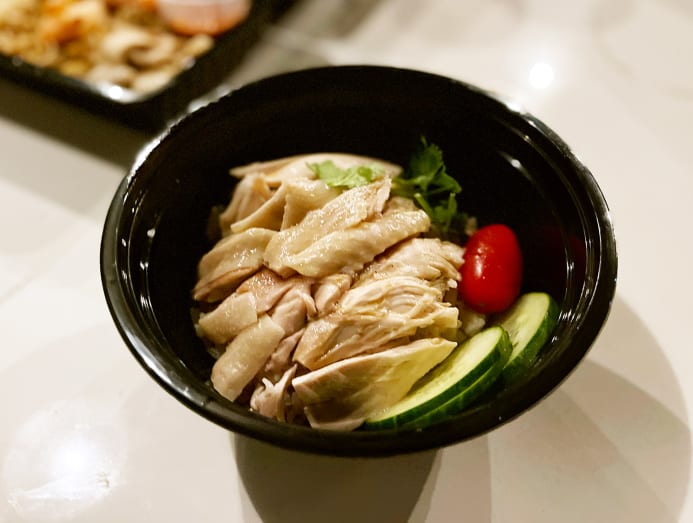 As for the Hokkien mee, well – "the 'wok hei' was amazing" was the unanimous sentiment. As every Singaporean will know, wok hei is the hardest element to achieve for any hawker, which shows just how well this dish is cooked. The deeply concentrated flavour of the stock came through with every bite, and each piece of seafood was fresh and perfectly cooked. The sambal was, in a word, shiok.
Other items at Urban Hawker also got some love. Teng Jingwei, a Singaporean working in commercial real estate said the kueh from NYC pastry shop Lady Wong (founded by two Malaysians who had also lived in Singapore) was "fantastic – honestly the best kueh in NYC, in my opinion".
Having spent many weekends in line at the original Lady Wong in the East Village neighbourhood of New York, I have to agree. Its kuih serimuka (also known as kueh salat) is honestly one of the best I've ever tasted, in or outside Singapore. Its flaky sardine puffs are also a must-grab if you happen to be around when they come out of the oven – they fly off the counters. But maybe give the curry puffs a miss – they need some work.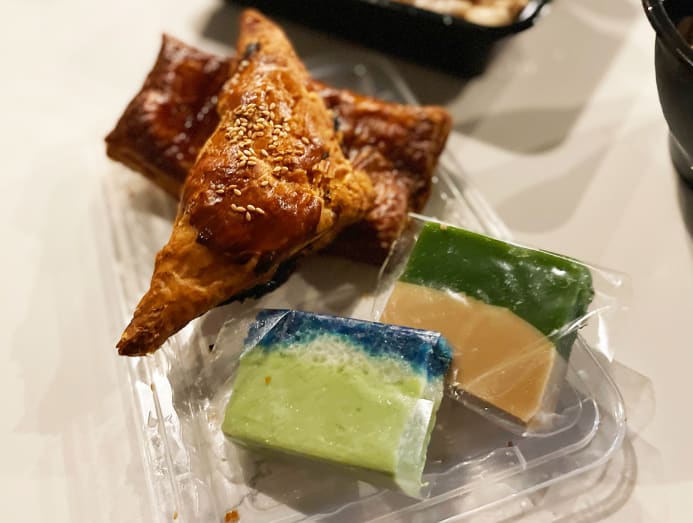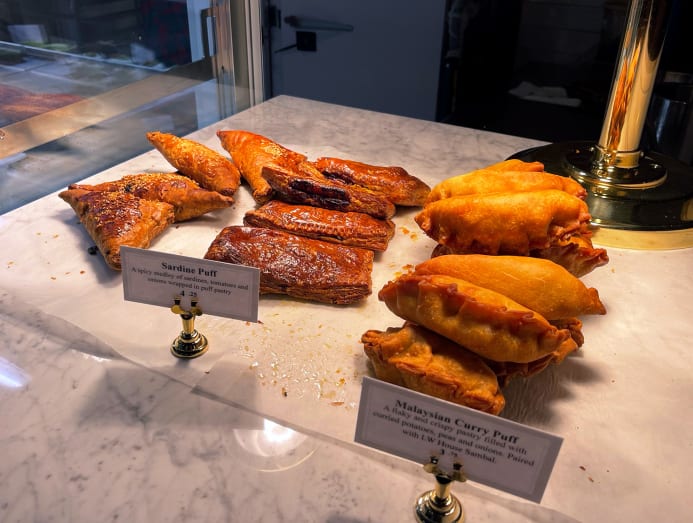 American healthcare worker Mauricio Mariscal was partial to White Restaurant's original white bee hoon, which was his top choice among the many items he shared with his dining partner. "As someone who's not very familiar with Singaporean food, I wasn't sure what to choose, but (the white bee hoon) was absolutely delicious."
He also lauded the variety of dishes available at Urban Hawker, saying that "every dish is more surprising than the last". Seet also praised the white bee hoon, saying that the portions were "generous, with American-sized prawns".
"I'LL TRY IT ONCE THE HYPE DIES DOWN"
This isn't to say that Urban Hawker doesn't have its fair share of sceptics. While visitors to the venue were full of praise, there were some who hesitated to make the trip down, such as Amanda Lim and Deborah Yan, Singaporeans who have lived for more than a decade in the US.
"We've tried many other so-called Singaporean and Malaysian food places here in the city before, but none taste really authentic. Every new place that's supposed to 'taste really similar to real Singaporean food' has been a letdown, so I haven't let myself get too excited about this," said Lim.
"Plus, US$17 for a bowl of noodles is too big of a risk in case it isn't good. Again. Maybe I'll try it once the hype and wait time dies down and if other SG friends here in NYC can vouch for it."
As they and many others have rightly pointed out, the prices of the dishes in Urban Hawker are undoubtedly much higher than they are in Singapore, with each set of chicken rice going for US$19 (S$27), and a plate of Hokkien mee going for US$18 (S$25.90).
But some consumers here are willing to pay the price.
"The price tag is eye-popping if you compare it to Singapore hawker prices, but flight tickets (to Singapore) are not cheap either," said Teng. "I'll pay up to have a perpetual supply of top-quality chicken rice, prawn mee and kueh in NYC."
Prawnaholic Collections' owner Alan Choong admitted that prices are on the higher side but cites the higher costs associated with running a location in midtown Manhattan, which plays host to some of the most expensive real estate in the city. "Plus, there is a minimum wage and maximum hours that local staff can work, while hawkers need to sacrifice about 15 hours a day just to keep the business going."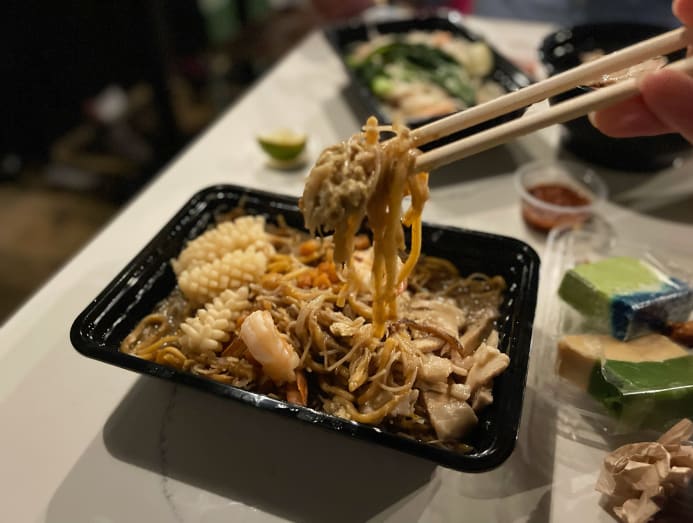 Choong came to New York alone and did all of the local hiring and training of the staff on his own. "It was really very stressful as I'm managing the business while teaching the new staff here, but it is a very memorable and meaningful experience for me as I get the chance to export our hawker culture overseas."
Irwin Pang, the project manager for White Restaurant, cited similar operational challenges, saying that each of the kitchens in the seven restaurants under White Bee Hoon's banner back in Singapore were all far larger than the small booth they had in NYC, but he was "excited to bring (consumers) authentic Singaporean food, and hopefully allow them to have a taste of home when they dine with us".
Choong added that "every hawker that came on this project really gave all their sweat and hardwork to make this possible, and we should celebrate and give our support as we are sharing our hawker culture worldwide so that our hawker culture will still have a chance to survive. Most of our hawkers are going to retire very soon, and not much new blood is coming into the hawker scene. We all put in our heart and soul to cook for everyone."
Comfort food is essential to the gustatory wellbeing of any human being. That sense of love and comfort brought by the food available from Urban Hawkers' vendors is by far the best thing about it.
More than being the latest hyped-up buzzy spot in New York or a news piece about a faraway place, it is a place that gives overseas Singaporeans a real taste of home, in a time when many haven't been able to travel back for years.
As Seet said: "Once you step inside Urban Hawker, you forget you are in NYC."
Craving for hawker food in Singapore?