Hiking (and eating) in New Zealand: Easy, beautiful trails for the entire family
How to experience the sights and tastes of the Antipodean outdoors with the family in tow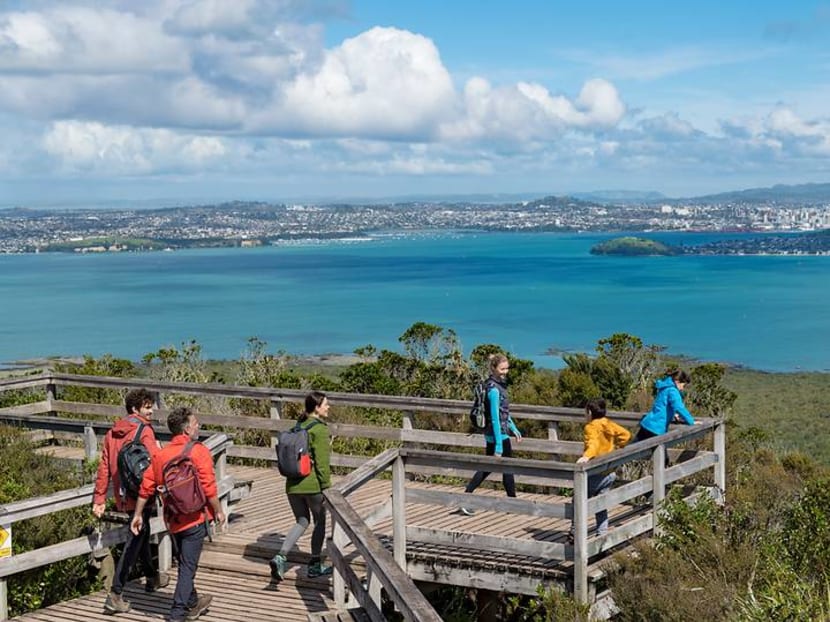 Whoever said that the best views come after the hardest climbs had obviously never been to New Zealand.
Venture out of its sleepy cities and New Zealand is a wanderer's dream, with vast national parks, lush virgin forests, beautiful beaches and glacier-carved valleys that can be easy to navigate on foot.
Tramps – that's Kiwi for "hikers" – don't need to summit a mountain or scale a glacier to be gobsmacked by a breathtaking view. One only needs to take a small step into the Antipodean outdoors to discover just how scenic this sparsely populated land is.
Of course, tramping works up an appetite, so we did what any sensible Asian would do and picked out places to eat at the end of each trek.
RANGITOTO SUMMIT, RANGITOTO ISLAND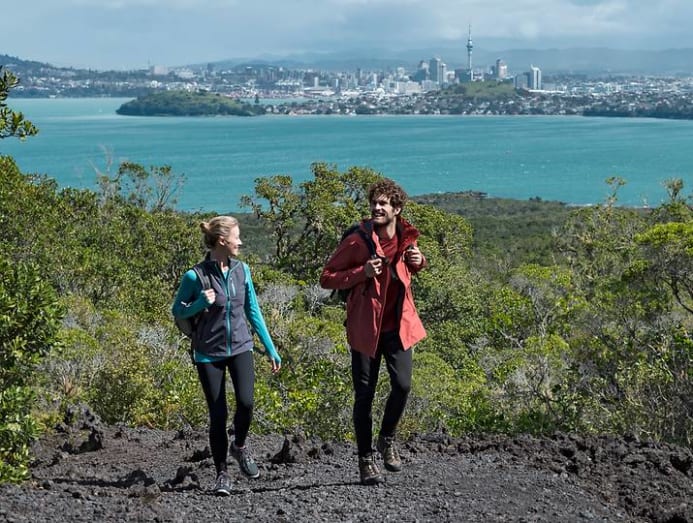 A 25-minute ferry ride from Auckland's Queen's Wharf will take you to Rangitoto Island, where the youngest and largest of Auckland's volcanoes sits. The 7km walking track takes visitors on well-formed paths through lava fields before the summit presents spectacular views of Auckland and the surrounding Hauraki Gulf islands.
Take a torchlight if you fancy a venture into the fascinating lava caves on the walk back. There are a few rugged paths and steep inclines on this walk, so bring sturdy shoes and drinking water.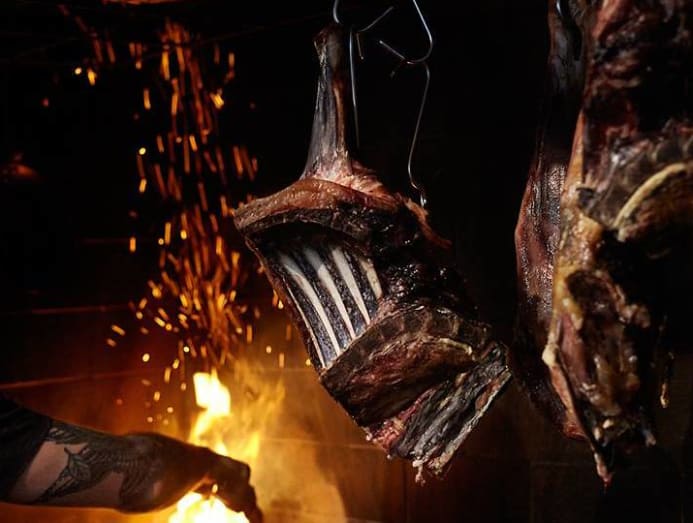 POST-TRAMP FUEL: Time your trek so that you return to Auckland in time for a 6pm seating at Pasture, the city's most progressive restaurant. This 20-seat establishment run by husband-and-wife team Ed and Laura Verner practices its own butchery, fermentation and preservation, and uses only locally sourced produce cooked over wood-fire.
Expect to spend about three hours by the open kitchen noshing on the likes of crayfish served with fermented white asparagus and marigold leaves, and rye-wheat sourdough with tangy cultured butter.
MAORIFOOD TRAIL, ROTORUA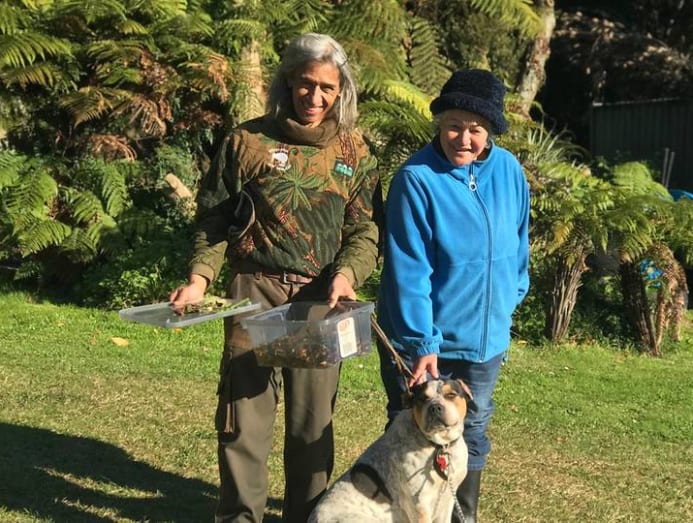 This isn't the most scenic of walks, but for foodies, it offers something far more interesting: A foraging experience in the Maori bush.
Chef Charles Pipi Tukukino Royal and his wife Tanya take guests on a bushwalk behind their house in Rotorua, showing them the bounty of the land. With experienced eyes, they spot baskets worth of mushrooms growing on tree trunks, spiral ferns hanging from spindly boughs and native herbs peeking from the ground.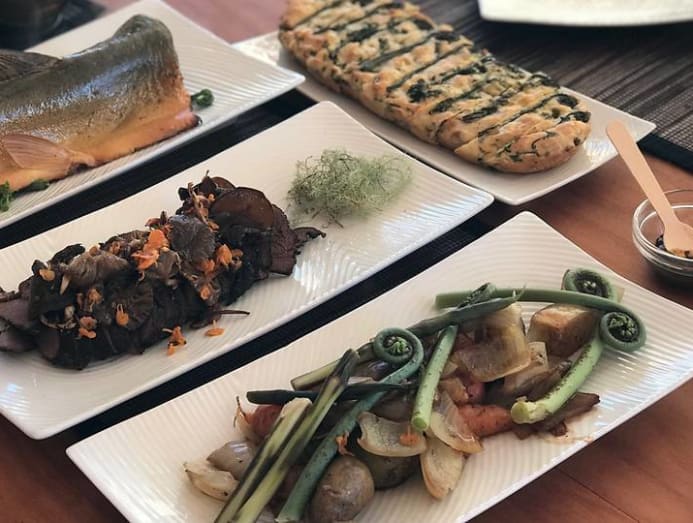 POST-TRAMP FUEL: After the approximately 45-minute walk, the couple takes guests back to their home, where Charles cooks up a delicious meal with the foraged produce and the likes of trout or duck from a nearby lake.
THE CRATER RIM, CHRISTCHURCH
The Crater Rim walkway circles Christchurch, which means trekkers get a bird's eye view of the city and the neighbouring port town of Lyttleton. Easily accessible from Christchurch by bus or car (look for the Summit Road carpark), the walkway features several trails with gentle climbs and superlative views in every direction.
Though its eroded crater rim is popular with mountain bikers, walkers and paragliders, you're likely to meet more sheep than people on these hills formed 12 million years ago by a massive volcano.
POST-TRAMP FUEL: Drive across town to Fush, a hip and proudly Maori family-owned fish and chips restaurant unlike any other in the city. The name is a playful nod to how Kiwis tend to pronounce "fish" and the menu features line-caught local fish encased in a thick, crisp batter.
There are other delicious offerings like a smoked fish pie and cheeseburgers, making it a great destination if you're dining with grumpy kids struggling with post-walk "hanger".
KAIKOURA PENINSULA WALKWAY, KAIKOURA
Small town Kaikoura is a three-hour drive out of Christchurch with some breathtaking ocean views. Visitors flock here in the summer to spot the bay's resident whales, swim with dolphins and walk among the seals at Point Kean.
The Peninsula Walkway is best accessed from the Point Kean carpark, where chubby seals amble across the rocky shore and bask along wooden decks impervious to photo-hungry humans (which does not mean you should try to get too close to, engage or touch them).
From here, visitors can choose walks as short as 25 minutes or as long as two hours. Do note, however, that none of the tracks loop back to the car park, so be prepared to walk back the way you came. All across the trail, the magnificent view stretches across the ocean and to the mountains beyond, past farmland and a charming lighthouse.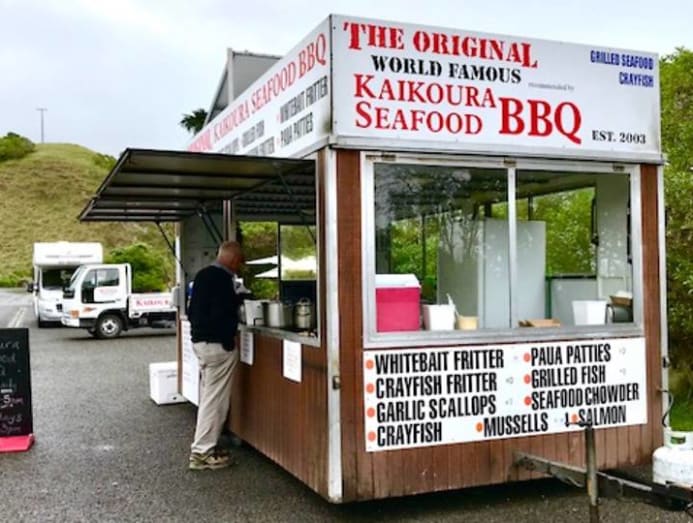 POST-TRAMP FUEL: Stop at The Original Kaikoura Seafood BBQ roadside stall, located just past the carpark on the way back to into town. The owners cook locally caught seafood on the barbecue or strew them into omelettes, which locals call "fritters".
FYFFE-PALMER TRACK, KAIKOURA
A 10-minute drive from Kaikoura Township, the Fyffe-Palmer Track's views will take your breath away. This looped track, which can be completed in less than two hours, takes hikers through pastoral farmland and into the regenerating forest of Fyffe-Palmer Scenic Reserve.
It's hard to take your eyes off Mount Fyffe in the distance, so it's a good thing there's a picnic area along the track to stop at and absorb all that beauty as you nibble on something delicious. You'll walk through riverbeds and slopes, so good shoes are integral.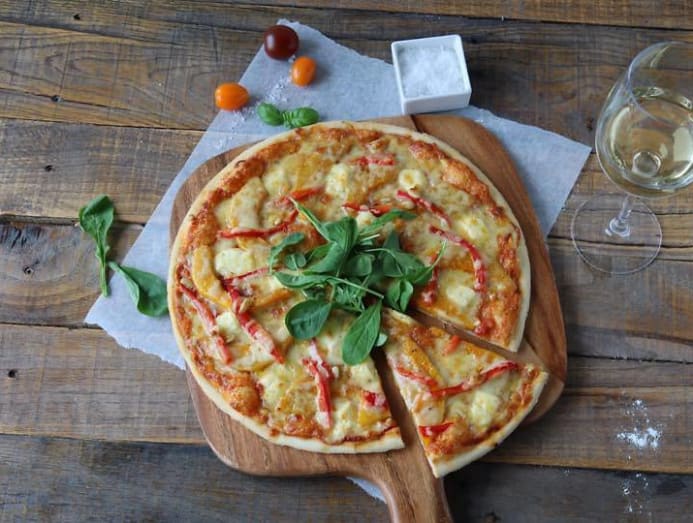 POST-TRAMP FUEL: Back in Kaikoura, check out Black Rabbit Pizza. The crisp, sturdy crusts come generously topped with deftly flavoured locally caught produce and wild game.
Try the pie with rabbit loin, caramelised onions, spinach, cream cheese and cranberry sauce drizzle. This wood-lined restaurant also serves a list of New Zealand craft beers and wine.