Heaven on earth: Spoiled blissful on a private island in the Maldives
Blinding white sand, Tiffany-blue water, and a sky the colour of crushed sapphires – welcome to the apex of laidback hedonism.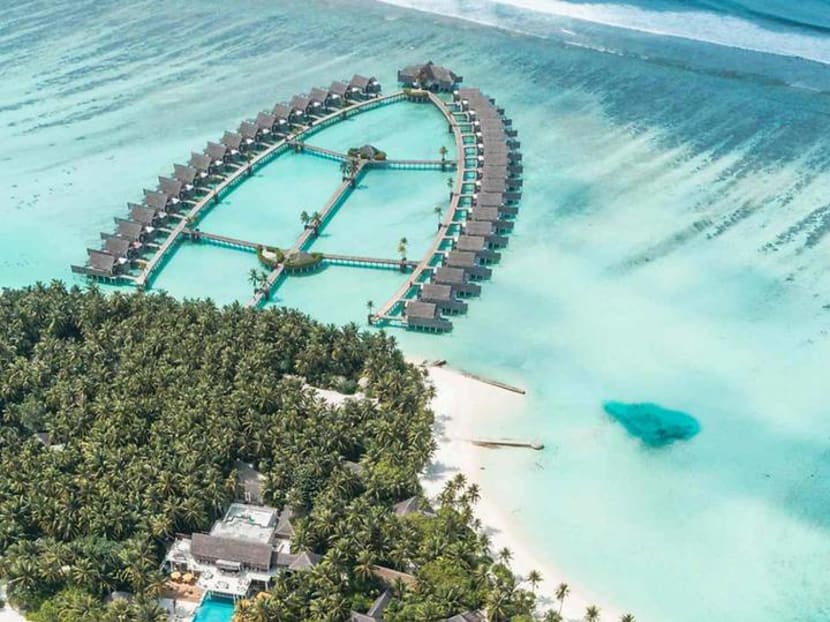 Travel writers have a habit of overusing "paradise" whenever they're describing an island getaway, but when it comes to the Maldives, any other word feels a little inadequate. And even more so when it comes to Niyama Private Islands.
Here, on a sun-kissed atoll about a 45-minute sea-plane ride from the capital Male, is a resort that effortlessly blends laid-back hedonism with the sheer thrill that comes from knowing that there really is no other place in the world you'd rather be right now, than right here.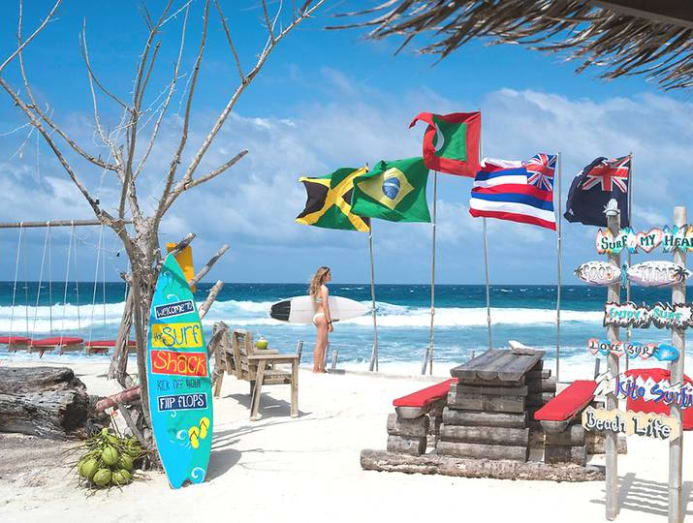 From the moment your feet touch down on the timber deck of the long arrival pier and your bags are whisked away by the villa butlers, the resort is on a mission to ensure you are completely cossetted, entertained, and generally adored.
FEEDING THE SOUL… AND THE STOMACH
The 134 over-water and beach villas, each capped with a grass-thatched roof, are strung out along the length of the main island – an elongated silhouette of thick emerald landscaping lined with towering palm trees and native foliage that cast beautifully dappled shadows on the white sandy paths.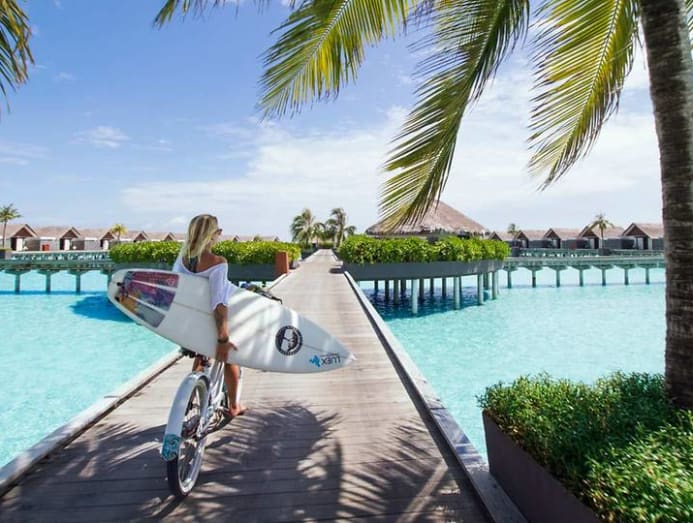 There are, count them, 10 themed restaurants and bars which, given the relative cosiness of the resort, might seem a little excessive, but roll with it, we say. Especially since it's clear that considerable thought has been given to each spot to create a distinctive atmosphere and cuisine.
Tribal, for instance, features the ululating drum beats and cuisine of the African continent, whilst Nest is literally a tree-top fantasy set high above the forest floor, and scented with the aromas of Thai, teppanyaki, Indonesian and Chinese dishes.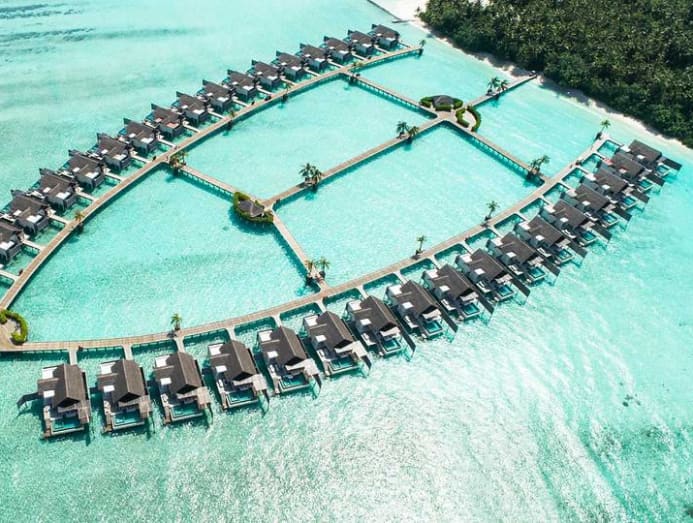 But for a truly escapist meal, Subsix, reached by a two-minute boat ride, is an underwater seafood restaurant whose floor-to-ceiling glass window peeks a little unnervingly into the deep blue sea.
The spa, meanwhile, is an impressive pleasure dome, its high-ceilinged reception pavilion giving absolutely no hint of the complex of imaginatively landscaped Balinese-esque garden courtyards and treatment villas just beyond.
SO THIS IS WHAT PARADISE SOUNDS LIKE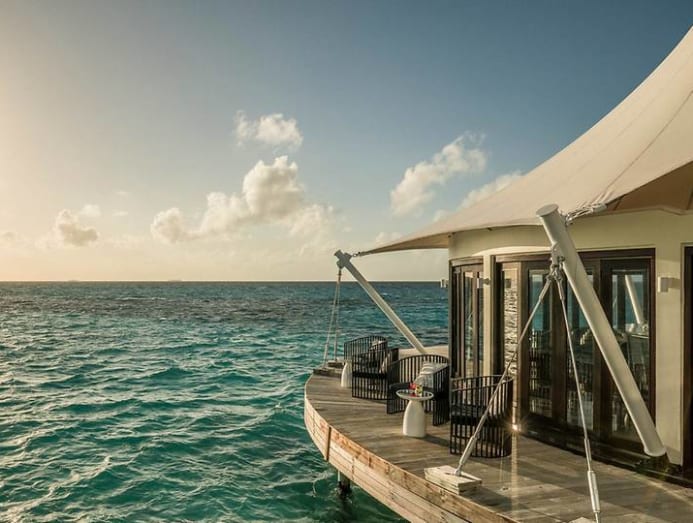 As impressive as these stats are, the star attraction at Niyama is that Maldivian trifecta of blinding white sand, Tiffany-blue water, and a domed sky the colour of crushed sapphires.
Not surprisingly, the resort takes full advantage of this natural bounty by making a big deal of its aquatic expeditions. And the reality lives up to the hype. For there is really no moment more magical that taking a morning boat ride out beyond the atoll and encountering a splashing pod of grey spinner dolphins.
Accustomed to humans and exhibitionists to their core, they speed alongside the boat, darting in and out of the currents, rising every so often to spurt water out their blow-holes, and leaping away in elegant curls.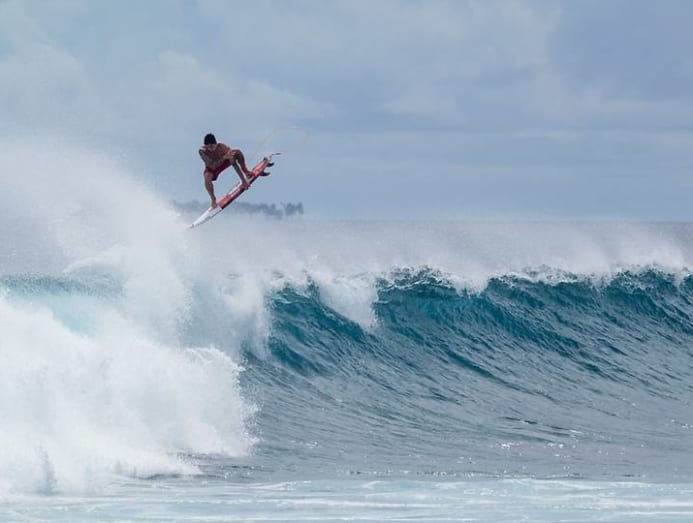 Want more? There's a huge above-ground tank for diving lessons. Beginners surfing classes are also available, whilst adrenaline junkies are spoilt for choice with mono-skiing, parasailing, knee-boarding and jet-skiing. Landlubbers get to kick-box or work their core with mat Pilates at the yoga pavilion.
More sedentary types might retreat to their villa for popcorn (every room comes with a machine) and a nap, waking up just in time for sunset cocktails at the Surf Shack (it's literally that) with a view of the Indian Ocean, a dinner of Maldivian lobster and champagne at Subsix, and ending the night with a movie under the stars.
Peering up at a velvet-black sky dense with a thick dusting of ancient stars, you listen hard and hear only the unending night of paradise.
If it's not already clear, the Niyama goes out of its way to make sure there's never a dull moment during your stay, which is difficult to imagine ever happening even if you're booked for a week-long vacay. Of course, there's absolutely no pressure to do anything once the check-in process is done and the butler has backed out of the villa, his face wreathed in a gentle smile and imploring you to contact him if there's anything you need.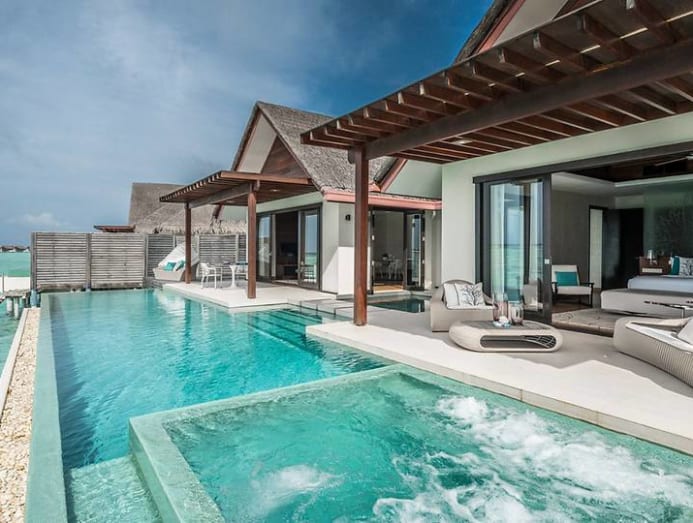 Curl up on the deck of your over-water villa with the latest Kevin Kwan page-turner and order room-service, by all means. If you want to hop onto the bicycle (conveniently parked outside every room), and head out to a deserted patch of beach for a session of sun-worshipping, you can do that too. 
But it's the nights that mark the Niyama in the memory. As you stand outside your villa, freshly turned down while you were at dinner, your skin, warmed by the day's sun, tingles with the sea-wet air. Softly, gently, the sea laps a whispery adagio against the dark shore.
Peering up at a velvet-black sky dense with a thick dusting of ancient stars, you listen hard and hear only the unending night of paradise.
For more information, visit www.niyama.com