Off the beaten path in Rajasthan: Live like a royal in India's most sensorial state
Relive a bygone era of old-school romance by staying in a fort or palatial mansion. It's like being invited to Downton Abbey for real.
Globetrotters and insiders have long sung the praises of Rajasthan, that vast swathe of rocky desert and dry scrub-cloaked hills in northwest India – for even though its border lies just a few hours drive from New Delhi, it might as well be another world altogether.
Here the land is truly ancient, its flat plains cut through by the Aravalli hills and touched by the sand dunes of the Thar Desert. 6,000 years ago, the Indus Valley civilisation took root here, whilst some of the finest elements of Indian religion, literature, arts and music were incubated and nurtured.
Everywhere you turn today, there are reminders of this heritage – intricately painted images of princesses on neighbourhood doorways, weathered silversmiths who weld elaborate bangles and crimson robed sadhus who wait outside temples, staring enigmatically up at the sun.
With each passing mile on long roads interrupted only by meandering goats and one-humped cows guided by shepherds sporting rainbow-hued turbans, the landscape, so wildly ethereal in its desert khaki hues, unfolds with sprawling palaces and abandoned forts; Hindu and Jain shrines; nature reserves and lakes extravagantly festooned with wildlife and birds.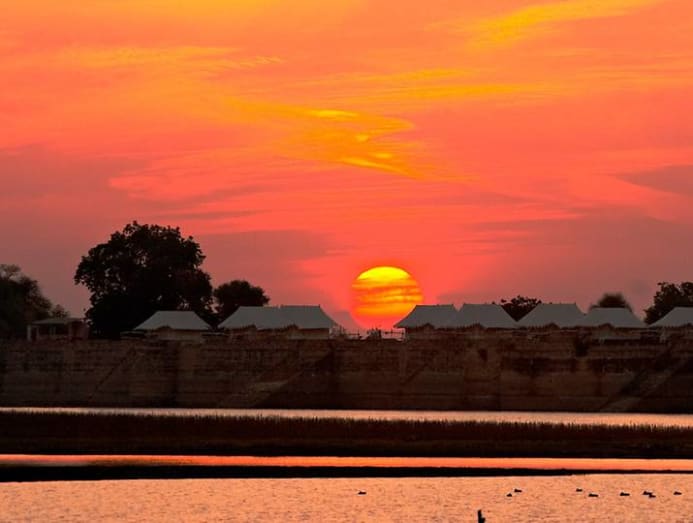 The very names of the cities here – Jaisalmer, Udaipur and Jaipur – ring with a royal antiquity that stretches back two millennia to the Rajput clans and latterly to the Mughals.
More than any other place in India, there is a real danger of sensory overload. You could spend years wandering Rajasthan and still scratch only the surface. Which, for time-pressed travellers, means the only sensible option is to be strategic about how you spend that time. Here are some tips.
WHEN SHOULD WE GO?
In summer, around May and June, especially, the temperatures can hit 45-50 degrees. The winter months are perfect, when the evenings are cool and the days warm.
HOW LONG SHOULD WE STAY?
At least a week. An ideal length is two weeks. That way, you're not rushed.
WHAT SHOULD WE SEE?
Avoid the temptation to see everything. Everyone will tell you that, at the very least, you need to visit Jodphur, Udaipur, Jaipur and Jaisalmer. True, but then every other tourist in Rajasthan also got that memo, which means there'll be a fair amount of tourists jostling for the same sights. A nice compromise is to stay outside the major cities – perhaps about an hour's drive away – in an old royal residence (coming up below), enjoy the cleaner air and quiet and make day trips into the heaving tourist hubs.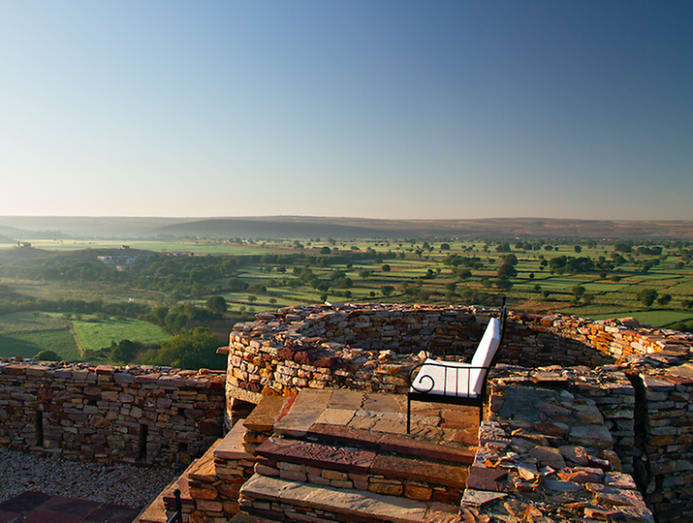 HOW WILL WE GET AROUND?
Group tours are rare as most travellers to Rajasthan will hire a car and an English-speaking local driver who will stay with them the entire time. The hotels you stay at will usually house and feed the driver at no extra cost. A knowledgeable boutique travel specialist like MAhout (www.mahoutuk.com) can arrange this, recommend hotels, provide incredibly helpful travel tips and create a detailed itinerary.
WHERE SHOULD WE STAY?
At least 21 kingdoms – some dating back two millennia – claim Rajasthan as their ancestral home. Which explains why the state is so crowded with old forts and palaces. The nobility, along with the rest of their crowned relations in India, all lost their titles in 1947 and their state funds in 1971. So, what many formerly royal families have done is to convert their ancestral homes into wonderfully atmospheric hotels where, today, they still live and entertain paying guests.
It's like being invited to Downton Abbey for the weekend – for real.
RAMATHRA FORT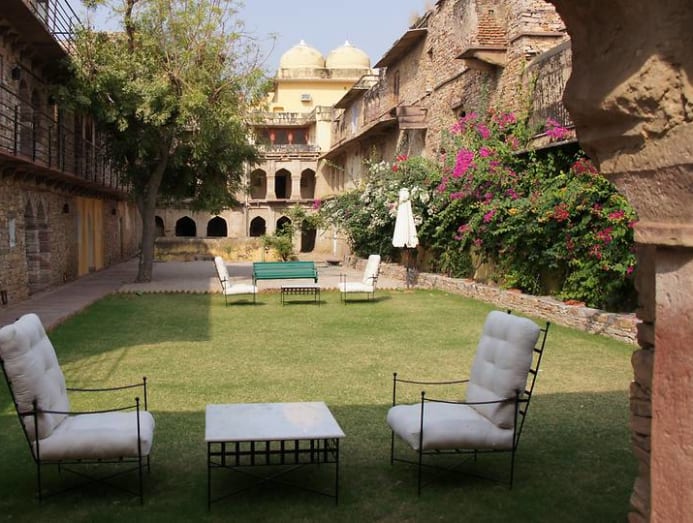 Sitting high on a hilltop overlooking Kalisil Lake, Ramathra – a 17th-century fort belonging to a line of Thakurs (Indian feudal lords) who claim their ancestry from Lord Krishna himself – has been wonderfully restored.
Though there are en-suite tents on the far edge of the battlements where the battle elephants were once stabled, the best rooms are on the second floor overlooking a horizon of scrubbed flatlands straight out of a Paul Scott novel. A sunset boat ride is de rigueur, whilst the food, cooked by the personal chef of the current Thakur, is outstanding.
Rates from IDR16,000. www.ramathrafort.com
SHAHPURA BAGH
"Serene" and "idyllic" just about sum up the 150-year-old former summer residence of the rulers of Shahpura. The vibe is colonial-Raj, complete with fields of mustard lined with bodhi and almond trees, alongside an extraordinary collection of birds in the nearby lake and marsh on the edge of the old town.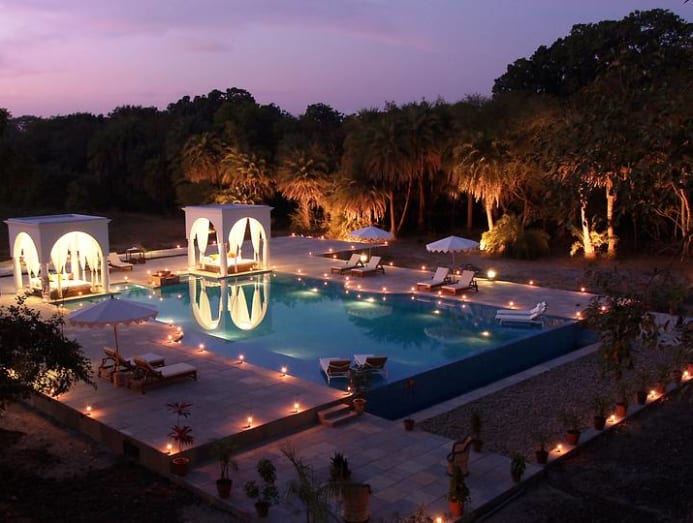 Meals are served in a garden courtyard in the shade of mango trees, serenaded by cicadas and BB King on the playlist – an absolutely extraordinary accompaniment to the tandoor-fresh naans, spinach and yellow split peas, and boondi dumpling curries.
Rates from IDR24,500. www.shahpurabagh.com
CHHATRA SAGAR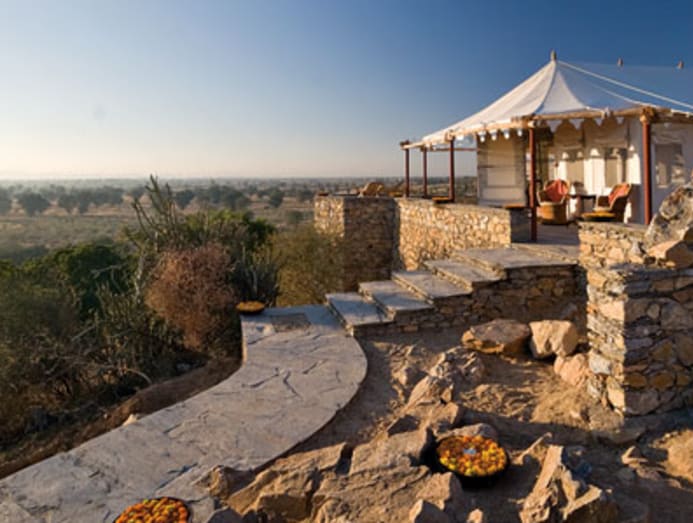 In 1890, the Thakur of Nimaj dammed a stream flowing through his estate to collect the monsoon rains. The resulting lake is, today, the spectacular setting for 11 perfectly conceived white canvas tents that stretch along the length of the stone barrage.
Wild boars, antelopes, leopards and hares still roam the marshlands, whilst afternoon bird-watching tours led by the charming and erudite descendants of that distant Thakur are the perfect precursor to sunset drinks and blazing campfires. For wraparound views of the lake and countryside, ask for one of the two tents that sit on a small hill.
Rates from IDR45,000. www.chhatrarsagar.com
DEV SHREE DEOGARH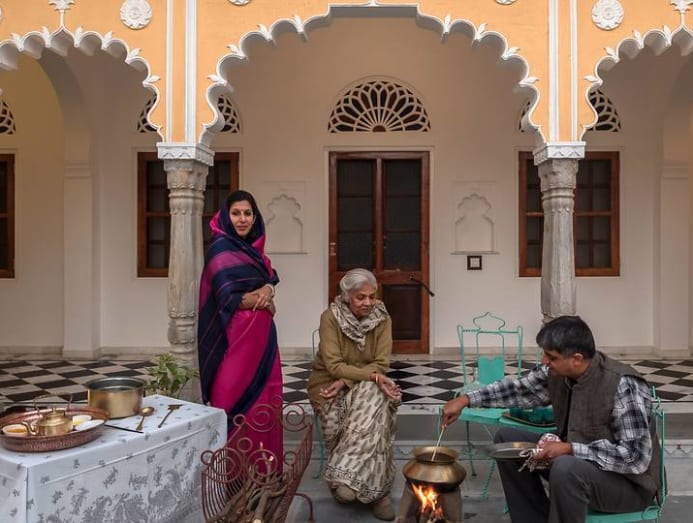 In 2010, on a sprawling lakeside property that, along with 210 neighbouring villages, has been either been owned by, or connected to, his royal family since 1670, Shatrunjai Singh built this handsome white mansion of marble inspired by Hindu and Mughal architecture, shaded lanais and gardens. Encircling an open courtyard are seven enormous bedrooms.
Overlooking Ragho Sagar lake with its thick collection of water birds and grazing cows, there is very little reason to stir from the palm-shaded poolside loungers, except perhaps for a massage, or an exquisite lunch of vegetable pulao and pappadam curries.
IDR23,000. www.devshreedeogarh.com