A homestay in rustic Okinawa unlocks the secrets to serenity and long, happy life
CNA Lifestyle went on a homestay in Igimi, where one third of the residents are 65 years and above, to discover the meaning of "yuima-ru", the interconnected-ness of humans.
Google "homestay in Okinawa" and you're likely to call up "Ogimi" or "Igimi" in the local parlance. It is the name of a special village in Yanbaru, in the forested northern part of Okinawa. And it is as far removed from the neon-coloured streets of Tokyo, or the okonomiyaki-filled alleys of Osaka, as you can get.
On the morning of my two-day-one-night Igimi homestay, I woke up to the soothing waves of the sea and the sounds of home, altogether creating a familiar and comforting soundtrack.
There was the soft clinking of dishes being washed, a few barks from the family dog Pinto, and a whiff of home cooking, the kind you only get when your grandmother is in the kitchen.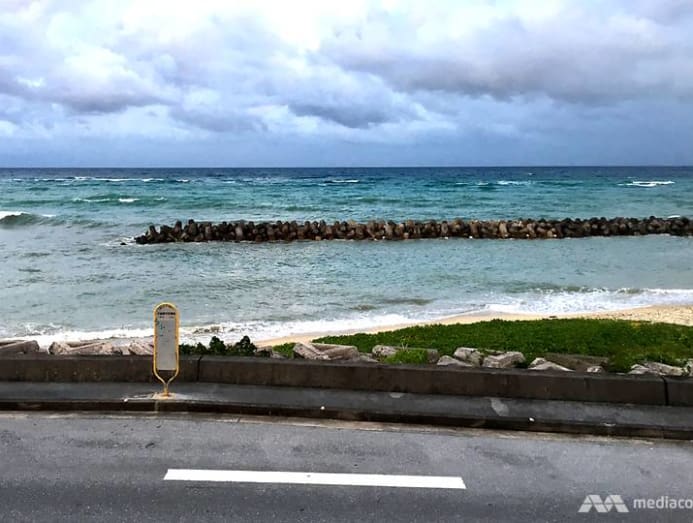 It felt like one of my childhood visits to my grandparents'. And like my ah ma, hosts Morio Taira and his wife Etsuko kept the food coming the moment my fellow house guests and I set foot in the house: Sata andagi (Okinawan-style doughnut balls, if you will), homegrown bananas, and home-preserved umeboshi.  
The day before, we were introduced to the Tairas at a meet-your-host-parents ceremony at Bunagaya Hall. Yes, the hosts will take care of you like their children, and like their children, you should help them out around the house whenever you can. Countryside living can be arduous and more hands make light work.
Around 28 families in Yanbaru have opened up their homes to guests, and depending on who you stay with, you learn about a different aspect of life here. The Igeis, for instance, grow organic tomatoes. The Miyagis are passionate about camellias, while the Nakaimas make charcoal from the shikuwasa trees they grow, to name a few.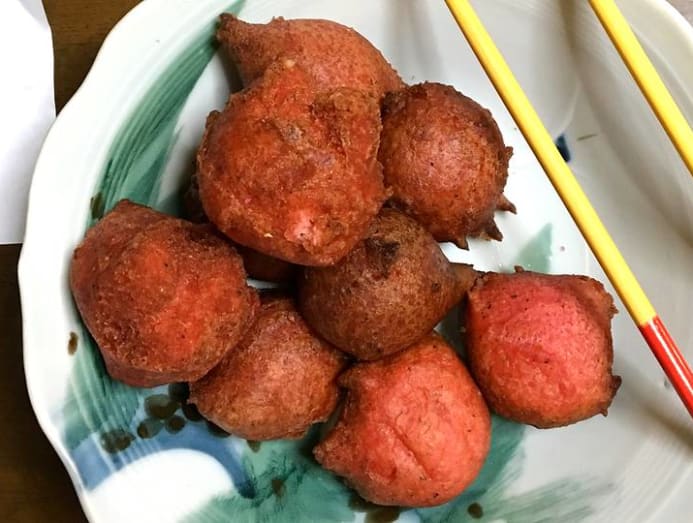 The Tairas' two-storey Shinnabama House sits on a slight bend on Route 58, a key road that connects Igimi to the next prefecture, Kagoshima. It has been hosting Japanese students since the homestay programmes started in 2010, but we were their first overseas guests.
This is what the Okinawans call yuima-ru, the interconnected-ness of humans. Think of it as a line of dominoes: If one falls, every one is affected. 

Morio, white-haired and ruddy-cheeked, is 83 years old and retired. But in these parts, that doesn't mean you sit around doing nothing – even after you have provided for four children, and looked after 10 grandchildren and six great-grandchildren, all while working as a technician for Voice Of America (a US-funded radio station) for 20 years, and another 20 years with information and communications technology company NTT.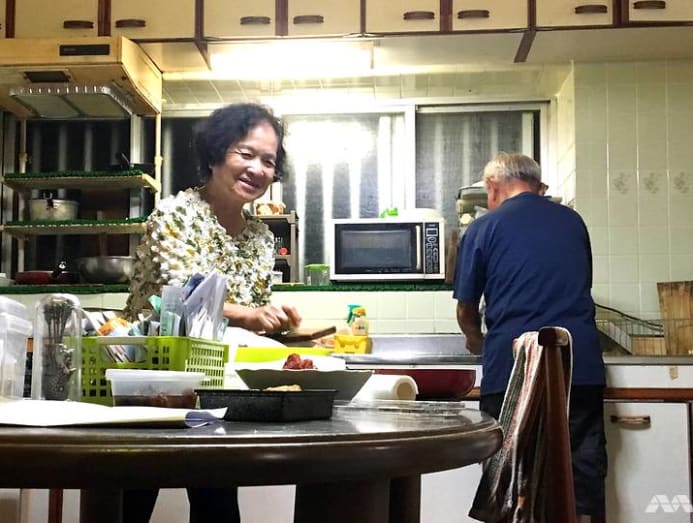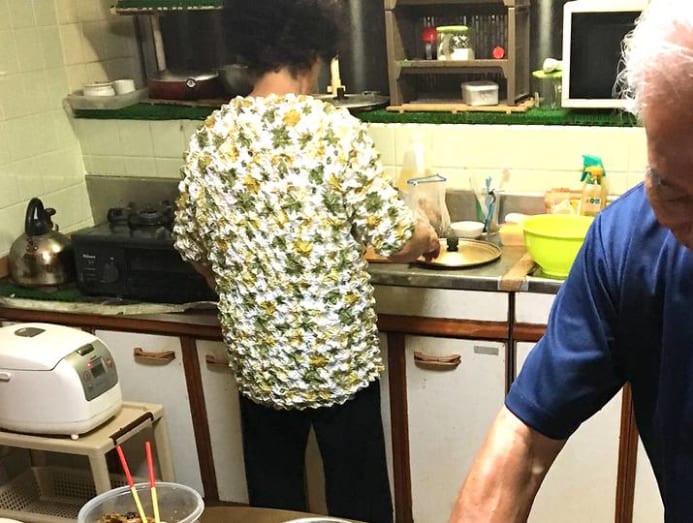 These days, Morio occupies his time by seeing to matters required of him as chairman of the Association Of The Elderly; tending to his banana and dragonfruit farm; devoting Tuedays and Fridays to chess; and indulging in fishing.
Soft-spoken Etsuko, 74, is the sweet, cotton candy-haired oba (village grandmother) who beams at you with crinkled eyes each time you accept food from her. And because all of us wanted to see her smile, I think we each gained a few kilos just from that stay alone.
WE'VE GOT YOUR BACK
While tucking into slices of beef at dinner, we broached the meaty subject of what makes Igimi so special. It is home to just 3,200 people but 34 per cent of Okinawans aged 65 and above live here. 
And there are enough seniors in Yanbaru, who have lived to age 97, to warrant celebrating these special birthdays every year on Sep 7 in a celebration called Kajimaya Day.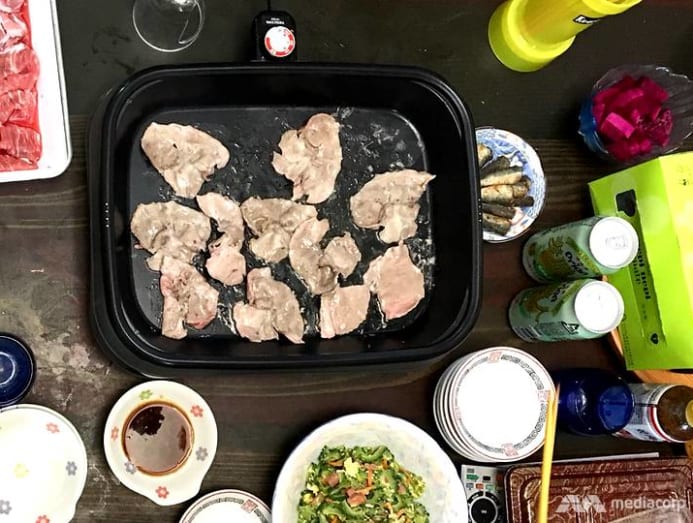 "It's an easy place to live in," Morio said through our translator. 
More importantly, it is about knowing that no matter what happens, you know the community has your back, he said. This is what the Okinawans call yuima-ru, the interconnected-ness of humans. Think of it as a line of dominoes: If one falls, every one is affected.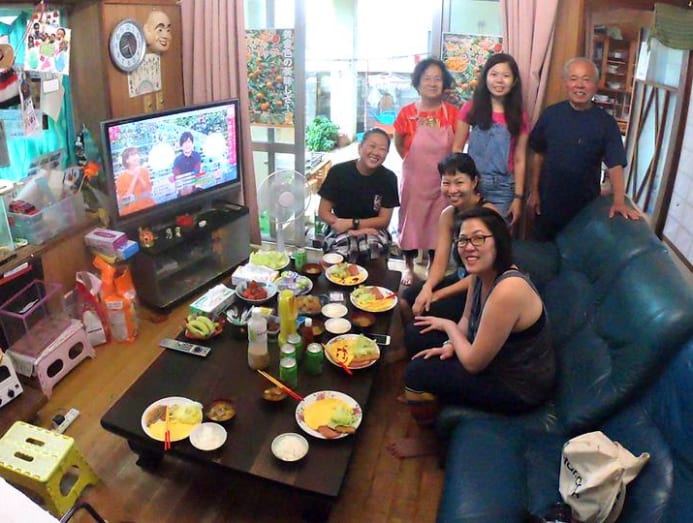 And because of this connection, everybody has a part to play, which leads to another Okinawan philosophy called ikigai: What gets you out of bed every morning? What inspires you to do better, do more? For the Tairas, their ikigai is running Shinnabama House. "If you don't do anything, you'll feel old," said Morio.
I chewed thoughtfully on my dinner, trying to digest the life lessons dished out by Morio as he cooked up more beef. It soon emerged that my ikigai on this homestay was to eat as much as I could.
SIMPLE JOYS
No thanks to Typhoon Trami's approach, many activities offered in the Igimi Homestay Experience Programs were disrupted, including canoeing on Bunagaya Lake; snorkelling, scuba diving or sea kayaking in the Churaumi Sea; or even trying our hand at farming.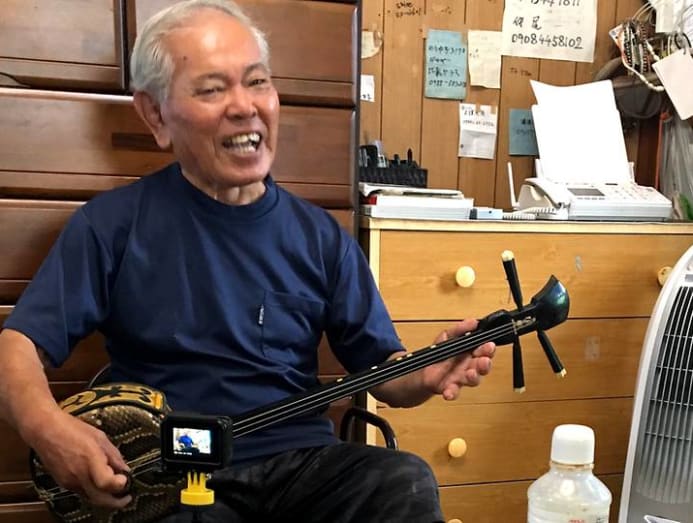 But life doesn't stop just because the weather is bad. You turn your attention to things you might not have noticed if you hadn't slowed your pace. The simple breakfast of deep-fried fish prepared from Morio's catch, stewed daikon, omelette, miso soup and rice that Etsuko had set in front of us that morning was full of that truism. I'm quite sure I will never taste miso soup and rice that glorious again.
I felt like I'd gone through the wash and rinse cycle, and emerged cleansed of my city weariness.

After entertaining us with some traditional tunes on his sanshin, a three-stringed instrument, Morio decided he would show us Yanbaru, rain or no rain. First stop, his beloved farm, from whence the welcome bananas and dragonfruit (crikey, they are the fruit of a cactus!) had come.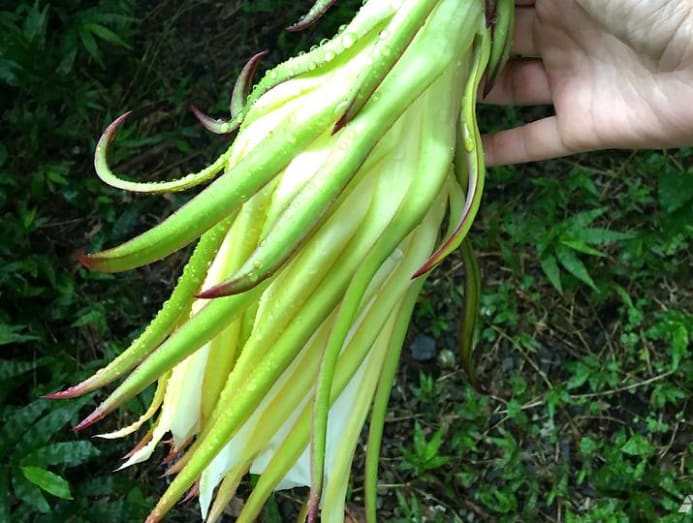 He drove us in the family MPV up the slopes to the lookout point Ishiyama Observatory (mind you, this 83 year old is a better driver than those half his age back home), where ordinarily, we would have seen the magnificence of the East China Sea and Pacific Ocean all at once – if it weren't for that impending typhoon greying the horizon.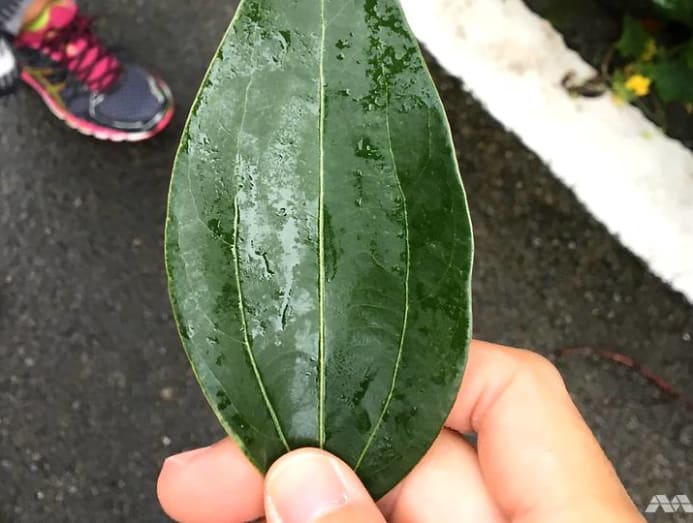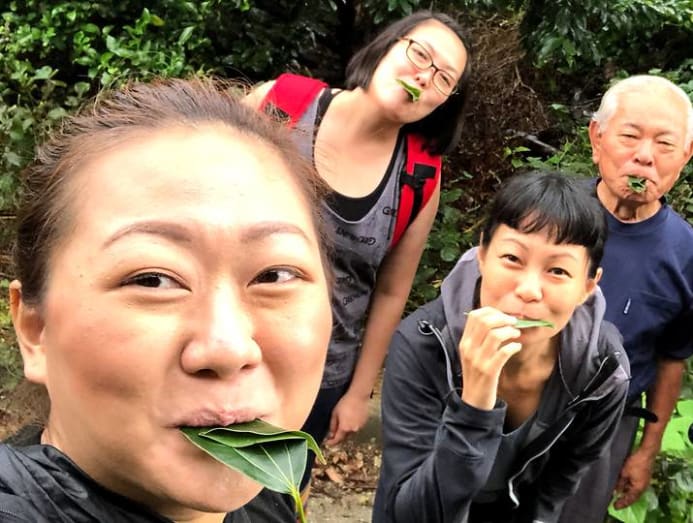 Morio's eyes lit up with boyhood memories when he spotted a tree and promptly pulled off a few leaves. "Try," he said, putting one into his mouth. I chewed on a leaf as suggested. Interestingly, a discernible taste of cinnamon spread through my mouth. 
CHASING WATERFALLS
After a potluck lunch and then bidding our host parents goodbye in a closing ceremony, we headed for Ta-taki Falls. Wearing neoprene booties, we waded into the cool, flowing, ankle-deep water. Above our heads, birds chirped and iridescent dragonflies hovered from cycad to cycad, an ancient species of plants that existed when dinosaurs walked the earth.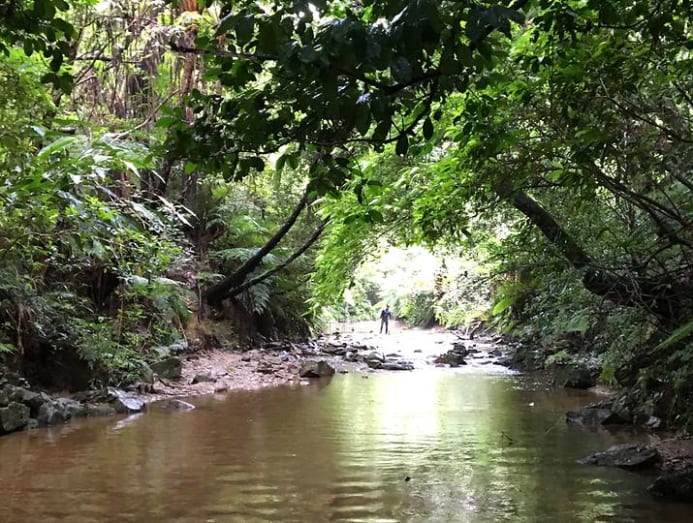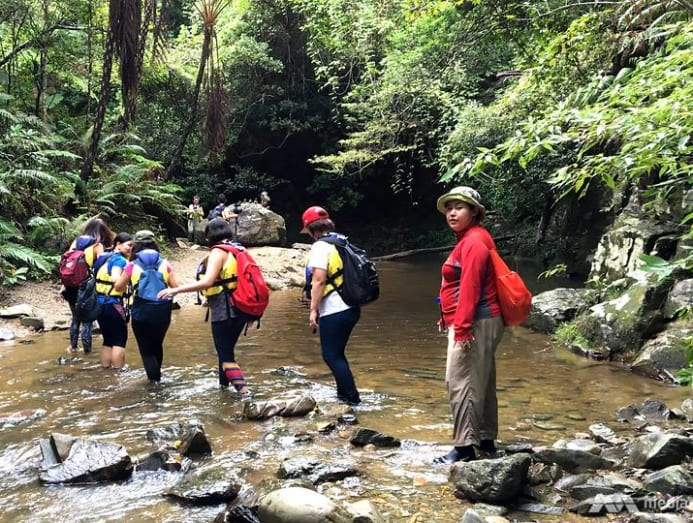 We climbed up boulders, crossed river-polished stones, sank into waist-deep water and balanced on fallen tree trunks. I don't know about my companions but the 2.4km trek felt energising, like I'd gone through the wash and rinse cycle, and emerged cleansed of my city weariness.
I thought of the Okinawan saying, nankurunaisa: Everything is going to be all right. 

Ta-taki Falls is no Angels Falls. It is not even as high as the 35m manmade waterfall in the Cloud Forest at Gardens By The Bay. But there was something about reaching these twin falls that resemble a pair of chopsticks. Despite the loud pelting of falling water against the surface of the river and a swing from which the more adventurous among us took turns to jump into the deeper end of the river, there was a serenity here.
As I watched a man build a stack of rocks like a zen monk in pursuit of balance, I thought of the Okinawan saying, nankurunaisa: Everything is going to be all right. 
Yes, even with the typhoon approaching.
EAT TO LIVE
The Okinawans believe that healthy eating contributes to living longer. Vegetables are a big part of their diet and at Emi No Mise, a rustic farm-to-table cafe run by 70-year-old owner, cook and dietitian Emiko Kinjo, they don't get any fresher.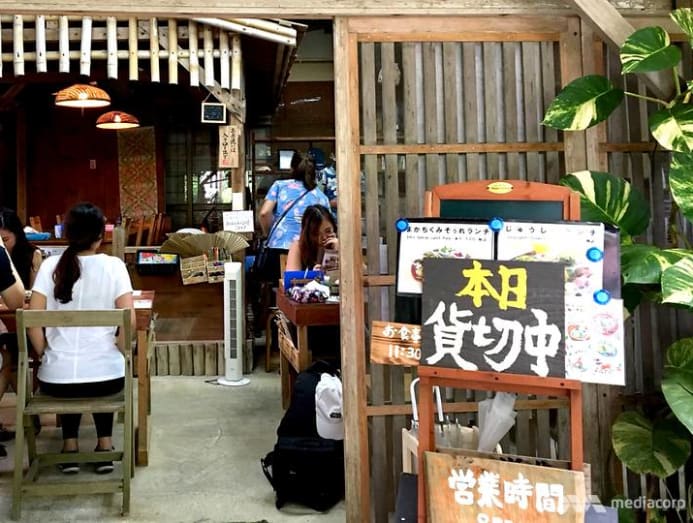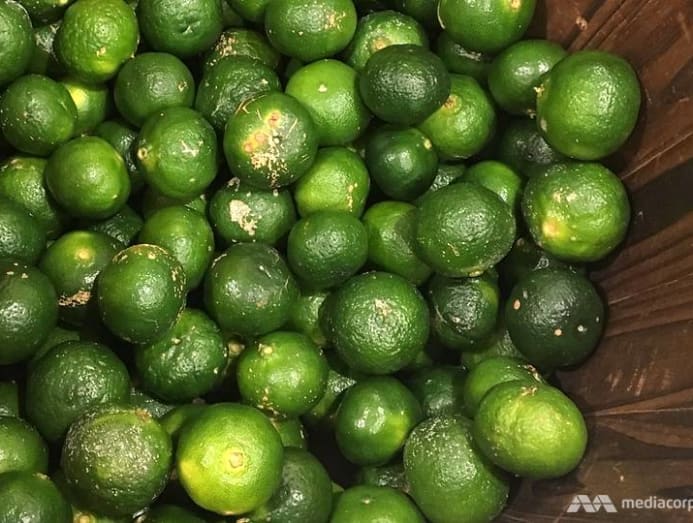 In fact, Emiko offers a longevity bento set (1,700 yen or S$21) that includes food that 90- and 100-year-old Igimi denizens regularly eat, with ingredients such as goya or bittergourd; brown rice; seaweed; Okinawan tofu, which is firmer than the mainland's version; and all sorts of fresh seasonal vegetables that she grows in her garden across the cafe.
Naturally, Igimi's star produce shikuwasa, a calamansi-like citrus said to be a Vitamin C powerhouse, is included in the set. You can squeeze it over seafood, drink its juice as a tonic or find it in condiments such as soy sauce, vinegar, miso – and even as a flavouring in, ahem, less healthy food such as soda, potato chips and instant noodles.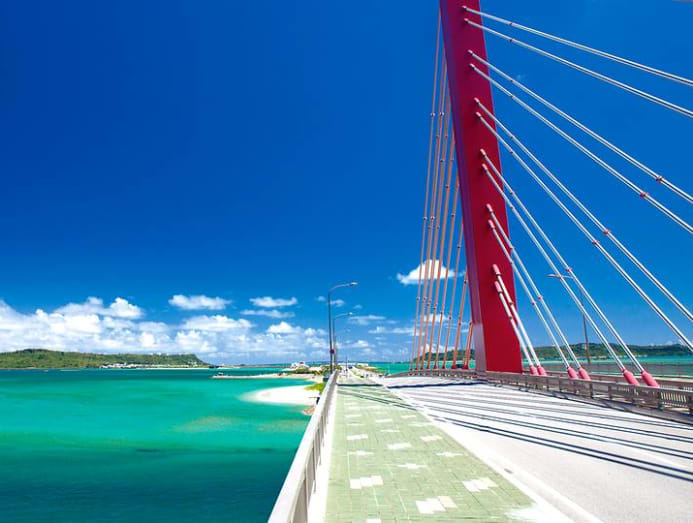 Leaving the countryside of Yanbaru, we made our way to Naha City via Kaichu-doro, one of the most scenic drives on the east coast, and passed through Uruma City. Since it is renowned for mozuku, another super food that has been linked to Okinawans' longevity, we had to make a pit stop.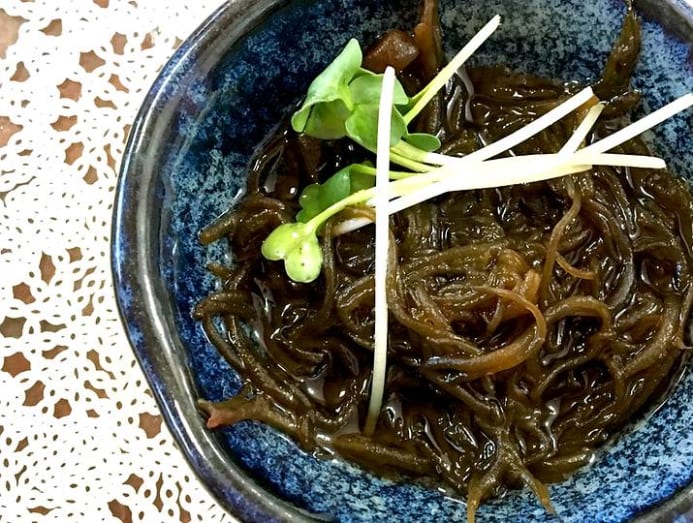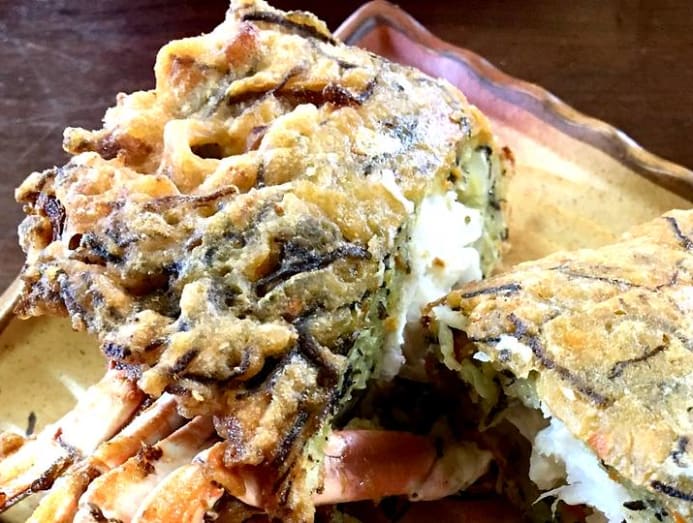 The brown seaweed strands are not much to look at, nor do they have much flavour on their own. But they supposedly have the highest levels of fucoidan, an anti-cancer, anti-inflammatory compound, among other seaweeds such as kombu and wakame.
Okinawans typically eat mozuku with a vinegar dip but at Maruyoshi Shokuhin on Hamahiga Island, it is made into a crunchy tempura with kani or crab. Great as a starter and leaves you wanting more as a snack.
Even the salt from these parts is supposed to have health-giving properties. On Miyagi Island, the salt produced by Nuchi Masu looks distinctly different, more powder-like than granulated. We were told that Japanese actresses use it as a gentle facial exfoliant. At the Okinawa Ritz Carlton, it is used in their spa treatments. The locals sprinkle it on grilled meats and seafood, and dissolve it in water to make a mineral drink that keeps off muscle cramps.
CONNECTED IN THE CITY
Having experienced the warmth of yuima-ru in the countryside, I wondered how things might be in the city as we journeyed into Naha. The award-winning Jimami Tofu, currently playing at cinemas till Oct 31, is already warming Singaporean-Okinawan connections on the silver screen.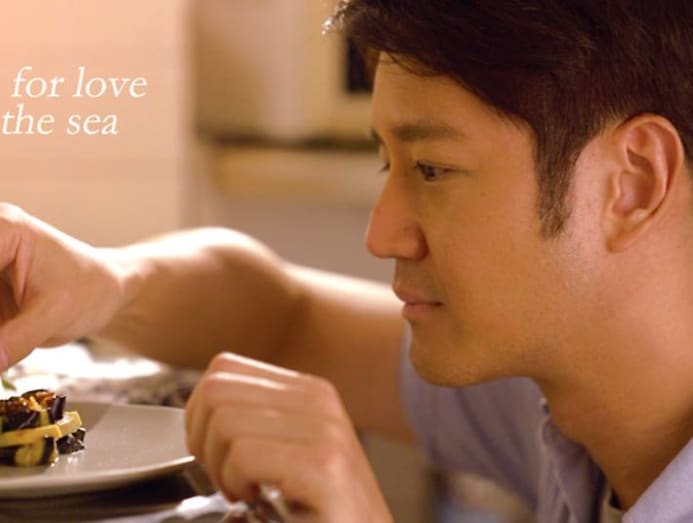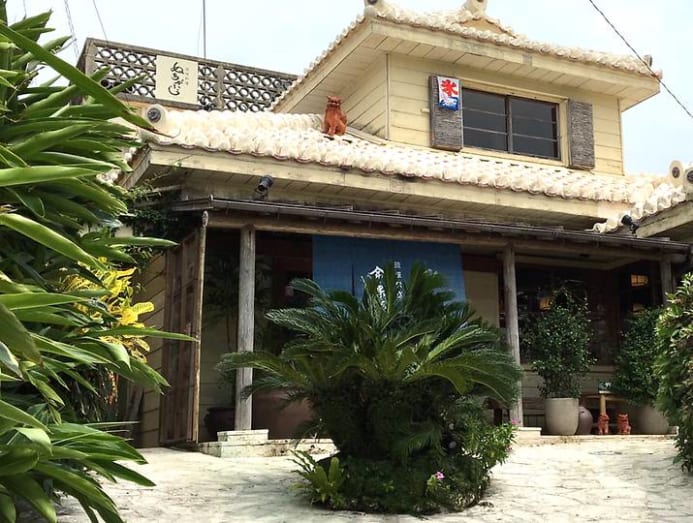 As it turned out, putting yuima-ru into practice was a lot easier than I thought. It could be over senbero (pay 1,000 yen for three drinks and a dish of meat skewers or offal) at a hole-in-the-wall bar.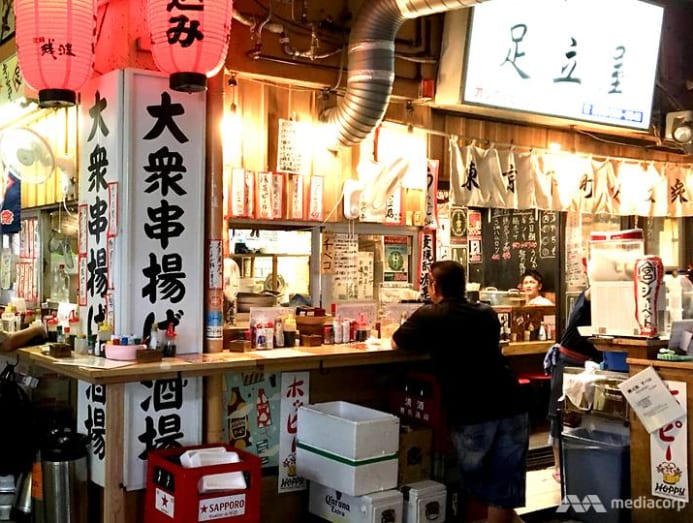 Or part the noren of an izakaya and go right in – it might be the refreshing whiskey highball. It might be the homely, non-pretentious food that still connects a local to his roots, like goya champuru (bittergourd and egg stir-fry), mozuku and rafute (braised pork belly). 
Or it might be that Okinawans just know how to connect and have fun.
You could also bond over an Instagrammable moment with a fellow fan of spam onigiri while queuing at Pork Onigiri Houten. 
PS: The writer connected with Typhoon Trami on the last day of the trip but managed to stay safe and "healthy" with shikuwasa-flavoured potato chips.
CNA Lifestyle was in Okinawa at the invitation of Jetstar. Jetstar has four direct flights to Okinawa each week from S$163, one way, all in.