Prague: Away from busy squares, a quieter, hidden world unfolds
New cultural venues are springing up in Prague's many long-abandoned buildings, some of which are home to courtyards, galleries, cosy cafes and bars.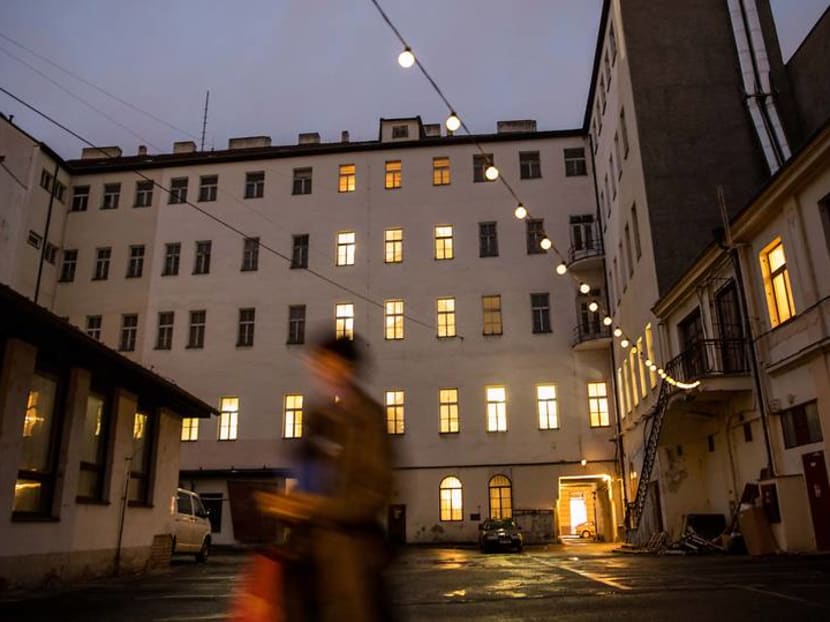 Don't be put off by the looming doorway, with its spray-painted graffiti tags and crumbling posters, just off hectic Namesti Republiky, one of the busiest squares in Prague. Beyond it, a quieter world unfolds, with courtyards, galleries, a cosy cafe and bar.
Campus Hybernska, as this sprawling complex is known, is one of several new cultural venues that are springing up in Prague's many long-abandoned buildings.

"The front building was built between the 18th and the 19th centuries, and the whole thing was once some sort of downtown seat of a Czech noble family," said Jan Bicovsky, a professor at Prague's Charles University and a director of Campus Hybernska. "A 'palace' is probably the right expression."

Abandoned factories and palatial structures, former military barracks and old electrical substations: Unlike Berlin's art collectives and Budapest's party-friendly "ruin bars," the city's post-1989 cultural life rarely included the use of these kinds of buildings, which have mostly remained empty, often for decades, because of local ownership laws and usage regulations.

But in recent years, they have become home to grassroots arts and entertainment spaces, whether they are in the city centre or up-and-coming neighborhoods. You won't find them in mainstream travel guides; they are decidedly off-the-radar venues, providing insider access to alternative cultural activities and a chance to see interesting, historic spaces.

And for those who have an aversion to Prague's famous tourist crowds, you won't find them in these places. Instead, you'll find a quieter, more local side of Prague's vibrant cultural life.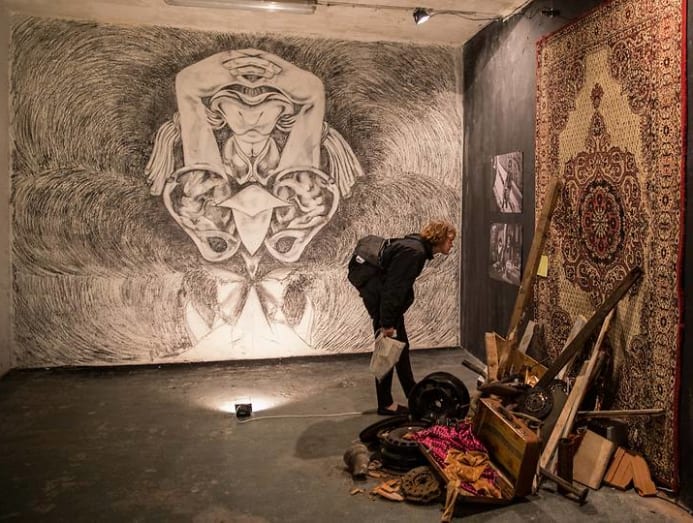 Furnished with a hand-me-down stage for its bar and performance venue, and 90 seats purchased for a single Czech koruna (about four cents) for its lecture hall, Campus Hybernska is just getting started. "We're trying to build something, a space for things to happen," Bicovsky said, noting that at one point, the place "became the property of the Ministry of Interior, so actually the secret police and other organisations were here."

Most of the complex still appears as it did when it was under state control. A furnace and central heating were installed this year. Yet, despite its newness, Campus Hybernska maintains a busy event schedule including, recently, a kimchi festival, a multimedia exhibition called Other People Think, which features 34 international artists, and concerts of funk, blues, Greek rebetiko and other musical styles, which will be held throughout the winter.

ART IN AN OLD PRAGA FACTORY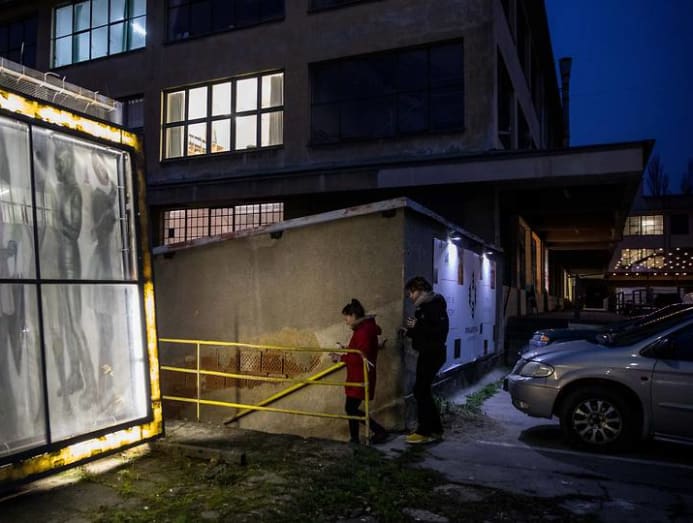 Other projects have taken longer to develop. A few miles east of the city centre, the old Pragovka automobile factory in the outlying Vysocany district has stood more or less empty for decades. Starting in 1907, the stylish Praga automobiles built here turned heads until just before the communist takeover in 1948. After that the factory built trucks, military vehicles and automobile parts until 1989, when it was privatised and eventually shuttered.

Although the first artists started moving in about seven years ago, it is only recently that its two main art galleries, featuring both local and emerging European artists, have opened, along with a new cafe.

"It's got a melancholy air, to be sure," said Lawrence Wells, an expat US artist who was among the first to start renting a studio here in 2011.

A five-minute walk from the Kolbenova metro station, the main, E-shaped building hosts more than 120 artists, designers, filmmakers and other creative types. Studios still bear signs identifying chemical laboratories and warnings about the dangers of smoking around flammable gasses. Above a rundown loading dock, a bone-white sculpture of an immense male nude reclines.

EXPERIMENTAL SPACES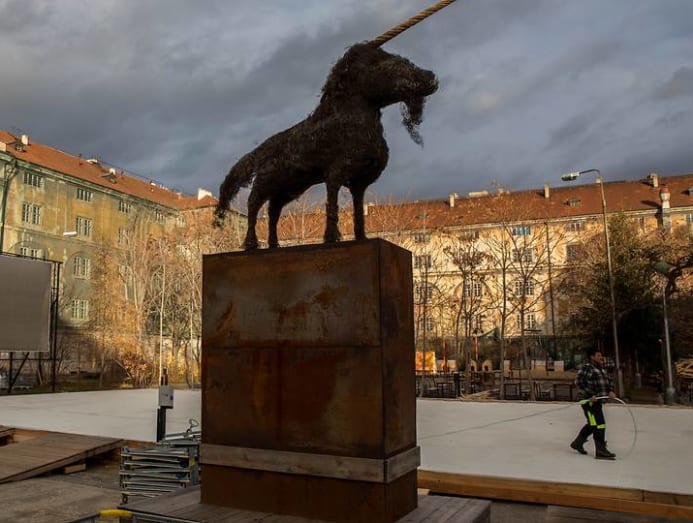 Halfway across town, another creative space has opened in an old military barracks near the western edge of the trendy Karlin district.

"This used to be a changing room," said Matej Velek, director of the project, gesturing around a stylish cafe near the empty pool, which serves as a performing arts space. Original changing-room tiles don't look out of place in the minimalist cafe, which serves, among other things, Czech lager, French wine and coffee drinks.

The cafe is part of Kasarna Karlin, a new project that is making temporary use of the barracks. In this case, "temporary" probably means between five and 10 years, while the building's owner decides what to do with it.

Built in 1848, the block-length barracks was floated for possible privatisation in 2013, while it was still the property of the Czech government, a fate that has befallen many Prague buildings that were once considered public property. Instead, it was transferred from the Ministry of Defense to the Ministry of Justice, who then worked with the local city government to find a suitable tenant.

"This is a cultural heritage site," Velek said. "It can't be demolished. It can only be reconstructed to its original state."

He is most proud, he said, of the five large-scale sculptures displayed in the courtyard – three by artist Frantisek Skala and two from sculptor and filmmaker Cestmir Suska – as well as the amount of open space Kasarna Karlin contains: About one hectare, or 10,000 sq m.

THE TREND CONTINUES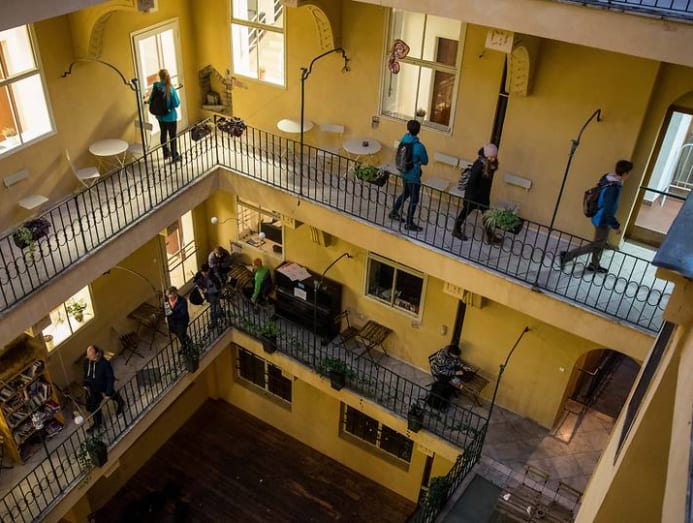 It would be difficult to find quite so much room in the crowded maze of Old Town. But even there, a new creative development is shaping up inside the building known as the House at the Golden Horn, just off Old Town Square. On the same block as the recently restored astronomical clock, a formerly vacant five-story building, mostly dating from the Renaissance era, houses nonprofits and startups.

The charitable organisations inside the House at the Golden Horn might not hold too much interest for tourists. But the Scout Institute here hosts poetry readings, concerts and other cultural events every week, including some in English, and the cafe on the second floor is one of the least commercial places to stop for a cup of coffee in the heart of Prague's hyper-commercialised tourist zone. Just by sticking your head in you'll get a glimpse of a Prague Renaissance building.

With dozens of vacant buildings across the Czech capital, the trend is set to continue in coming years, with activist groups like Prazdne Domy regularly promoting available spaces. More are already on the way. Near the Florenc metro station, not far from Kasarna Karlin, locals started renovating a vacant building called Bar/ak this past summer, recently installing a pottery studio, bar, cafe and community grilling area. And just a short walk downhill from Prague Castle toward the Vltava River, a local charitable foundation has announced plans to transform a former electrical substation from 1932 into a new art gallery called Kunsthalle.

Evan Rail © The New York Times 2018