Island-hopping: Feeding giraffes and exploring WWII shipwrecks in Palawan
From a surprise safari to majestic limestone cliffs, CNA Lifestyle explores the hidden gems of this Philippine beach destination. (It's totally better than Boracay.)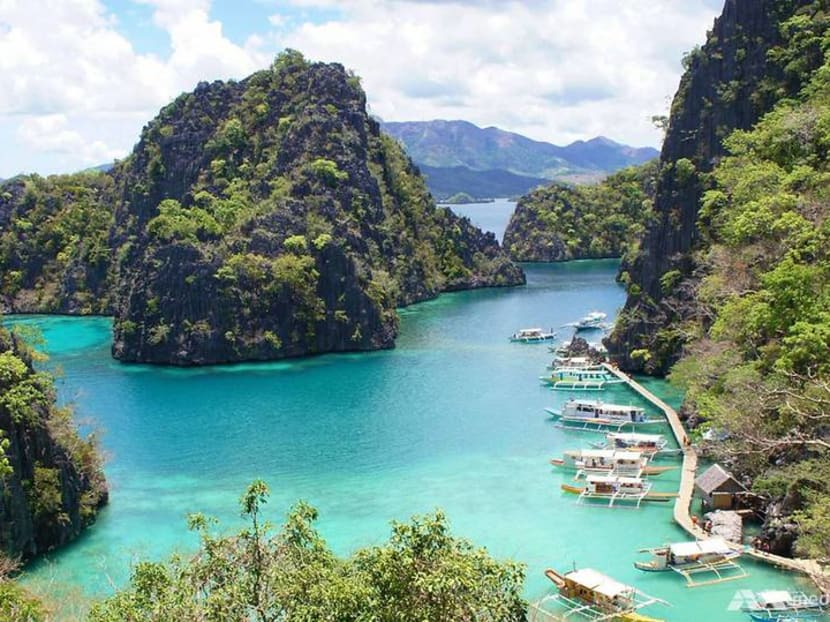 Like many tourists, I recently went to Palawan fully expecting pristine lagoons, crystal clear waters with colourful reefs and white sand beaches.
What I did not expect, however, was being held hostage by a greedy giraffe.
On the second day of a quick holiday getaway with the family, we found ourselves stuck inside a small enclosure surrounded by giraffes and zebras, on an island that looked more African savanna than lush tropical paradise.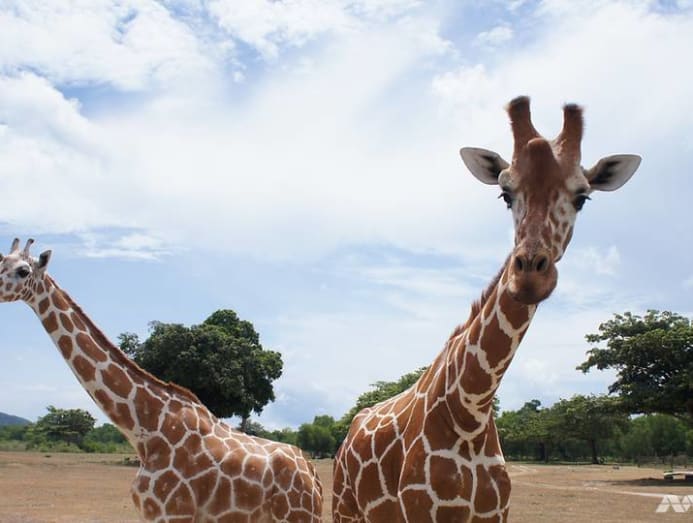 We were in Calauit Safari Park, a wildlife sanctuary located north of the long island of Palawan – and it looked like we weren't going anywhere else anytime soon, thanks to one hungry gentle giant.
"That's Gerald, the biggest and oldest," said one of the park's resident staff, pointing at the 22-year-old 4.5m tall alpha male that had boldly planted itself right outside the entrance to the feeding area, where visitors are. (It works the other way around here.)
"Erm, so how do we get out?" I nervously asked, as Gerald slowly leaned inside and stuck his long tongue out at us.
"I think it would help if you weren't waving those leafy branches in front of him," came the reply.
AFRICAN WILDLIFE IN THE TROPICS
If you wanted a bit of cognitive dissonance to go with your holiday in the tropics, feeding giraffes and getting a photo op with zebras could do the trick. The safari park detour was the oddest stopover during our entire island-hopping journey.
Calauit used to be home to hundreds of African wildlife, which also included gazelles, waterbucks and impalas. Today, the park now houses only around 30-plus zebras and 22 giraffes, which wander around a 3,700 hectare area. Like Gerald, they're all descendants of the original animals, who now coexist with local deer and other native wildlife.
The park's strange presence is thanks to former Philippines president Ferdinand Marcos, who decided to turn the entire island into a home for these creatures back in 1976.
According to the (still disputed) story, the Kenyan government had made a call requesting help in conserving some of their wildlife from their then-war-torn country.
The run-down park has obviously seen better days and it's still shrouded in controversy (not all locals are happy about the animals' presence and there were reports of poaching a few years back). Nonetheless, it continues to welcome the occasional trickle of tourists, many of whom are probably just as baffled as we were about its existence.
ISLAND-HOPPING IN CORON AND BUSUANGA
But as I would slowly come to realise, there's more to Palawan than meets the eye.
Sure, it's already known as a hot tourist destination, thanks to El Nido, which has consistently been on the list of the world's best beaches (and, some say, is even better than the currently-closed Boracay).
But in an island archipelago this vast, there are bound to be other unusual areas to explore.
For starters, the main island itself is home to a Vietnamese village founded by refugees of the Vietnam War; a subterranean river which is also a UNESCO World Heritage Site; and a bunch of caves where prehistoric fossils and artefacts dating back 50,000 years were found.
Elsewhere, you could drop by an island that used to house an old leper colony dating back to the early 1900s.
Or at least that's what Google says. Our entourage of eight – which included two seniors and a six-year-old – opted to concentrate on the northern twin towns of Coron and Busuanga, the lesser-known neighbours of El Nido. We also decided on relatively less stressful island-hopping tours.
Or at least that was the plan.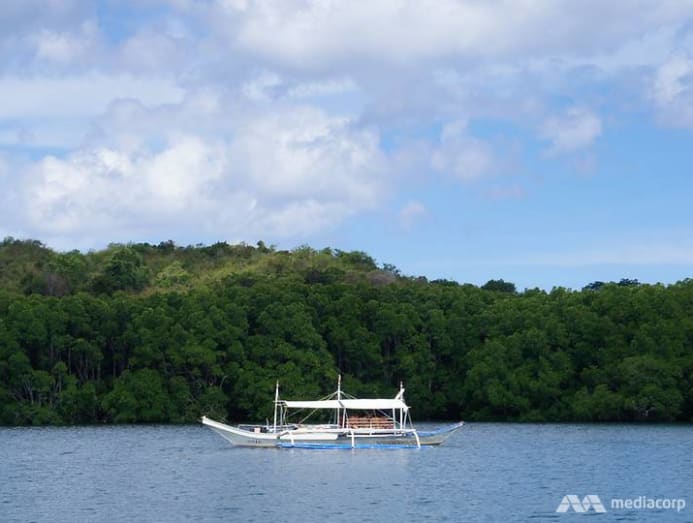 Turns out, island-hopping tours are no different from hectic tourist bus tours on land, except that you wear life vests and can get a sunburn if you're not careful.
On our first day, we went straight to the pier from the airport after a 45-minute flight from Manila.
Our eager guide Isay was waiting to explain her plans for us.
"It's already late morning and you're a bit late but it's okay. We'll go to Kayangan Lake, then have lunch at Beach 91. Then we can go to the Skeleton Wreck, Balinsasayaw Reef, the Twin Lagoon, then..."
"I think that should be fine," I interjected. "We'd like to do a bit of actual swimming, please."
SNORKELLING FOR HISTORY
Which is basically what you do on these tours – jump on a boat, head for a cove, island or lagoon, and repeat until you've had enough. Unless, of course, you make a detour to mini-Africa.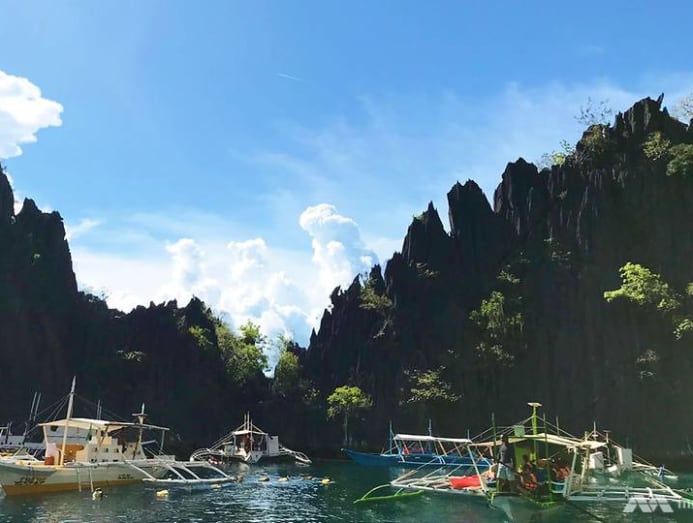 But other than that, you'll have your fill of sun, sand and sea, and along the way marvel at the sight of some pretty majestic karst limestone cliffs.
The island-towns of Coron and Busuanga themselves aren't the prime destinations but jumping off points to explore the many islands around them. If you're lucky and time it correctly, you can get a whole island to yourself before the tourists come.
And maybe even get to explore a true-blue World War II shipwreck.
That's apparently yet another thing Palawan – and specifically Coron – are known for. Prior to the war, the manganese-rich hills of Coron had already attracted Japanese businessmen who built mines in the area. During the war, a lot of the ships would be anchored in the waters, which made them perfect targets for American dive bombers on one fateful day in 1944.
In 15 minutes, the planes had done their job, much to the delight of future recreational divers, who can now explore a handful of well-preserved Japanese ships, such as the Irako, Akitsushima and the Olympia Maru.
Or at least that's what Google says. Diving wasn't really part of my entourage's skillset.
Thankfully, there are snorkelling areas that let you catch a glimpse of these wrecks. At the aforementioned Skeleton Wreck you can just about glimpse a bit of a ship's bow a few metres below the water.
For something that's a bit closer to shore, we headed for Black Island the following day. Named for the sheer rock cliff face that supposedly turns black when it rains, the island off Busuanga seems straight out of a Jurassic Park or King Kong movie.
Plus, guide-for-that-day Jim assured us there was a wreck literally just a few steps from the beach.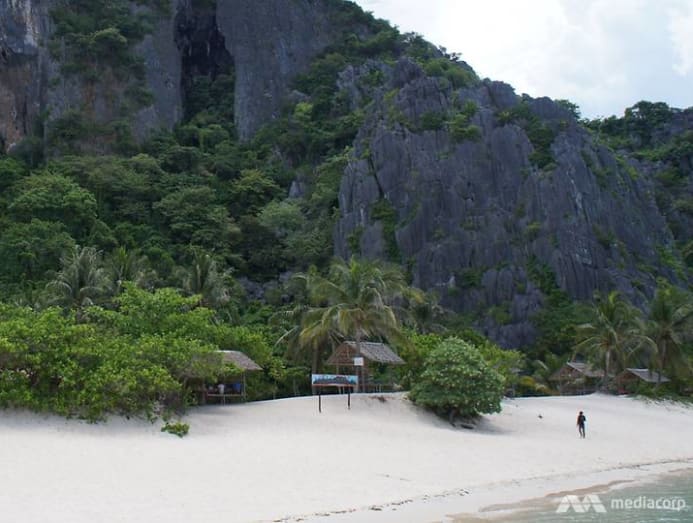 Of course, we had no way of finding out if it was a certified bombed Japanese ship or just some random boat than had run aground. But beggars can't be choosers, can they.
As I floated over the remnants of a ship so close to the surface that it's possible to get tetanus on a piece of (imagined?) history, I thought: I'll take this over Boracay, anytime.
Yeah yeah, including the giraffes.