Take flight with Pikachu and friends on the new Pokemon-themed Scoot plane
The inaugural flight on the Pikachu Jet TR to Tokyo, Japan, is scheduled for Sep 9. Will you be able to play Pokemon Go onboard? 
Why fly on a regular aircraft when you can travel in style on a Pokemon-themed plane? The Pokemon Company announced the launch of Pokemon Air Adventures on Tuesday (Aug 30) and its partnership with Scoot for the project, so you can soon fly to destinations within Asia with Pikachu and friends.
Known as Pikachu Jet TR, the Boeing 787-9 Dreamliner features livery and themed inflight amenities and experience, as well as merchandise. 
The inaugural flight to Tokyo, Japan, is scheduled to take place on Sep 9. Each flight has a capacity of 375 seats.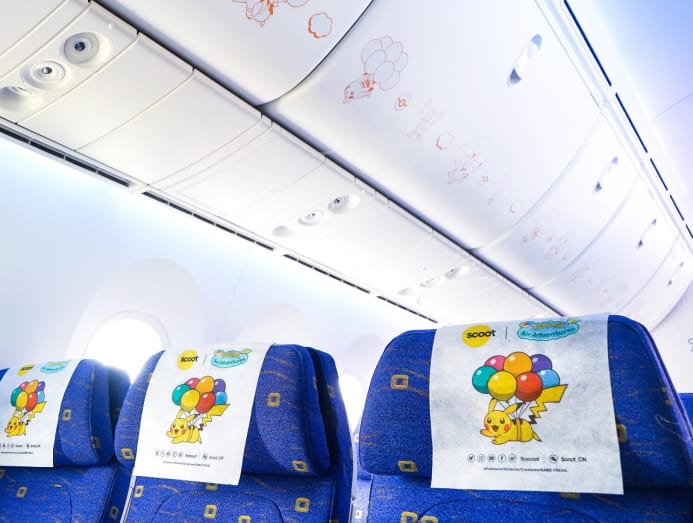 Passengers can look forward to inflight amenities with Pokemon designs, activities, as well as original merchandise such as tote bags, lanyards, bucket hats and a collector's edition of the aircraft model with the special livery. The merchandise will be available for purchase onboard and during flight bookings through Scoot's website and mobile app from Sep 9.
A selection of specially curated Japanese inflight meals will also be available for pre-order for the next six months.
According to the media release, passengers can expect to book a trip between Singapore, Tokyo and Seoul on these flights, which will depart twice a month from Changi Airport Terminal 1.
One-way fares start from S$333 for a trip to Tokyo and S$231 for a trip to Seoul, inclusive of taxes.
You can check out the routes of the Pikachu Jet TR on Scoot's website as they will be reviewed periodically.
Scoot is the first ASEAN airline outside of Japan to launch this unique Pokemon-themed flight.