I sniffed a koala and I liked it: Rainforests, rivers and rainbows in Queensland, Australia
Did you know that female koalas are naturally fragrant? CNA Lifestyle's May Seah discovered this – and that Queensland, Australia, is chock-a-block with things to do, see, smell and eat, from petting wild camels, canoeing through everglades and running through sunflower fields, to delicious food and locally produced wine.
In partnership with Tourism and Events Queensland.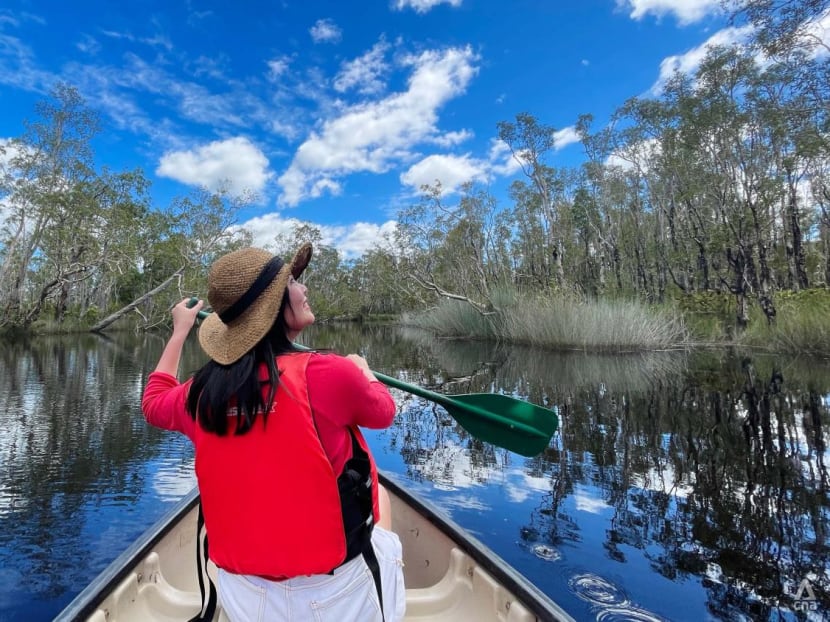 In the last two years, through constant and dedicated practice, I had become highly skilled at staying indoors and sitting on the couch.
So, I was excited but also trepidatious to be heading to Queensland, Australia. After all, most of Australia is located outdoors.
And so it came to be that I found myself wobbling atop an all-terrain Segway in the middle of a subtropical rainforest 1000m above sea level, attempting to roll my way across a rocky, rushing stream.
"Too far to the left equals death. Too far to the right equals death," intoned Kyle, my guide, a man who probably despised couches.
I would have thought Kyle was being dramatic, if not for the fact that he had warned me sternly that this was "the most dangerous Segway trail in Australia", and that mere minutes before, he had been giving me a Beginner's 101 lesson on how to ride a Segway.
"Kyle scares me," I'd whispered to his colleague, Nathan, who blithely advised, "Just try not to look at his face."
Turns out, the trick to surviving Segway riding is to look straight ahead, focusing on making yourself one with the machine as it steers according to how you shift your body weight. This helps to distract you from the creek of death; the steep, narrow, rocky mud trails of death; and the poisonous snakes of death.
Of course, after you've made it back alive, you immediately want to do it all over again, and it feels like the only way to experience the extensive sights and smells of a beautiful rainforest and even a crashing waterfall, the well-loved Moran Falls.
We were at O'Reilly's Rainforest Retreat, an iconic vacation spot among Queenslanders that sits in the heart of Lamington National Park (no relation to the cake; named after 1890s Queensland governor Lord Lamington).
About an hour and a half's drive from Brisbane airport, through the small town of Canungra and up a winding mountain road, O'Reilly's is a family-run business that dates back to the 1920s. Many Australians have been vacationing here since they were children and are now taking their own offspring here for family getaways, as much for the spectacular vistas, proximity to nature and range of activities as for the nostalgia factor.
It's a classic spot to begin your experience of the Scenic Rim, a crescent-shaped chain of mountains bordering valleys between Brisbane and Tamborine Mountain. The Scenic Rim is part of the Gold Coast hinterland and includes six national parks, World Heritage-listed Gondwana rainforests and fertile agricultural land producing fruits, flowers, dairy and wine.
For the next few days, I would be exploring this area, recently named one of Lonely Planet's Top 10 Regions in the world, Best in Travel 2022.
After two years with no travel at all, nature had become a remote acquaintance, like one of those friends you can't remember the last time you actually spoke to, but the two of you continue to occasionally 'like' each other's social media posts.
I was ready to get reacquainted. After all, if the place has "scenic" in its name, you know you won't be disappointed, right?
HELLO, NATURE: PARROTS, SUNSETS AND LEECHES, OH MY
Checking into one of O'Reilly's mountain villas was literally a breath of fresh air. I can safely say that after two years of Zoom meetings and virtual events, overlooking the treetops of a one-million-year-old rainforest is really not a bad place to be. The weather's a little nippy, so you have a legit excuse to get  the fireplace started. In the mornings, gorgeous red-and-blue native parrots, known as crimson rosellas, land on the balcony railing and make melodious sounds roughly translating to, "You'd better have food for me", followed by withering glances if you don't. I had crackers, so my hand was deemed an acceptable perch for the pair that visited me. You could tell it was a coordinated daily free breakfast plan for them. Gotta respect the hustle.  
Knowing there are many species of wild birds native to the region, I also went on a guided bird walk, where fat little robins also feed from your hand, brushturkeys potter around your feet and you get to learn about fascinating indigenous species like the catbird, which sounds like a wailing baby; and the bowerbird, which collects objects all one exact shade of bright blue and strews them around its nest to attract females, like some kind of marriage market art installation.
In the afternoon, we were scheduled to do the Flying Fox zipline activity, but rain started pouring down. I was certain it would be cancelled, but to my surprise, everyone piled into the minibus and we headed up the mountain. "Do you usually do this in rain?" I asked Nathan. "If you want to go, we'll take you," Nathan shrugged in quintessential Australian fashion. I was not sure if I wanted to go. But he was already putting a harness on me.
We got all the way up to the zipline and the first two kids had gone whooshing down it when suddenly there was a clap of thunder. And only then was the activity abruptly called off, because in the event of lightning, a giant metal line across the landscape would, of course, be the biggest conductor of electricity.
Even though we had sallied forth for naught and now had to sally our way back, the event was not without hair-raising thrills. In the bus going back, damp and muddy, I spotted something black and wiggly on the back of my hand. It was a leech.
Suffice it to say that Nathan nearly drove the bus off the road because of my panicked shrieks.
"Don't be silly – it's only a tiny baby leech. It hasn't even attached," I was told scornfully.
And that, I learned, is the Australian way – a sunny insouciance and a rank imperviousness to icky, albeit harmless, bloodsucking parasites. "Australia – it's beautiful and it could kill you," more than one local cheerfully said to me.
After a very hot shower, I was taken to a secret spot from which to enjoy the sun setting spectacularly over the mountains, with some cheeses and bubbly and even a fleeting rainbow, all of which were very effective in erasing the leech memory.
If you prefer your nature a little more tame, down the mountain from O'Reilly's is Mountview Alpaca Farm, where you can stop to pet, feed and walk the little woolly creatures that look like cartoon animals come to life. With their fabulous Elvis haircuts, they stare blankly, prance around on their tippy toes, take feed from your hand and keep you guessing as to whether they will spit – all part of their whimsical alpaca charm. We had a picnic lunch and wine tasting in their company, courtesy of neighbouring O'Reilly's Canungra Valley Vineyards.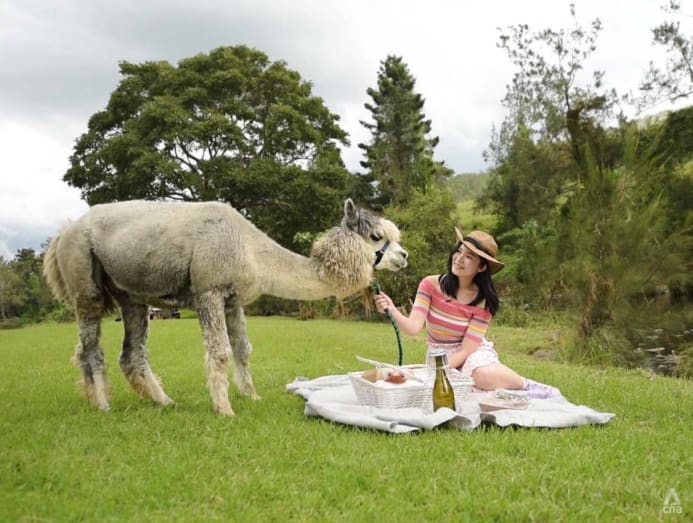 It feels very random, but the alpacas here aren't the only camelids in the area. Believe it or not, the Scenic Rim is also famous for Summer Land Camels, Australia's largest wild camel training centre and dairy farm, with around 500 camels at any one time.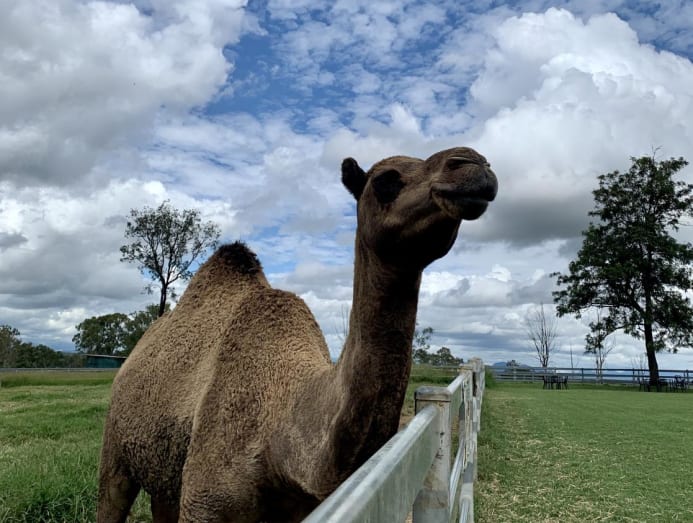 Here, I learned that camels were first brought into the country from Morocco and northern India in the 1800s to help explore central Australia and lay its first infrastructure, including the postal railway and telegraph pole networks, because the horses, preferring luxury creature comforts such as food and water, refused to go. Camels were even ridden into battle in World War One by parts of the Australian army.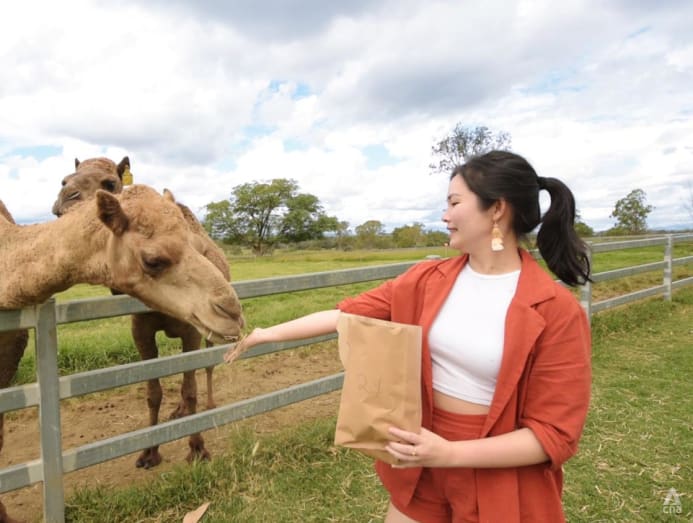 Today, there are more than one million wild camels in central Australia, and Summer Land claims to have the healthiest herd with the largest gene pool anywhere in the world. On a visit here, you can feed the camels, enjoy the open blue skies and experience the superfood that is camel milk in products like gelato and camelcino, as well as skincare products said to be beneficial for all kinds of dermatitic conditions. You can even chow down on camel pie for lunch – but don't worry, "only the naughty camels" get made into pie, or so they told me.
FOOD, WINE AND SUNFLOWER FIELDS FOREVER
We travelled to our next destination by air, which turned out to be the perfect way to get a sense of the Scenic Rim and its pastoral beauty. David Teed from Elite Helicopters picked us up from the O'Reilly's helicopter pad and flew us to our next stop, The Overflow Estate 1895. This boutique vineyard is located on Lake Wyaralong and has a buzzy restaurant as well as a cellar door. On a weekend, it was packed with throngs of diners, picnickers, live music and even a very pink hen party.
Then, it was off to find some sunflowers. The area is known for its picturesque sunflower fields and Scenic Rim Flower Farm in Kalbar is a place that welcomes those in search of the perfect selfie. Farmers Jenny and Russell Jenner were growing lucerne, also known as alfalfa, when a drought hit; meanwhile, neighbouring sunflower farmers were grumbling at the number of camera-toting people traipsing uninvited through their crops. The Jenners made the shrewd decision to pivot to growing sunflowers for the Instagram crowd, and now they have visitors coming out of their ears every weekend, with activities like yoga, sunset dinners, painting while sipping bubbly in the fields, custom photography sessions, proposal packages, an 8-acre sunflower maze and even a sold-out Kalbar Sunflower Festival.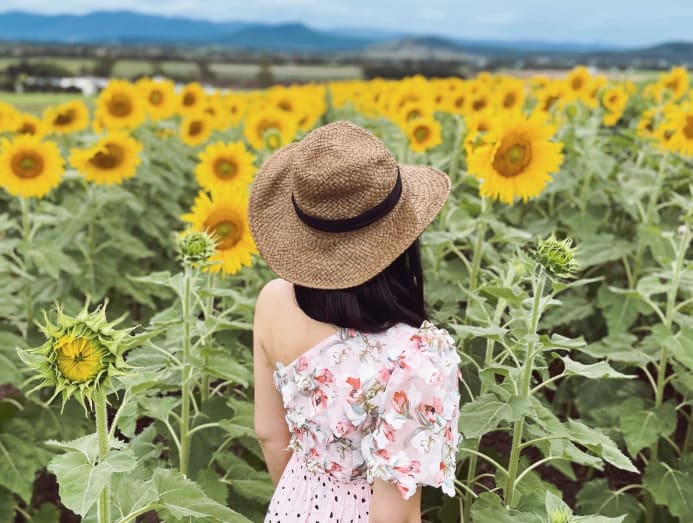 After taking an embarrassing number of photos, we checked into Herrmann House, a luxuriously well-appointed country homestead. In the little town of Kalbar, it's probably the fanciest accommodation you'll find, and even has its own fire pit and patio for barbecues, not to mention a lovely view of the mountains out back.
Kalbar has a population of just over 1,000 people and the neighbouring town of Boonah has about twice as many, so it comes as a bit of a surprise – an extremely pleasant one, of course – that Boonah is home to one of Queensland's most heralded new restaurants.
Blume is the four-month-old baby of Brisbane-born chef Jack Stuart, who formerly headed up restaurants including Melbourne's Congress Wine and Brisbane's Gauge but moved away from the city to have a place of his own close to his heart.
Here is an opportunity to experience the Scenic Rim through your taste buds, as Stuart and his team of two chefs craft seasonal degustation menus with the region's best locally farmed produce. Urbane Brisbanites have been flocking to and booking out what is clearly Queensland's newest destination restaurant. But, philosophical posturing aside, Stuart said to me, his goal is above all to serve food that's "really tasty".
When you hear this from a chef with a fine dining background, you're not sure whether to feel relieved or suspicious. But when the first snacks hit the table and landed in my mouth, it was obvious he wasn't just being honest; he was also being modest.
Iced beetroot with jersey buttermilk and dill; spelt cannoli with bitter onion and sheep's pecorino from a local farm; hot and sour cucumber – each little dish was eye-wideningly delicious. Then came ox tongue and pink oyster mushroom yakitori; rainbow trout with finger lime, roe and pearl tapioca; barbecue quail with black walnut sauce; roasted cauliflower with voudavan, date and curry leaves; and mutton neck and black garlic sangas – crispy croquettes of meat sandwiched between rounds of white bread. The meal ended on a high with a flavour-packed stunner of a dessert: Spice cake with tamarind, red gala apple and malt.
The plates here are presented without pretense and even served on ceramics handmade by Stuart's stepfather. In fact, the whole enterprise is a bit of a charming family affair. Each table is adorned with fresh flowers from Stuart's aunt's garden next door. And then there's Uncle Angus, who threatens to steal the show away from the food – an ex-courtroom sketch artist with just the right hint of an eccentric gleam in his eye, he sits at the bar with his brushes and sketches the diners at each table, then presents his artwork to them at the end of their meal. (Hopefully, if he likes the look of you, he won't make you look like a guilty perpetrator.)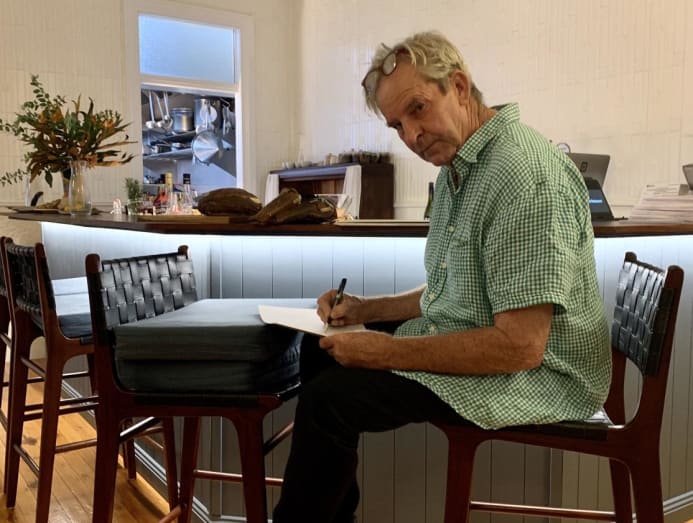 At the end of my meal, I wanted to go back and start all over again. But it was time to go instead to check out another trendy new destination hangout: Scenic Rim Farm Shop.
On a sun-drenched morning, a good crowd was already lounging at idyllic tables under the spreading jacaranda trees, enjoying coffee and cake. Scenic Rim Farm Shop boasts sprawling grounds, a cafe, a flower farm and a little shop with blooms, knick-knacks, gardening stuff and its own mascot, a dachshund named Schnitzel.
Here, boss lady Genevieve Windley treated us to a tasting of newly plucked finger limes from her very own garden, and let us sample all the fresh bakes of the day. Windley, who has a vegetable farm nearby – and supplies produce to Blume – acquired the property when its previous owners, her longtime neighbours, decided to retire from farming. Although the house and grounds have a new life now, Windley speaks of how well loved they were through the generations, pointing out trees that were planted many decades ago to mark the birth of children. She's also a formidable entrepreneur, having started a concept called Scenic Rim Farm Box during the pandemic, a platform that enables city folks to enjoy fresh produce from the region's farmers delivered to their doorsteps.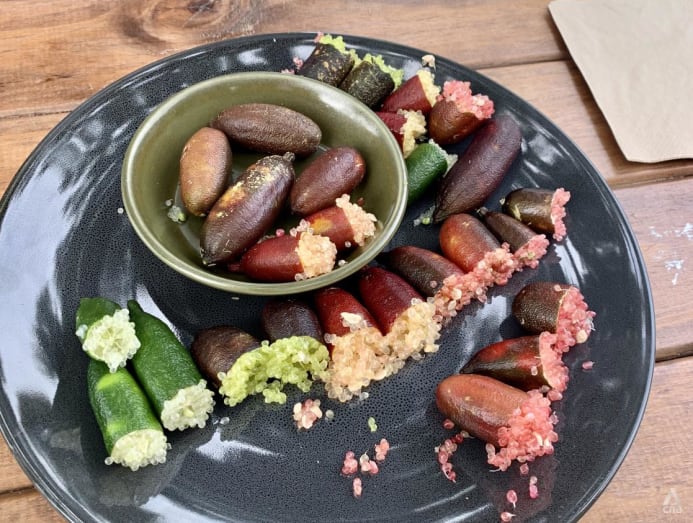 I'm proud to tell you that while we were at Scenic Rim Farm Shop, we even participated in the rescue of a wild koala. Well, someone else spotted the weak-looking little fellow dozing in a tree, and someone else called for help. But, you know, we were there. Contributing to the preservation of Australian wildlife. It was decidedly more endearing than the leech.
RAINBOWS ON THE BEACH
Having fallen well and truly under the spell of the Scenic Rim and its people, we made our way to the Sunshine Coast to see the ocean.
In Noosa, we checked into Peppers Noosa Resort and Villas, where we were picked up by Craig Madden of Great Beach Drive 4WD Tours.
Great Beach Drive is a very special road – it's a highway for vehicles that's right on the sand, between cliffs and crashing waves.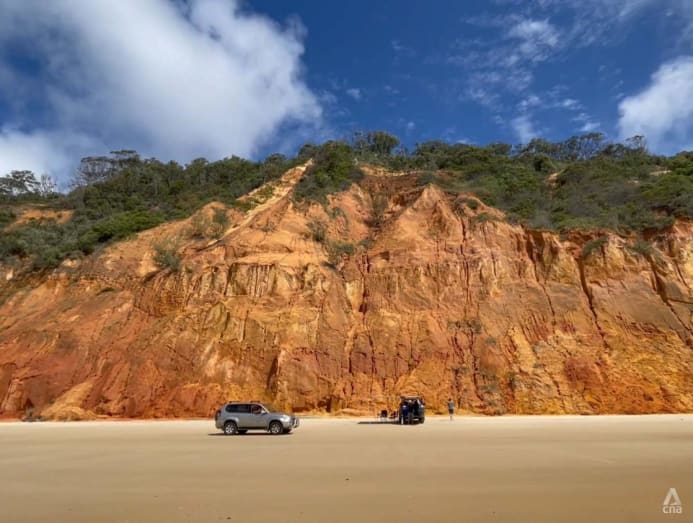 It takes skill, experience, a knowledge of the tides and a post-drive underbody car wash to take a vehicle over sand, so we were happy to leave the driving to Madden, who's also a passionate wildlife expert and conservationist. Being in his presence is fascinating and inspiring: Not only does he tell you all about the Great Sandy National Park that the beach borders, he also helps you spot his "friends" along the way: Ridiculously adorable native birds called oystercatchers, enjoying a meal of clams on the beach; tiny, bright blue soldier crabs that spiral their way down into the sand; and a majestic osprey couple in their lofty penthouse nest high in the sky.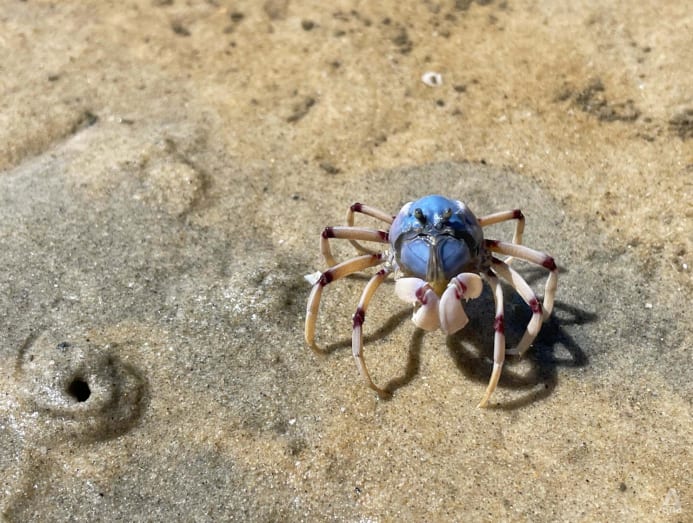 The day began with clouds and rain that broke into blue skies and sunshine – aptly, as we approached Rainbow Beach and the Coloured Sands. These astounding beachside cliffs are made up of sand that is red, orange, yellow, ochre and all the shades in between. It is thought that they have stood here since the last Ice Age. Juxtaposed with the blue ocean, they are a breathtakingly beautiful sight.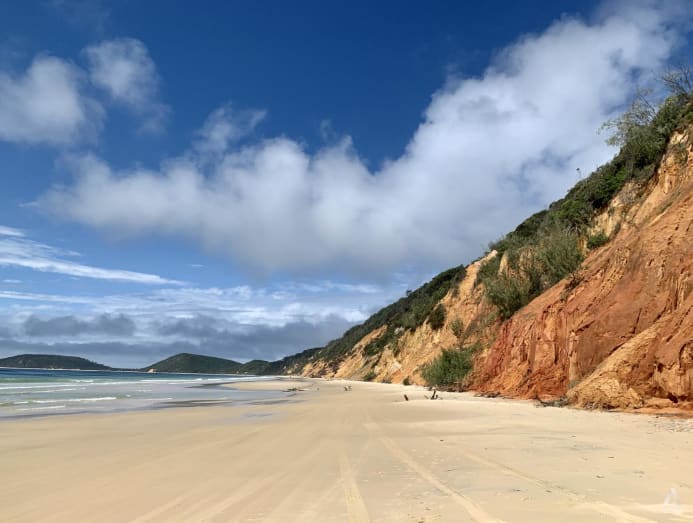 Madden parked his car here, set up a little tent and served us an idyllic picnic lunch. He even gave a little art demonstration with the coloured sand while recounting an Aboriginal legend about a spirit that took the form of a rainbow. "A much better story than boring old science," he huffed.
Near the close of a day well spent, we popped into one of Noosa's buzziest restaurants, Locale Noosa Restaurant & Bar, for some Italian cooking featuring the best of fresh Australian produce, like spanner crab from Fraser Isle, Freemantle octopus, prawns from nearby coastal Mooloolaba and, of course, oysters from local farms.
CANOE ROWING AND KOALA CUDDLING
The next morning, I found myself given a large oar and hustled into a canoe at the Noosa Everglades, by the folks at adventure camp Habitat Noosa.
In the world, there are just two everglades systems – the term refers to slow-moving water and swampy grassland – with the other one being in Florida, USA. That one has alligators in it, so the Noosa one is preferable if you are a clueless novice struggling to pilot a rudimentary vessel through the water, if you ask me.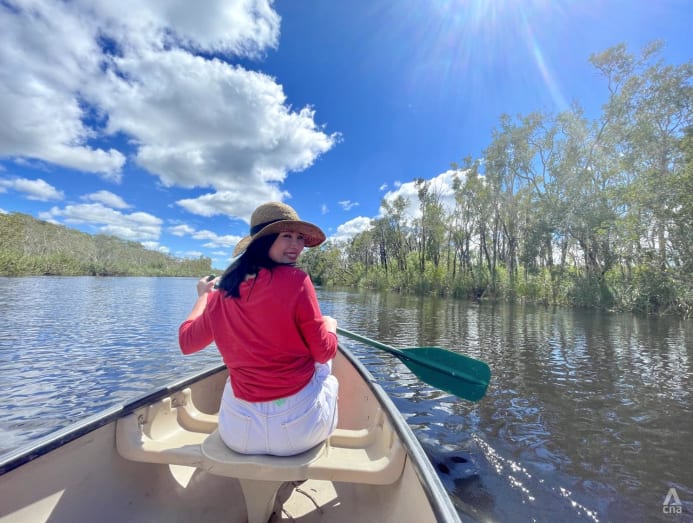 In some places, the river is black, like tea, due to tannins from the trees that grow on the banks. In other places, it's so still that it reflects the blue sky and clouds above like a mirror of glass, so that it's hard to tell exactly where the water meets the sky. Paddling your way through, you're enveloped by the immense calm and quiet, broken only by the chirping of birds and ripples of water. It's otherworldly. And Pocahontas would have been proud of me.
Our last stop was just over an hour's drive away: Australia Zoo of Steve Irwin fame, where we checked in on its latest superstar. Fergo the cassowary chick, along with a sibling, is the first cassowary to be successfully hatched in the park's 51-year history, and he/she/they – the sex can't be determined yet – is cute as a button. In a few months, Fergo will be at least as tall as me when fully grown, so it was a real treat to see the little one following keepers around and feasting on veggies and berries.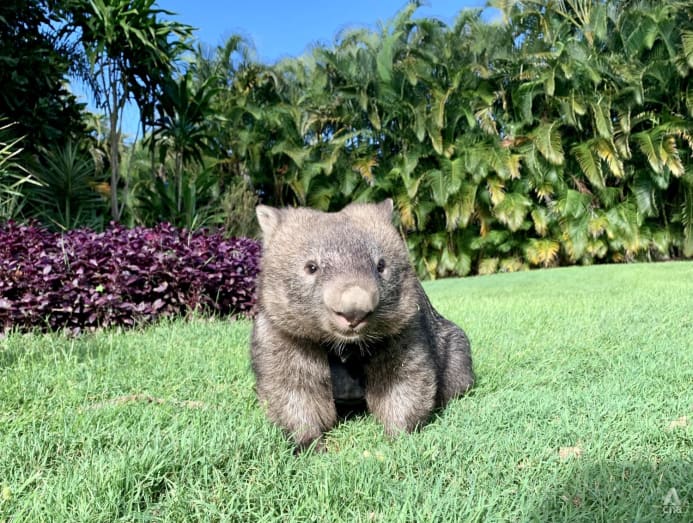 The lovely folks at the zoo also arranged a little session for me to be introduced to some native Australians: Elle the wombat and Brandy the koala. Elle was basically a large brown ball with a squishy-cute face. Brandy was a grey ball with a squishy-cute face and some ears. I could probably give you a better description, but I was hyperventilating from the cuteness overload.
Cuddling Brandy, who was every bit as soft and fluffy as I'd imagined, I also learned something surprising: Koalas smell amazing. Because of her diet, Brandy exuded a concentrated eucalyptus aroma that put all essential oils to shame. It was so powerful that it lingered on me for a long time after. If diet can transmute to scent, how come I don't smell like coffee and cheeseburgers? I was told, though, that it's only the female koalas who smell good – the males are stinky. It's kind of species-affirming to know that boy koalas are the gym socks of the animal world.
Koalas in the wild, however, are quite vulnerable to disease, like the poor little guy we spotted at Scenic Rim Farm Shop. There's a chlamydia epidemic going on in the wild, and it can make them really ill to the point of blindness and death. We had the privilege of visiting the Australia Zoo Wildlife Hospital, where wild animals of all species are treated and rehabilitated. Established by Steve Irwin in 2004 in honour of his mother Lyn, a pioneer in wildlife care, the hospital has had more than 10,000 patients since it opened. Not only do they nurse koalas, sea turtles, bats, birds and every animal you can think of, they are also conducting a chlamydia vaccine trial for koalas that hopefully will help to restore their populations to good health.
We'd learned a lot about koalas and other natives of Queensland, all while making sure to experience authentic Australian life in the process – specifically, eating Vegemite on toast for breakfast; driving by a car wash and insisting we go through it; and buying giant blocks of chocolate at Coles. And, astoundingly, it felt as if there was still so much more of the Australian state that we hadn't had time to see.
In fact, if I had to sum up Queensland in one word, it would be a word borrowed from Kyle the segway instructor's vocabulary: Absolutely "gnarly".
CNA Lifestyle was invited to go on a 6-day tour of Queensland, Australia. So we packed up our bags and headed down under.