The ultimate road trip guide to exploring Australia's Sunshine Coast on a self-drive holiday
With Australia opening up its borders, it's time to rediscover parts of the country. From beachside resorts to exploring the mountain rainforest, the Sunshine Coast is the perfect destination for a road trip.
In partnership with Tourism and Events Queensland.
With Australia finally reopening its borders, we can now revisit our travel plans to the Land Down Under. But the long hiatus means we'd want something a bit more special, right? If you're tired of the usual suspects and aren't really on tour groups, why not take a self-drive holiday?
Queensland's Sunshine Coast is one great option – whether you're travelling with friends, as a couple or with children, there's something for everybody.
A road trip gives you lots of freedom to plan your own way and allows you to switch up your itinerary at a moment's notice to go where your whims (and wheels) can take you. Boasting 150km of beaches, with the nearest a 90-minute drive from Brisbane, the Sunshine Coast is just the right combination of adventure and relaxation.
The Sunshine Coast's unique Hinterlands is a great body of rainforests and national parks just inland of the coast. The area promises every urban dweller a respite from the city bustle. In the surrounding towns are heritage sites to visit, and local markets teeming with produce from the nearby farms.
If vitamin "sea" is more your thing, then driving along the coastal beaches would definitely soothe your soul. Make a splash along the beaches that line the eastern seaboard like King's Beach on Caloundra to Mooloolaba and Noosa.
Our guide for each option takes between three to four days, but if you are adventurous, you can drive up through the Hinterlands and then return to Brisbane, by way of a drive down from Rainbow Beach to Caloundra.
THE HINTERLANDS ITINERARY (BLACKALL RANGE DRIVE)
This drive takes you to the Blackall Ranges, 100km north of Brisbane. Drive through the quaint little towns and take in the picturesque views, before you arrive at the Ranges.
From Brisbane, get on the M1 highway and take the official tourist route of Tourist Drive 23 (you'll see the road signs with 23 on them). This will take you through the towns of Maleny and Montville before ending at Mapleton, at the foot of the ranges.
Stop 1: Maleny
A town surrounded by spectacular rainforests, undulating countryside and the magnificent Glass House Mountains within sight, Maleny pairs its views with an eclectic arts and cultural scene.
The biggest landmark around are the Glass House Mountains. Protected as a landscape of national significance, the Glass House Mountains are intrusive plugs formed by volcanic activity around 26 million years ago. It is also home to the Jinibara and Gubbi Gubbi peoples, indigenous Australians.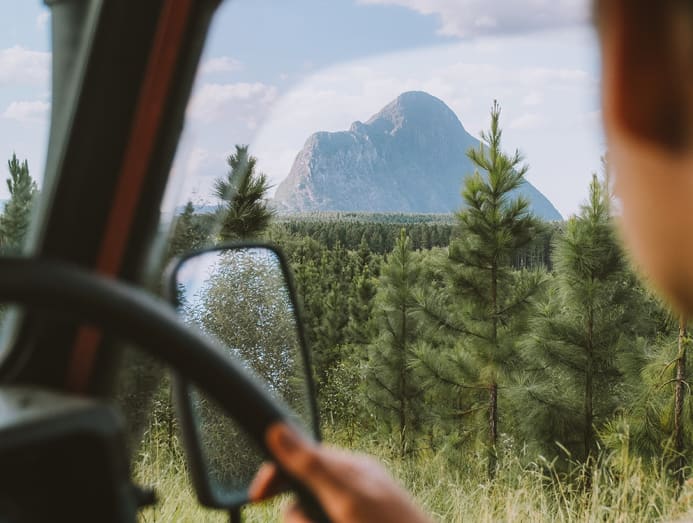 Check out the 11 peaks of the Mountains, the highest of which is Mount Beerwah at 556m. The Mountains are of spiritual significance to the indigenous people, and many ceremonial sites are protected till today, so do be respectful as you trek around these peaks.
For more park information, go here.
Check out Maleny Botanic Gardens & Bird World called the Jewel of Maleny. Set on a property spanning 110 acres with 18 acres of gardens, it features 6 km worth of walking paths flanked by flowers like roses, azaleas, and orchids, offset by peaceful lakes and stunning waterfalls. The aviary is home to 700 native and exotic birds from all over the world. Join a guided tour or simply walk through or have tea at their gardens with over 18 gazebos.
The Mary Cairn Cross Scene Reserve spans 55 hectares of sub-tropical rainforest and is hailed a living museum of plant and animal diversity, including trees which are hundreds of years old.
There are walking tracks under 2km to explore over 391 plant species, 141 bird species and over 60 types of mammals, reptiles and amphibians. Short on time? Visit the Rainforest Discovery Centre which provides a multi-sensory learning experience of the reserve, a viewing deck, a cafe and outdoor spaces for picnics and barbecues.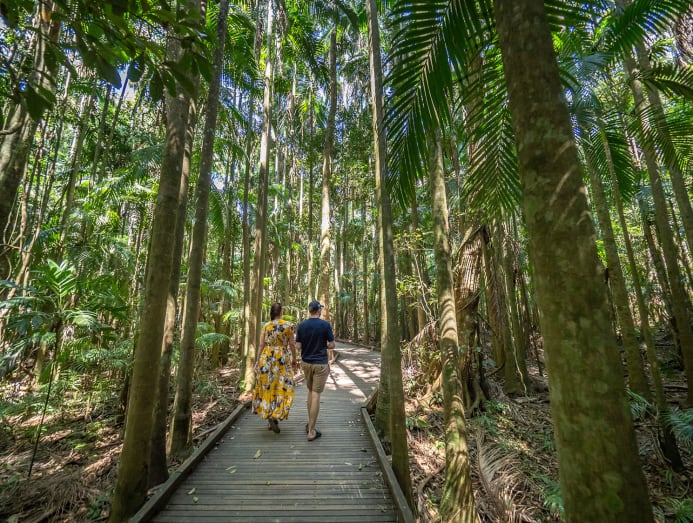 The town is also famous for its dairy offerings so don't miss visiting the Maleny Dairies, which is Queensland's first carbon positive dairy – reducing their carbon footprint and going beyond net-zero emissions to farm sustainably. Book ahead and join their tours to find out how cows are milked, see what happens at the dairy and even feed a calf!
If you're a cheese lover, don't miss Maleny Cheese and enjoy some of the best local ones produced. See how cheesemaking and yogurt are made, but you can get a taste of the freshly made cheeses at the Maleny Cheese Cafe or stake some home from their retail store.
For more information, including places to stay, go here. 
Stop 2: Montville
Head toward Montville and along the 14km drive, you'll find yourself at the Baroon Pocket Dam. Lake Baroon is one of the 26 dams that provide drinking water to Queensland residents. However, it's not just a picturesque lake – you can also take a break from driving, have an Aussie barbecue or kayak in the calm waters to explore the waterways. Take a short hike on the ridges and boardwalks over the streams to the Baroon Lookout for amazing views of the entire area.
For hiking enthusiasts, the Kondalilla National Park, home to the Kondalilla Falls, is a bush-walker's dream. Whether you're a beginner or an experienced hiker, there are three different walks to choose from to see the towering casuarinas and eucalyptus trees enroute to the fresh water rockpools of Skene Creek. Kondalilla is an Aboriginal word for "rushing waters" and it is embodied by a magnificent 90m-high waterfall within the park. 
And what's a visit to Australia without one to the wineries? Head to Flame Hill Vineyard where you'll find its 500 acres put to good use, growing both varieties for red and white wine. The land is also home to herds that make grass-fed Angus cross beef, served at the Vineyard's Deck and Terrace where you can enjoy a full paddock-to-plate experience with their estate wines.
If you have a minute, visit the Clock Shop in Montville. It's a German chalet with over 4,000 European items of craftsmanship like Black Forest cuckoo clocks, grandfather clocks, and German handicrafts like music boxes. Or if you prefer collecting artworks, have a look at the Montville Art Gallery, featuring original art from over 40 of the region's artists. Another haunt for beautiful hand-blown glassworks is Illume Creations, with works by artist Tina Cooper who resides in Montville and other renowned local artists who create illuminating glass sculpture and jewellery.
Stop 3: Mapleton
You'll finish the Blackall Range Tourist Drive six kilometres away at the quiet town of Mapleton. Home to the Mapleton Falls National Park, the surrounding Forest Reserve features the piccabeen palm, bunya pines and the tall blackbutt (eucalyptus) tree. The Mapleton Falls feature a waterfall drop of 120m into the valley and your best view is from the Mapleton Falls Lookout at the end of the road.
Round off your trip here after the drive around the Ranges before heading up to other hinterland towns like Nambour or Eumundi enroute to the Sunshine Coast beaches.
COASTAL TOWN AND BEACHES ITINERARY
There are a couple of ways to do a road trip to see the beaches – you can take the M1 (Bruce Highway) or you can take the Sunshine Motorway (State Route 70), which offers a beautiful drive along the coast. Both routes take the same time to finish but you may find the sea view along the Sunshine Motorway more invigorating.
Coastal Town 1: Caloundra
The first coastal town on the Sunshine Coast is Caloundra, hailed as a beach lovers' dream as it boasts excellent surf beaches and quiet waters for sports like fishing and sports. Kings Beach offers water activities like kayaking, or paddleboarding, alongside kid-friendly waterpark by the waters. Here you can also visit two original lighthouses, one from 1896 and another from 1968.
At the southernmost tip of Caloundra's 25-kilometre coastal walk, you'll find yourself at Golden Beach. This stretch of beach is alongside the Pumicestone Passage, a 35 km stretch of pristine waters, made up of tidal channels and sandbanks that's great for water-sport enthusiasts to indulge in jet-skiing, or take a catamaran out. You'll also spot incredible sea life like dolphins, dugong and turtles if you're lucky to catch them in season.
If you enjoy surfing, Moffat Beach is where the action is at. Check out the row of al fresco cafes and restaurants that face the famous point break at Moffat Beach Headland. Otherwise, cool off at the beachside craft brewers or cafes.
Coastal Town 2: Mooloolaba
Another 19 kilometre drive up the coast lands you at the suburb of Mooloolaba, home to the Mooloolaba Main Beach, which was voted the fourth best beach in Australia in 2019. The safe waters with gentle waves make it perfect for families with young swimmers and bodyboarding.
When you get hungry, simply head up to any of the restaurants and be treated to fresh-off-the-trawler selections of wild-caught seafood like King Prawns, Moreton Bay bugs, Hervey Bay scallops, crabs and even freshly shucked Coffin Bay oysters. Mooloolaba is home to the largest trawling fleet in the region and you're bound to get the freshest even if it's from a fish-and-chip shop.
If you're in the area from June to November, don't miss the once-in-a-lifetime whale watching activity. The humpback whales make an annual migration from Antarctica to the warm waters of Queensland from June to November. Spot these marine mammals when you head out 15-minutes out from the Mooloolaba River. You can book your Swim with Whales experience here.
Take a visit to Sea Life Sunshine Coast where you can see a mesmerising underwater world of sea creatures. At the aquarium's 11 zones, catch sharks, seals, gliding rays, a wide array of jellyfish, coral reef fish, turtles and even blue penguins. Join the conservation talks, live feeding and even a cheeky seal presentation, showing how they interact with their trainers.
Coastal Town 3: Noosa
Where would you find a beach, a UNESCO Biosphere Reserve within its own Everglades (one of two in the world) and its own Hinterland? Why, in Noosa, of course.  
Start at Noosa Heads, the beachside town next to the Noosa Beach waters with trendy boutiques on Hastings Street, restaurants and hip cafes where you can relax and watch the world slow down.
Noosa Everglades is a 60km stretch of tropical wetlands and waterways across two UNESCO Biosphere Reserves (Noosa and Great Sandy). It is also home to Australia's most diverse ecosystems, accounting for over 40 percent of the country's bird species. Glide along the waters on kayak or take a guided tour as you experience tranquil amid the flora and fauna of Queensland.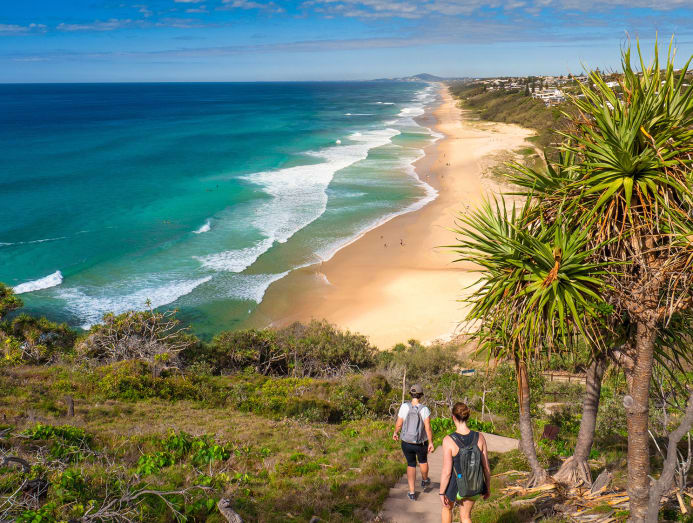 Take one of the eight walking tracks over 15km at the Noosa National Park. Depending on the time you have and trek experience, there are walks suitable for every age. 
For small-town charm, the Noosa Hinterland has smaller towns of Boreen Point, Kin Kin, Pomona, Cooran and Cooroy which have an enchanting heritage, with breweries, distilleries and country-style pubs.
Beyond Noosa, embark on an off-road adventure or join a driving tour with the Great Beach Drive. A 70km drive on the glistening sandy beaches from Noosa to Rainbow Beach, starting at Noosa's North Shore. At the midway point on Cooloola Beach, don't forget to sneak a peek of the historic Double Island Point Lighthouse which has been in operation since 1884. Take a walk around the Lighthouse or take a round-island kayak from the sheltered beaches.
OTHER MAJOR ATTRACTIONS TO CONSIDER
These other major attractions put fun on the map and whether you're in the Hinterlands or along the Coast, you'll be sure to enjoy yourself.
The Big Pineapple
An icon on the Sunshine Coast at Nambour, the Big Pineapple is a heritage-listed attraction which highlights the region's produce as well as its focus on sustainability through nature and activities.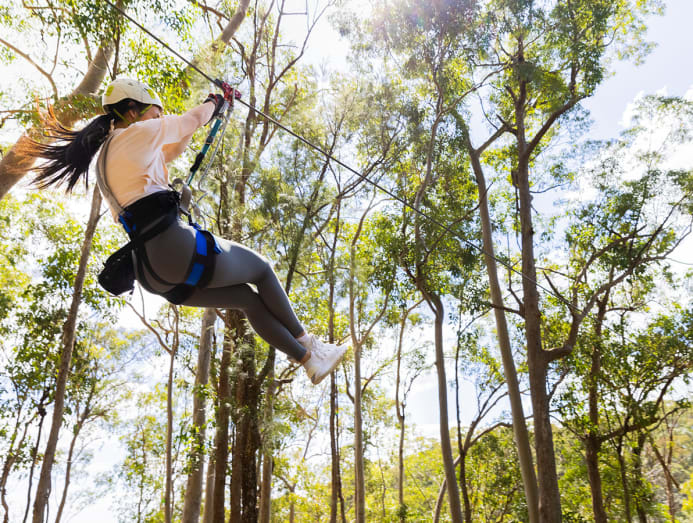 Its Treetop Challenge, suspended over 10 acres of rainforest, is a 2km course with 120 challenges, including 12 flying fox ziplines across six courses for all ages and experience.
The Wildlife HQ Zoo at the Big Pineapple houses over 200 native and exotic animals from around the world and has the largest collection of primates in Queensland. Expect to catch quokkas, dingos, and meerkats alongside koalas and red pandas.
You can also taste some of the best local produce made onsite at the Big Pineapple. It is open daily from 9am to 4pm, entry is free but bookings are essential for the Treetop Challenge and Wildlife HQ Zoo due to Covid19 guidelines.
Aussie World
This medium-sized family theme park has over 30 rides and attractions for children (and adults) of all ages and heights. Speed monsters must check out the new Dingo Racer roller coaster and thrill seekers the SX360 – a 360-degree pendulum swing, dubbed Australia's fastest and tallest ride.
Younger children can also get a similar adrenalin pumping experience with the Bombara Bounce, a drop tower that goes 10m into the sky before bouncing and twisting down.
Traditional theme park rides of bumper cars, a giant Ferris wheel and a carousel is also available.
Australia Zoo
Home to Australia's beloved Crocodile Hunter, the late Steve Irwin, the Australia Zoo is a 700-acre home to a wide array of animals from American alligators to cockatoos, pythons of all kinds and native birdlife as well as wombats and wallabies.
The zoo has Conservation shows where zookeepers share their knowledge about their wards from parrots to koalas and even a display of the dangerous birds of prey. Plan a full day of adventure or half a day's fun for the Australia Zoo, which is open daily from 9am to 5pm, with some animals going down for the night at 430pm.
BREWERIES & DISTILLERIES
If you are a fan of local tastes, be sure to drop in at any of these award-winning craft breweries along the Sunshine Coast.
At Caloundra, check out Moffat Beach Brewing Co for award-winning craft beers which have been winning local and regional awards for the past four years. Try out their ales as you watch the head brewers work their magic behind the counter at their open brewery.
In Maleny, Brouhaha Brewery makes its beer, using the best of the Sunshine Coast's produce which are aptly called Strawberry Rhubarb Sour or the Maleny Lager. Pair your craft beers with its menu, made from produced sourced within 20km of their location.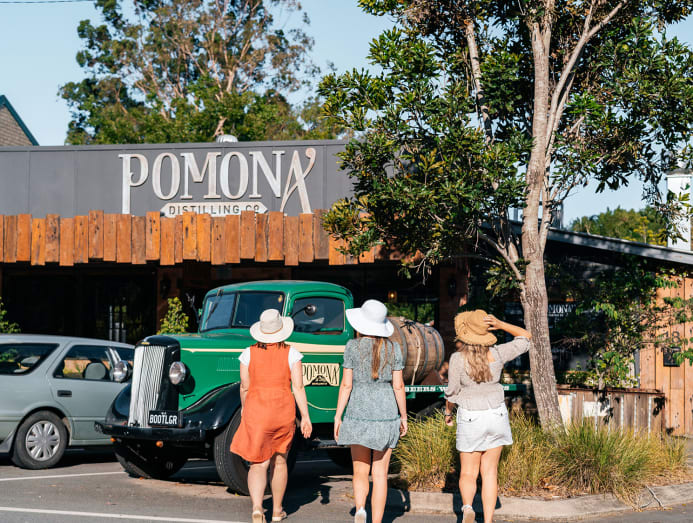 At the coastal town of Maroochydore is Sunshine Brewery , renowned for its 68 craft creations that are beloved by the locals. The Brewery carries over 14 beers on tap with local favourites on rotation with seasonal beers that hit just the right notes. Open from Wednesdays through Sundays, check out their Facebook page for special events and even food truck appearances.
The craft creations don't just stop at beers. Craft distillers have also been gaining popularity on the Sunshine Coast for their clever use of local produce with an artisanal style of distilling gin, and vodka.
With a Master Distiller with a passion for alchemy that goes back 40 years, Pomona Distilling Co, in the Noosa hinterlands, uses sustainably sourced native botanicals and local ingredients, with Eastern European juniper berries in their gin. They create their gin in small batches and then hand-bottle and label each. Enjoy their gin at their bistro with a delectable farm-to-table menu from Wednesdays to Sundays.
Nestled in the lush greenery of the hinterlands near the Big Pineapple, Sunshine & Sons makes dry gins, and vodkas using the best of Australian botanicals. Their meticulous processes create complex profiles for each batch of spirits and are environmentally sustainable.
A Caloundra institution, the Beach Tree Distilling Co. is the town's first and only distillery. On offer is handcrafted gluten-free gin and vodka infused with locally aromatic botanicals from the Australian bush, using organic sugar cane as the base, without wheat or grain.
FAMOUS MARKETS
Anyone who has stepped into an Australian market knows you'll be in for a treat. And the Sunshine Coast markets are no exception. Here's the roundup of markets you simply must see.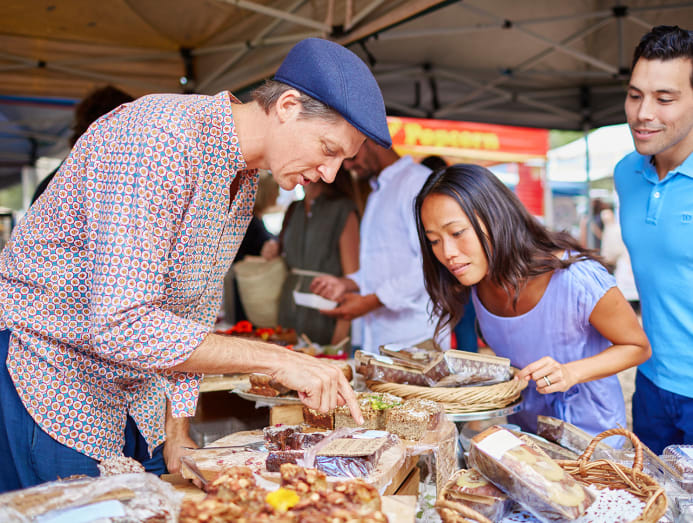 Don't miss the Eumundi Markets for their artisanal hand-made crafts, furniture, homewares, artworks, fashion and jewellery. Or grab a bite at the food stalls which serve food of all kinds like German sausages, Mexican delights, and French crepes. Also, be treated to "live" performances by talented local singers and musicians. The markets are open every Wednesday and Saturday without fail from 8am to 2pm, with closures for special dates like Christmas Day.
NightQuarter is a weekly festival that offers a carnival-style atmosphere amid a night market lit up by live music, international street food and street performances and concerts. It also hosts ticketed events like the Sunshine Coast Craft Beer & Cider Festival. NightQuarter is on from 4pm to 10pm on Fridays and Saturdays.
Sundays come alive at the Noosa Farmers' Market. The outdoor market has the best of local seasonal produce from Noosa and around the Sunshine Coast. Indulge in fresh cheeses, nuts, handmade marinades, sauces and deli meats, amid herbs and vegetables from nearby farms. The Noosa Farmers' Market is open rain or shine from 6am to 12pm every Sunday.