Ramen hunting in Tokyo with an expert from San Francisco
Find out how the ramen scene in Tokyo has evolved from hole-in-the-wall shops in back alleys to trendy locations that dish out vegan ramen.
Brian MacDuckston could be a hunter. His lean body and long legs would serve him well in the wild, but this former techie doesn't prey on beasts. Instead, it's ramen he's after and he has been on the hunt for the best bowls in Japan for close to a decade.

We first met the San Francisco native in the lobby of Palace Hotel Tokyo. MacDuckston was one of the hotel's foodie experts, who offered tours as part of the hotel's Gastronomic Getaways. As we made our way to the taxi and our first stop, MacDuckston shared how he ended up in Tokyo as a ramen expert.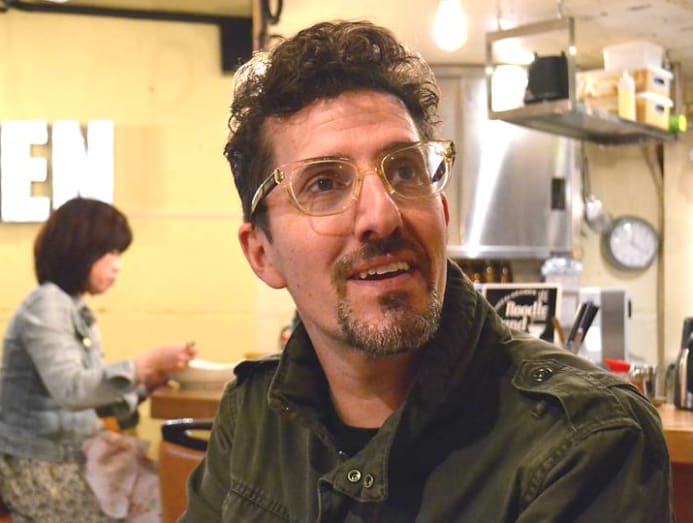 After too many long days in the fast-paced tech industry, he decided to take a year to "clear his head" and moved to Japan. Twelve years later, he was still there. Around 2009, he realised that no foreigners were covering the mum and pop-style ramen shops, the authentic places. So, he started doing some research. 

By trawling through Japanese ramen blogs and magazines, watching Japanese shows, and of course, sampling his fair share of bowls, MacDuckston began to ferret out some of the best spots, which he shared on his blog and later, his book. When New York experienced a boon in ramen, his website got some attention. Suddenly, his ramen knowledge was in demand.

SORA NO IRO

We pulled up to our first stop, Sora no Iro in Kojimachi. The ramen shop was the original outpost of Chef Chihiro Miyazaki, a popular ramen chef who, according to MacDuckston, blazed ramen's way from pedestrian food fare to an upscale clientele. 

"About six years ago, ramen shops started designing their interiors and their ramen, so it was more appealing to a wider audience," said MacDuckston. "There was also a movement to target women. Before, most places were a little greasy. You'd sit alone, and it was male-dominated."

Miyazaki's restaurant was also one of just a dozen in the city that catered to vegans as well as meat-eaters. They offered a completely meat- and fish-free bowl that still boasted a umami flavour that's the draw of ramen in the first place.

I opted for the vegan version. The broth was rich and I had to refrain from slurping back the whole bowl (I'd be too full for our second stop). MacDuckston told me I should be slurping, even if I didn't plan on finishing it.

soranoiro-vege.com/shops/1171.html

NOODLE STAND TOKYO

The second shop was in a more touristy area of the city, Harajuku. Noodle Stand Tokyo is hidden away in the basement about 100m away from Takeshita Dori. Large signs at the front gave away its location. But there were also large signs for everything, so we still needed to keep a lookout for it.

This ramen shop ran both extremes of the culinary preference spectrum. Its vegan coconut miso ramen had a thick, creamy soup base, and textured soy protein to imitate the pork slices that normally topped the dish (you can also order gluten free noodles). Then, there was the "back fat" ramen that was creamy because of the high-fat consistency of the broth.

Above our table, we saw a collection of stickers on display. We would have dismissed them as Japanese kitsch, but MacDuckston explained that they were designed after traditional collectible Japanese stickers. These modern interpretations had images of some of the great ramen chefs of the city, along with others passionate about the dish.

EN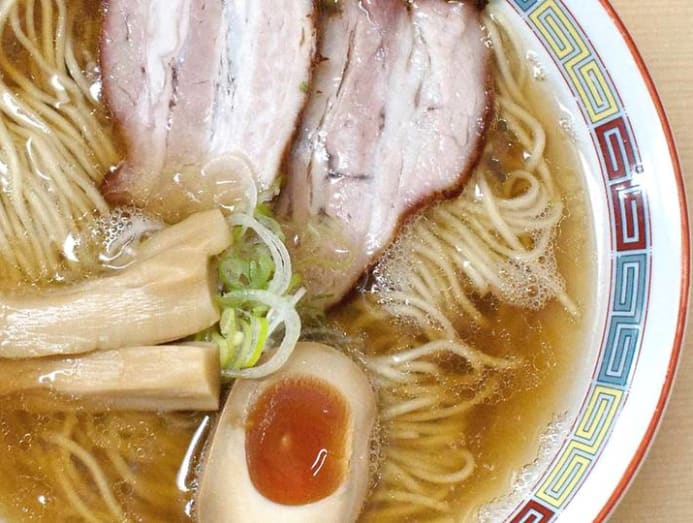 Before we said goodbye to MacDuckston, we had to ask him: What was the best ramen place in Tokyo? MacDuckston laughed. There was no way he could choose one. "It's all about the hunt," he said, though he did impart a little wisdom on a few more places we should try during our time in the city – and one of them was En. 
With its location in Hachioji, on the west side of greater Tokyo, En wasn't the most convenient spot to pop by for a bowl of noodles. It also didn't help that its hours were determined by soup availability (show up late and you may be out of luck) as some shops were. 

That being said, this place was well worth the trip. According to MacDuckston, they serve up three bowls of note: Niboshi (a fish-based broth), mukashinagara (which translated as "old school"), and shio (salt) with its niboshi-rich soup a great take on the classic style.

MOTENASHI KUROKI

It may be a bold statement but MacDuckston puts the shio ramen at this Akihabara joint as "one of the best shio ramen dishes in Japan". No average table salt is used when crafting each bowl. In fact, the chef has blended six different salts from the sea, mountains, and lakes to create the perfect balance. 
The fresh homemade noodles in the rich, umami broth, were topped with a range of decadent toppings – perfectly cooked egg, slow roasted pork, braised chicken, and shrimp wontons. 
With its location in Akihabara, Tokyo's electronics mecca and popular tourist destination, the shop is also easier to visit for those with limited time in the city.

KONJIKI HOTOTOGISU
Chef Yamamoto's shop first came onto the scene in 2006, and became a sleeper hit with chefs from overseas. Despite its nondescript location, it is now well and truly on the radar. 

The Shibuya shop became well known in 2015 when it was awarded a Tokyo Michelin Bib Gourmand title, which it also received for the next few years. Recently, the shop's status was further elevated when it was given a Michelin star in the 2019 guide – one of just three ramen joints in the city to reach that next sought-after level. 
The shop had also moved locations to another just-as-busy area of the city, Shinjuku, where it still served up the same stellar bowls. According to MacDuckston, the secret is the clams in the soup, which gave each bowl more umami.

Chef Yamamoto opened a Singapore outpost earlier this year to high praise from local ramen lovers. But if you want a more authentic experience, and the chance to catch a glimpse of the chef in action, head to his popular Tokyo joint.

gm.gnavi.co.jp/shop/0115033601

YAMAGUCHI

If you've still got room to spare for a second bowl while in Shinjuku, MacDuckston suggested adding Yamaguchi to your list. This place served up tori soba, with a stock that's 100-per-cent chicken (no pork bones were added to the base for more flavour), although there were a few pork slices on top of the noodles when served.
Despite no pork being used, the broth was still deep and rich by MacDuckston's standards. The popular spot had yet to achieve a Michelin star, but had consistently held Bib Gourmand status since 2015.
The foodie tours are tailored to guests' preferences, and each session normally takes about two hours, including two ramen shops.