I went on a cat cruise in Singapore and had a 'pawsitively' good time
The Royal Albatross has launched "the world's fur-st cat cruise", where cats sail out to sea with their humans.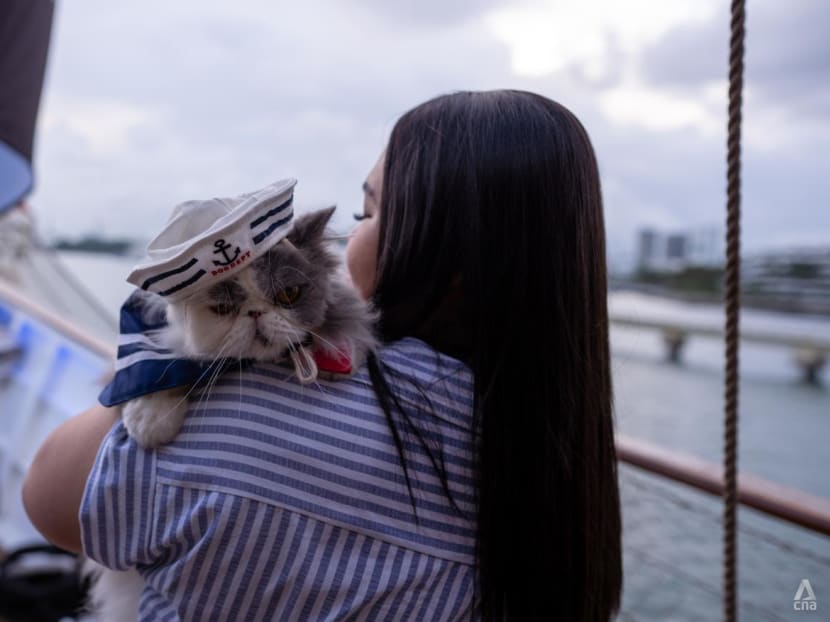 Once upon a time, domestic cats were associated with an indoor lifestyle, but these days, there's a growing trend of pet owners taking their feline companions to explore the great outdoors – whether it is to the park, to a pet-friendly cafe or to the beach.
In Singapore, you can now take your cats out to sea on a cruise. Yes, you read that right.
After the success of its dog cruises, Tall Ship Adventures has now launched "the world's fur-st cat cruise" aboard the Royal Albatross, a 47m luxury tall ship that hosts sailing and dining experiences around the waters of Singapore. Fun fact – the Royal Albatross appeared in The Dark Knight movie starring Christian Bale and Michael Caine where the ship was Bruce Wayne's private yacht.
Now, as a cat owner myself, I can think of several ways a cat cruise could go wrong. One – cats are naturally territorial, and get frightened when in unfamiliar places, let alone on a boat. Two – cats are notorious for hating water, so I can't imagine them enjoying the experience of being out at sea. And lastly, if you take your cat out to the park, you can easily get up and leave when your furbaby starts getting uncomfortable. But when you're on a boat, you're basically left with no choice but to endure the entire cruise – unless you're piloting the ship.
The Royal Albatross website however makes it clear that the cat cruise is not for every cat. There are several requirements. Firstly, your cat has to be used to being outside the house and must stay relatively calm whenever outdoors. It needs to be at least four months old and up to date with its vaccinations. It also has to be used to wearing a harness and leash.
My two-year-old ragdoll cat Bella meets all the requirements, except the last one. All my attempts to get her used to wearing a harness and leash have failed spectacularly. She even tried throwing herself in the air one time in order to wiggle her way out of one. Bella is also largely an indoor cat – the furthest she has ever been is the corridor outside my flat. And when it comes to walking on a leash, her position is abundantly clear; she's more of a freelance explorer who can't be tied down.
And so, I had to leave her behind as I boarded the Royal Albatross for the media launch of the cat cruise on Aug 8.
Several questions ran through my head as I climbed on board the ship. How safe is a cat cruise? Would the cats get seasick? How will they be entertained on the ship? And what happens if – gasp! – a cat jumps into the sea?
All these questions and more were answered by Peter Pela, owner-operator and CEO of Royal Albatross. 
"Interestingly, the first person who suggested we launch a cat cruise was someone who sailed on our dog cruise," Pela shared with me as we settled in the air-conditioned grand salon of the ship for a chat. Even Pela, who has two Singapore Special dogs, was hesitant. "I instantly had this vision of cats climbing up our ropes, walking on the rails and scaling our masts!" he quipped.
As the dog cruise grew in popularity, more and more cat owners started asking whether they could bring their cats on board, said Pela. "We then started looking into the demand for a cat cruise and what is involved should we launch it."
The team consulted numerous cat experts and authorities, including SPCA, cat service consultancy The Cat People, Cat Welfare Society, vets and NParks. "We then came up with a concept that's different from our dog cruise," said Pela.
For the dog cruise, the focus is on the gourmet experience, where the dogs are treated to a three-course meal. "But cats are not food motivated. So the concept here is very simple. It's a romantic dinner [for the humans] and your cat can be with you at the table. It's about enjoying the moment of being together as an integrated family unit."
On the day of the media cruise, there were six cats that set sail, belonging to invited guests. After boarding the ship, they headed straight to the grand salon where window hammocks, toys and play pens were prepared. All the cats were surprisingly calm – some looked out to the view from the hammocks, while others took a catnap in the playpen. Maybe it was the rocking motion of the boat, but they seemed pretty sleepy. None were really in the mood to play.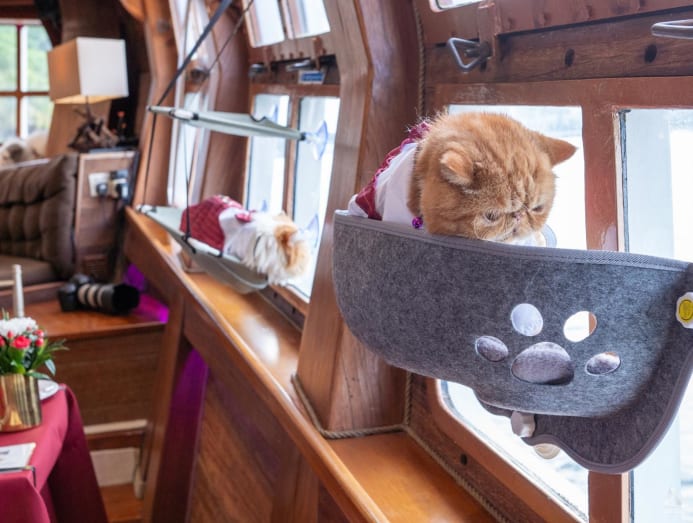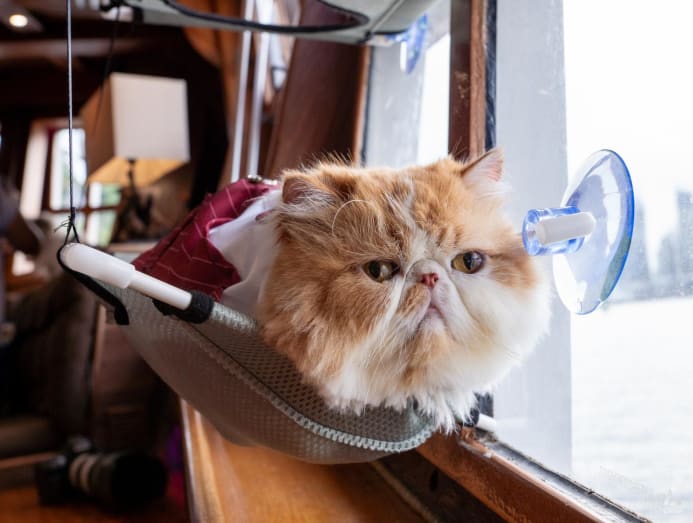 I have to give it to the cats though – as this was a media event, they had several cameras pointed in their direction throughout the entire cruise. Yet, they were seemingly unfazed by all the attention.
The ship's crew underwent special training with SPCA in preparation for the cat cruise, Pela shared. "They trained us in cat safety and how to recognise signs of stress and overheating. We also invested in special equipment such as the enclosures on the top deck. We also have equipment on board that will help us to catch a cat if it runs off its leash, or in the absolute worst case scenario, if a cat jumps overboard, we've got some special equipment to rescue the cat."
I breathed a sigh of relief upon hearing that, but still, I made a silent prayer that we wouldn't have to witness a cat overboard situation. I also learnt from Pela's opening speech that cats are in fact, natural sailors. Over 600 years ago, tall ships have had cats onboard. Known as the "ship's cat", they were valued members of the crew whose job entailed keeping the ship rodent free and providing companionship.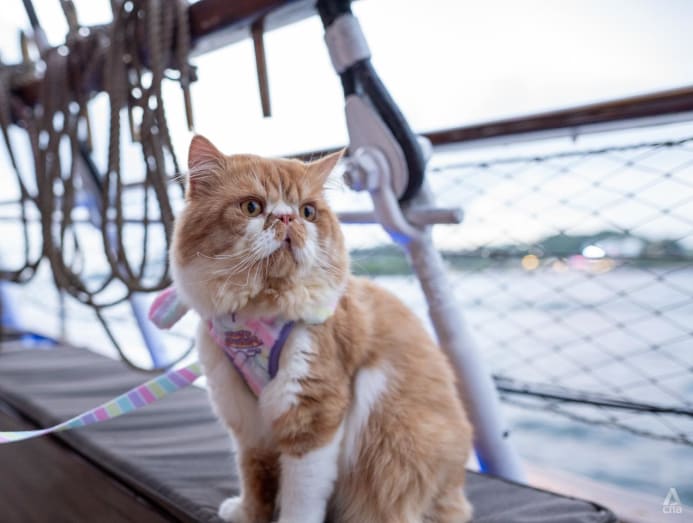 The Royal Albatross is docked at the waterfront of Resorts World Sentosa. The two-and-half-hour cruise takes guests along Sentosa's coastline and around the Southern Islands.
Once the cats had settled in, they were brought up to the open-air foredeck for the evening's programme. It was a sunset dinner cruise, and the hoomans were served a delectable four-course dinner, with dishes such as sauteed garlic prawns, baked miso-soy glazed salmon and chicken roulade.
Meanwhile, most owners chose to put their cats into the enclosure beside their tables as they ate their meals. These netted enclosures – or cat-banas – are open and airy, and most cats seemed to enjoy the sea breeze as they napped. They were only awoken for photo-taking sessions with their hoomans.
One of the kitties I had the privilege to meet on board was Louie, a cat-fluencer with over 20,000 Instagram followers on the account he shares with his siblings (@bambam.bella.lola.louie). Louie, a flat-faced Persian, was dressed appropriately for the cruise in an adorable sailor outfit.
"I found it interesting as a cat owner to bring my cat on a cruise so we can bond together and meet new friends too," said Louie's owner, Razi Belle. "Louie has been quite curious and excited," she added.
Although Louie is used to attending cat events outdoors, this was his first time out at sea. "I think it is good for cat owners to bring their cats out for more adventures, especially those who are used to getting out. This might be a new experience for both cat owners and their cats."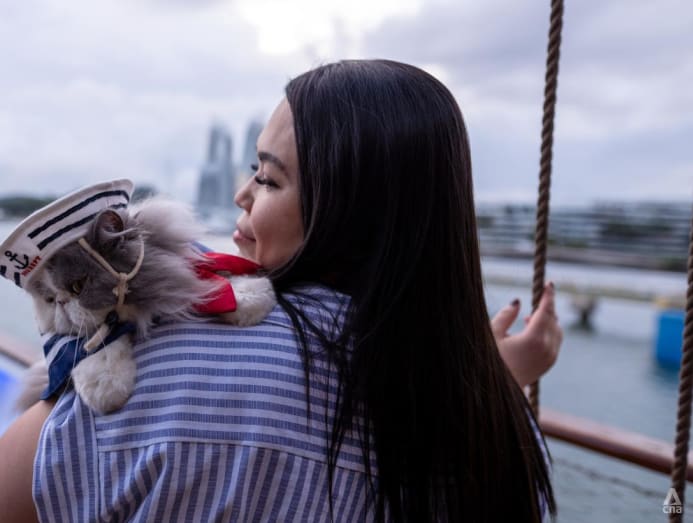 Another media guest, Gerard* (not his real name), brought along his cat Cookie, who was simply chilling in her cat-bana, enjoying the wind in her fur. "Usually the furthest place I bring her to is my grandmother's house, so this a treat for her," he admitted. "She is very chill. In fact I think she is getting a bit too comfortable. I hope she doesn't think this is a regular occurrence."
Although he was enjoying the cruise, he admitted that the experience was also "stressful, as we had to settle her in first".
Summer Lee and her mother, Aileen Ng, brought their two exotic shorthair cats with the most adorable Singaporean names, Pidan (century egg) and Humdan (salted egg). In the spirit of National Day, they dressed the two cats in red-and-white. Lee had some concerns at the start with regards to safety for her cats. "They like to jump, but with a proper harness and leash [they are secure]. As the owner, you also need to know how to take care of your cats," she said.
"But it's okay because we have this thing (pointing to the enclosure) so you can just leave them inside." Pidan and Humdan were cuddled up as they took their catnap.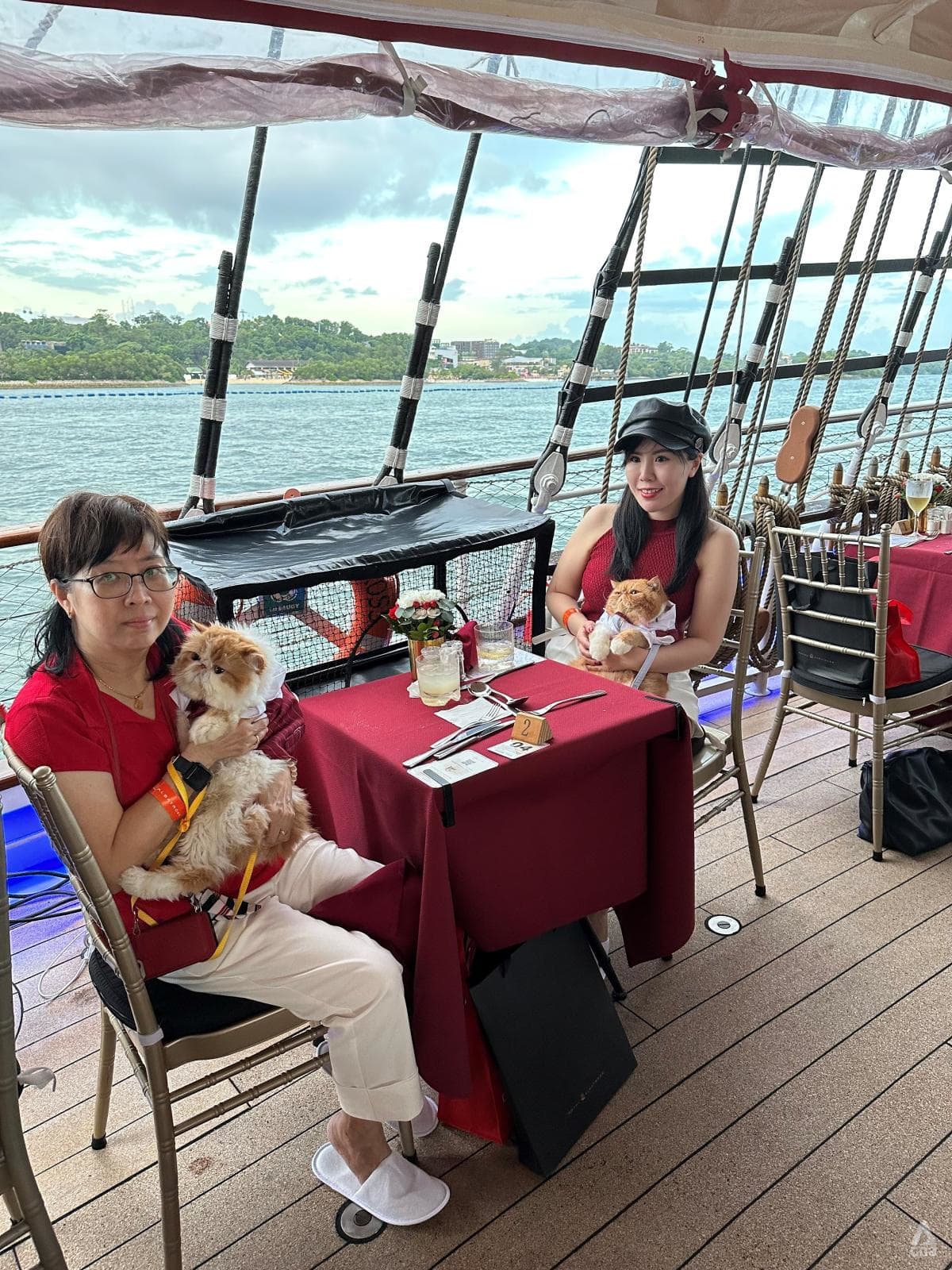 Now all that mingling with cats and their owners got me missing my own Bella. So I decided to take a photo with a photo of her so it would feel like she was with me.
The rest of the evening went by without any catastrophes. The cats snoozed, the hoomans ate, and soon, we were headed back to land. While it was mostly a comfortable cruise, the waves were rather choppy at certain points, leaving me feeling a little bit queasy. But not to worry as the crew has their own remedy for seasickness on board – just ask them for some candied ginger to help settle the stomach. 
For its public cruises, the Royal Albatross will invite speakers from cat welfare organisations, who will conduct sharing sessions covering topics on responsible cat ownership. Donation boxes will also be made available on board for Singapore's leading cat charities.
Upon reaching home, I gave Bella, who was probably upset with me at being left behind, a tight hug. I didn't return home to Bella empty handed though – all cat cruise guests are given a goodie bag by PetCubes, containing a gourmet cat dinner which the cats can enjoy at home. Maybe next time Bella would be fit for sail.
The first public cat cruise will set sail on Aug 13. Other scheduled dates include Sep 13, Sep 26, Oct 3, as well as a Meow-o-ween cruise happening on Oct 24. More dates will be released. Prices start at $125++ per child and S$225 per adult. Cats sail for free.
For more information on the Royal Albatross Cat Cruise, visit https://www.tallship.com.sg/events/catcruise/