Dinos and pandas: When Singapore cyclists get artistic with their GPS routes
What happens when some people channel their inner Picasso while pedalling around the island?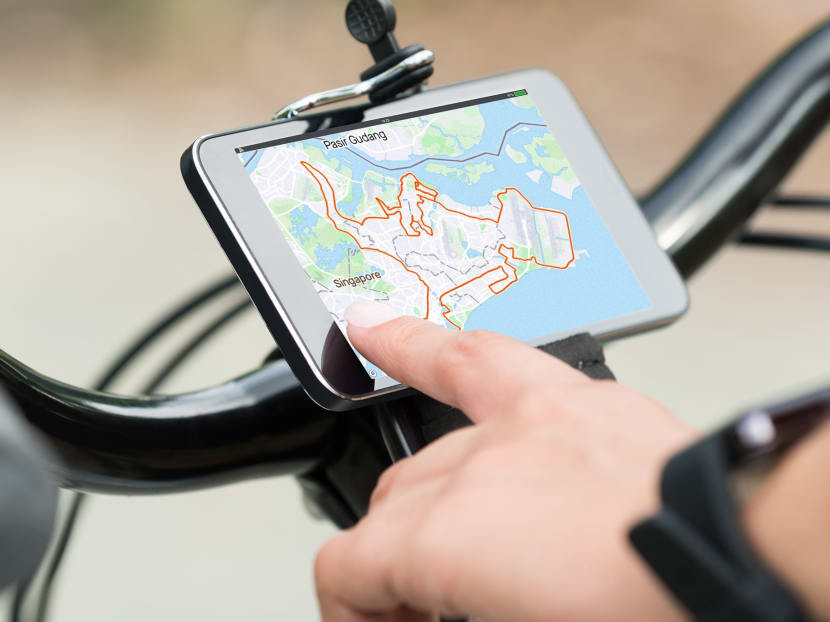 Who would've thought cycling wasn't just a physical and leisurely experience but an artistic one too?
Scroll through your Facebook feeds and you've probably stumbled upon Singapore cyclists eschewing the regular routes and getting creative, resulting in some interesting patterns, many of which could be found on the SG PCN cycling group.
And it isn't as easy as one might think – planning the route is one thing but executing it is another. One wrong turn and the picture your inner Picasso envisioned could very well just end up looking like a doodle.
But some have succeeded – here's a look at some routes you've probably seen floating online. Who are the people behind these and what's their story?
DINOSAUR ROUTES
What's cuter than a dinosaur route? Two dino routes!
The original dino route by cyclist Giandi Lacamiento starts and ends at 70 Hougang Ave 7. The details to this GPS route is amazing as he even planned out the lines in the tails and leg of the dino to make it look super realistic.
Lacamiento, who works in Singapore, was inspired by his daughter who loves dinosaurs – but is unfortunately overseas. "I haven't seen my daughter for a long time due to the pandemic, but every time we video chat, she shows me her dino toys," he explained, adding that it took two days to plan the route.
Needless to say, when he showed the end result to his daughter, she was thrilled.
Meanwhile, Riz Gelle, who was inspired by other cyclists' dinosaur routes, decided to combine them into a "mummy and baby dinosaur route", which he dedicated to his wife and daughter, whom he hasn't seen in almost two years.
His route starts and ends at Jalan Kayu Interim – over 100km long and parts of which don't have any pavements or PCN so it's definitely more challenging.
Starting/Ending point: 70 Hougang Ave 7 (for the baby dino) and Jalan Kayu Interim (for the mummy and baby dino)
Difficulty level: 4/5
Check out the route here.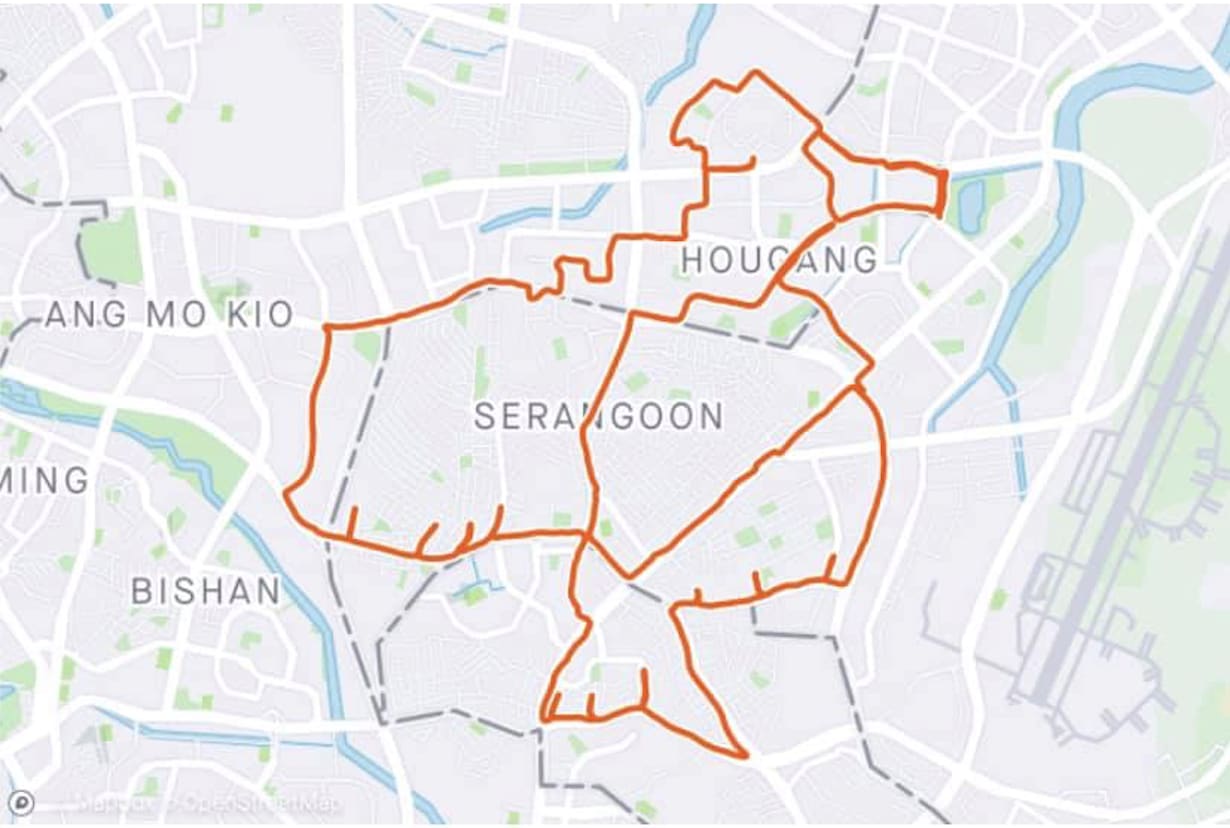 WOODY WOODPECKER-ISH
This bird-like route was inspired by the cartoon character. It starts at Punggol Park and ends at Hougang Avenue 2. Cyclist Lacamiento took about a week to plan this one. He originally planned to create the eyes of the bird using the roundabout at the Institute of Mental Health but right now, you can't enter unless you have an appointment, so there went the eyes.
It's a rather easy route and it goes through the residential areas of Serangoon and Bartley – so you can cycle and gawk at houses at the same time.
Starting/Ending point: Punggol Park/Hougang Ave 2
Difficulty level: 2/5
Check out the route here.
MANDARIN DUCK RUNNING AWAY
Here's another feathery feature. The creator of this route, Crystin Sim, calls this one "Mandarin duck running away", but it looks more like a suspicious duck to us. She was inspired by the recent news, back in June, of the rare sighting of a Mandarin duck in Hougang.
This route starts and ends at Buangkok East Drive and it passes by the Air Force Training Command School along Airport Road. Most of the route is on narrow pavements and it is rather challenging. Warning: You will also have to climb an overhead bridge
Starting/Ending point: Buangkok East Drive
Difficulty level: 4/5
Check out the route here.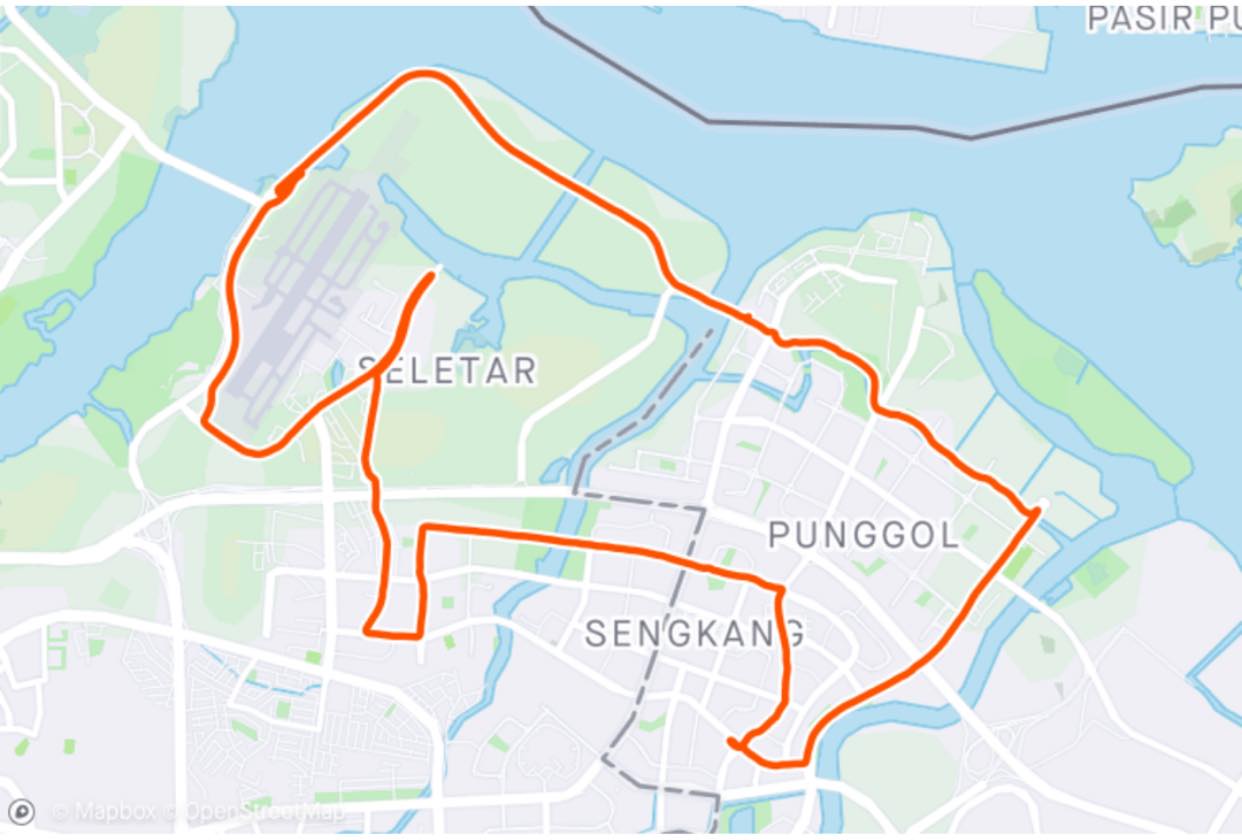 PONY
Some say it's a pony, others think it's a bison. Either way, whatever animal it is looks like it's chilling and eating grass. The route is inspired by Seletar West Link Road as its creator reckoned it looked like a pony head. It starts and ends at Seletar North Link, and it is recommended to cycle around late afternoon as you may be lucky enough to catch the beautiful sunset at Rower's Bay Park.
Gear up for this one as the route is mainly on the road. Don't be intimidated because it is quite a relaxing ride!
Starting/Ending point: Seletar West Link Road
Difficulty level: 2/5
Check out the route here.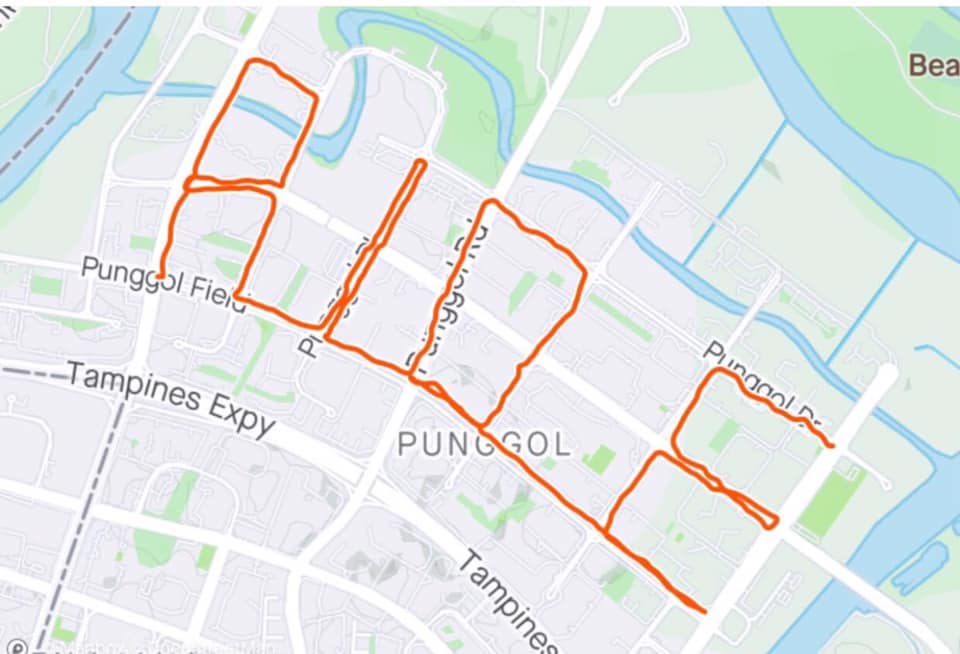 RIDE
This is when cycling meets calligraphy. The "RIDE" route is also another creation of Sim and covers the Punggol area. The route is a combination of pavements and PCNs so you don't have to use the road. However, it is rather challenging as there are many turns to be made in order to create the word. There will also be many traffic lights to cross so be careful!
Start your trip at 268B Punggol Field and end at Waterway Primary School. There isn't much to see along the way but hey, it looks cool on GPS.
Starting/Ending point: 268B Punggol Field/Waterway Primary School
Difficulty level: 4/5
Check out the route here.
WILD BOAR IN YOUR AREA
Wild boar sightings have become an inspiration for cycling routes. You won't spot any boars on this journey but you will come across Singapore's last kampung. There are still residences in Kampung Lorong Buangkok so please be considerate when exploring. Also, half of this route is on the road so you have to be very careful.
Starting/Ending point: Lorong Buangkok
Difficulty level: 4/5
Check out the route here.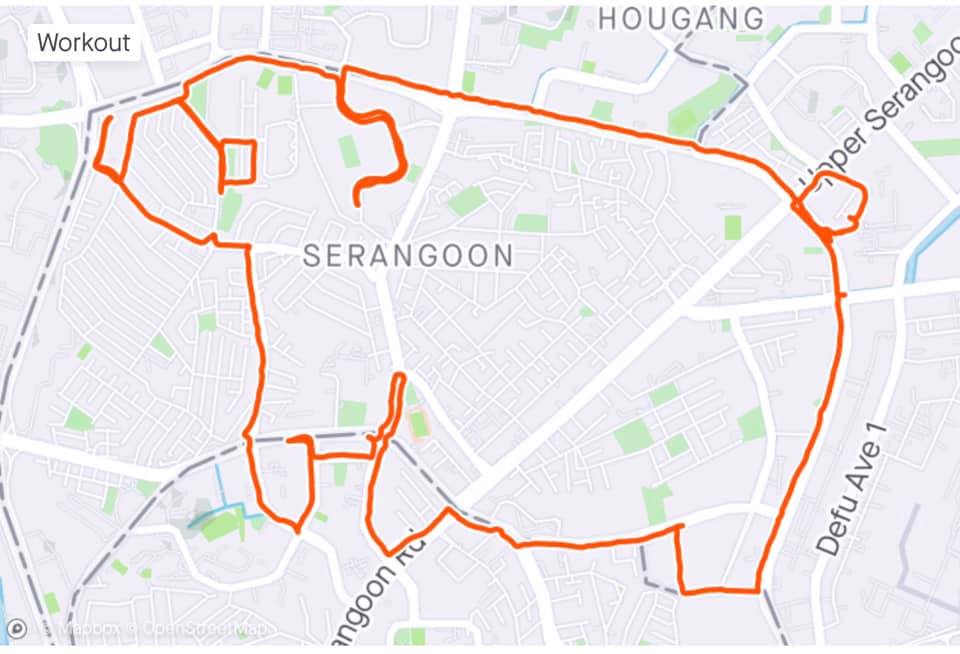 BABY PANDA
We recently welcomed Kai Kai and Jia Jia's panda cub so cyclist Sim created a route that resembled the newborn. The route even includes details like its ear and a tiny round tail.
Riders start and end at Hougang Avenue 3 and if one gets hungry, there's always Chomp Chomp Food Centre along the way.
During the journey, you can also admire the landed terrace houses along Serangoon. It is also a rather safe route as it's 100 per cent on the pavement. A pro-tip would be to ride slightly late at night for less traffic.
Starting/Ending point: Hougang Ave 3
Difficulty level: 2/5
Check out the route here.