What it's like to go glamping with a view of flamingos at Jurong Bird Park
It's not every day that you get to spend a night at a bird park, much less wake up to the sight of flamingos. CNA's Try Sutrisno Foo got a taste of Jurong Bird Park's 2-day, 1-night glamping experience.
If the thought of camping with flamingos makes you tickled pink, Jurong Bird Park has just the right option for you for a fun staycation.

From Jun 10 to Jul 30 this year, it's offering a glamping opportunity where you get put up in air-conditioned bell tents with a stunning view of Flamingo Lake.
It's home to 160 greater flamingos, the largest species of flamingos, and a sight to behold when they are together in such numbers.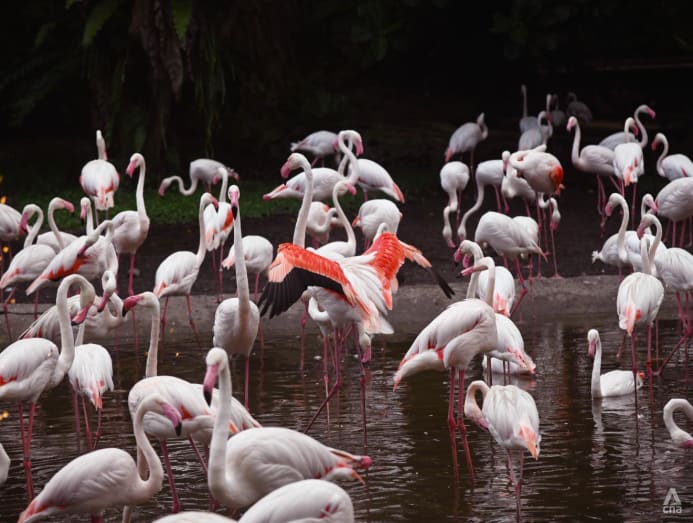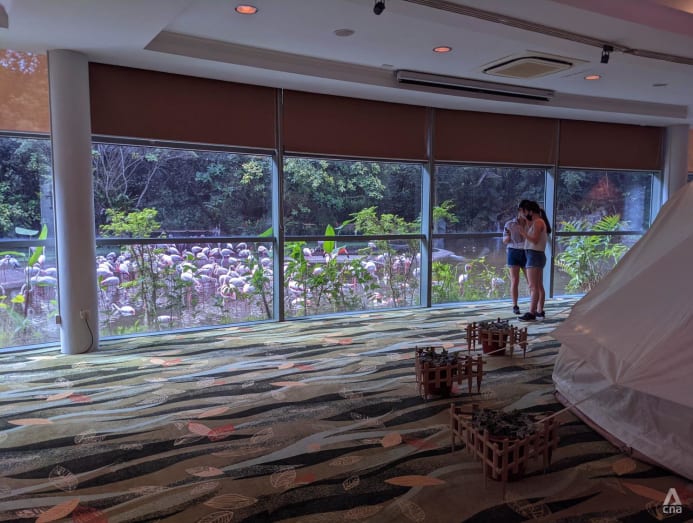 On the first day of a media preview, this writer got to enjoy dinner while watching these gentle giants alternate between preening and walking around delicately on their stilt-like legs.
Interestingly, the collective noun for a group of flamingos is flamboyance, but the only thing loud about these birds was their colour. At least it seemed so, watching them through a thick wall of glass.
In person, flamingos make charming honking sounds, which I imagine could make quite a din if you were truly camping amongst them.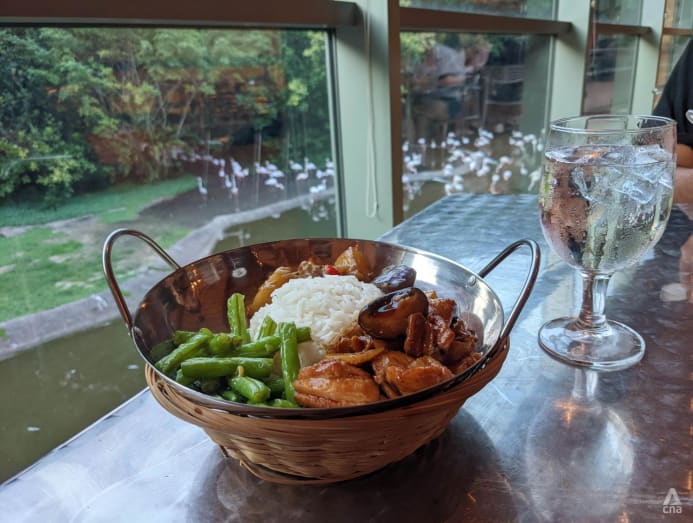 As night fell, I was pleasantly surprised to see fairy lights coming on, making the tents glow and lending a warm and cosy feel to the room.
Outside, the flamingos looked like ethereal dancers as they waded about the lake with lights shining on them.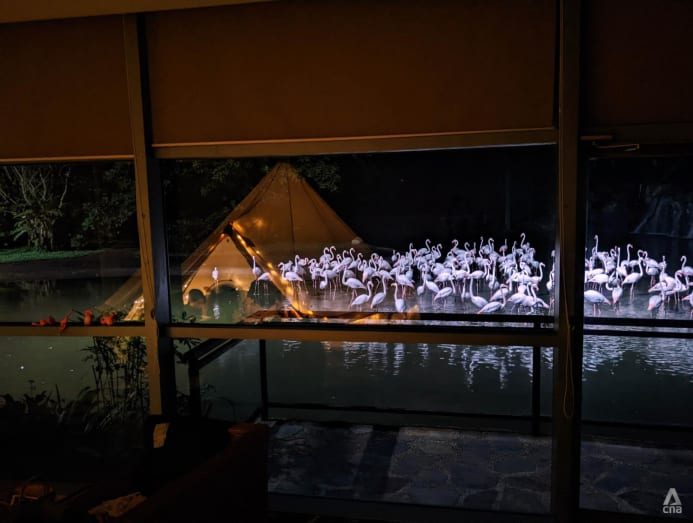 Each tent can accommodate four people and comes with two double beds with blankets, four soft pillows and two cushions. A fan and a power socket are also provided.
I was told that for a price, peckish guests can also opt for add-ons such as a snack basket or a cheese platter and wine basket to spice up their stay.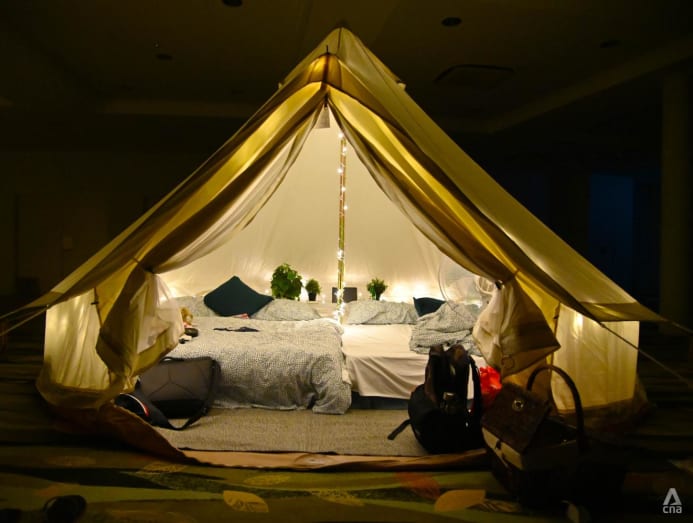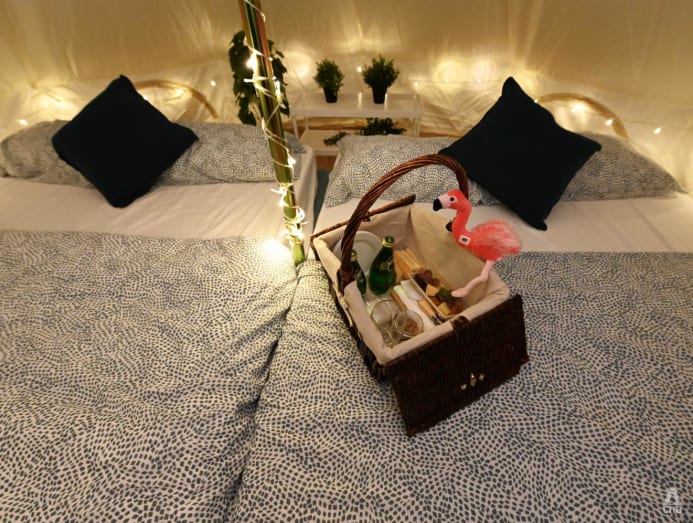 The bed was comfy enough, but for those who have trouble falling asleep, you can try counting flamingos.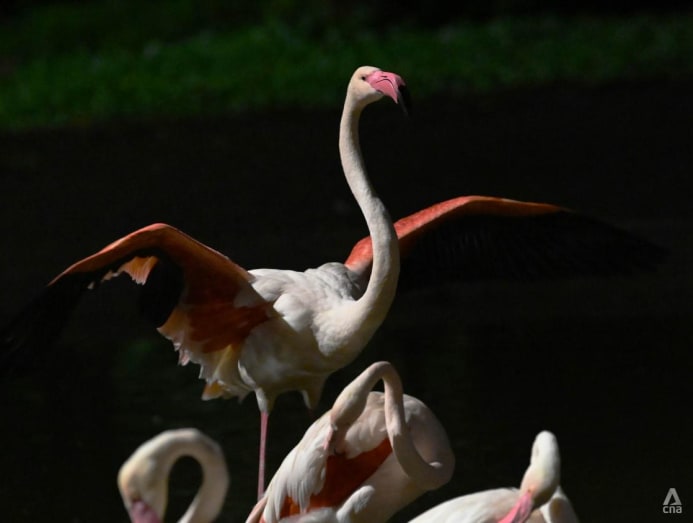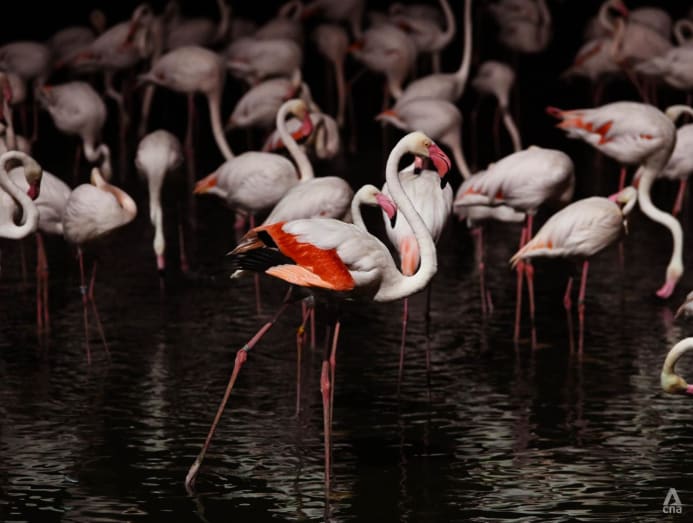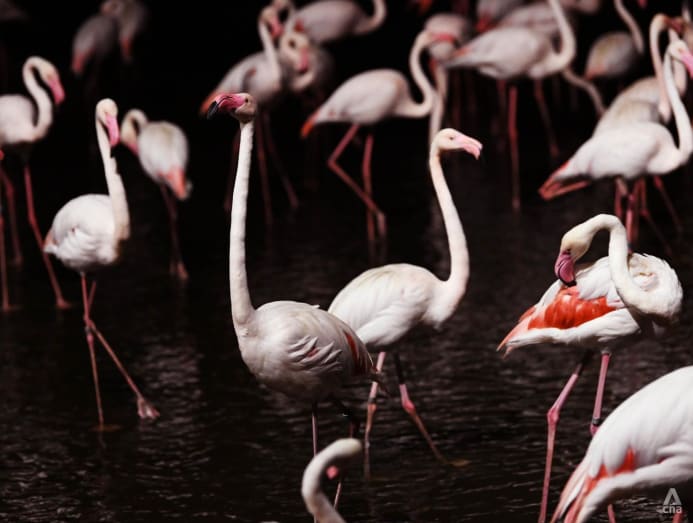 UP CLOSE WITH THE BIRDS
Besides looking at flamingos, guests are also treated to a host of activities. There's no winging it here – they get to go on guided tours around the park and join keepers during bird-feeding sessions.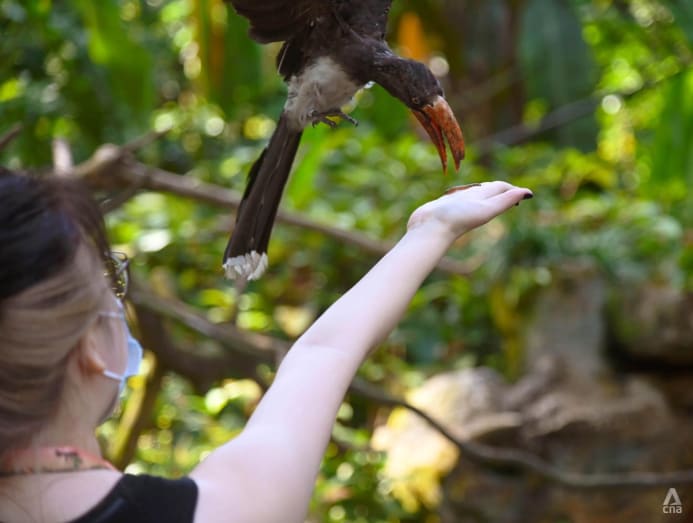 This is where the experience truly stood out for me: Getting up close and very personal with an array of fine feathered friends – birdseed in hand – made for great photo opportunities. It is every birder's dream to see them like this, and other visitors and myself were able to study their iridescent plumage and sometimes equally brilliant crowns and beaks.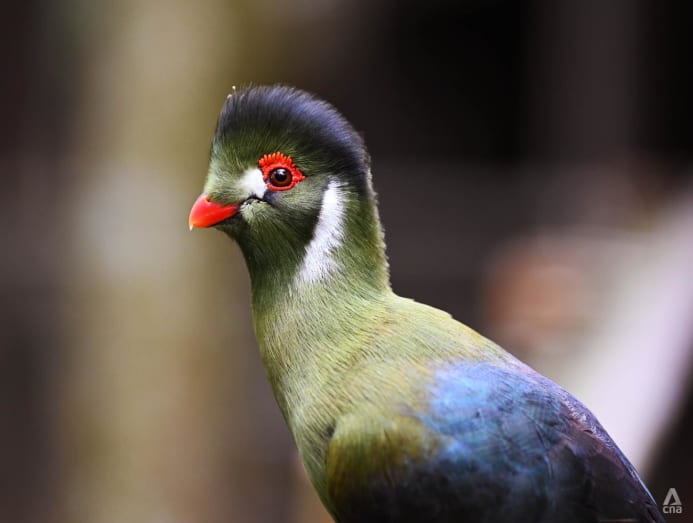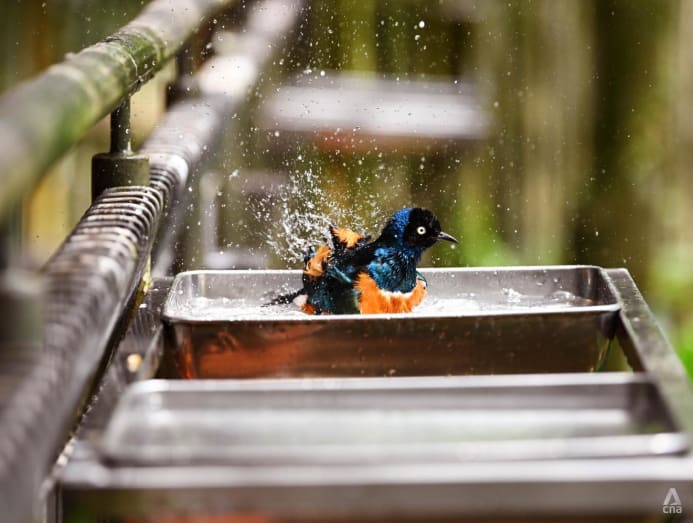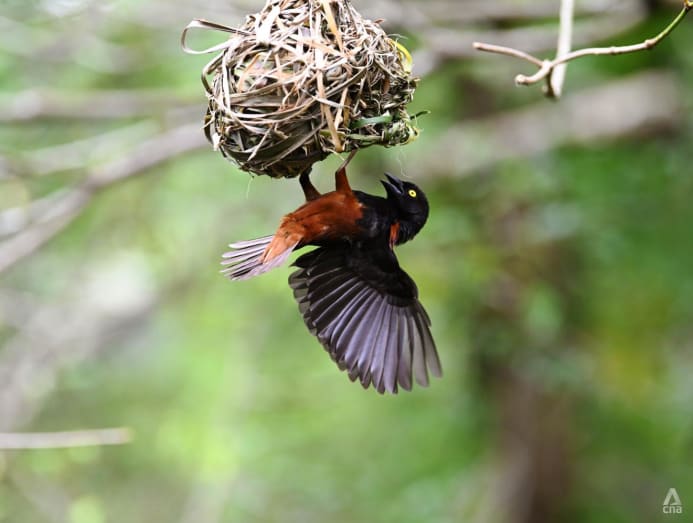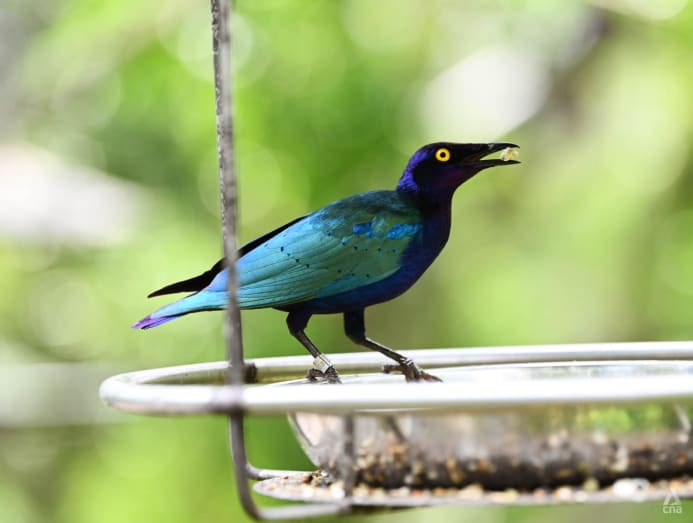 For those who favour larger, more fearsome birds, there is a session for guests to get to know some of the park's resident birds of prey, such as vultures, under the safe watch of their keepers.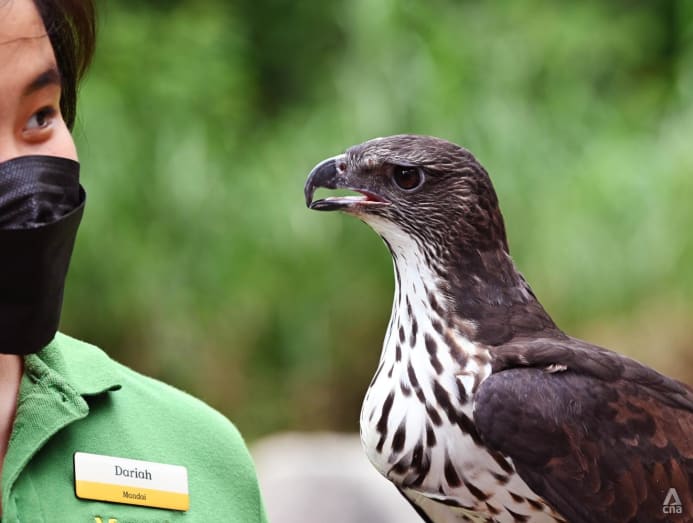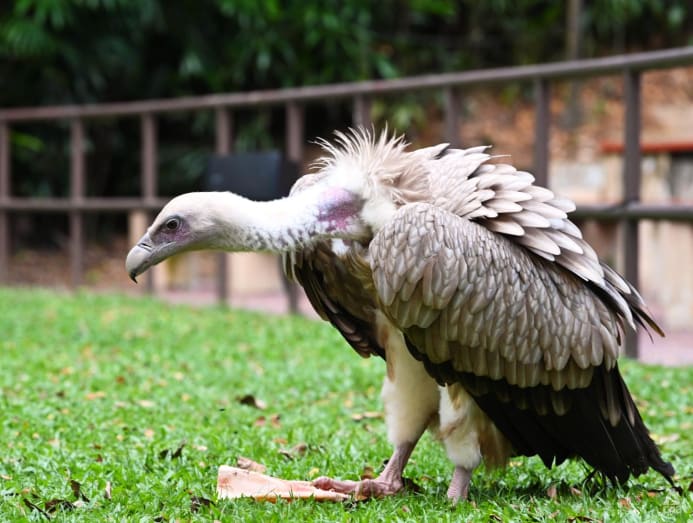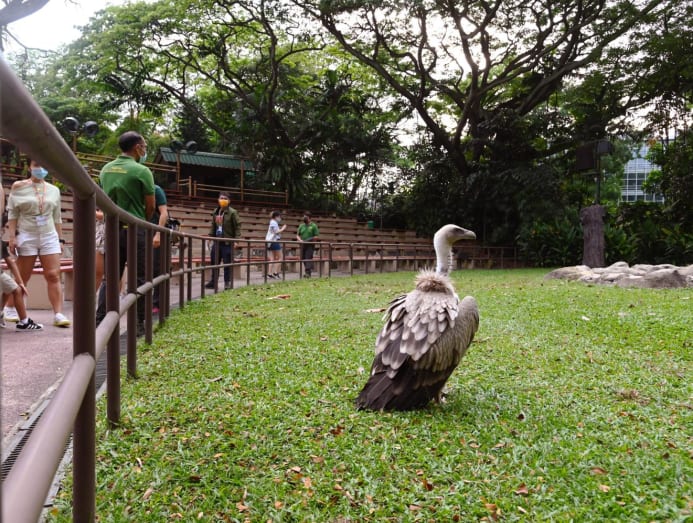 Overall, the glamping experience was unique and entertaining. At S$1,099 this is by no means a cheap thrill (a cheep thrill maybe), but two days, chockfull of interactions with birds made for a fun lasting memory at Jurong Bird Park before it eventually relocates to Mandai.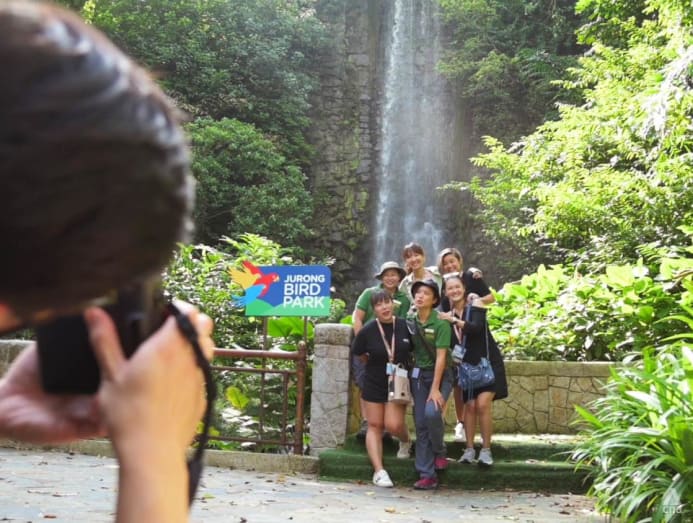 CNA Lifestyle had a Staycation With The Flamingos at Jurong Bird Park at the invitation of Mandai Wildlife Group. The staycations will run from June 10 to July 30, 2022. Guests can book a stay here.