Singapore to South Korea via VTL: A guide on what to do before and during your trip
What documents should you print out? When do you schedule the PCR tests? And what can you expect when you arrive? CNA Lifestyle answers your travel questions.
If you have been itching to travel to South Korea, you may already be making plans to take advantage of the vaccinated travel lane (VTL) scheme that started on Nov 15. 
But how are things different from pre-pandemic days when you only need to step up to the check-in counter with just your boarding pass and passport?
What documents do you have to prepare? How many PCR or polymerase chain reaction tests do you have to undergo both in Singapore and South Korea?
CNA Lifestyle's Khoo Bee Khim, who is currently in Seoul, answers some questions you may have about the situation in South Korea.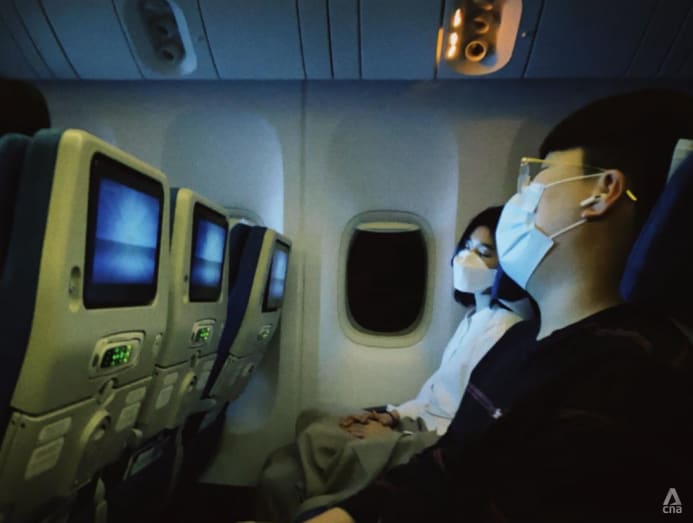 DO I HAVE TO FLY WITH SPECIFIC AIRLINES?
Yes, you do. The VTL scheme only applies to Singapore Airlines, Scoot, Korean Air and Asiana Airlines.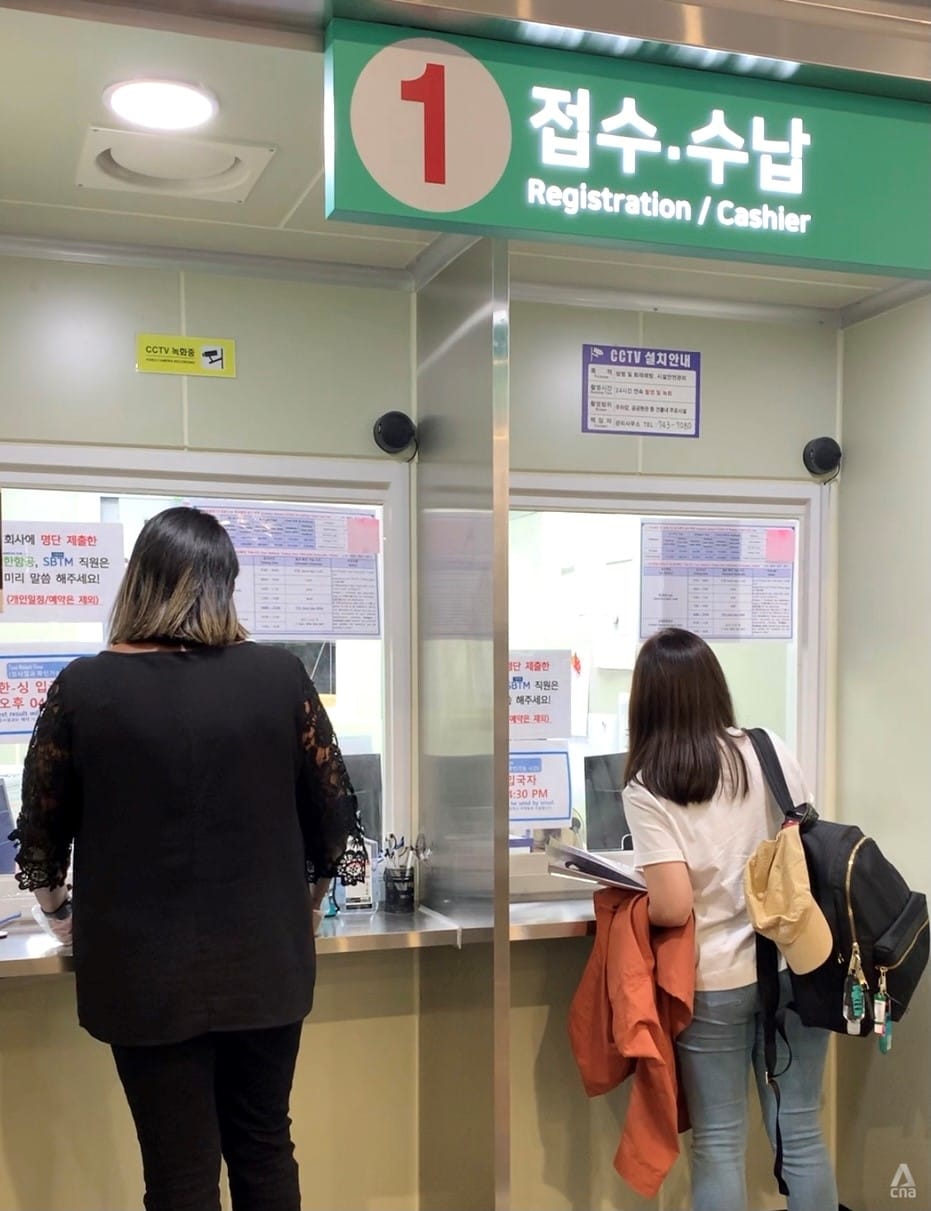 WHAT DOCUMENTS DO I NEED TO PREPARE BEFORE LEAVING SINGAPORE?
Here's a check list. Do print out at least two copies of each document (except your passport) and save a soft copy of each document onto your handphone.
1. Passport: Ensure it has at least six months validity.
2. Korea Electronic Travel Authorisation (K-ETA): Apply online here at least 24 hours prior to departure (pay 10,000 won, which is around S$11.50). You don't have to fill in any other immigration card at the airport.
3. Vaccination certificate: You must upload your document and notarise it here.
4. Travel insurance policy: Minimum coverage of 30 million won (about S$34,000).
5. Negative pre-departure PCR test result: To be obtained within 72 hours before departure time. You'll also need to have it notarised.
6. Book on-arrival PCR test at Incheon International Airport: You have to make an online reservation for your PCR test at Incheon International Airport before travelling. It costs about 135,000 won to 180,000 won (S$150 to S$200).
7. Book on-arrival PCR test at Changi Airport: This is for when you return to Singapore. You can book it here.
WHAT ARE THE STEPS AFTER ARRIVING AT INCHEON INTERNATIONAL AIRPORT?
It helps to make the process more hassle-free if you have the necessary documents (see above) on hand. We found it useful to keep all the documents in a folder and carry it with you onto the plane.
It also helps to keep your hands as free as possible (stash away your travel pillow, handphone, et cetera) as you'll be taking out various documents at various check points.
Still, be patient and be prepared to queue way longer than pre-pandemic times. We took about an hour to check in at Changi Airport and it wasn't even a full flight. It took us another two hours to clear immigration at Incheon International Airport and that did not include the PCR test and luggage pick-up.
CAN THOSE WHO HAVE RECOVERED FROM COVID-19 TRAVEL TO SOUTH KOREA? WHAT IF MY PCR RESULT IS STILL POSITIVE?
You cannot travel if you have recovered from a COVID-19 infection and still test positive for the PCR test. You also cannot travel if you have only received one single dose of COVID-19 vaccine but have recovered from a COVID-19 infection.
HOW MANY PCR TESTS ARE NEEDED IN SOUTH KOREA? HOW MUCH DO THEY COST?
If you're staying eight days or more, you'll need to get three PCR tests done in South Korea; only two PCR tests are required for shorter stays. This does not include the two tests required prior to departure at Changi Airport and upon arrival back in Singapore.
First PCR test: Upon arrival at Incheon International Airport.
Second PCR test: 48 hours before your flight home.
Third PCR test: Only applicable if you're staying for eight days or more. To be done on the sixth or seventh day of arrival at a designated hospital or clinic. After taking the test, you are not required to isolate and can carry on with your activities in Korea.
The cost of each PCR test in South Korea is about 135,000 won to 180,000 won (S$150 to S$200). If you test positive while in Korea, you'll be quarantined and treated at a designated hospital and be responsible for your medical expenses. This is why you have to buy insurance before you travel to South Korea.
The result will be ready in eight to 24 hours and you'll have to return to the hospital/clinic to pick up the physical copy. For notification, leave behind a local contact number. You can't use the hotel number; we recommend getting a SIM card.
WHERE CAN I GET A LIST OF CLINICS IN SOUTH KOREA FOR THE PCR TESTS?
You can find the list here.
WHAT CAN I DO IN SOUTH KOREA WHILE WAITING FOR THE PCR TEST RESULT TO BE READY?
After taking your on-arrival PCR test in South Korea, you can proceed to your accommodation via taxi, private vehicle, designated bus or train to isolate and wait for the results.
To be certain, check with your hotel or accommodation before travelling if you can check in while waiting for your PCR results.
Do note that you're not allowed to take a domestic flight until you have received a negative result for the on-arrival PCR test.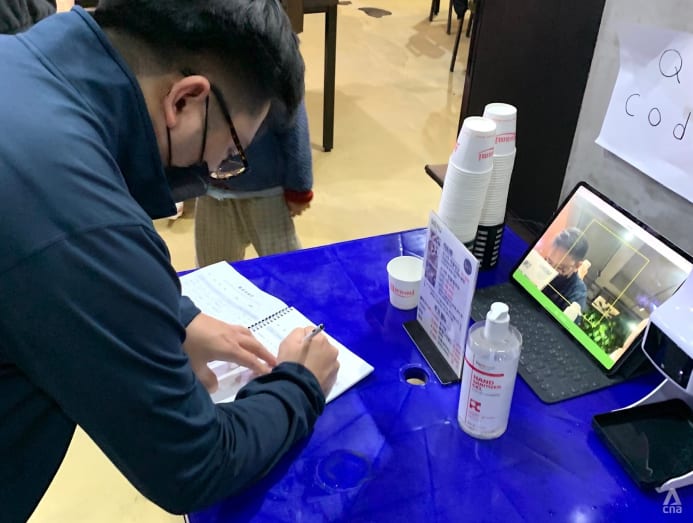 DO I HAVE TO QUARANTINE IN SOUTH KOREA?
You don't have to if you're fully vaccinated in Singapore with a WHO Emergency Use Listing COVID-19 vaccine for at least two weeks before arriving in Korea.
You are also exempted from quarantine if you have been in Singapore for at least 14 days consecutively prior to travel. The exemption only applies if you take a direct flight operated by Korean Air, Asiana Airlines, Singapore Airlines or Scoot from Singapore to Korea.
Children below age six who are unvaccinated, are exempted from quarantine as well. However, unvaccinated children at age six and above will be subjected to quarantine for 10 days.
WHAT ARE THE LOCAL RESTRICTIONS TO TAKE NOTE OF?
Once you step out of your hotel or other accommodation, masks are mandatory. At several restaurants and cafes that we ate at, we were required to write down our names and handphone numbers for contact-tracing purposes. Body temperature was also taken at some F&B outlets.
Social gatherings are allowed in groups of 10 in the metropolitan areas and up to 12 in non-metropolitan areas in South Korea. However, the guidelines may change so it is best to check here for updates.
WHAT DO I NEED TO TAKE NOTE OF BEFORE BOARDING THE PLANE BACK TO SINGAPORE?
In addition to the same documents you entered South Korea with, check that you also have your negative PCR test result. You'll have two test results if you've stayed longer than eight days.
You'll have to declare your health status electronically via this ICA link as well. 
WHAT HAPPENS AT CHANGI AIRPORT?
You'll still have to clear the immigration checkpoint as usual. Once again, make sure you have all your documents with you, including the PCR test result from South Korea.
After collecting your luggage, proceed to the registration booth to register for your on-arrival PCR test. You would already have pre-booked the test and paid for it electronically (S$125 per test) before leaving Singapore. Note that you cannot opt to have your on-arrival PCR test done in other clinics or hospitals.
Join the queue and wait to be attended to by the staff from the Raffles Medical Group. Your throat and both nostrils will be swabbed.
The result will be emailed to you in one to 12 hours. In the meantime, you should head straight home and not venture elsewhere. If you have queries, email airborder [at] rafflesmedical.com.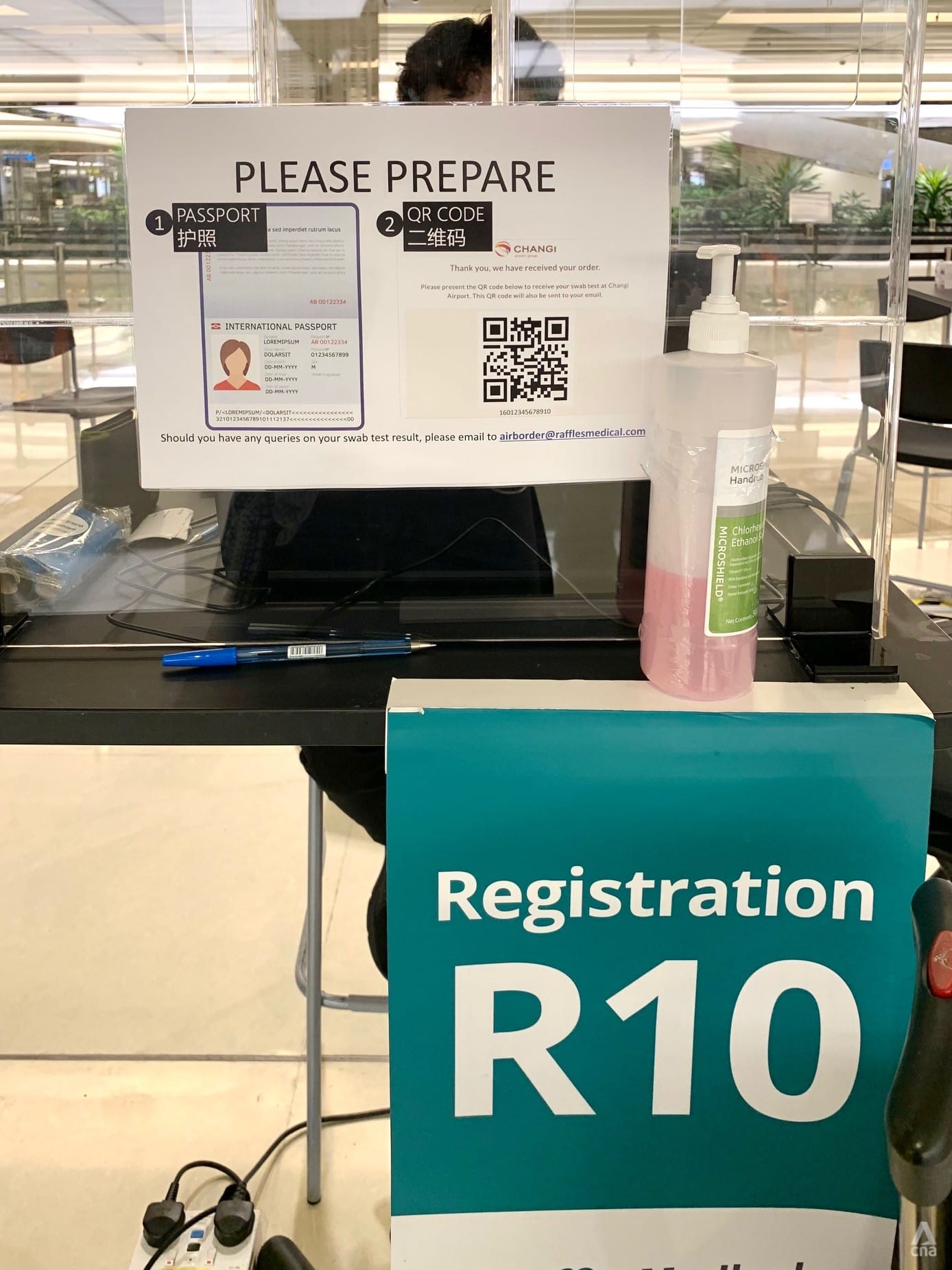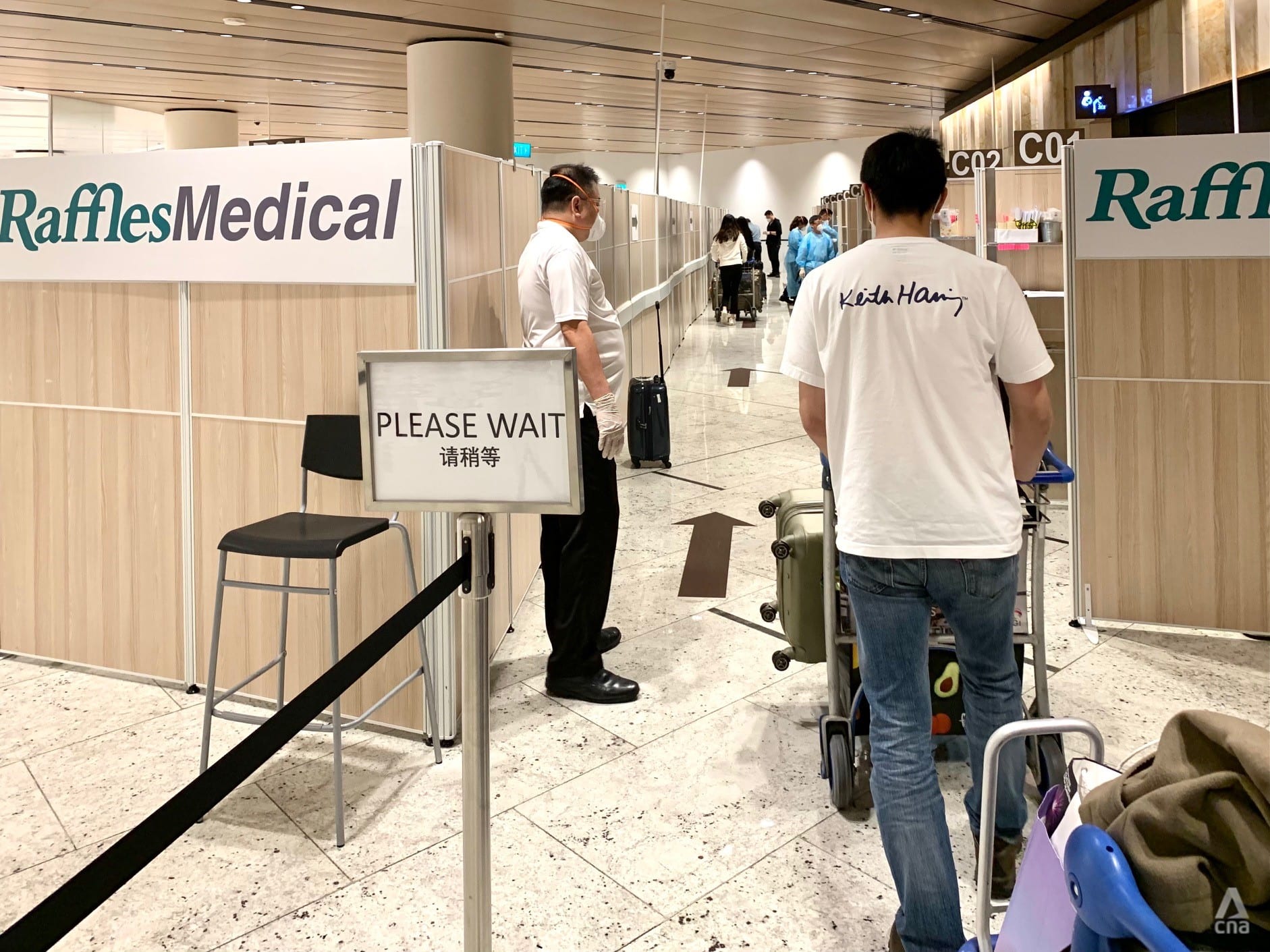 CAN MY FRIENDS OR FAMILY MEMBERS PICK ME UP AT CHANGI AIRPORT?
Yes, provided the last 14 days of your travel history were in South Korea. But should the COVID-19 situation in South Korea change and it is not categorised as a low-risk country by the Singapore government, your friends and family cannot pick you up at the airport.
Alternatively, you can take a taxi or private hire car to head home. However, you are not allowed to take public transportation such as the bus and MRT.