Sydney for thrill-seekers: Skydiving and other activities to get the adrenaline pumping in New South Wales
Whether on land, up in the air or deep in the waters, New South Wales provides options for all terrain escapades. Here are the best of the lot – and they do not disappoint.
In partnership with Destination NSW.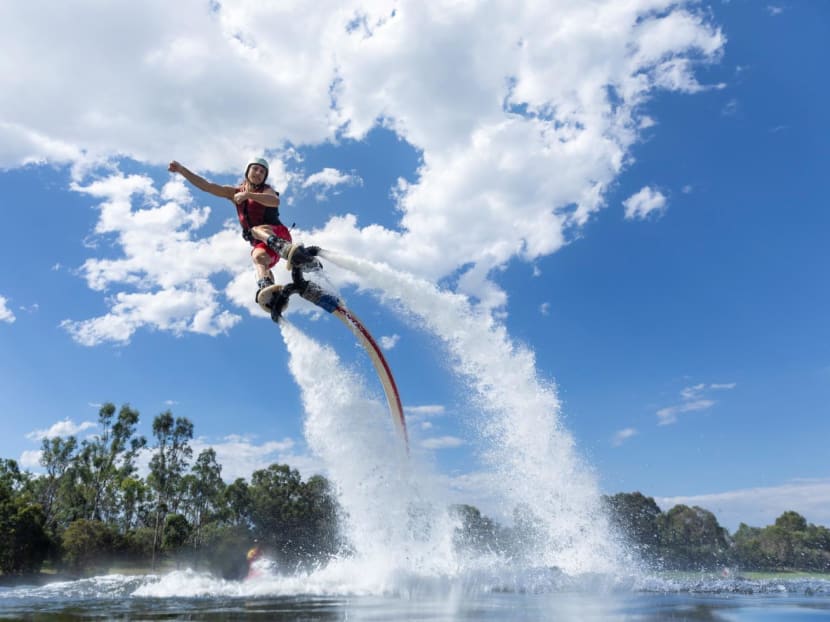 If you like your holidays wet, wild or literally high, Sydney and its surrounding areas might be the place to get your adrenaline fix.
Australia has ranked in the top 10 for countries best for extreme sports for years and its own citizens actively participate in and operate these activities too. Our selections make it easy for those planning to get their thrills while Down Under.
HIGH IN THE AIR
When you Google "things to do in the air" in Australia, the search brings up 1.37 billion searches. When narrowing the search to New South Wales (NSW), it brings up a whopping 185 million results. So it's safe to say, NSW is one of the key places to go for heart-racing activities that happen in the air. Try these for these air thrills:
1. Glide in the sky
Sydney Motor Glider Flight Group is a small, not-for-profit club whose pilots have an average of 35 years of gliding experience. Motor gliders are self-propelled mini aircraft that can take off by themselves. The pilot flies the glider into the air and, at the preferred altitude, the motor is switched off. You spend the remainder of the flight riding the thermal air currents back to the ground.
The club's aim is to instil the love of gliding and so, your Air Experience Flight – A$299 (S$278) for 45 minutes in the air – includes a comprehensive pre- and post-flight briefing and a demonstration. Once airborne, you can take control of the glider under supervision of the pilot on board.
Of course, it's not just about the flying but also the spectacular views over Sydney and the Blue Mountains before gliding back to Camden Airport. 
The group is is overseen by Gliding Federation of Australia and the country's Civil Aviation Safety Authority. You can find out more here.
2. Paragliding over the South Coast
An extreme sport founded in the early 1980s, paragliding is now one of the fastest developed air sports in the world. You run off the cliff slopes with free parachutes and glide through the air with the wind, controlling where you want to go and finally land by yourself.
At Adventure Plus Paragliding, it doesn't matter if you're experienced or a novice, as there's a paragliding experience for you. Choose from 20-minute tandem flights for those with zero experience or Introductory and Refresher ones for those who have had prior paragliding training.
For the tandem flights (A$229 on weekdays, A$249 on weekends) you are harnessed and sat in front of your instructor. This allows you to have a bird's eye view while controlling your canopy under the supervision of an experienced paraglider behind. The flight starts and ends in Stanwell Park, a beach and suburb north of Wollongong, south of Sydney. You'll descend and land on the soft beaches of Stanwell Park Beach.
Do note that this sport is weather-dependent and do make exceptions for replacement bookings as paragliding relies on the wind and also requires a visibility of at least 1,800m while in the air.
For more information, go here.
3. Skydiving over the vineyards of Hunter Valley
Take a flight up to 15,000ft in the sky and freefall over the birthplace of Australian wines, Hunter Valley. You could take a leisurely hot air balloon ride but it won't have the thrills of skydiving over the idyllic landscapes – while freefalling at 200km per hour in 60 seconds!
As your canopy opens, soak up the views of the rolling hills and vines that make the classic Semillon, Shiraz and Chardonnay, to name a few. After your flight down, visit any one of the over 150 cellar doors in the region to pick out your wines to celebrate your dive.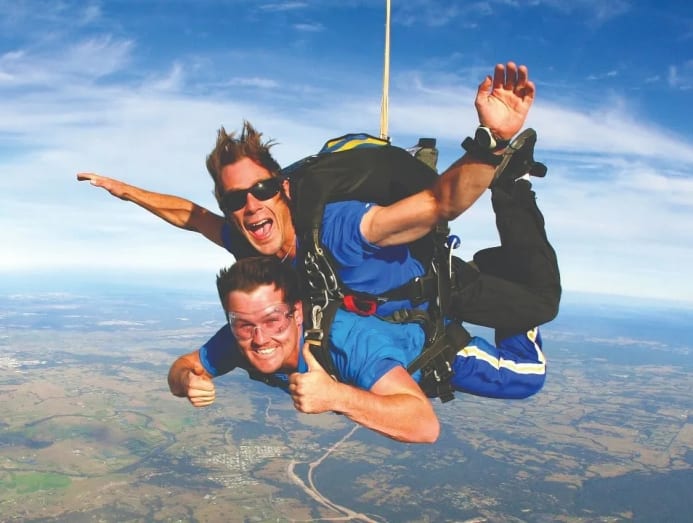 Big on views but not on wine? No matter. The Hunter Valley is also home to cheese and olives, as well as over 20 restaurants in the region, many of which have won awards and feature the fresh and seasonal produce from the area.
For more information on skydiving over the Hunter Valley, go here. For a guide to Hunter Valley, click here.
WET, WET, WET!
Water-sports enthusiasts find Australia the mecca of all sports in and on the water. From diving, surfing, stand-up paddling, kayaking, snorkelling, and boating to name a few, the list is non-exhaustive. These options in NSW are sure to give you exhilarating moments to remember:
1. Jet through the Air
Fly in the air with Jetpack Adventures in NSW's Kariong and Mt Penang Parklands at the Central Coast. Be propelled in the air with hundreds of litres of water delivered through a 20 metre-long hose pipe to a couple of nozzles on your jetpack.
It's an experience to have as you get shot high up in the air. What's more, you get to steer as you control and stabilise your moves, before advancing to creating moves up in the air.
All you need are some basic swimming skills and a keen sense of balance. Explore the surrounds of the Central Coast near the Mt Penang Gardens, a freshwater dam, and remember to pack a picnic basket as you enjoy the jet adventures in the day.
Single flights start at A$175 and go up to A$475 for groups of four. For more information, click here.
2. Diving in a cave
In the middle of the North Coast lies a cave about 125 metres long called Fish Rock Cave in the South West Rocks. The area is the world-renowned Fish Rock dive site where you'll find the best diving conditions and a healthy variety of marine life.
Fish Rock tends to be popular with critically endangered grey nurse sharks all year round – so that means you get to see them anytime you visit NSW. However, even if your vacation days fall on other months, you'll occasionally bump into hammerheads from October through January, plus whales who swim by from May to October. Otherwise, you will also come across several types of rays, eels, turtles, and batfish, too.  
Divers must have an open water certification or higher. Depending on your dive experience and confidence, you can start the cave dive at the deep side and exit at the shallow side or vice versa. Alternatively, if conditions are not suitable, divers can choose to dive outside of the cave. All divers are accompanied and guided by experienced divers from the dive centre.
For more information, go here.
CALL OF THE WILD
Australia has over 20 UNESCO World Heritage Sites, comprising both natural and man-made architectural or cultural wonders. Of these, 13 are ancient works of natural wonder, so some appreciation is in order! Discover some of the world's oldest environmental habitats as you embark on adventurous activities like abseiling, off-road driving, or going over sand dunes in all-terrain vehicles.
1. Abseiling in Thredbo
High up in the heart of Kosciuszko National Park, one of NSW's largest parks, in the Snowy Mountains, is the Thredbo area. Not only will you capture full views of the stunning Snowy Mountains nearby, but the area also offers a host of flora and fauna that can't be seen elsewhere.
Although the Thredbo area is better known for its slopes and winter sports, it's also the spot for numerous warm-weather activities such as hiking and cross-country mountain biking. For the undaunted, abseiling (or rappelling) from the cliffs of the surrounding mountains Thredbo offers a kick that is rarely found elsewhere.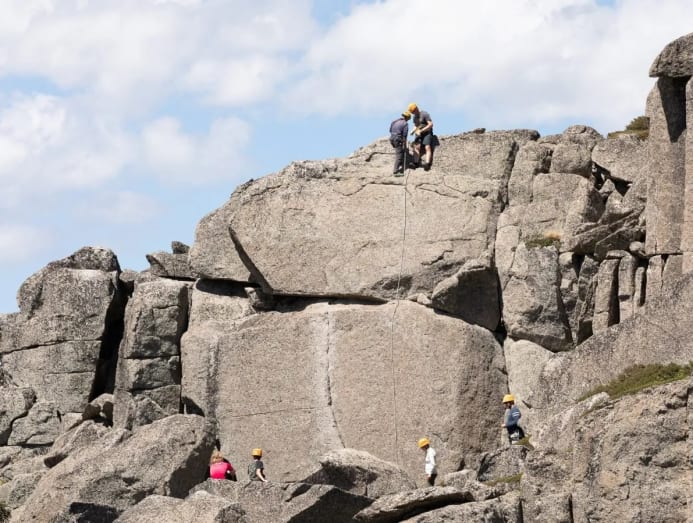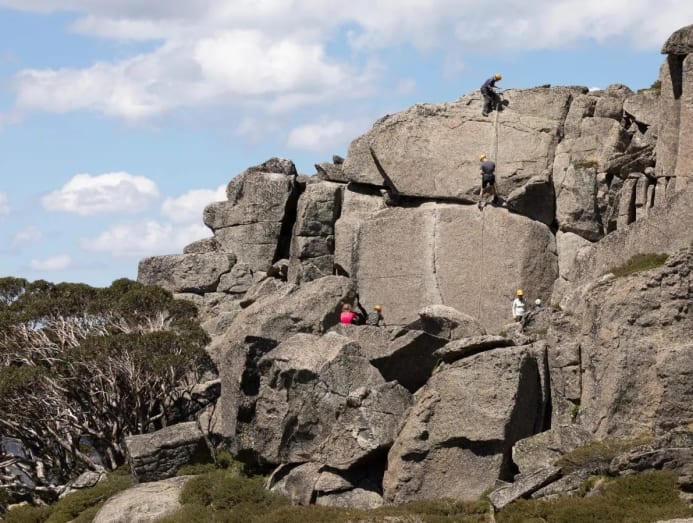 Using ropes, knots and climbs, abseiling is a sport requiring keen observation skills and moderate athletic ability to climb for that heart-thumping descend down the steep mountain.
Thredbo has solid granite tors which make the area ideal for abseiling, bouldering, and all things rock-climbing. Pick from Eagle Rock, Lake Jindabyne, or Charlotte Pass, from beginner to advanced level climbs and an abseiling experience to remember.
For more information, go here.
2. Canyoning in the Blue Mountains
The Blue Mountains are famous for their rock formations and sandstone ridges, and the Greater Blue Mountains Area is protected as a UNESCO World Heritage site for its "1.03 million hectares of sandstone, escarpments and gorges in temperate eucalypt forests," according to the site. What's more, the area represents 10 per cent of Australia's biodiversity.
To explore these steep gorges and ancient rocks, one could take bush walks and hikes or you can go canyoning into the deep ravines – Blue Mountains has the world's highest concentration of slot canyons. These slot canyons are steep and narrow, and often lined with fern and mosses, featuring some of the planet's oldest rainforest species.
Canyoning is the sport of navigating down a fast-flowing mountain steam in a gorge by a combination of swimming, jumping, floating, abseiling, and scrambling over rocks. Not for the faint-hearted, canyoning requires one to be active and due to the extreme nature of this activity, only experienced guides will take you on the course. You'll find a new way to appreciate rocks and plants with as you drop down the canyon.
Canyoning (from A$295) is best suited for those 18 and above, but introductory activities are also suitable for active youths from 13 onwards.
You can find out more from Blue Mountain Adventure Company here. For more information about the Blue Mountains, go here.
3. Off-Road Driving
Get your throttle going with off-road driving in a WRX rally car or a V8 race buggy! Driving will never be the same after this experience as professional off-road race drivers train and drive with you through the course. You'll negotiate turns on the terrains by the side of the Hawkesbury River.
Prefer to be in the passenger seat? Take a hot lap with the pros and still get the off-road drive of your life.
For more information, go here.
4. Quadbike over the Sand Dunes
Put your nerves to the test with quad biking. Take an all-terrain utility vehicle and ride these monster bikes on four wheels over the sand dunes of Port Stephens, about 160km north east of Sydney. Take it to the highest sand dune in the Southern Hemisphere at Worimi Conservation Lands, home of the magnificent Stockton Beach.
Go wild and free with the quad bike and ride from the Australian Bush to the sandy white beaches, taking in the splendid views of the coast.
Each ride is an hour but it excludes time taken to travel to the sand dunes plus safety training and equipment fitting. No driving experience is needed but due to the nature of the sport, only those 12 years and up may participate, and there is a height requirement.
Rides start from A$149 and you can find out more here.
For more travel inspiration on New South Wales, go to https://www.sydney.com/