Dreaming of that trip to Sydney? Bookmark these places for your Instagram bucket list
It'll be quite some time before we get to travel, but that doesn't mean we're not allowed to plan – or scroll through our feeds. Here are picture-perfect spots to wine, dine and more during that future holiday to Australia.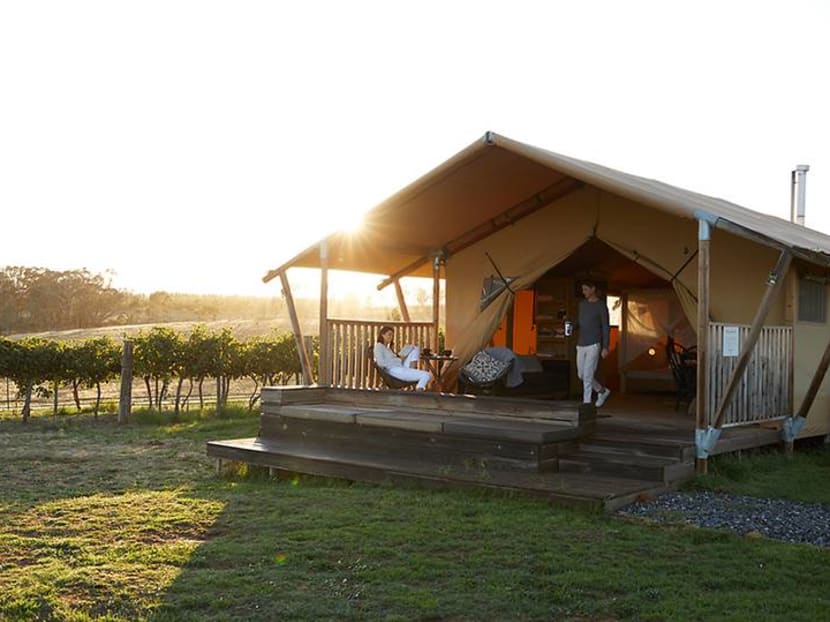 Just because you're on a diet, doesn't mean you can't look at the menu, right? The same goes for travelling.
While the pandemic has us locked within our borders for the moment, we can still ogle at the beautiful sights of Sydney and its surrounds. From countryside cool to beachside chic, vineyards with views to colourful hipster cafes, there's always a spot to feed what has for many of us become a true case of virtual wanderlust.
So drop your pins on these picture-perfect locales in Australia's New South Wales for when travelling becomes a reality again.
ICEBERGS AT BONDI
If you go to Bondi and don't make a pitstop at Icebergs, do you really see Bondi at all? Icebergs is so famous it's right up there with the Sydney Opera House and crazy milk shakes. 
In other words, people take photos of it (at it and in it) because how could you not? Where else in the world is a turquoise rock pool set against crashing waves in a bluer-than-blue ocean more accessible to the public?
Icebergs started life in 1929 as the Bondi Icebergs Winter Swimming Club where local life savers (the Aussie term for lifeguards) trained to maintain their fitness in winter. Today, the pools are open to the public all year round.
TARONGA ZOO
The experience begins as soon as you set off from the ferry at Circular Quay. The ride itself covers half of everything you'd want to photograph on a visit to Sydney, and from incredible vantage points, too. The Harbour Bridge from the waters? Check. A panoramic profile of the Opera House? Check. Sydney's charming skyline? Triple check.
At the century-old zoo, there are plenty of Art Deco accents and more aerial views of the city (Taronga means "beautiful view", after all) to drain your camera or phone batteries with. And then there are the animals – a gorgeous menagerie of them, from giraffes and tigers to orangutans, seals and all manner of Australian wildlife.
BISTRO MOLINES
Set on the rolling grounds of the Tallavera vineyard in Hunter's Valley, this picturesque restaurant is the perfect spot for documenting your OOTD or just humble bragging about, oh, everything.
Snag a table on or by the veranda and take in the spectacular scenery. Then walk off your meal around the estate where photo opportunities abound.
THE SONIC
The photo ops in this gorgeous concept store are totes worth the price of a cup of coffee. Housed in a reclaimed Masonic Hall, this sprawling light-filled space is stylishly crammed with an eclectic array of homeware and clothes from Aussie labels like Sass & Bide, Kip & Co, and Talulah. Stop for a cuppa at the store's Nimrod Cafe and nosh on pastries, salads and sandwiches, all of which are as photogenic as the space itself.
NASHDALE LANE WINES
If you get Under The Tuscan Sun vibes from this 60-acre vineyard, that's because its owners dreamed up this space on a working holiday in a Chianti vineyard more than 20 years ago. 
Its zinc-walled structure set against a red brick pathway exudes rustic charm. Knock back a couple of Nashdale Lane's delicious wines before heading out to the neat rows of vines to capture your best Instagram moments.
SIERRA ESCAPE
An adults-only luxury eco glamping experience set against big skies, rolling hills and the most breathtaking views. Australia's crystalline natural light conspires with Sierra Escape's thoughtfully designed tents (a bathtub perched on an outdoor terrace, anyone?) to yield images straight out of a movie screen – and you, baby, are the star. Speaking of stars, expect a lush carpet of them lining the night sky above you.
LOWE WINES
Wisterias in full bloom, picnics beneath shady trees, a hot air balloon or three in the horizon –  such is the magic of a day at this vineyard. The looming thatch-roofed cellar door, framed by neat brush (and sometimes, perfectly accessorised by Lowe Wine's resident doggo or a wandering peacock), makes for great photographs.
PAPERBARK CAMP
Comfy safari-style tents, built on stilts so they look a little like luxury treehouses, sit among towering eucalyptus and paperbark trees. The surrounding Jervais Bay is a sight for sore eyes, complete with kangeroos on the beach and spectacular sunsets.
BANNISTERS BY THE SEA
It isn't just the infinity pool set against the deep blue ocean that'll keep your cameras busy. Indoors at this airy resort, there is plenty to fawn over, including the gorgeous rattan-furnished pool bar, tastefully designed rooms, and artfully plated food.
HIGH TEA AT CAMBEWARRA ESTATE
Warm scones, cakes, tea and a bottle of bubbly. That's good enough for most folks, but for something truly special, throw in a giant pink teacup – not to drink from but to sit in amongst the chardonnay vines and the endless blue sky as your backdrop. This is the kind of experience that was truly made for the 'Gram.
For more information on the wine regions in New South Wales, go to Sydney.com. You can also visit UOB Travel for more inspiration for future plans. Do check the respective destinations for their COVID-19 policies. 
In partnership with Destination NSW and UOB Travel.