Fancy glamping in a 'bubble tent'? Luxurious getaways and experiences from Sydney
Sydney is the perfect jumping off point for your luxurious holiday in New South Wales, Australia. Whether you're up for glamping or looking for a seriously luxurious retreat, we've got you covered.
In partnership with Destination NSW.
When it comes to taking a vacation, a key factor is location, location, location. So if you're looking at a getaway around New South Wales (NSW), start off in Sydney and make your way around the state.
An indulgent escape is definitely not out of reach when you're travelling from Sydney – in a matter of hours, you'll be set for a new getaway whether in the coastal towns or the hinterland national parks. Either way, the trip is worth making for the memories.
GLAMPING
When you've travelled thousands of miles away to pick a glamping experience, the choices in NSW take it to the next level. Whether you're looking to relax and golf or visit the national parks, there'll be an option for you.
1. BUBBLE TENTS
For a magical stargazing experience, there's Bubble Tent Australia at Capertree Valley, which is the widest canyon in the world and located 200km northwest of Sydney.
The bubble tents here are named after key astrology signs such as Cancer, Leo and Virgo, and each one features unique options such as a floating bed, a hammock or a love swing.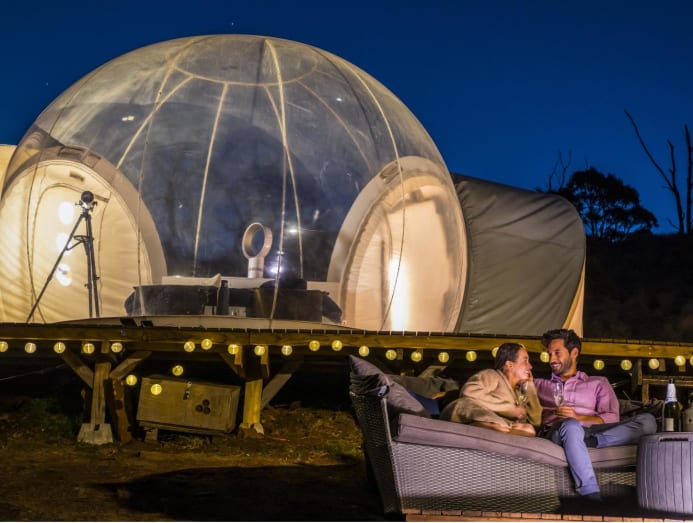 What's guaranteed is an exceptional view of the stars at night, as well as secret lookouts that promise spots to catch the wildlife of the bush. So don't be surprised if you happen to bump into kangaroos, wombats and even the Australian wedge-tailed eagle.
And speaking of eagles, the valley is a mecca for birdwatchers, and sharp-eyed enthusiasts will have a field day identifying some of the more than 237 species of birds in the Central Tablelands of NSW.
Bookings for Bubble Tent Australia start from A$695 (S$657) per tent per night. For more information, go here.
2. PAPERBARK CAMP
Inspired by the wild safaris in Africa, the owners of Paperbark Camp created a tented bush retreat near the white sandy beaches of Jervis Bay – nearby is bushland that was once home to indigenous Australians.
The Paperbark Camp comprises three tents with decor done African safari-style, where you can glamp it up among tall eucalyptus trees. These are built on timber platforms and each one features solar-powered lighting as well as hardwood polished floors, comfortable lounges to recline in and recharge in the quiet woods.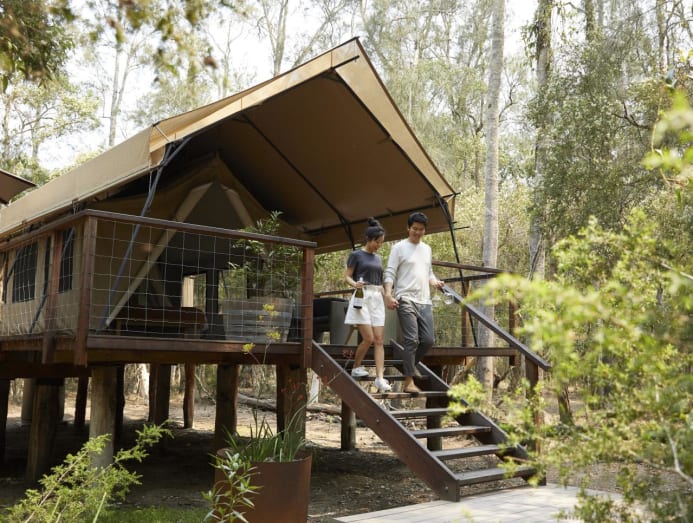 It's an experience that takes you back to a simpler life with no air-conditioning, heating, refrigeration or charging points. But lest you think that you're required to tinkle in the wild, this is still glamping and you'll find private open-air ensuite and baths with a view. And if you're hungry, head up to Paperbark's treetop dining room The Gunyah (where, hurrah, there's power and Wi-Fi).
Beyond the tents, you can explore Jervis Bay National Park, which features crystal clear waters, woodlands and wetlands, and where you can learn more about the Aboriginal people and their culture in the natural environment.
Another option is the surrounding Booderee National Park grounds, home of the Koori people and a place to see some extraordinary native wildlife and take in majestic views from the cliffs that overlook the Pacific Ocean.
Paperbark Camp is 190km south of Sydney and it takes two and a half hours by car to get there. Tents start from A$1,710 for two nights for two people.
Bookings can be made here.
3. SIERRA ESCAPE
Taking it to Mudgee, a region that's 268km northwest of Sydney, the Sierra Escape is an award-winning glamping experience that sits on 113 hectares of Wiradjuri land.
Surrounded by beautiful rolling hills, while being treated to breathtaking views of 40 family-owned wineries and a host of epicurean delights featuring produce from the fertile region, it's the perfect spot for couples to disconnect with the world and reconnect with one another.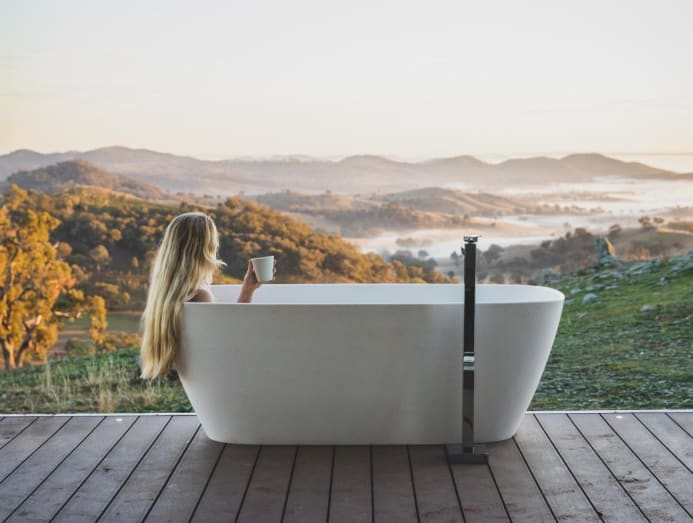 Sierra Escape's tents are given Aboriginal names such as Dulili and Uralla, meaning "together" and "home on the hill", respectively. Each one is self-contained, with amenities for cooking, shower and bathroom facilities as well as fireplaces and outdoor firepit spaces.
Once you're ready to explore, take your pick of the surrounding wineries and cellar doors as well as the nearby Wollemi National Park.
Founded in 1821, Mudgee is also the second oldest settlement after the Blue Mountains so it is also worth exploring the heritage town to see historic buildings which are still standing today.
Sierra Escape tents start at A$540 per night and you can make the bookings here.
LUXURY RETREATS
If luxe is what you're truly after, these accommodation options will take your breath away even as you recharge your body, mind and soul. Whether you want to rekindle that romance with your partner or are simply looking for a way to reenergise yourself, here are some options.
1. BANGALAY LUXURY VILLAS
Located in at Shoalhaven Heads in the South Coast, Bangalay Luxury Villas are nestled between an on-site golf course and the historic Seven Mile Beach where pioneering Australian aviator Charles Kingsford Smith first took off in a flight from Australia to New Zealand in 1933.  
The 16 villas on location are thoughtfully designed with all the necessary amenities for a beautiful holiday from start to finish. Shoalhaven Heads provides the scenic backdrop for the villas, which are tastefully designed with a sun-drenched deck as well as a fireplace for winter nights. What's more, their north-facing windows will let the sun in every morning to help you with your circadian rhythms.
Each villa starts at A$1,140 for two nights and two guests. For more information, book here.
2. EMIRATES ONE&ONLY
Located in Wolgan Valley off the Blue Mountains, the Emirates One&Only is what dreams are made off. The hotel has three different villa configurations for one to three bedrooms, and each one has a private pool, terraces as well as lounge and living areas, giving you all the space you'll need.
Each villa is one-of-a-kind and lets you soak in the panoramic views of the valley and the surrounding Blue Mountains. The villa's sustainable approach focuses on reducing water usage, and reusing water to irrigate paddocks and the gardens.
Treat yourself to the region's best produce at the resort's dining areas. When it comes to activities, there are horses you can ride to explore the grounds on a private tour or for lessons. Also consider going on trail rides, or simply feed the horses afternoon apple treats.
The Wolgan Valley is close to one of Australia's more authentic (and protected) bushland. Nearby, there's also Carne Creek which has sparkling waters, plus flora and fauna which are native to Australia.
The overall experience is definitely one which makes it literally the One & Only in the Greater Blue Mountains region.
For bookings and more information, go here.
3. PRETTY BEACH HOUSE
Hidden up in the Central Coast is Pretty Beach House, a secluded lodge that sits on Bouddi National Park, with its beautiful juxtaposition of rugged bushland and unspoiled beaches.
The beach house is an exclusive guesthouse, with a luxurious pavilion and shared facilities such as a dining room with an open-plan kitchen, guest lounges and a library, a cellar and an infinity pool with a poolside lounge and bar.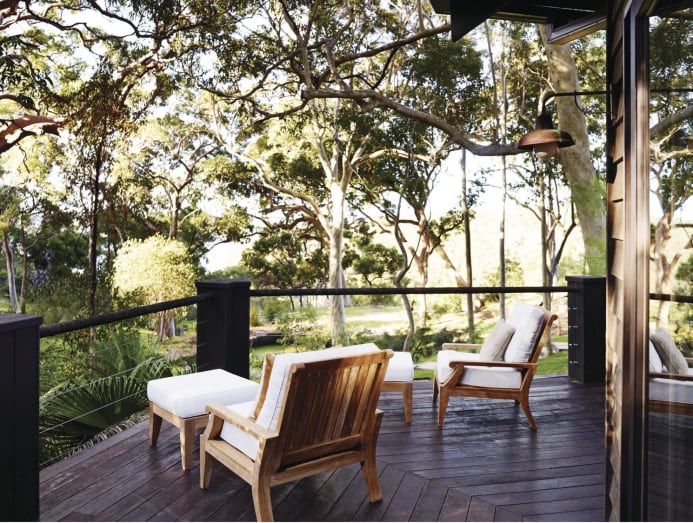 The pavilion is set from the main house, and is configured for different functions and needs – depending on whether you're a couple on honeymoon or just some friends looking to wind down on holidays.
If you are looking to do more during the stay, be sure to take a hike around the park. There's the 8km Bouddi Coastal Walk, which takes you across the beaches and through boardwalks – and offers a chance to spot some birdlife.
Pretty Beach House is 100km away from Sydney and bookings can be made here.
UNIQUE DAY EXPERIENCES
Short on time? These day trips will also leave indelible memories of your vacay in NSW.
1. ULTIMATE DISCOVERY TOUR AT BROKEN BAY PEARL FARM
Find out how pearls are made at the only pearl farm in NSW. The experience at Broken Bay starts with a scenic cruise of the Hawkesbury River and is followed by a talk on how pearls are farmed and cultured.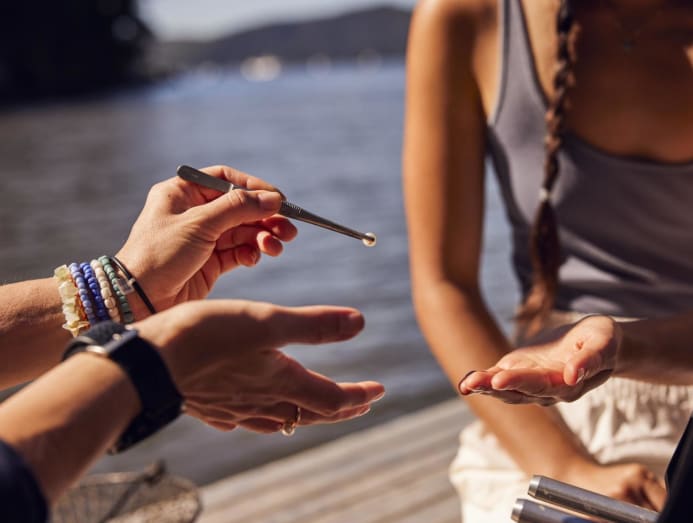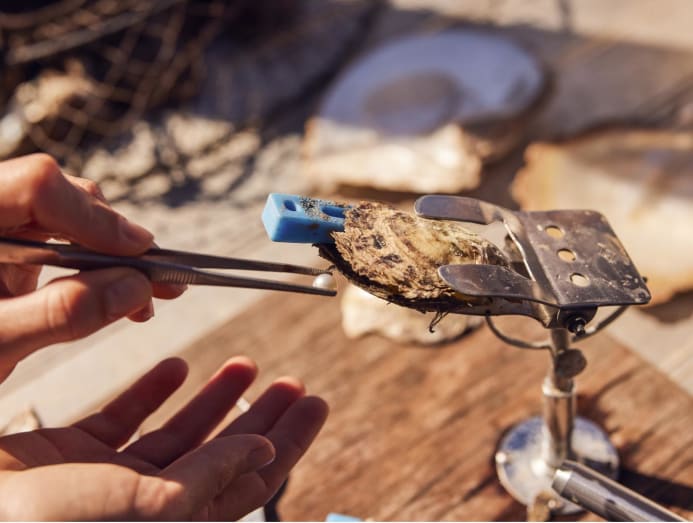 The locally grown Akoya pearls are fine, rare and unique and the tour also allows one to hear the pearling stories of Australia, dating back to 1946. And aside from all these deep insights, you even get to bring home a pearl.
For more information, go here.
2. TRUFFLE HUNTING IN WINTER
Explore the southern tablelands of NSW and enjoy black winter truffle hunting, which takes place during the months of June to August (you've got enough time to plan for next year).
Over at Blue Frog Truffles, their hunt activity will show how the farm dogs have been trained to sniff out these precious edibles. The hunt lets you experience farm life and immerse in tasting truffles and enjoying a meal, using the fresh truffles hunted earlier in the day!
For more information go here.
For more travel inspiration on New South Wales, go to https://www.sydney.com/