Astronaut bunny lanterns, 'Taiwan LV' bags, tea: How Taiwan's young people are reviving their grandfathers' traditions
In Taiwan, we witnessed a turbo-charged renaissance of folk culture and ancient wisdom: A futuristic Lantern Festival, a "young grandpa" championing his local wet market, aboriginal youths making their culture Pinterest-worthy, and more.
What's the best way to signal that you're ready to be the life of the party? Deck yourself out in glowing lights and beam your message out to the whole world.
That's what Taiwan did with the staging of its annual Lantern Festival in Taipei earlier in February, which I was invited to visit.
The festival, now in its 34th year, typically sees giant glowing exhibits erected in a park or open area in one of Taiwan's cities or counties, in conjunction with the Chinese New Year.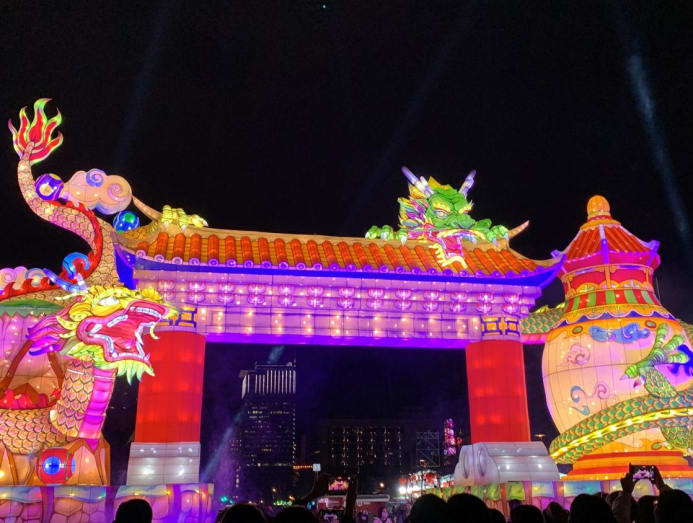 But, this year, for the first time in 23 years, the festival returned to Taipei on a massive scale. In addition to a main exhibition area at the Sun Yat-sen Memorial Hall, other dedicated spots and freestanding lanterns lit up all over Taipei, bringing the festival spirit into the very heart of the city.
Many of the 300-odd exhibits were designed by local artists or with the participation of countries including Japan, South Korea and Indonesia. Even the Taipei 101 skyscraper, visible from nearly every vantage point, joined in the festivities, with the entire building's facade lit up with dynamic digital images in honour of the event.
This first large-scale event to be held after Taiwan opened its borders to travellers in October last year was quite intentional. Organised by the Taiwan Tourism Bureau and the Taipei City Government, the festival joyfully hailed the pandemic's drawing to a close and looked ahead with the theme "Light up the future".
This was best encapsulated in the hero exhibit: A giant 22m-tall astronaut bunny named Brilliant Light of the Jade Hare. Designed by Taiwan artist Akibo Lee, the lantern used performance capture technology to model the cartoon hare's facial expressions after those of weightlifter and Olympic gold medalist Kuo Hsing-chun.
Additionally, the digital hearts that bubbled up on its display represented gratitude for the work of healthcare professionals during the pandemic. And the futuristic space theme not only paid tribute to Taiwan's industry, but also signified the melding of tradition with a forward-looking spirit.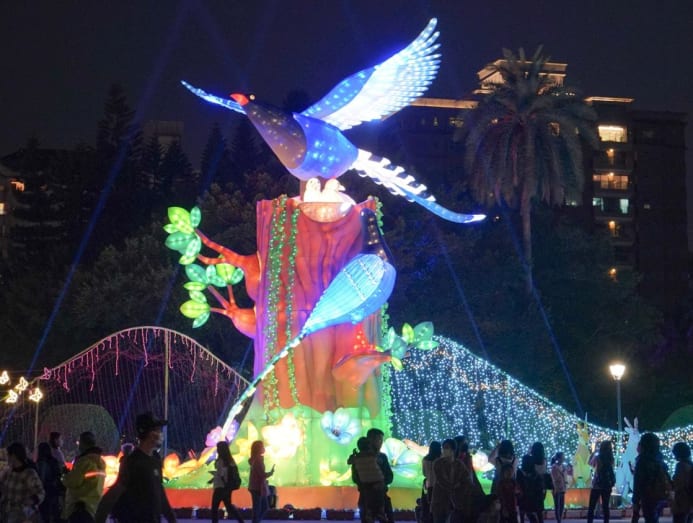 Another popular lantern was Starting from the Heart by artist Huang Wen Chian, a massive model of a family of Taiwan Blue Magpies, a species endemic to Taiwan. Fun fact: Magpies are known to pair up, so the Taiwanese have a saying that if you see a solitary magpie, you should shake your head three times in order to avoid bad luck.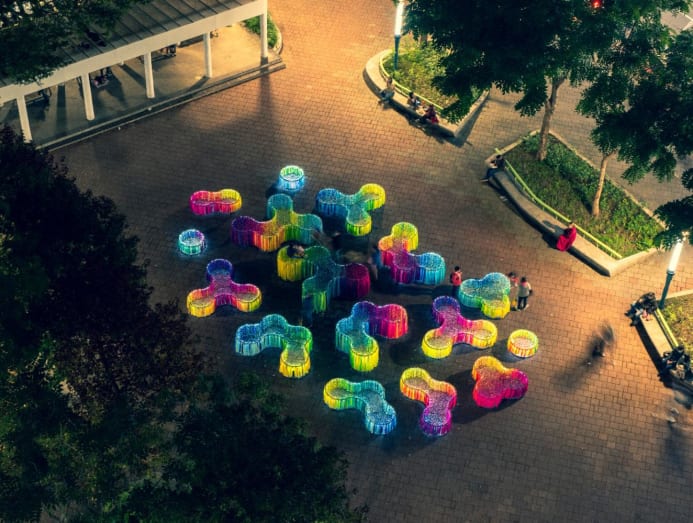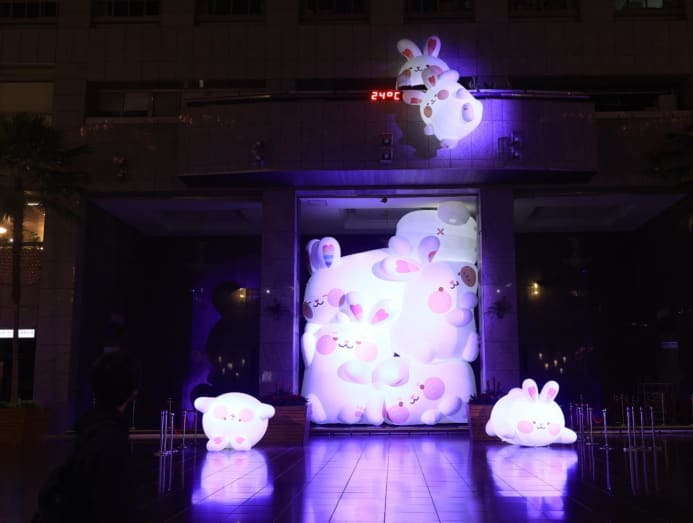 Glowing lanterns even floated on the lake at the Sun Yat-sen Memorial Hall, transforming the city into a whimsical, two-week-long, after-dark playground.
I'm already looking forward to next year's Lantern Festival, which is set to take place in Tainan. Because if this year is anything to go by, the festival represents an emerging story of how Taiwan's future will be inseparable from its past traditions.
TAKING A LEAF FROM THE HISTORY BOOK
Just as the Lantern Festival was a meeting point of future-forward technology and respect for heritage, Taiwan is a place in which old, forgotten things are increasingly being resuscitated and cherished once again as younger generations recognise the value of their forefathers' culture.
In Taipei itself, beyond what the casual traveller usually sees of Ximending, Shih Lin night market or Taipei 101, a movement largely propelled by the city's youth is shining a new light on traditional practices that modernity and globalisation threaten to render obsolete.
Brian Wang is one of several third-generation Chinese herbalists who are carrying on their families' trades. He runs Healing Herbar or Lao Ji An, located in the city's oldest district, Wanhua, also known as Bangka or Monga. The little shop has been open since 1972, dispensing Chinese medicinal herbs targeted at every ailment. In the past, people would seek prescriptions from the nearby Longshan Temple, then proceed to herbal shops to buy what they needed.
These days, in a city that's the mecca of bubble tea, the occasionally bitter brews are no longer in fashion, to say the least. But Wang, who is in his 30s, knew his father needed a successor for the business and decided to give up his bartending passion to take on the job, modernising aspects of the shop.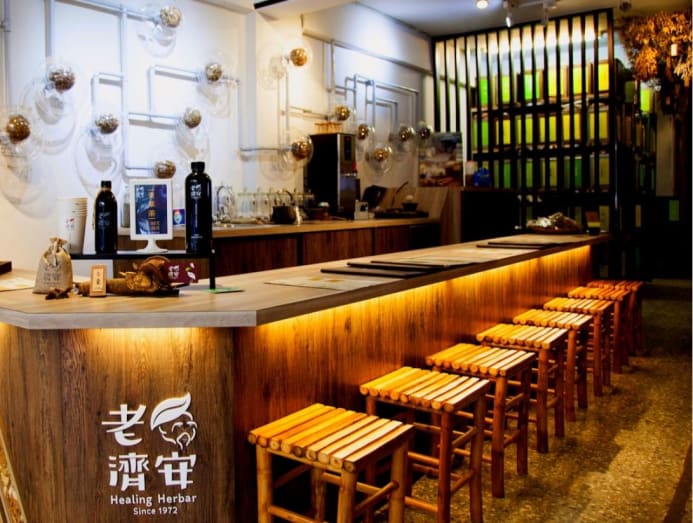 He now runs laid-back sessions in which guests can fill in a questionnaire detailing things like whether you habitually sneeze in the mornings, how well you sleep and how often you stay up late at night. After a brief consultation, Wang determines a bespoke blend of herbs, and brews a huge cup up for you to drink. It's an enlightening experience that throws a spotlight on some pretty nifty ancient wisdom harnessing the power of nature.
You can also pay a visit to the nearby Bopiliao Historic Block, a collection of conservation buildings along a restored lane. Bopiliao was once a major coal trading area and home to busy merchants. Here, you'll find what used to be a book binding factory, a bathhouse and a couple of teahouses. There's also a museum dedicated to the history of education as well as medical care in Taiwan. With its diverse range of architectural styles ranging from Qing Dynasty to brutalist, the Bopiliao area gives a halcyon sense of all the different periods in the city's lifetime.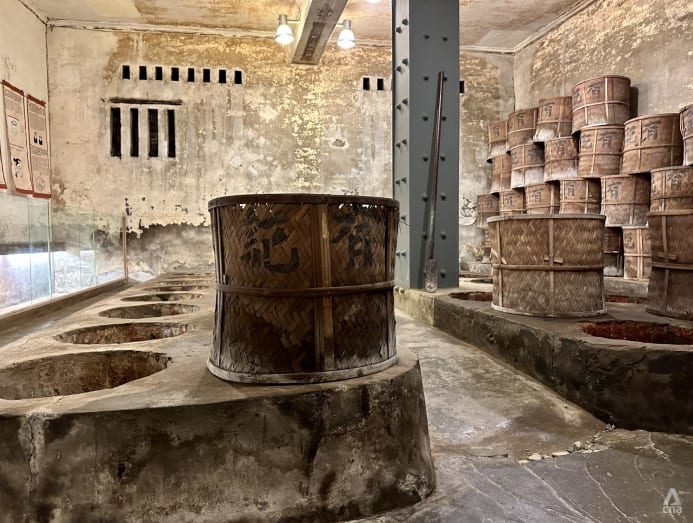 In the neighbouring historic Dadaocheng area, there is Wang Tea, also known as You Ji Ming Cha, a tea manufacturer and wholesaler established in 1890. Having exported prized Taiwanese tea to Thailand, Japan and Hong Kong in the past, the business is now run by the family's fifth generation, who are in their 20s and 30s. They conduct educational tours of their premises detailing how their tea has been sorted, blended and charcoal-roasted over the decades.
I was treated to a brewing and tasting session of some of their teas, like Tieguanyin and Oriental Beauty. Here, I learned that the proper way to taste tea is to swirl it noisily through your mouth along with some air, in order for the flavours to take flight.
There's much to say about the irony of how bubble tea was invented in Taiwan in the late 1980s against a backdrop of economic growth and an embracing of the new, in contrast to how the current trend seems to be a rekindled interest in the old. But, history, like many things, is cyclical, as they say, so, while we may not be surprised, it behooves us to appreciate the efforts of those fighting to keep their cultural traditions alive.
MARKETING WHIZ
In Yilan, I met another such person: The self-styled "Young Grandpa". Fang Zi-wei is only 39 and is most certainly not a grandpa, but calls himself by that moniker because his getup of choice is that of a quintessential Yilan senior citizen: A Bruce Lee-style cotton undershirt paired with dark dress pants, accessorised with plastic clogs, a towel around his neck and a woven nylon bag.
Fang runs tours of Yilan city's central market, introducing visitors to the most charmingly down-to-earth aspects of local culture that he grew up surrounded by.
On our sojourn, he introduced us to an auntie who sold steamed layered cakes of savoury onion and sweet flour; an uncle who ran a shop selling offerings to be burnt for the departed; a shop that offered knife-sharpening services; and another uncle who had been making popiah skins all his life, the trade being passed down from his father and his father before that.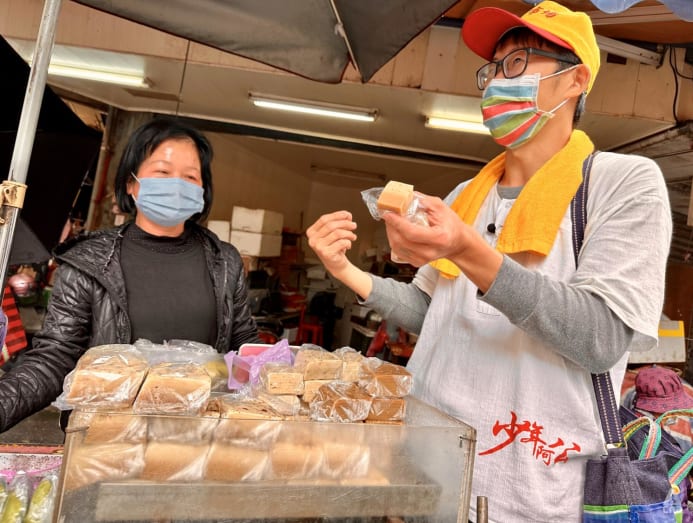 One of the stops is Fang's parents' clothing shop, which they've been running for many years.
Fang then tasked us with buying ingredients from the wet market to take back to his little studio above the market, where he prepared a meal of local specialties.
He first conceived the idea of showcasing his local neighbourhood culture while he was on a live-and-work programme abroad, he told me. That was when it dawned on him that the quotidian qualities of his own home were equally worthy of being showcased and appreciated. Growing up in a house surrounded by farmland, he had always felt closely connected to Yilan's produce and the local community.
But when he first started conducting tours around the market, he was met with some not-so-friendly looks from the stallholders, he admitted, as even his own parents didn't understand what he was doing.
But the close-knit community soon saw the practical value of the business his tours brought. He even started bringing in kitschy, retro-themed merchandise to sell at his parents' shop, such as striped woven shopping bags that locals affectionately refer to as "Taiwan LV", erasers styled after red moon blocks used at temples to divine the gods' will, and cambric shirts emblazoned with "Young Grandpa" like the one he himself wore. His parents now give his guests a hearty welcome when they visit the store, and hand out little "Taiwan LV" bags as gifts.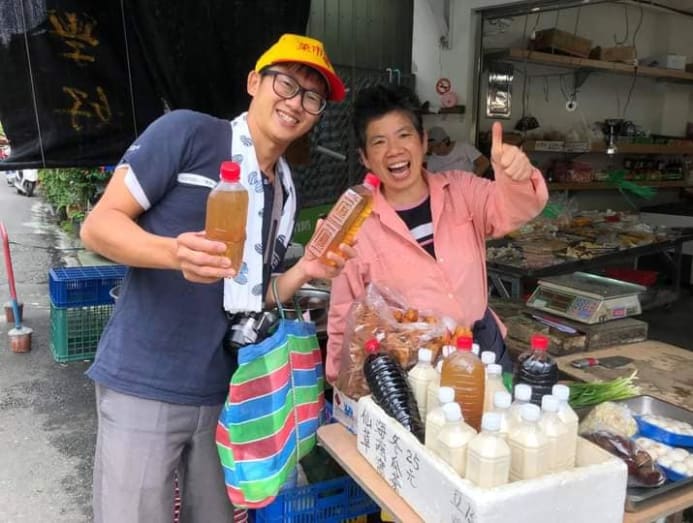 I knew those bags were a thing when I checked into my hotel for the night and saw the same "Taiwan LV" on display at the picturesque Violet Forest, part of the San Fu Leisure Farm property. The hotel, a relaxing escape in which each room gets a full view of the nature outside, even runs short night walks in which the resident expert leads you on a search for little frogs and whatever nighttime creatures happen to be enjoying a nice evening out.
A TRIBAL LUNCH AND AN AFTERNOON OF WOODWORKING
The next day, we were off to Hualien county, where a special luncheon awaited us.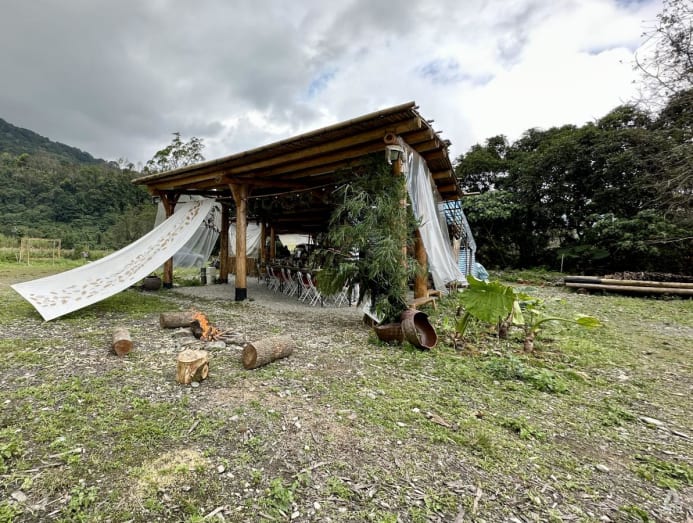 Xilin in Wanrong Township is a bastion of the Ciyakang tribal village, inhabited by indigenous peoples. Here, a group of youths, some just out of school, run a tourism start-up called Akay Play Life, giving visitors a taste of tribal life. Their ringleader is Apyang Imiq, an award-winning author of essays exploring his own cultural identity as a Ciyakang-dwelling descendant of the Truku or Taroko people.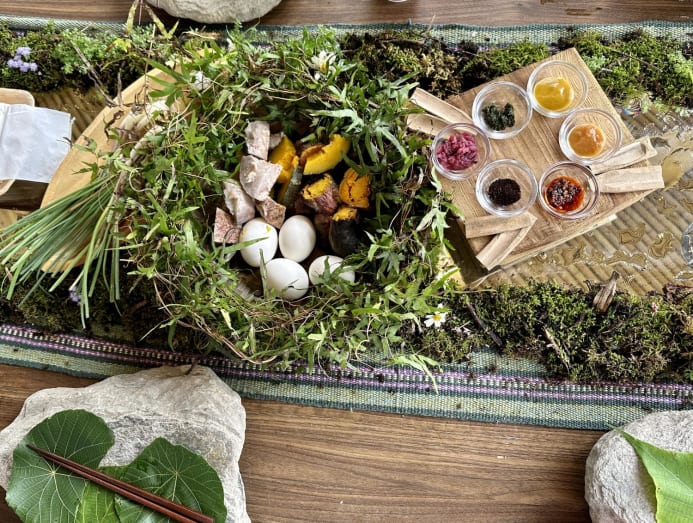 Under a highly Pinterest-worthy canopy built in a clearing with ducks and a campfire, framed by mountains in the distance, they served us a tribal-style meal of fresh salad; roasted sweet potato, pumpkin and yam; boiled eggs; stir-fried bird's nest fern; soup boiled over hot coals; and boar smoked for 24 hours over a fire made with branches gathered from nearby trees.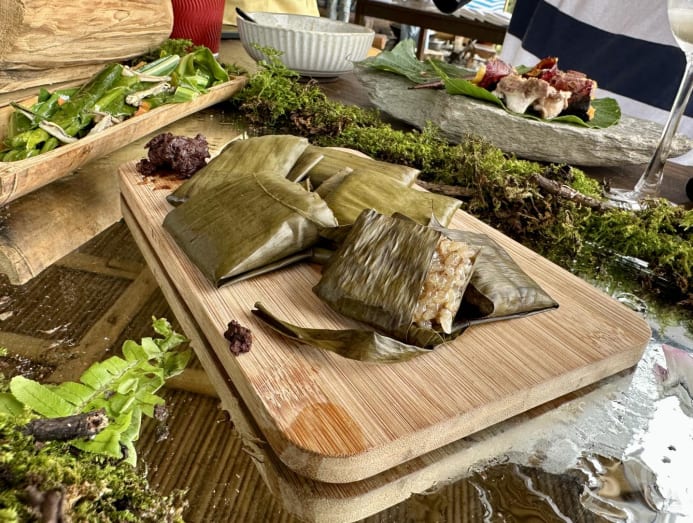 For dessert, there was sticky rice with banana wrapped in leaves and steamed, and served with cinnamon chocolate. There was even some home-fermented rice liquor to wash it all down.
The meal is part of how the Akay Play Life youths are resuscitating the thousand-year traditions of their ancestors for the benefit of those interested in learning. Splitting firewood and pounding spices while brandishing their iPhones and QR codes, they also offer experiences like culture walks and a utensil-making class.
I didn't make any plates or spoons that day, but I did learn to fashion my own writing implement out of wood at our next stop, the Song Luo workshop.
Craftsman Ye Zuo-wei built the little open-air workshop in his picturesque back yard, in a rural area of the town of Fenglin, during the pandemic, switching from making pens for sale and competitions to teaching visitors how to make their own.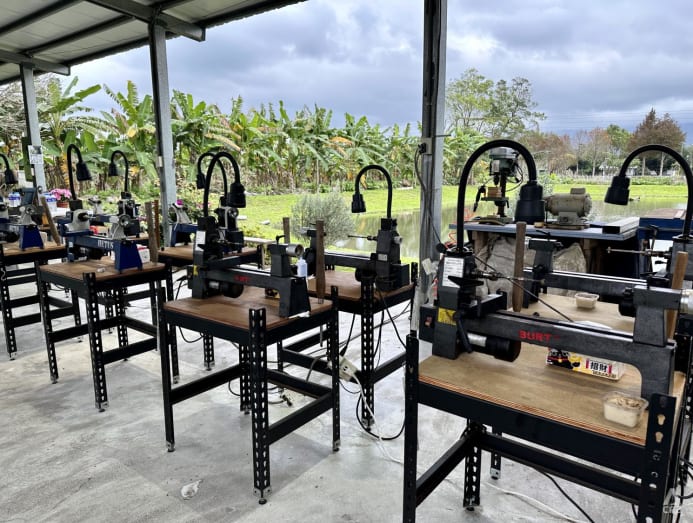 He starting handcrafting pens because he was attracted by calligraphy and the power of writing as culture, he told me, as he guided me in the process of transforming a fragrant block of wood from a native Taiwan tree into my own writing implement.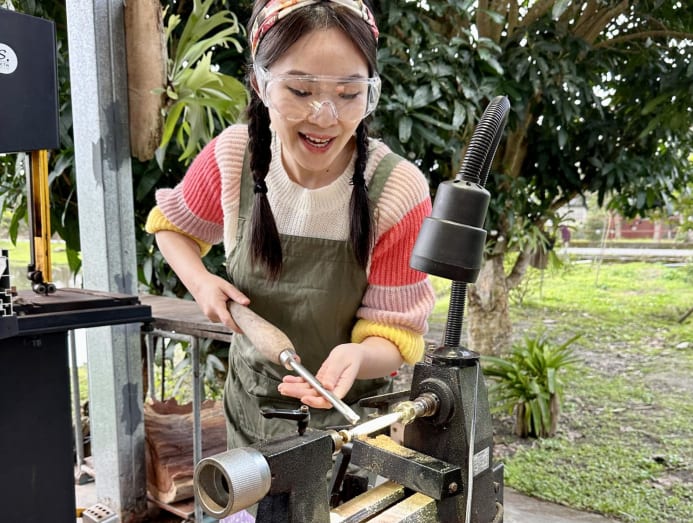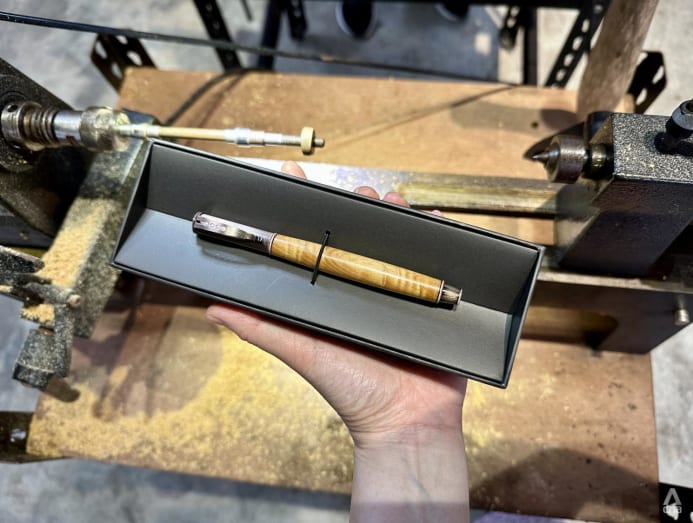 I whittled the wood down on a machine, then sanded and waxed it to a sheen, inserting a cartridge and screwing on the caps as a final step. "Don't you feel a sense of satisfaction?" Ye asked me. And, in fact, I did, as I admired the beautiful wood grain of the pen that had been revealed as a result of the labour of my own hands: Something solid and tangible; a gift from nature and, for a writer, a weapon more powerful than a sword.
What captivated me about Taiwan on this trip? Not XXL crispy chicken, taro milk tea or the bountiful wonderland that is FamilyMart – although those are always awesome, it's true – but instead, how its current generations are finding a way forward without leaving who they are behind.
CNA Lifestyle was in Taiwan at the invitation of Taiwan Tourism Bureau in Singapore.