You can now say hello to 4 Tasmanian Devils at your next Singapore Night Safari visit
The newcomers from Australia are here under the Species Management Programme that aims to ensure the long-term viability and sustainability of species populations under human care.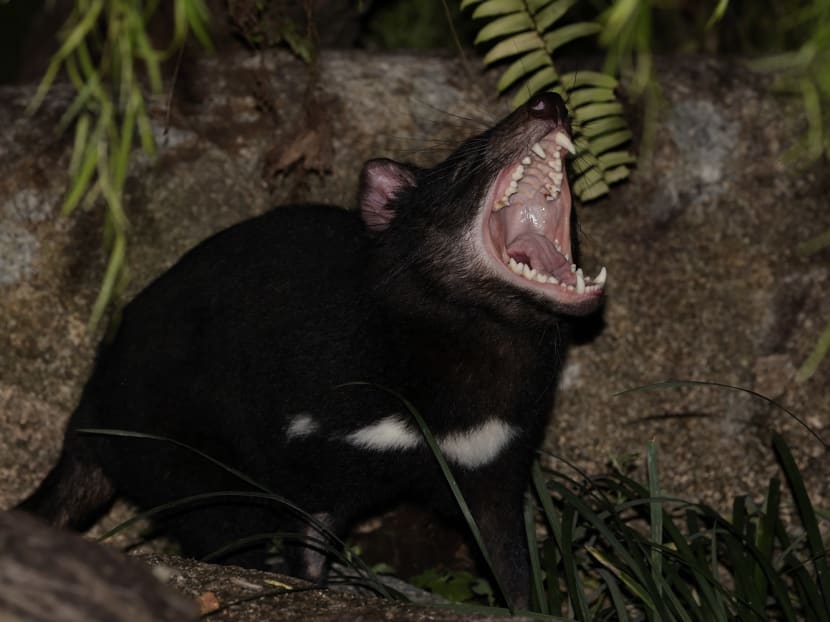 Say hello to Crumpet, Snickers, Jesse and Panini – four Tasmanian Devils that now call the Night Safari Singapore their home. 
The four females, all aged around three years old, were introduced to the public on Tuesday (Nov 15) evening during the launch of Night Safari's new Tasmanian Devil exhibit, officiated by William Hodgman, Australian High Commissioner to Singapore.
The new residents are part of the insurance population managed by the Save the Tasmanian Devil Programme led by the Department of Natural Resources and Environment Tasmania. They were transferred here under the recommendation of the Species Management Programme, which aims to ensure the long-term viability and sustainability of species populations under human care.
Planning and discussions for the animals' arrival in Singapore began as early as 2018 with them projected to arrive in 2020, but COVID-19 disrupted those plans.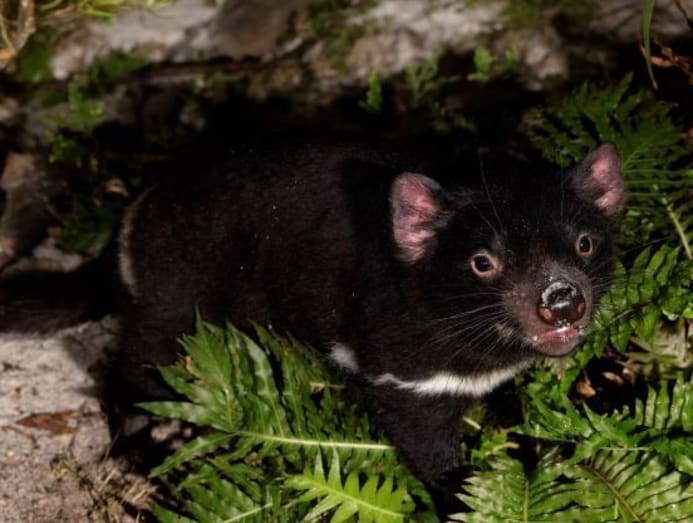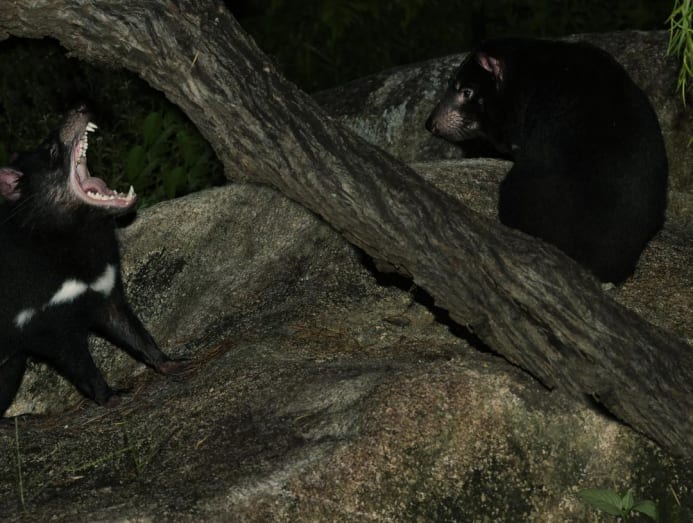 Crumpet, Snickers, Jesse and Panini finally arrived in Singapore on Oct 7, accompanied by Trowunna Wildlife Sanctuary senior keeper Adrian Mifsud to ensure their wellbeing during the journey.
According to Dr Luis Carlos Neve, vice president of Animal Care for the Mandai Wildlife Group, the team in Singapore worked closely with their counterparts in Australia "to design a suitable habitat for them here in Singapore and upskill our animal care team with the knowledge to care for these endangered marsupials".
The animals were kept in their indoor dens for a mandatory 30-day quarantine and for the first week, keepers at the Night Safari familiarised themselves with the care of the animals under Mifsud's guidance.
After the quarantine and following health checks by vets and acclimatisation to the new space, the four new Night Safari residents were finally ready to meet the Singapore public.
Their new home is located at the end of the Night Safari's Wallaby Trail and consists of two climate-controlled indoor exhibits, two expansive outdoor habitats for them to roam and explore, and back-of-house facilities consisting of indoor dens and outdoor yards for them to rest in the day. The outdoor exhibits feature rockwork, water features and Australian trees such as Eucalyptus and shrubs like the Red Flowered Silky Oak to simulate the Devils' wild dry shrubland habitat.
The four will be housed in pairs, with Crumpet rooming with Snickers and Jesse with Panini – and each pair will have access to their respective indoor and outdoor spaces.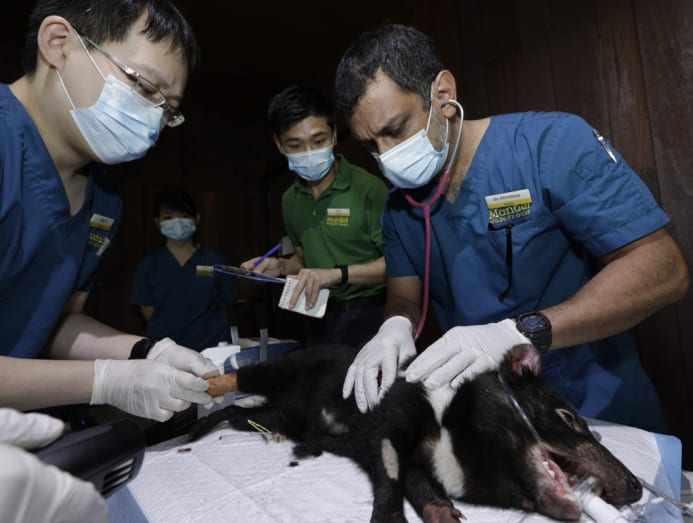 Before you head to the Night Safari to meet them, here's a short profile of the animals from Razak Jaffar, Mandai Wildlife Group's assistant curator for marsupials. "Crumpet is a confident individual with a more dominant personality. She spends hours exploring her surroundings in the outdoor yard and does not like being picked up by the keepers for health checks. Snickers, on the other hand, is much more reserved, preferring to hide in her nest box when Crumpet expresses her dominance. Snickers is also calmer with being handled.
"Jesse and Panini have formed a bond despite a rocky start. Their first introduction was full of open-jawed caterwauling and squabbles. The pair now thoroughly enjoy each other's company, preferring to sleep together in the same nest box and appearing restless when they are not together."
Tasmanian Devils are listed as endangered under the International Union for Conservation of Nature's Red List. A type of transmissible cancer called DFTD is highly contagious among the Tasmanian Devil population and it's spread when the animals bite each other while fighting or mating. The disease causes facial tumours that can prevent the animals from eating, eventually causing starvation. The wild population of Tasmanian Devils has declined by at least 80 per cent in diseased areas since DFTD was discovered in 1996.
Said Neve: "It is a privilege to work with Save the Tasmanian Devil Programme and the Department of Natural Resources and Environment Tasmania and be able to join the international team that works to save the Devils from extinction. Our newest residents, Crumpet, Snickers, Jesse and Panini will be important ambassadors to help raise awareness about the plight of their wild counterparts."