Looking for killer whales and hiking up a volcano in Seattle – California's got competition
With plenty to do in the great outdoors and even more fresh, sustainable seafood to relish, the underrated Emerald City could well be the next San Francisco.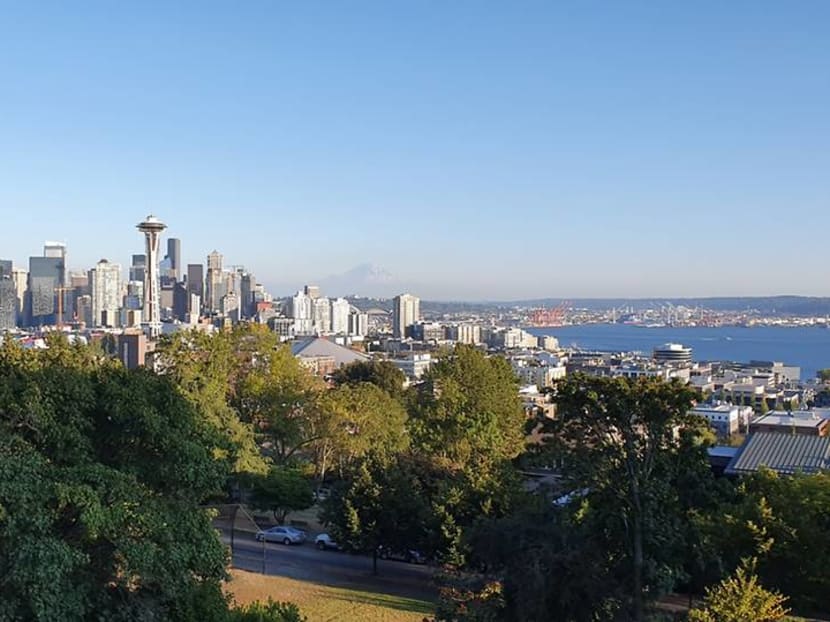 On a recent trip to Seattle, I kept hearing the same phrase repeated over and over again. "It doesn't rain that much here," rang the chorus line. The locals, apparently, were keen to dispel the myth that their beloved city is in a perpetual state of deluge.
"If you think Seattle, you think rain," explained Rand Rogers, a Seattleite based in Singapore since 2012. For the record, it rains only about 150 days a year in Seattle (Singapore had 188 days of rain in 2018, by comparison). Indeed, for the four days I spent in the city – a journey made easier thanks to Singapore Airlines's (SIA) new non-stop flight – I was blessed with sunshine and blue skies.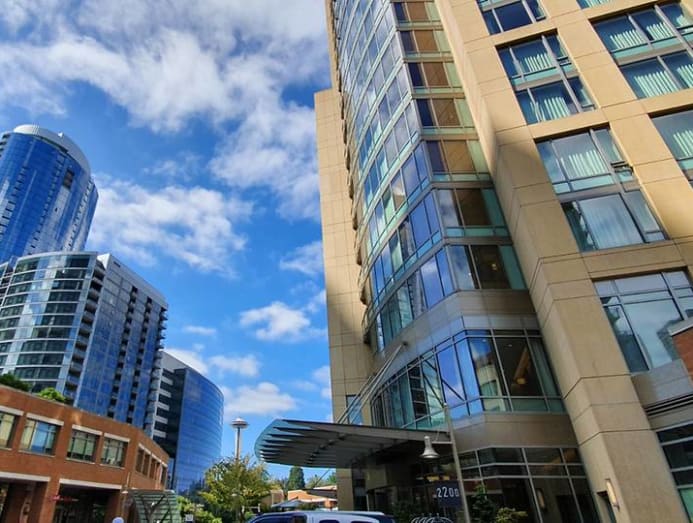 Regardless whether you love or hate downpours, the precipitation does have one major upside: It makes everything lush. Seattle isn't called the Emerald City for nothing. From green urban spaces to National Parks, the greenery is an attraction unto itself.
Perhaps most famous of all is Mount Rainier National Park, anchored by the 4,392m-high peak that lends its name to the nature reserve. On clear days, the massif forms a picturesque backdrop to the city skyline.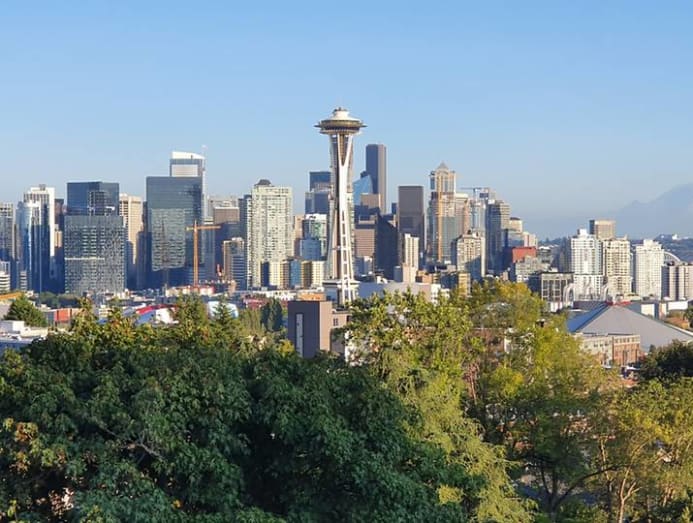 "I'm an outdoorsy guy, so [to me, Seattle] is a gateway to all that's beautiful about the Pacific Northwest and Canada," said Rogers, a Business Development and Social Media Strategist for The PR People. "It's full of adventure. [You can go] biking, hiking and swimming in the summer. In the winter months, there's tons of activities, from skiing to snowboarding."
For Singaporeans like freelance food writer Annette Tan – a regular contributor to CNA Lifestyle – Seattle's natural landscape and abundance of outdoor activities are a big draw.
"Seattle has some of the most scenic train rides going to places like Oregon, because they go past the Puget Sound. In three hours, you can be in Portland," she explained. "There's also a lot of hiking just outside the city, and very nice hikes at that."
Unbeknown to most, Washington is the US's second largest agricultural state (after California), with a bounty of produce ranging from fruit and vegetables to seafood and wine. As a foodie, Tan is naturally inclined to this cornucopia.
Her favourite thing about Seattle? "The markets and the seafood. I like going to Pike Place Market, and then to Ivar's, that iconic seafood place not far from the market by the waterfront [on Pier 54]."
There, she gets her fix of fried clams, a classic American dish where clams are battered, deep-fried and served with tartar sauce and fries.
SIA's direct flight to Seattle, which launched on Sep 3, is the fourth non-stop service to the US offered by the airlines. The other three call at Los Angeles, New York (Newark) and San Francisco. Fun fact: Seattle is the nearest major US city to our little red dot, with a flight time of 14 hours 40 minutes (15 hours 50 minutes on the return leg). In short, it's the quickest way to get to the continental United States. Come 2020, visitors can look forward to a new international arrivals facility at Sea-Tac Airport.
Of the flight, "I think it's great," said Tan. "Anything that shortens travel time is always welcome." Rogers, meanwhile, is "quite excited about it, because I go there quite often. The introductory price is quite good," he said, referring to ongoing promotion of S$988 for Economy, S$1,538 for Premium Economy and S$4,938 for Business.
SIA currently operates thrice-weekly flights to Seattle, with the frequency increasing to four times weekly come Oct 2019. Here are some recommendations on what to see and do once you get there.
GET YOUR BEARINGS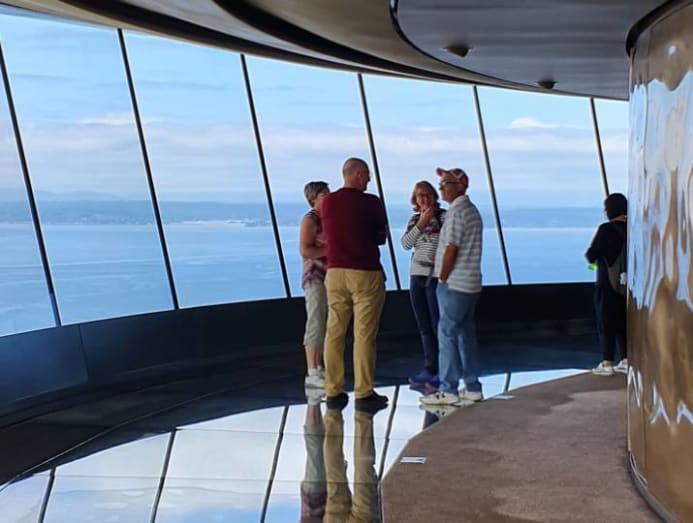 There are a few places to get a lay of the land. Most visitors make a beeline for the Space Needle, which is an icon for the city. Built as the centrepiece and inspiration for the 1962 World Fair (the precursor to today's world Expos), the structure rises to 184m. There's an open-air viewing deck on the top floor (158m) and, one level below, the world's first and only revolving glass floor. The Space Needle underwent a US$100 million (S$138 million) renovation that was completed in Aug 2018. New full-height glass panels were installed on the viewing deck, alongside glass benches.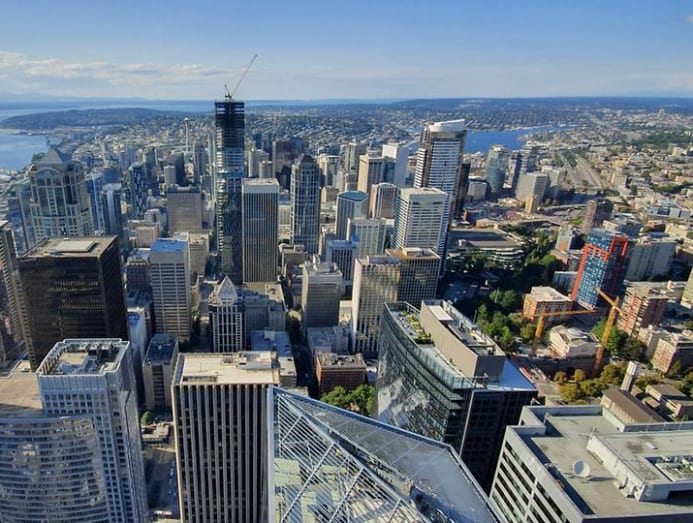 Less touristy is the Sky View Observatory, located on the 73rd floor of a downtown high-rise, Columbia Center. At 275m – about the height of Singapore's One Raffles Place – the observatory is the tallest public viewing area in the Pacific Northwest. From here, the 360-degree panorama offers views of the city, the Space Needle, nearby mountain ranges such as the Cascade Mountains (to the east) and the Olympic Mountains (to the west), and the surrounding waterways, including Elliott Bay and Lake Washington. Floor-to-ceiling corner windows will be added in Oct 2019.
Pro tip: Sunsets and weekends see more crowds. To avoid long lines, come on a weekday morning, but note that Seattle's morning cloud cover only lifts at around 11am.
If you want that classic, picture postcard view of Seattle, with the city, the Space Needle and – weather permitting, Mount Rainier in the distance – head to Kerry Park. Situated on a small hill about 10 to 15 minutes from downtown, the best times to go are from sundown to nightfall, when the city lights up.
Pro tip: For architecture buffs, the area around Kerry Park, the neighbourhood of Queen Anne, is dotted with houses built in the regal Queen Anne style. Think turrets, towers and verandahs.
GET IN TO GET OUT
Being the hiking haven that it is, Seattle has no shortage of impossibly picturesque trails within a few hours' drive. The variety of trails also means that there's something for all ages and abilities. In Mount Rainier, for example, I noticed busloads of seniors merrily making their way about.
Located 95 km or just over two hours from Seattle, the iconic volcanic peak makes for a convenient day-trip. Mount Rainier National Park receives two million visitors annually, with summer months (June to August) being the busiest.
At 956 sq. km in size, the Park is larger than the whole of Singapore. Old-growth forests (think thousand-year-old cedar and douglas fir trees) cloak the volcano's lower slopes, while higher altitudes are home to subalpine wildflower meadows studded with waterfalls.
You could do a self-drive/tour, or hire a guide, as I did. The Evergreen Escapes Mount Rainier tour (US$239, not including tax and tips) came with an experienced guide/driver, Marty Wentzel, who was a font of information and anecdotes. Having been in the business for seven years, Wentzel shared how climate change was impacting the Park, causing snow from the peak to melt faster and swell its five major rivers.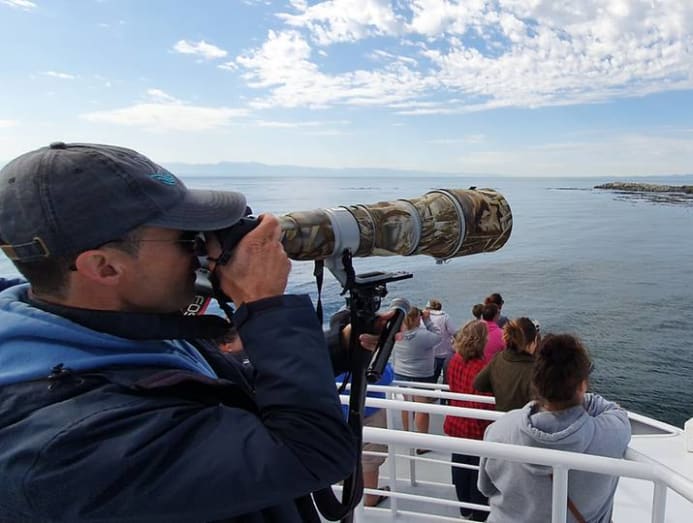 If you prefer oceanic adventures rather than inland escapades, then whale watching ought to be on your itinerary. The waters of Puget Sound and the Salish Sea are home to some of the highest concentration of whales, dolphins and other sea creatures anywhere in the world. So much so that companies like Puget Sound Express (US$135 for adults, US$85 for children aged two to 10) guarantee a whale sighting. If you don't spot any cetaceans on your tour, you can do it again the next day for free.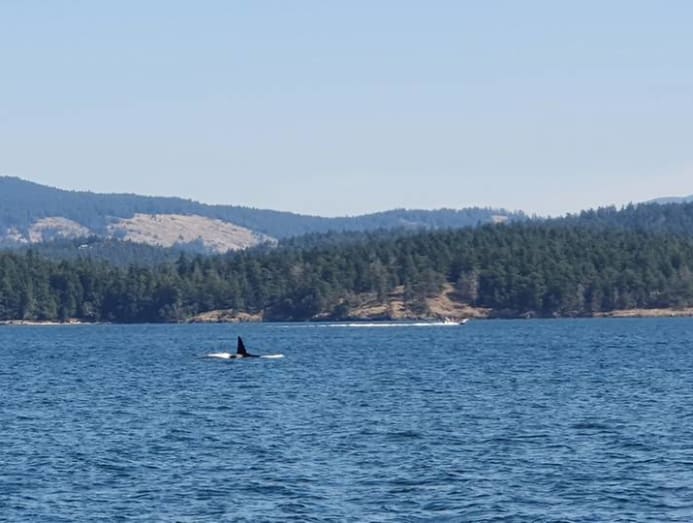 I was fortunate enough to see orcas on my tour. It took a while though – about two hours in. We had to travel to the waters off the San Juan Islands (about 100 km from Seattle) to do so. I was also told that the orcas were transient individuals; sightings of the resident pods, which live closer to Seattle, were becoming less common due to a dwindling food supply from overfishing.
Pro tip: Bring your own binoculars. There were limited pairs on board. Also, the weather out on the open waters was about 5ºC cooler than in Seattle, so pack for warmth.
For a free-and-easy option, Rogers has a tip: "Go to Whidbey Island, where you can go whale-watching but it's not so touristy. It's got great scenic vistas of the ocean, plus places you can hike." The local tourism board, Visit Seattle, has more information on whale-watching here.
CHOW DOWN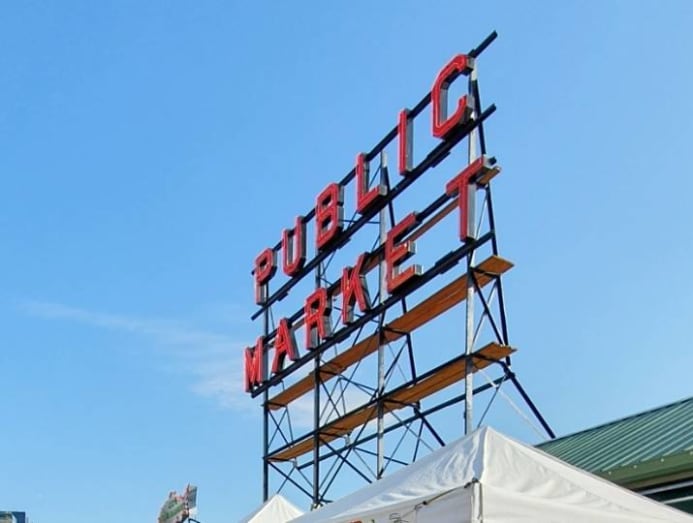 No trip to Seattle is complete without a visit to Pike Place Market, touristy though it is. With over 500 businesses, the range and quality of foodstuffs (plus crafts and souvenirs) puts it up there with the world's best markets, such as Barcelona's La Boqueria, Melbourne's Queen Victoria, and Tokyo's Toyosu (formerly Tsukiji). It therefore makes a good starting point for your exploration of the city's buzzing food scene.
Long before farmer's markets became fashionable, Pike Place was one of the first to be set up on America's West Coast, having been established in 1907. It was, and still is, a market for the people, and is entirely made up of independent (sometimes family-run) businesses. Starbucks famously got its start here, and its original location sees snaking queues of pilgrims eager to snap photos for the 'Gram.
Pro tip: If the line is too long, buy a coffee from another outlet (there are a few nearby) and then return to take your pic.
Set aside half a day to explore this sprawling food enclave. If you're pressed for time, consider booking a food tour, such as Savor Seattle Food Tours. I chose the Early Access Tour (US$55.99 not including tax and tips), a two-hour-plus ramble that started at 8.30am. My guide Heather Refvem seemed to know the Market inside out, and took me to eight hotspots for samplings. Along the way, she offered such a comprehensive backstory of the Market that it would put Wikipedia to shame.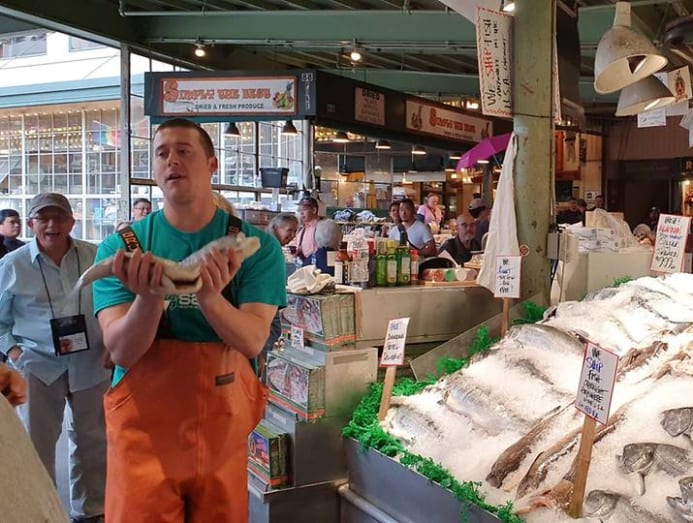 A must-visit is Pike Place Fish Co., where the fishmongers famously toss fish back and forth (to save them time walking around the stall). Here you can sample three different types of smoked salmon, including Alderwood smoked Alaskan King Salmon, a personal favourite. Market Spice, styled like an old-time apothecary, carries 250 different spice blends, plus its signature tea composed of cinnamon, cloves and orange peel.
Pro tip: The Market is considerably less crowded in the mornings. And if farmer's markets are your thing, check out the University District Farmer's Market, which runs on Saturdays. Or head to seattlefarmersmarkets.org for city-wide listings.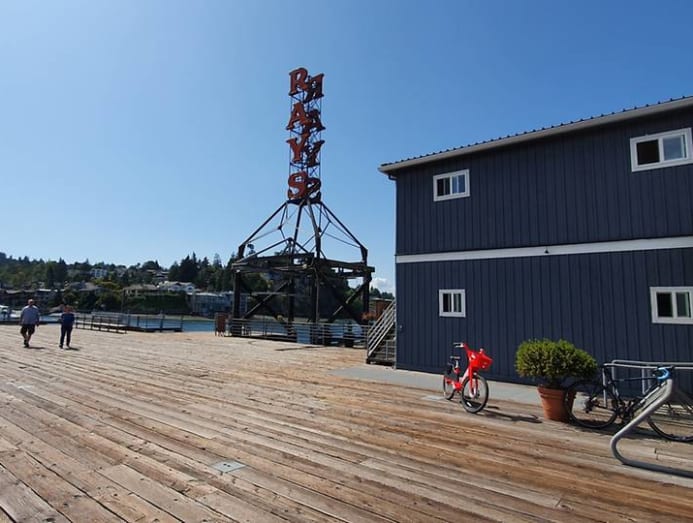 Beyond Pike Place, head to institutions like Ray's Boathouse & Cafe, a charming restaurant in the suburb of Ballard (about 30 minutes from downtown) with sweeping views of Puget Sound. Sustainable catches are the order of the day here. Try the Alaskan salmon popsicles – naturally sweet/umami chunks of wild caught salmon, house-smoked and served on skewers.
Clam or seafood chowder is another Pacific Northwest speciality. Pike Place Chowder in Pike Place Market is the most highly rated, but the queues can be notoriously long. Consider alternatives like Salty's on Alki Beach Seafood Grill which serves up a rich, tasty chowder, as well as live Dungeness crab, fresh Northwest oysters, clams and mussels, and USDA prime charbroiled steaks. Located on Elliott Bay, the restaurant's panoramic views of the Seattle skyline are to die for.