We're stuck at home – could this be the moment virtual reality travel takes off?
From virtually swimming next to a manta ray to playing a game that takes players on a holiday, armchair adventures await.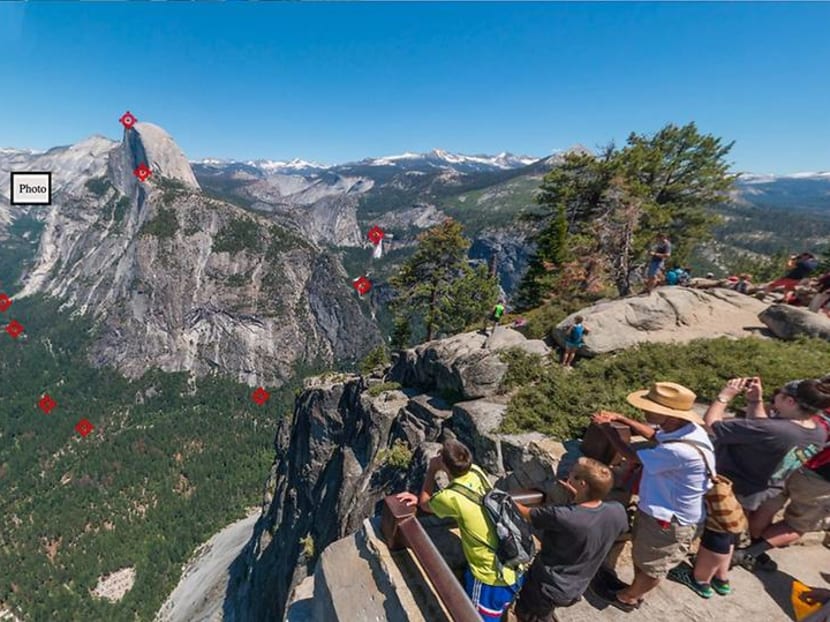 When Tim Bajarin needs to get away from it all, he heads for the bottom of the ocean. Twenty metres below the surface, the California-based IT consultant likes to sit for half an hour and just watch the fish swim by. "This is my personal aquarium," he said.
A veteran of more than 120 dives on trips to Hawaii and the Caribbean over the past 30 years, Bajarin has been forced to set aside his scuba kit for the foreseeable future. California is on statewide lockdown after the governor ordered residents to "shelter in place" until the coronavirus threat passes. 
So Bajarin has been swapping his dive mask for an Oculus Quest virtual-reality headset, using 360-degree videos in an app developed by National Geographic to return to the deep.
"I'm sitting in my easy chair and it's as if I'm swimming right next to a manta ray – just like I've done many times, except I'm not getting wet," he says.
ESCAPE INTO A VIRTUAL WORLD
If ever there was a moment that millions of people needed a virtual world to escape into, it is now.
"People have talked about (VR) for a while," said Eric Shepard, vice-president of Lonely Planet Ventures, which explores new product ideas at the travel guide publisher. "With corona and people kind of trapped, this speeds up the process of bringing that to life."
At the start of the most recent wave of excitement about VR, when Facebook splurged US$2 billion (S$2.8 billion) to buy headset pioneer Oculus in 2014, some pundits wondered how long it might be before virtual tourism would replace the need for physical travel altogether. 
That challenge never materialised – many early VR travel apps, primarily designed to give people a taster before booking an expensive trip, were poorly thought through. Experiencing a boat race from the deck of a catamaran might sound thrilling, but a bouncing, grainy camera only accentuates VR's tendency to cause nausea. (This VR seasickness is caused by the discrepancy between the movement seen by the eyes and the absence of accompanying physical motion sensed by the inner ear.)
"None of the virtual travel companies have really gained much traction," said Tipatat Chennavasin, a Silicon Valley-based investor at the Venture Reality Fund. But now, because of COVID-19 and a worldwide grounding of planes, the travel industry has little option but to embrace alternative forms of escape – even if the ultimate plan remains to lure people back out into the real world once the lockdown is lifted.
Tourist boards in places such as Austria and Switzerland have rapidly overhauled their websites to offer interactive Alpine panoramas and 360-degree videos of hiking trails. Urban parks in cities such as New York and London, as well as the wide-open spaces of Yosemite, Yellowstone and the Colorado Rockies, offer Google Street View-style "virtual tours". Some offer narration or the sounds of nature to add to the ambience.
Meanwhile, a new breed of three-dimensional maps, such as Fatmap, allows hikers, runners, cyclists and skiers to while away their confinement by planning or retracing outdoor adventures in unprecedented detail.
TOURIST DESTINATIONS RECREATED
Many of the world's most popular tourist destinations are being recreated on Google's Arts & Culture platform. It touts views from the top of the Eiffel and Tokyo Towers as well as walks around the Taj Mahal, Machu Picchu and the pyramids at Giza. 
Much of the content, including 360-degree videos, is available on a traditional website, but there's also an "augmented reality" (AR) smartphone app in which the images respond to the movements of the phone, giving the sensation of moving around and within these digital places.
"The whole premise of what we do is unlocking new experiences and opening access to anyone, anywhere," said Kate Lauterbach, programme manager of Google Arts & Culture. "Street View is where it first started. From there it was always this question of, 'What else can we do?'"
The project is increasingly trying to take people where they could not otherwise go – even in normal times – from a recreation of the interior of the Hindenburg airship, which crashed spectacularly in 1937, to the Cern nuclear research laboratory in Geneva, to unbuilt Bauhaus architecture, which viewers can "walk into" using an AR app on their phones. Because vastly more people today have smartphones than VR headsets, the Google project is focusing its efforts predominantly on smartphones and AR. "Our hope is that this will be a place that people come every single day," said Lauterbach. "We are finding right now that a lot of what we can do in AR is achieving that."
In what might seem a contradictory move, some tourist destinations have experimented with virtual-reality tours on site. The Louvre's Mona Lisa: Beyond The Glass ran from October until February at the Paris museum. Visitors began by hearing the story of the painting, before entering the scene in which the artwork was created, then finally taking off on one of Leonardo da Vinci's flying machines.
"Nothing, I think, can replace the observation of the painting itself. A work of art is not something that can be replaced," said Dominique de Font-Reaulx, director of interpretation and cultural programming at the Louvre. "But it is a new way of looking at it." Arguments about the "authenticity" of a virtual experience are, she said, no different to 19th-century debates about the relative merits of painting and photography.
SOME HOLLYWOOD STORYTELLING
When a collection of artefacts from the tomb of the ancient Egyptian king Tutankhamun went on show at London's Saatchi Gallery last year, the blockbuster exhibition was accompanied by a seven-minute VR experience narrated by actor Hugh Bonneville. Viewers sat in egg-shaped Positron Voyager chairs that gently moved in synch with the visuals as they glided around the tomb.
Making the virtual visit memorable took Hollywood storytelling as much as Silicon Valley tech, said Joel Newton, co-founder of CityLights VR, which produced the experience. "Tut's tomb as a physical space is in some ways unremarkable. It's a series of cramped, drab rectangles underground," he said. "We had to humanise Tut himself, anchor the experience around whatever details we could find — his relationships, his disability, his youth."
As viewers are guided around the tomb's assortment of walking sticks, wall carvings and chariot-racing paraphernalia, they can lean in for a closer look at each object. That is in contrast to regular 360-degree videos such as those found on Google Street View, which are less immersive and interactive because they have been pieced together using traditional cameras.
Experiences such as Tut's tomb use "photogrammetry" and "volumetric capture": Objects are photographed in three dimensions, preserving subtle textures to ensure they do not look as if they fell out of a PlayStation game.
"If it's just a 360 video, I don't believe you get anywhere near close enough to the presence and experience of 'being there'," says Newton.
CityLights is currently developing a version of the King Tut app for VR users to try at home, and similar high-resolution 3D experiences are already emerging for domestic use. The ceiling of the Sistine Chapel has been recreated in VR in such detail that viewers can see individual brushstrokes.
One reviewer of Il Divino: Michelangelo's Sistine Ceiling In VR on the Steam app store claims the virtual experience was "a thousand times better" than their real-life visit: "No crowds breathing down your neck, no Italian security officers watching you suspiciously and no rude tourists," wrote user GlitchNMatrix88. "I finally got to have the Sistine Chapel all to myself."
Getting up close to Michaelangelo's paintwork certainly counts as an experience most people will only have in VR. But many app developers are keen to go further, taking the opportunities afforded by the medium to launch more fantastical experiences.
"Virtual tourism is going to mean going into Fortnite and virtual worlds," said Chennavasin, the VR investor. "That's one of the things that people forget when they focus on 360 videos – it's not just about seeing the sights, it's about meeting people and experiencing the culture."
PLAYERS GO ON A HOLIDAY
One of the most entertaining attempts to tackle holiday-making in VR sends up the whole idea. The game Vacation Simulator takes players on a holiday as imagined by our future robot overlords. "The beach is the most efficient place to start," players are instructed by floating droids, as they build sandcastles to exacting specifications and catch furious numbers of fish. "There's no time for being lackadaisical!"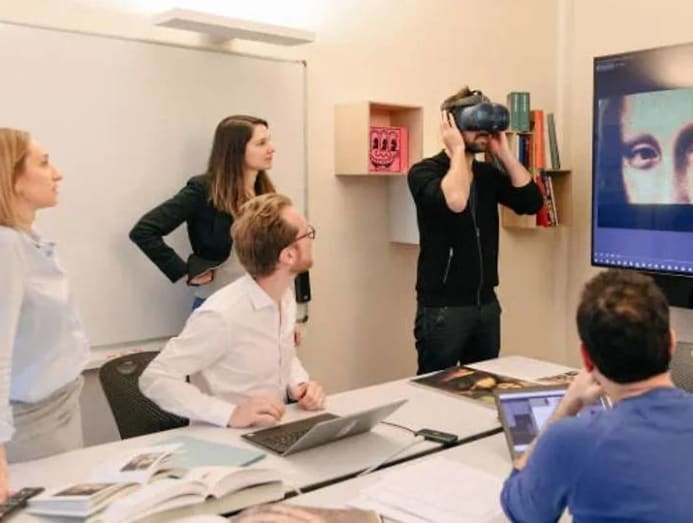 The cartoonish game is less R&R, "more a place of decompression as action", said Andrew Eiche, chief technology officer at Vacation Simulator's developer, Owlchemy Labs. He is sceptical that today's VR headsets are powerful enough to deliver truly realistic recreations of places such as the Sistine Chapel. "Is it really any different to looking at it on a monitor?" he says. "You need to go beyond looking to acting – that is where VR really excels."
So far, despite the coronavirus crisis, it is hard to establish that VR has seen a big upswing in usage. In part that is because many headsets, such as the more affordable and accessible Oculus Quest, are sold out, with inventories hit by the recent manufacturing shutdown in China. Others require powerful gaming PCs that most people don't have.
Tim Bajarin, the scuba-diving tech consultant, predicted that the outbreak and its associated lockdown will nudge VR closer to the mainstream. "It's a new form of entertainment and you can do it safely at home," he said.
But for the moment it is games, not travel apps, that are VR's mainstay. So far, the only VR title to become a breakout hit since the pandemic began is Half-Life: Alyx – a dystopian first-person shooter game set in an alien-occupied Earth. For VR devotees such as Eiche, that is just as powerful a form of escapism as climbing Machu Picchu or visiting King Tut's tomb.
"People just want to be in a different environment. They want variety," he said. "You can see people going towards (games)because in those stories, you can be the hero. Right now, all of us are powerless – the only thing we can do is stay home and wash our hands."
By Tim Bradshaw © 2020 The Financial Times