We staycay-ed at a Mongolian yurt in Yishun with 'wilderness survival' activities
Can camping in the great outdoors of Yishun really transport you to an exotic faraway country? And what about the rats, bats, snakes and mozzies? Here's how our "Magical Mongolia" experience went.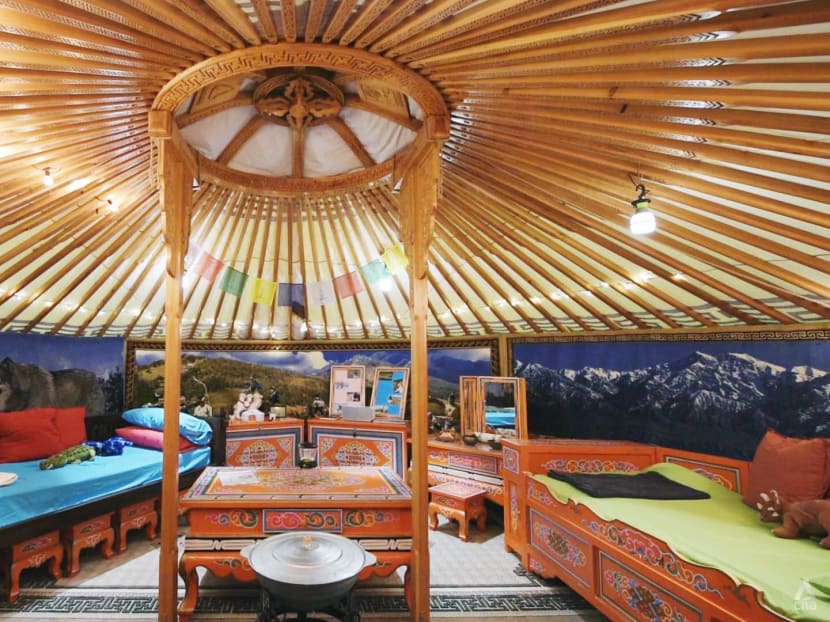 In the last year and a half of not being able to travel, Singaporeans have resorted to some pretty desperate measures, like staycationing, glamping and ordering airplane food in to eat at home just so they can feel like they're someplace else (or at least en route to someplace else).
Still, when you lay eyes on a full-on Mongolian yurt sitting in the middle of a plot of overgrown land in the Yishun-Mandai area, you do wonder if you need new glasses.
No, it's not a secret foreign spy lab. It's not a mirage or a film set. It's a "Magical Mongolia" experience brought to you by Beyond Expeditions, a travel outfit run by 29-year-old Scott Tay that used to specialise in tours to Mongolia pre-pandemic.
Popular with families as well as those who love the outdoors, the two-day-one-night programme, which offers "wilderness survival" activities like how to chop wood, pitch tents and "the art of firecraft", is currently booked out until December.
The programme is run in line with the current safe management measures, with each experience kept to a maximum of four participants and the maximum number of people in each group capped at two (not applicable to families from the same household).
Exotic Mongolia in the wilds of Yishun? Well, of course I had to sign up.
YURTING IT UP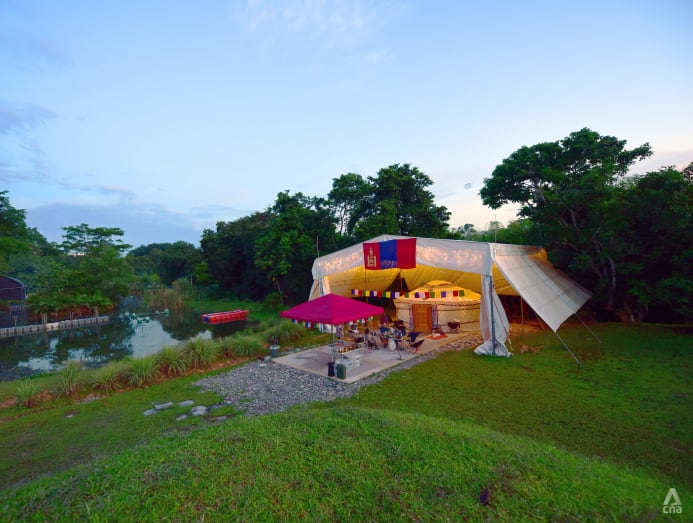 Not having been to Mongolia, though, I could only assess the authenticity of the experience based on how un-Yishun it felt.
I'm happy to report that once you arrive at the yurt, decked out with colourful flags, right by a little lily-padded pond and engulfed by greenery, you know you're not in Kansas any more.
The beautiful circular structure comes directly from Mongolia and was a gift from the Embassy of Mongolia in Singapore. Many of its furnishings, like a brightly painted bed, cupboard, table and stools, were made in Mongolia, too. And it's equipped with all the luxurious comforts you don't get in a regular tent: Real mattresses, down pillows and the holy grail of glamping – air-con.
Yurt life was certainly enticing, not to mention Instagrammable.
It was rainy on my first day, so in the evening, after the weather had cleared up, Tay and his partner, Kavita Kaur, welcomed me by putting a pot of pasta onto the portable stove to boil.
Tay, who's led expeditions all over Mongolia as well as in places like Kazakhstan and India, has spent so much time in Mongolia that "after more than 20 visits, you stop counting".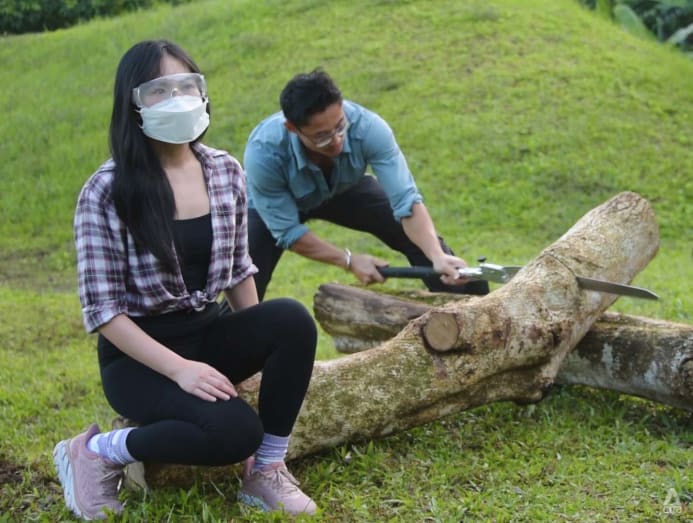 His mission is to help people experience the essence of the country, which he says can be summed up in two words: "True freedom".
"When you're out there in the wilderness, sometimes it really feels like you're just there alone by yourself, because of the vastness. And I feel so present when I'm standing in the middle of the steppes. I feel like I'm part of the universe and nature. I sort of lose my identity. I have no concerns, no worries. Whatever I've planned in my calendar just disappears. And I feel so light, so contented with life, because I don't feel like I need anything at all any more," he shared.
"That's why, after my first trip there, I wanted to bring more people, especially Singaporeans who keep visiting places like Bangkok to shop and eat. I mean, that is okay, but there are so many other places to experience, like Mongolia. The raw ruggedness; the way the nomads live every single day, is authentic. I want more people to experience that before it becomes too touristy or commercialised."
EVERYBODY YURTS SOMETIMES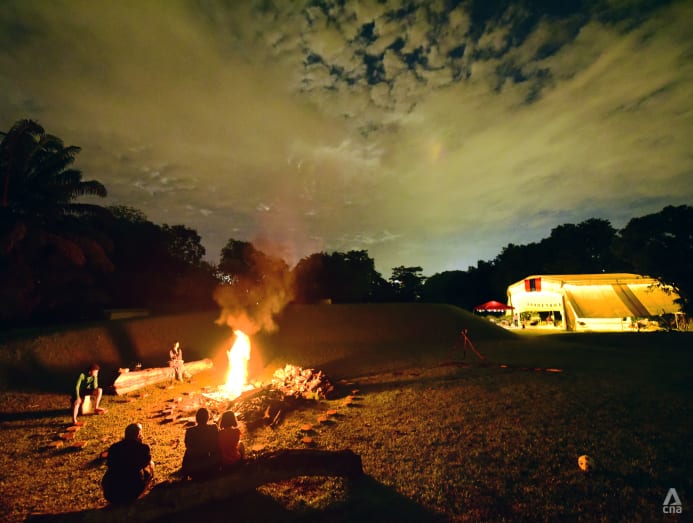 Chopping up wood for fuel, practising skills with axes and saws, and starting a campfire around which you can sit and toast your marshmallows are all the things that Tay enjoys sharing with his guests as part of the package he offers.
As I came to find out, it helps to think of this less as experiencing what it's like to be in Mongolia and more as sharing in Tay and Kavita's enthusiasm, hospitality and love for the country.  
What does vegetarian pesto pasta for dinner have to do with Mongolia? Not much at all, but Tay and Kavita are vegetarian and can make some mean meals on a camping stove. They also brew you their own brand of chai in a roiling pot for breakfast, despite the fact that Mongolians would simply have tea with milk.
Can you really experience what it's like to be in Mongolia – in Singapore? That's what travel boutique agency Beyond Expeditions is bringing with its "Magical Mongolia" experience. CNA Lifestyle braved the wilderness of, erm, Yishun and here's what we got up to.
So, no yak's yogurt, dumplings or barbecued mutton here – but ask Tay any question about the Mongolian culture, landscape, wildlife or people, and he'll happily share his stories about dog sledding over icy rivers, huddling around stoves with the locals in winter time and cluelessly walking around in a woman's traditional dress on the main street. (He might also share some traditional Mongolian vodka, squirrelled away in the yurt's kitchen cupboard.)  
After dinner, we settled in for movie night under the stars, with a projector and screen, and Tay shared some clips of his Mongolian expeditions.
He and Kavita then went home, leaving us all alone in the middle of nowhere. Good thing there was a lock on the yurt's door.
Getting ready for bed, though, I was preoccupied with another security issue: Rodents. What if a rat infiltrated the yurt and decided it wanted to share my bed in the middle of the night?
Well, this concern was quickly addressed. Noticing a ring of yellow powder around the yurt, I was told this was sulphur that functioned to keep snakes away. Ah! If there were any rats around, the snakes would probably get them first. There was mention of a "1.2m-long black cobra" that had been spotted in the compound. Phew! How reassuring! Especially coupled with the fact that the toilets and showers are a four-minute walk away, so if you have to pee in the middle of the night, well, the world is your toilet.
If you're a sensitive sleeper, it might take you a while to drift off into dreamland. Firstly, it's advised to keep the lights outside the yurt on, to keep the bats away. And secondly, the area is home to a lot of very vocal frogs, for whom it's showtime once the sun goes down. I once went to a Nine Inch Nails concert and suffice it to say that they had nothing on these bullfrogs at 2am.
But the sun rose the next morning and lo, there had been no vermin-related encounters, although one little green frog did hop right up to the yurt and try his darnedest to gain entry.
The early morning, when you step out of the yurt and are greeted by the sun's first rays, dewy greenery and a tranquil pond, is where all the magic lies, if you ask me. This is where you feel the peace of isolation, fresh air, Vitamin D and wild nature (minus the bats and rats, thank you). And it truly does feel light and free.
Sipping my warm chai while basking in the sunshine, I realised I had learned many things from my Magical Mongolia adventure. I learned that you can never be too educated about other cultures. I learned that an open mind and heart are the key to having fun, whether you're in Mongolia or Yishun.
And I learned that even if you think you have an adequate arsenal of bug spray for the tropical wilds of Singapore – well, you're wrong.
For more information about Beyond Expeditions' Experience Magical Mongolia: First In Singapore 2D1N Yurt Getaway, visit https://beyondexpeditionssg.com. Price: S$580 per pax. Sign up with a buddy, S$500 per pax. Sign up with two buddies or more, S$450 per pax. Children 12 years old and below enjoy an additional 50 per cent off.