Skiing on 'Toblerone mountain' and riding in a crystal-encrusted gondola in Zermatt, Switzerland
Home to the iconic Matterhorn, Zermatt is a snow lover's paradise with all-year round skiing. But there's fun to be had in the summer too with hiking, biking and more.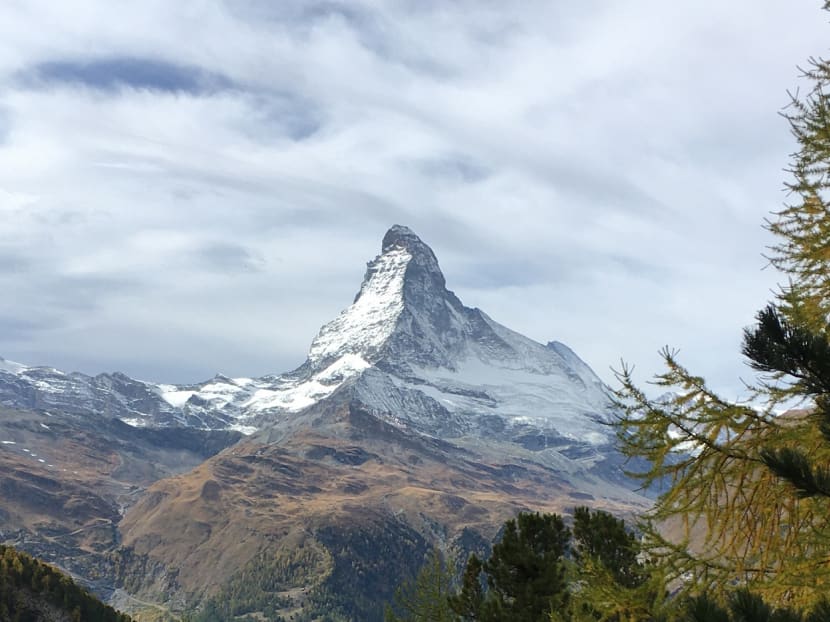 You hear so much about cheese fondue so of course you look forward to your first virgin sampling once you land on Swiss soil. 
This happened for me and my fellow travellers on our first night in Zermatt. It's like a rite of passage, a prerequisite almost, before you're licenced to go on and explore the rest of Switzerland. And, to that end, every Swiss person you meet on your travels will no doubt preface every conversation with a keen inquiry on whether you've already tried their beloved national dish. 
So, we were certainly game to try. If nothing else, it ought to warm your bones, coming in from the cold. We nip into the restaurant in Hotel Julen, one of the town's more popular establishments that was exceedingly charming with its traditional styling. The cheese fondue arrives in a cast iron pot, accompanied by baskets overflowing with bread or whole potatoes. We skewer either grub of carb, dip and swirl it in the melted cheese with great anticipation and then... Silence.
Something must be said of a sense of telepathy shared amongst Singaporeans as our fellow countrymen exchanged subtle knowing glances. I love me some artisanal cheese and I'm even a big fan of blue cheese but this was intense. Ultimately, let's just say it was a fon-don't for us.  
Fortunately, there are many more dos than don'ts to be had in Zermatt. 
Topping the list is, of course, skiing and snowboarding.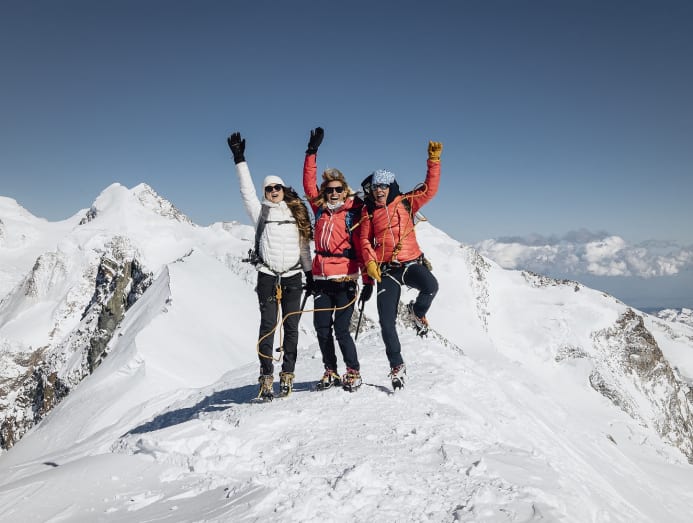 Zermatt is one of the most popular ski resort destinations in Switzerland, with renowned slopes, pistes and powder all-year round.
Located in the Valais canton in southern Switzerland, Zermatt is quite easily accessible via a three-hour train journey from Zurich Airport. Getting around Switzerland by train is surprisingly straightforward; just download the SBB Mobile app and you're set. Swiss trains are also known for their punctuality and of the innumerable trains we took during the trip, we only encountered one train delay, and every local we met thereafter affirmed that this was a very, very rare occurrence.  
'TOBLERONE MOUNTAIN': A SKIER'S PARADISE
Zermatt is a car-free village; only electric taxis reminiscent of tuk-tuks are allowed on the roads. So be sure to bring good walking shoes. 
This is truly a skier's paradise. Situated at an altitude of 3883m, Europe's highest ski resort boasts 360km of blue, red, black and yellow runs across more than 100 slopes – and skiing or snowboarding with the majestic Matterhorn as a backdrop is most certainly a bucket list item for the ages.  
Standing at 4,478m tall, the Matterhorn is one of the highest summits in the Swiss Alps (and in all of Europe, for that matter).  
You may remember the iconic Matterhorn when it made headlines in Singapore back in April 2020, when the Singapore flag was projected onto the mountain as a show of solidarity during the early lockdown stages of the COVID-19 outbreak. 
She may also strike familiar as the near-symmetric pyramidal peak is the very inspiration for the Toblerone chocolate logo and thus also affectionately known as 'Toblerone mountain'. 
THE ROLLS-ROYCE OF GONDOLAS
We took the Crystal ride up the 4,478m mountain, one of only four such gondola cabins on the newish Matterhorn glacier ride encrusted with 280,000 Swarovski crystals (inside and outside the cabin) that sparkle in sunlight. 
This nine-minute journey to the highest mountain station in Europe was quite the trip. 
It felt like we were riding the Rolls-Royce of gondolas. Just as the British carmaker has its Starlight Headliner starlit sky effect on its ceilings, the Crystal ride cabins feature a similar Swarovski-enabled "starry sky", too. Not surprising, then, to discover these cabins were designed by Pininfarina, the renowned Italian design studio that counts amongst its prestigious client roster many supercar brands including the likes of Ferrari and Maserati.
Don't forget to look down, though, as the most exciting part of the Crystal ride is to be had between your feet.  
Three minutes into the journey, the previously opaque glass floor clears within seconds to reveal a dramatic view down onto the glacier landscape. This effect is made possible by an active laminated glass sheet, which turns from milky white to transparent thanks to an electric current. It's a spectacular sight but definitely not for the faint of heart or for acrophobes. And if you're scared of heights, you probably shouldn't even be on this marvelous mountain. 
EUROPE'S HIGHEST MOUNTAIN STATION
The Matterhorn may be Zermatt's most ceremonious attraction but non-ski activities abound, too. Spring and summer from March to August, for example, are wonderful for mountain biking and hiking in the crisp alpine air. Plus a plethora of excursions and attractions like the Matterhorn Glacier Paradise where you'll also find the Glacier Palace in the vicinity, which showcases ice sculptures within a glacier crevasse. 
While here, do pop in to "En Güete", the world's highest mountain restaurant at an astonishing altitude of 3883m for a raclette or a rösti.
Feast on awe-inspiring views of snow-capped peaks all around from Europe's highest mountain station as you enjoy a sweeping a 360-degree panorama of a total of 38 4,000m peaks and 14 glaciers located in three countries: Switzerland, Italy and France.  
A MOUNTAIN SPA THAT REMINDS YOU OF HOME
And if peerless views are what you're after, you won't get a much better vantage point than at Cervo Mountain Resort. From my bed, I literally watched as the Matterhorn was gradually bathed in daylight at dawn. Stunning to say the least.
The sustainability-focused, design-forward property offers arguably the best view of the mountain, and the refurbished lodges offer a very modern aesthetic.
The Mountain Ashram Spa is very much inspired by Eastern philosophies and rituals paired with the Northern European art of sauna. You'll find Bhutanese hot stone baths, Ayurvedic treatments and singing bowl experiences amongst its holistic healing therapies. 
I personally would've loved to soak in a Japanese onsen and bask in the magnificent view of the mighty Matterhorn but alas I was already freezing my tail off. Guess I'll have to go back in the summer. And I'll probably skip the fondue when I do.