Foreign worker who won S$18,888 in 'Squid Game' contest shares how it changed his life
CNA Lifestyle caught up with 42-year-old Indian national Selvam Arumugam to see how his life has changed.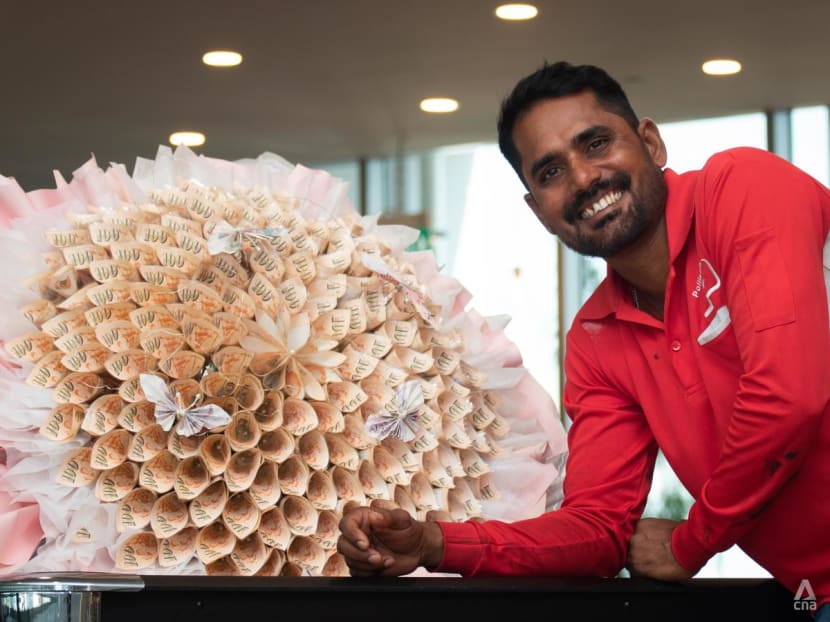 Decked out in a simple red tee, Selvam Arumugam was all smiles as he greeted us. And why wouldn't he be? Less than two weeks prior, on May 27, the 42-year-old foreign worker in Singapore participated in a game at his company dinner and dance, and won a life-changing amount of S$18,888.
In a now-viral TikTok video, the Indian national can be seen falling on his knees and profusely thanking his employers at Pollisum Engineering upon winning the grand prize.
As part of their dinner and dance event, the crane leasing company created a Squid Game-esque competition for all their employees – sans bloodshed and death, of course. Participants had to compete in a few games – one of them being the infamous 'red light, green light' game from the hit Netflix show.
Speaking through a translator, Selvam shared that he "didn't even know that S$18,888 was the grand prize" when he signed up for the competition. 
"All I did was follow (what the other participants were doing) and tried my best," he told CNA Lifestyle.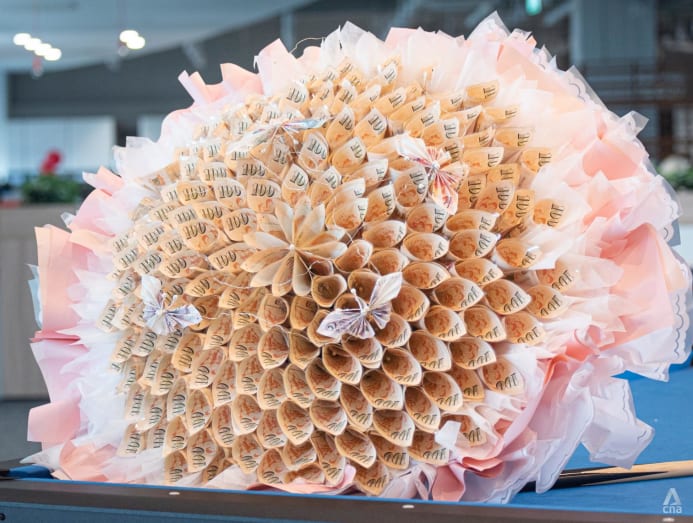 His initial reaction after winning the money? Utter disbelief.
He even rejected the money and "tried returning it to the big boss". After all, S$18,888 is the equivalent of a year and a half salary for Selvam, who is part of Pollisum Engineering's lifting team, and assists in maintaining and inspecting the company's cranes and lifting gears.
Once Selvam overcame his shock, he decided to put the money to good use by building a family home.
"(We) used to stay in a rental house (in India). With this money, we can have (multiple) bedrooms (for the family)."
Selvam shared that he had already purchased the land needed to build the house and expects his new home to be ready within "two to three years".
Hailing from Tamil Nadu, Selvam started working in Singapore in 2007 to support his wife and three children. In addition, he is also responsible for the wives and children of his two older brothers who have since died. 
Having been here for over 10 years, Selvam thinks that "Singapore is a nice country". Throughout the interview, he continued to express gratitude towards his employers for changing his life.
When asked why they held the competition, Pollisum Engineering's executive director Chris Ang said: "Our company has (been performing) quite well for the past few years. As such, we wanted to motivate and incentivise our staff. We wanted to change lives with the money [set aside for the dinner and dance event]. That's why we (took inspiration) from Squid Game."
The company ended up awarding each participant in their competition at least S$188. They also revealed that they plan to bring all their workers on an overseas trip should they hit their targets this year.
For now, Selvam Arumugam is a prime example of how hard work and a bit of luck can change one's life for the better.