We get to know Jeff Lai, the Singaporean artist who's inspired to draw portraits of strangers on trains
You've probably seen TikTok videos of Jeff Lai, aka Jeff Draws, surprising train commuters with his drawings. What's the story behind it? CNA Lifestyle finds out.
If you're riding the train and someone comes up to give you a hand-drawn portrait of yourself, don't freak out. Instead, consider yourself lucky – you've just caught the discerning eye of Singaporean artist Jeff Lai.
The local artist, better known as Jeff Draws, is known for surprising commuters with his drawings. You might have seen some of the popular behind-the-scenes videos of his sketch series on TikTok, with some of these climbing over a hundred thousand views.
Lai's modus operandi is simple: He goes to public spaces with just a pencil and a sketchbook in hand and starts drawing. "I carry my sketchbook with me everywhere I go. It is rather light after all", the 24-year-old told CNA Lifestyle when we recently met up with him.
The humble artist expects nothing in return for the drawings he gifts to fortunate strangers. "They don't have to thank me or give any reactions. Just by accepting my drawing, it's enough," he shared.
"I did this to challenge myself since I have been drawing with a reference photo for more than five to six years. I wanted to start drawing people in real-time and eventually passing it to them," he added.
HE'S RIGHT ON TRACK
Lai pointed out that the concept of creating art in transit isn't something he came up with. Months ago, he came across New York artist Devon Rodriguez's subway sketch series on TikTok, which was when the idea was first planted in his head.
"I was very amazed by the reactions and joy he brings to these people (he draws), so I wanted to try it in Singapore."
Lai is currently a student at the Singapore University of Technology & Design (SUTD), majoring in Design & Artificial Intelligence. "It doesn't involve much drawing as I do mostly software engineering and product management," Lai explained.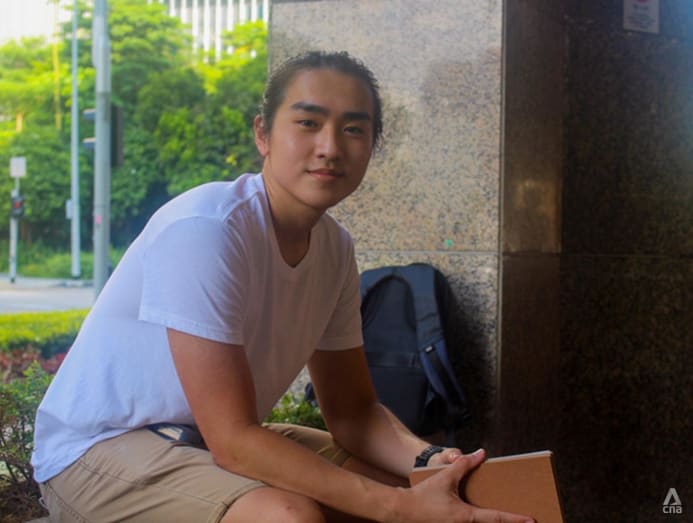 Realising that he had little or no chance to hone his craft, Lai took it upon himself to make the conscious effort to practice sketching on the weekends.
"I don't really choose a particular train to board. So if I am heading to Pasir Ris, I will take the train that gets me there and if there are seats, I will sit down and start drawing."
Lai's interest in the arts was set on the rails when he was only 14. As part of the national curriculum for art in schools, Lai had to attend art lessons at least once every week.
"I remember it was my Secondary Two final assignment. The assignment was to draw a self-portrait or a portrait of somebody you admired. I was a K-pop fan back then so I drew G-Dragon. He was my favourite idol," he recalled.
"I spent 20 hours on that piece of drawing. It wasn't very good but it was relatively decent. That was when I gained more confidence in doing portraits."
Since then, Lai has been sharing his art on various social media accounts, including Instagram (@playingwithpencil) and YouTube (@Jeff Draws). More recently, he started a TikTok account  (@jeffandpencil) which enabled him to reach a much larger audience.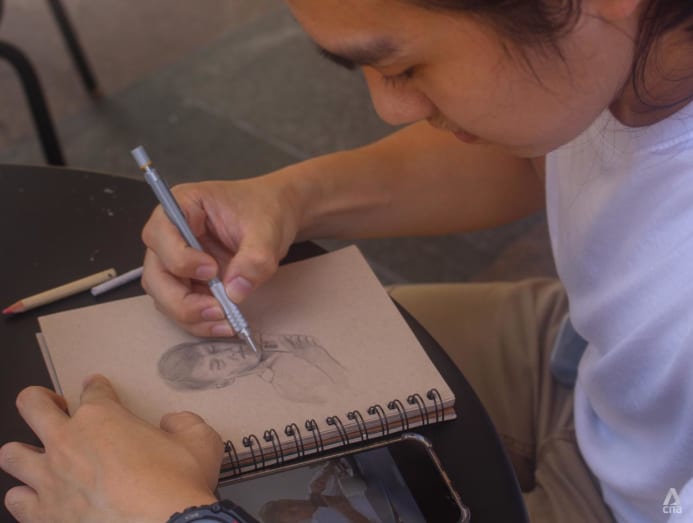 At the age of 18, Lai started taking on commission-based art projects, most of which were through word-of-mouth.
Lai indulges mostly in realism, primarily portraitures. Despite his very minimal art gear – a graphite pencil, a white pencil and an eraser – Lai feels far from being limited in his ability to create hyper-realistic works.
"There was a period of time I was very into using colour pencils. But it takes a much longer time to complete a drawing so I reverted to using only graphite pencils."
A RACE AGAINST TIME TO SKETCH
The race against time is especially apparent when he does drawings of strangers on the train. "I have to figure out how long he will sit there. I will think whether he will sit there for at least five to fifteen minutes."
And when time catches up with him and the would-be owner of the portrait alights before he completes his sketch, Lai will have no choice but to keep that masterpiece for himself.
Then again, if it's meant to be, it's meant to be. "I remember there was once, I was unable to complete the drawing of this man I saw in the park. Then I saw him again that day, but at the other side of the park. I actually managed to finish that piece of drawing so I gave it to him."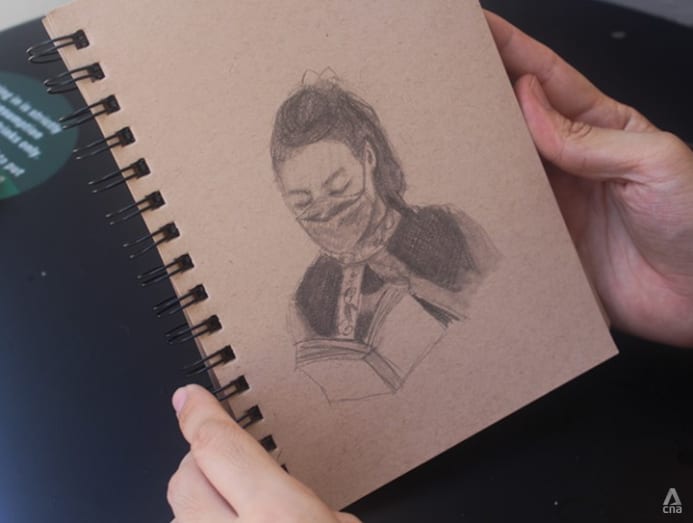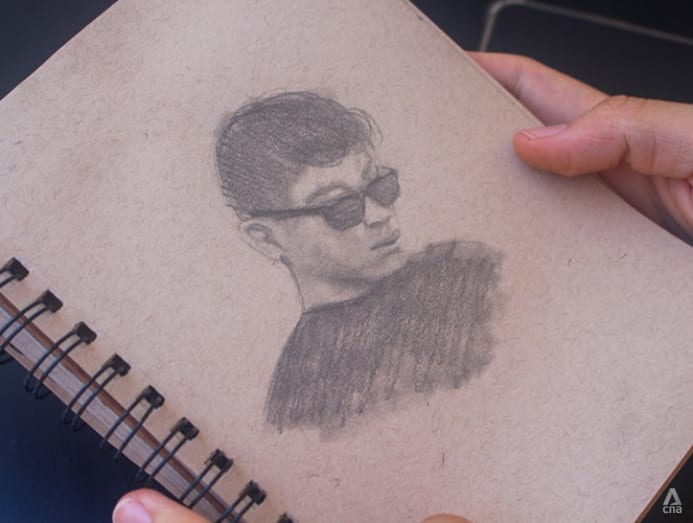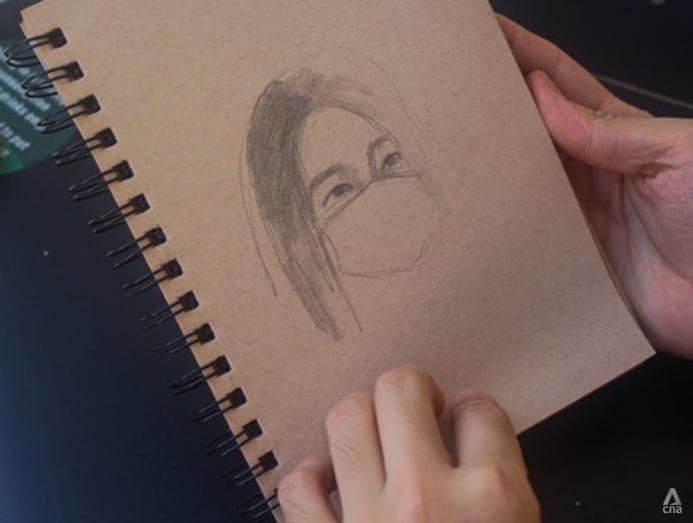 Lai remembers his first attempt sketching on the train. "It is very scary on the train. There are so many eyes on you. Even now, I still (feel) intimidated to pass my drawings to them."
Approaching strangers and presenting them with his artwork is no cinch for Lai. But he believes that he has to find it within himself to colour outside the lines.
"That's my personality, I have to try things I am scared of. I have to push myself to see what can I get or learn from this experience," he said.
"If it's simple, everyone would be doing it. You have to try things that are not easy."
BECOMING A PART OF PEOPLE'S LIVES
Across his encounters of drawing random passerbys, Lai has had the chance to interact with people from all walks off life, with different stories to tell.
"I like it when people talk to me as I draw. Just the other day, a woman sitting beside me showed me a message while I was drawing."
And just like that, Lai became a part of their lives in the most unexpected and genuine of ways.
Such was the case for Thomas, who happened to be sitting across Lai at the Bugis Junction Starbucks outlet where CNA Lifestyle met him last Sunday (Jul 17).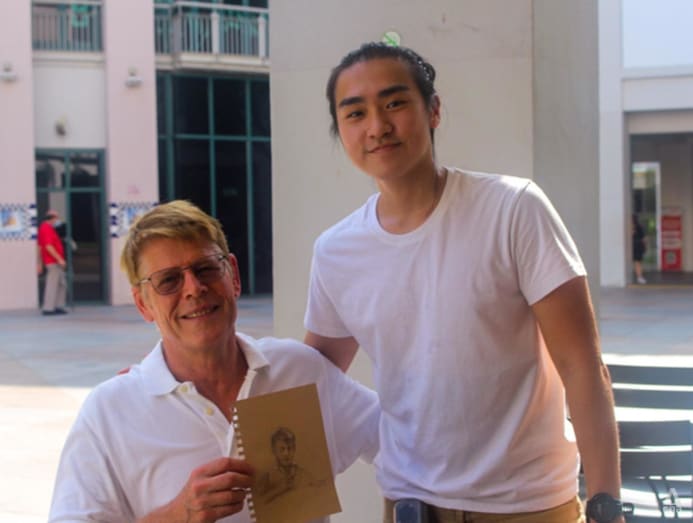 The simple gesture made the customer grin from ear to ear. Yet another addition to the list of overjoyed recipients of the artist's work. Lai said that this is exactly what motivates him to create and to give back.
And yes, sometimes, his artwork leaves his recipients wanting more. "It was actually (during) my first few drawings. I went to a cafe (where) there was a mother and (her) two children. I chose the little boy to draw. After I passed it to the mother, the younger daughter started asking for a drawing too."
Not having finished the drawing, Lai promised to hand the completed drawing to the mother on a separate occasion, which he did. "Even now, I still talk to her (the mother) on Instagram."
The self-taught artist hopes to continue to spread the joy of art through this means. He envisions himself setting up a booth in an event where he gets to draw live portraits of people.
"I am also thinking of a way I can put my drawing skills to use in software engineering. Maybe there is a way to combine these two rather distinct areas."
When asked about his dream project, Lai answered with hardly any hesitation, "to be able to draw Mr Lee Hsien Loong. That would be a dream come true."