Jocelyn Chia backlash: Malaysian comedians weigh in on her MH370 joke
On one hand, Harith Iskander reminded comedians to "to exercise some level of sensitivity and empathy", on the other hand, Jason Leong "loved this bit".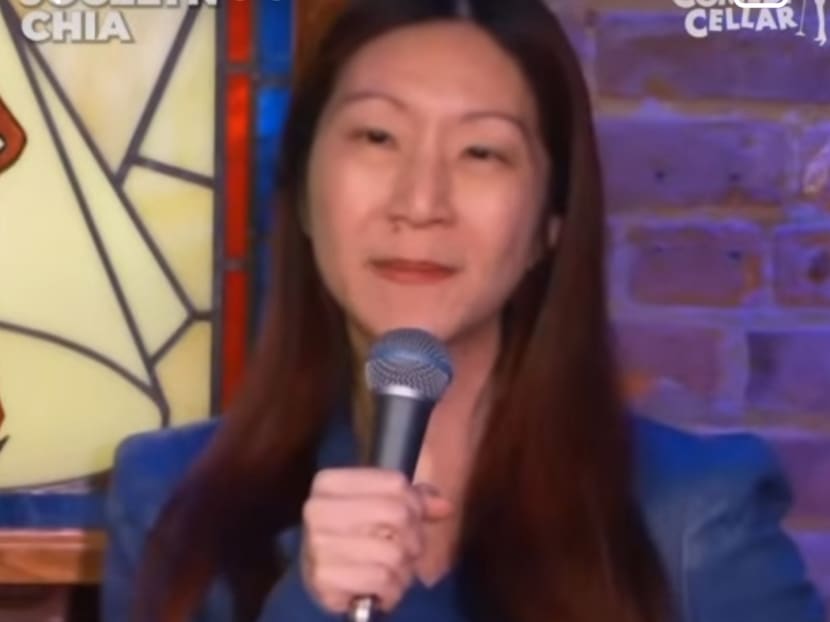 It's natural for stand-up comedians to get mixed responses to their routines. After all, different people have different thresholds for humour.
However, getting a diplomat to apologise for your actions is probably a sign that your jokes might have gone overboard. On Tuesday (Jun 6), lawyer-turned-comedian Jocelyn Chia uploaded a clip of one of her routines on her now-deleted Instagram page.
Performing at the Comedy Cellar club in New York, Chia (who describes herself on her website as "originally from Singapore") compared Singapore with Malaysia – calling the latter "a developing country".
Then things got messy. She proceeded to hold a mock conversation between the two countries, referencing the tragic MH370 incident which happened nine years ago.
"Why haven't you (Malaysia) paid me a visit in 40 years?"
"I tried but you know our airplanes can't fly." 
Chia then doubled down on her joke, saying: "Malaysian Airlines going missing is not funny? Some jokes don't land. This joke kills in Singapore."
Her routine drew a strong backlash from netizens who lambasted her for making fun of a national tragedy.
Intan Maizura Othaman, the wife of MH370 crew member Mohd Hazrin Mohamed Hasnan, commented: "When you attend a show that features an incompetent lawyer turned unfunny comedian, this is what you get. Epitome of heinous human!"
Some netizens felt that Chia's routine was not comedy and was simply "hate speech".
A Twitter user wrote: "Jocelyn Chia, you're not a standup comedian. You're a bully." Another user wrote: "It felt like Jocelyn Chia was on stage taking the opportunity to vent her anger on Malaysia (and Malaysians) under the guise of comedy."
Chia defended herself in some of the comments, replying "Tragedy plus time = comedy. It's been long enough, man." 
Malaysian comedian Jason Leong appeared to support her, writing "I love this bit", to which Chia replied: "Geez people take jokes way too seriously."
Netizens proceeded to condemn Leong as well, causing him to limit comments on his Instagram page.
In the days that followed Chia's post, various public figures have come forward to denounce her actions.
On Jun 8, Singapore's High Commissioner to Malaysia Vanu Gopala Menon
published a statement
, saying he's "appalled by the gratuitously offensive comments made by Jocelyn Chia". He reiterated that Chia was no longer a Singaporean and that her views did not reflect those of the Singapore Government.
Veteran Malaysian comedian Harith Iskander uploaded a video on his social media platforms, reminding comedians "to exercise some level of sensitivity and empathy when dealing with certain material, especially topics that are deeply personal or tragic".
He went on to describe comedy as a powerful tool for social commentary that must be used responsibly. He ended his video by addressing Chia, saying that while Malaysia "may be a developing nation", it is "first world" in "kindness and thoughtfulness".
"Comedians as artists, we need to be aware of the potential impact our words can have. Comedy like all art form is a subjective form of expression. That means what's funny to one person may not be necessarily funny to someone else, and you've got to keep in mind context," he continued, adding that Chia should have been "a little bit smarter to realise that in this age of social media" her joke is "gonna get up on the internet."
As of writing, Jocelyn Chia has deactivated her Instagram page. Her Twitter account, on the other hand, has been suspended. CNA Lifestyle has reached out to Chia for her comments.