Transforming a 775 sq ft HDB flat into a garden paradise – in the balcony and bathroom
CNA Lifestyle's Making Room series looks at small homes with big transformations. This week, we visited an old flat with its best original features intact while leaving space for the homeowner's hobbies.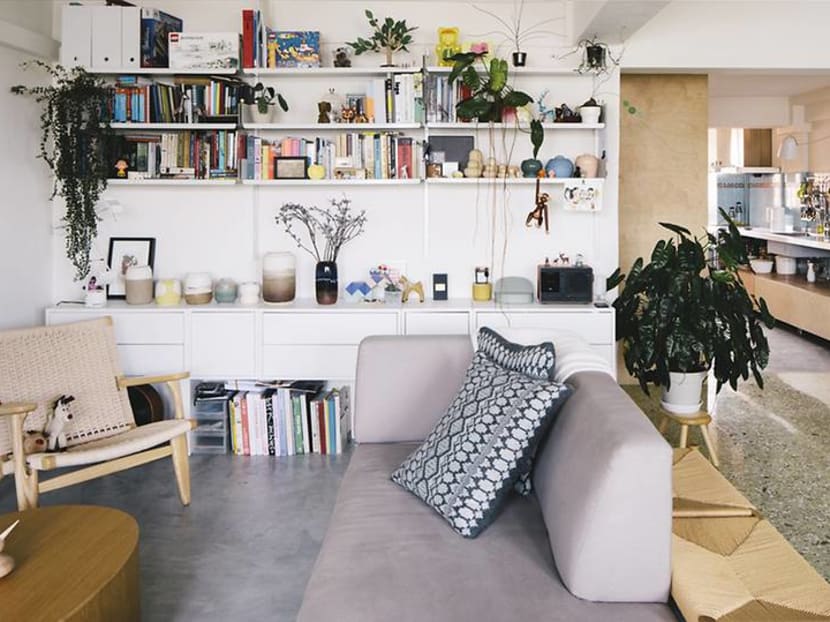 Most home buyers in Singapore who purchase an old resale HDB flat opt to give their new home a complete makeover in order to bring it up to speed with the times, but not Kaleb Loh.
"It's more about being functional. I don't want a home to be a showroom. For me, it's about living comfortably, efficiently, easily," he said.
CNA Lifestyle's Making Room series look at small homes with big transformations. This week, we visited an old flat with its best original features intact while leaving space for the homeowner's hobbies.
The creative director wanted a space with character, and thus sought to preserve the circa-1970s feel of the flat. Much of it was still in its original condition, from the speckled terrazzo floor in the dining area, to the retro-looking half-height tiled walls of the kitchen, and the cement flooring in the living area.
"Those details are really nice; it reminds one of what the old place was like, while respecting it," said Kaleb.
This practical approach also helped reduce renovation costs.
As a dedicated plant parent, he needed lots of space to flex his green thumbs. So, he sacrificed the second bedroom and had its walls removed, thus enlarging the footprint of the living and dining areas.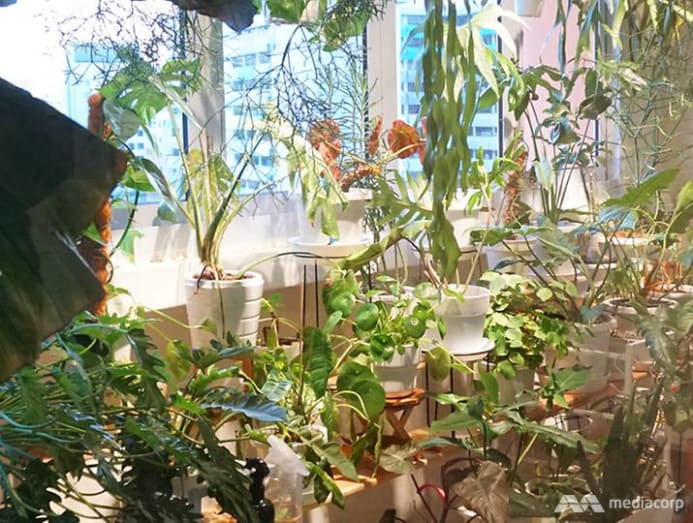 A "balcony" space, spanning the length of the living and dining areas, was then created at the entrance of his home. A lush profusion of potted tropical plants, such as staghorn ferns monsteras and philodendrons, hang from ceiling-mounted bamboo poles, or perch prettily on plant stands of various heights.
"This house is really full of plants. It's like having pets, it adds a bit of life, and it's really nice to watch them grow," said Kaleb.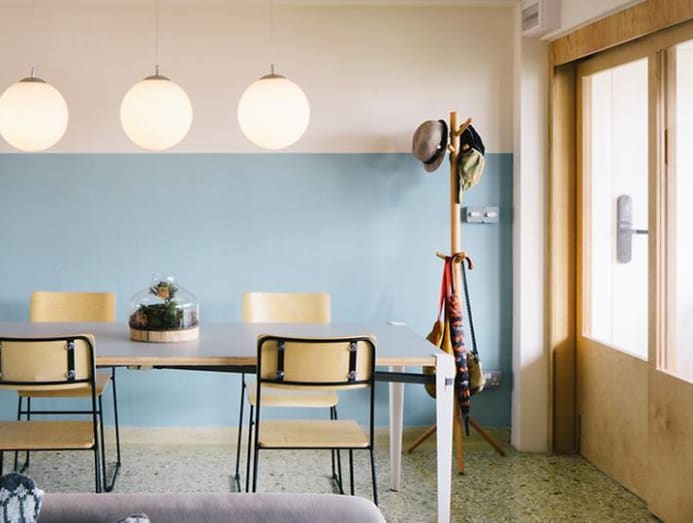 A series of oversized wood-framed glass sliding doors separates the balcony from the living and dining areas, while letting in plenty of natural light, and the view of the greenery. The sliding doors can also be pushed to one side when he needs more space.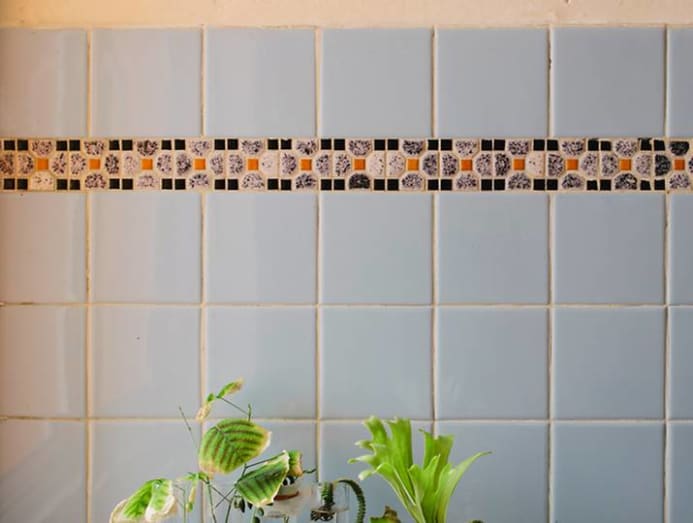 The living area features cement flooring, an oversized chaise longue upholstered in a soft grey, matching round, earth-toned coffee and side tables, and two mismatched armchairs – one of rattan and the other of wood and string.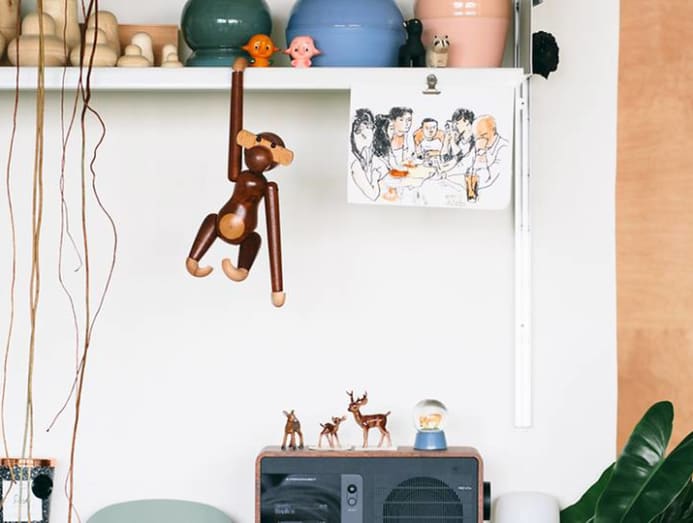 A white console, with wall-mounted open shelving above, runs the entire length of a white wall. This forms a neutral and space-efficient canvas for displaying books, ceramics, plants and unique art pieces from his travels.
In the corner near the glass sliding doors is a potted ficus tree, which provides a visual link to the greenery in the balcony.
The dining area is furnished plainly with a utilitarian-looking grey rectangular dining table, which seats eight to 10 people, and plywood dining chairs with black metal frames. Three round glass pendant lamps illuminate the dining area, and provide light for two terrariums.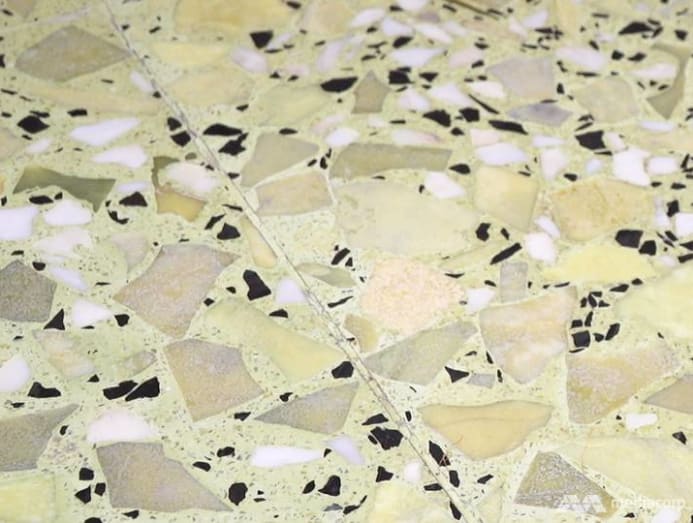 A black-and-white framed print of high-rise buildings and sand mounds underscores the industrial vibe here. The table also doubles up as his work station, and is also where he re-pots his plants.
The wall separating the kitchen from the dining area was removed to create an extra-long, open-concept galley kitchen, which provides Kaleb plenty of room to work productively.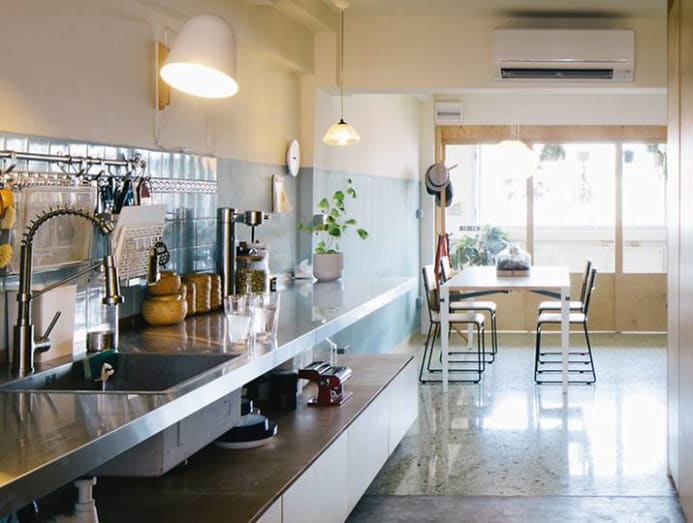 The original square pastel blue wall tiles, accented by a narrow strip of mosaic in graphic black, white and orange, were preserved, as was the cement flooring.
A stainless steel countertop shelf, with marine plywood drawers below, offer a mix of open and hidden storage, while a stainless steel rail system that runs the length of the kitchen counter, keeps oft-used kitchen tools and condiments in plain sight and within easy reach.
A wall-mounted lamp with an extra-long moveable arm, provides focused task lighting at whichever part of the kitchen counter Kaleb happens to be at. On the opposite wall is the fridge, and full-height built-in marine plywood cupboards offering loads of hidden storage.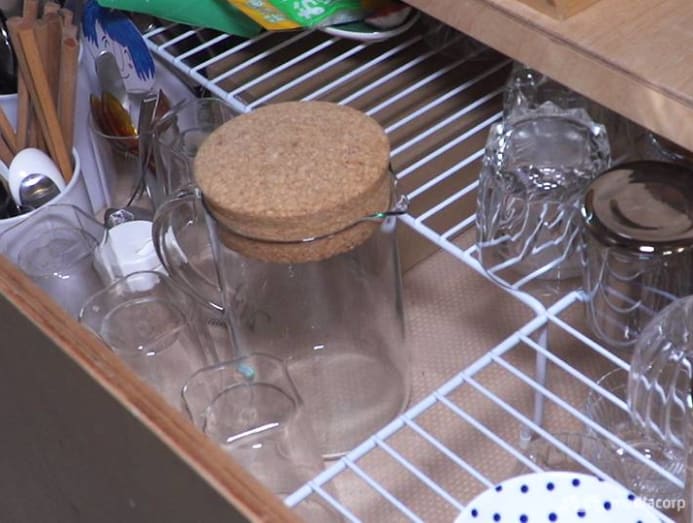 An accomplished potter who has held several exhibitions, Kaleb picked up the discipline under the guidance of a Japanese master in Tajimi, Japan, a town that has long been associated with the craft.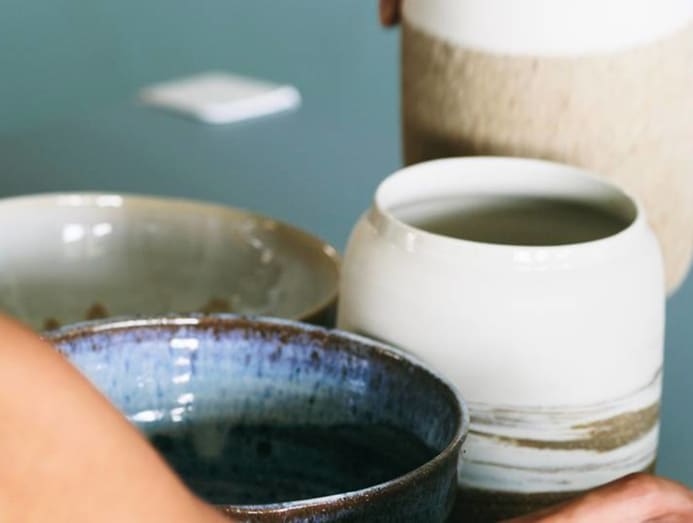 To make room for this pursuit, the service yard at the back of the kitchen was transformed into a mini ceramics workshop. Slimline white shelving and white storage bins help keep the area looking neat and calm, allowing him to focus fully when he's at the potter's wheel.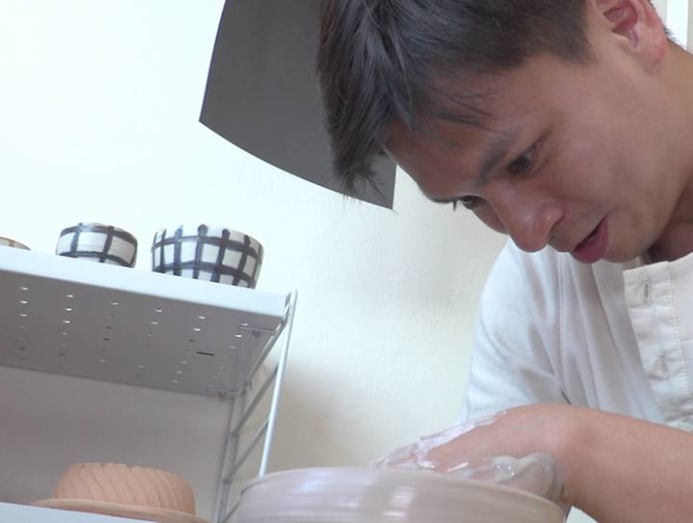 Kaleb also has another spot with plenty of plants – the white-tiled bathroom. There's plenty of natural light thanks to the window, and the frosted glass porthole in the bathroom door. The bathroom pipes, considered a design bugbear in HDB bathrooms, are used as plant hangers.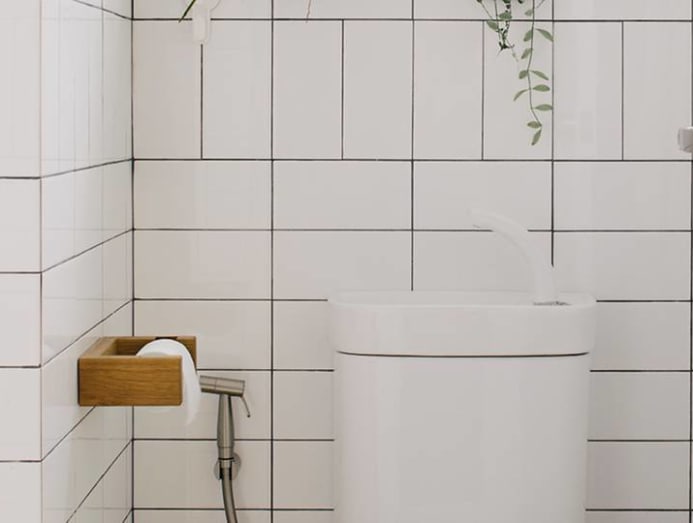 To get more room, Kaleb demolished the wall between the bathroom and the toilet which are usually kept separate in older HDB flats. The space was also slightly extended to have the sink placed at the corner.
The toilet bowl fixture features a wash basin above it with a water recycling feature was installed, making it a truly eco bathroom.