Apple Watch's ECG feature is now available in Singapore and it can detect irregular heart rhythms
Readings are taken through sensors in the crown and the base of the watch, but be aware, it's not meant to be a diagnostic tool.
The Apple Watch ECG function is finally live in Singapore, 10 months after the debut of the Apple Watch Series 4 last September. 
Apple says the function, which is approved by the US Food and Drug Administration (FDA) – and now by the Singapore Health Sciences Authority – can help flag your risk for an irregular heart rhythm known as Atrial Fibrillation, an asymptomatic disease linked to an increased risk of heart failure and stroke.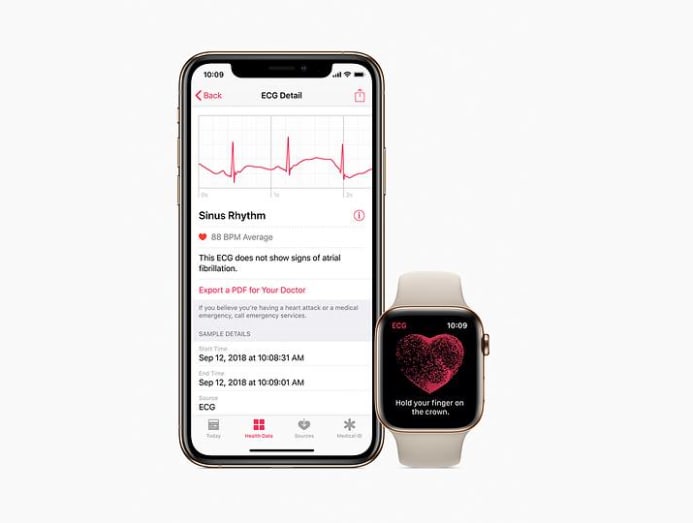 An update to watchOS 5.3 will also allow Apple Watches Series 1 to 4 to have an Irregular Rhythm notification feature, which checks heart rhythms in the background every few hours and sends you a notification if an irregularity is detected. Readings are taken through the sensors in the crown and base of the watch, which measures the electronic signals and impulses from the heart.
To activate the function, users need to launch the app, place a finger on the crown and take a 30-second reading. The watch will let you know if you have a Sinus Rhythm, which is normal, or Atrial Fibrillation, which is irregular.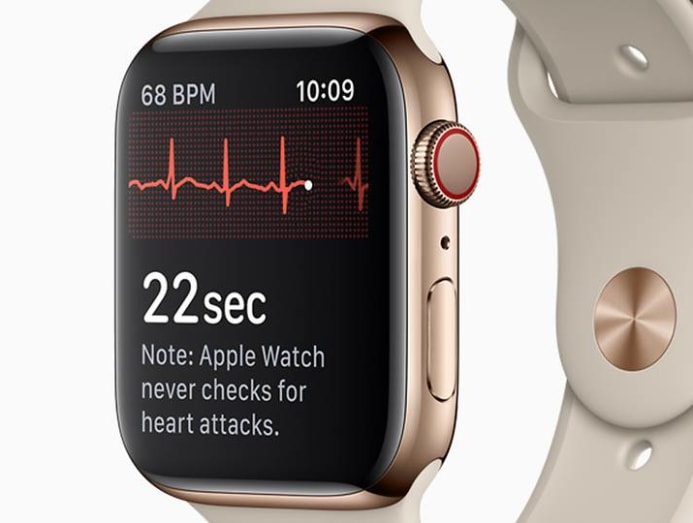 CNA938's Daniel Martin recently spoke with Dr Sumbul Desai, Apple's vice president of health, at Apple Park in Cupertino, California, to find out what this means for Apple Watch users who want to start monitoring their heartbeat.
Dr Desai was quick to point out that the feature is not diagnostic and not intended to be so. "It's not the same as a 12-lead ECG," she said, which is what is captured during a regular ECG at the hospital.
She added: "Normally you have a 12-lead ECG right, so there's 12 kinds of views of your heart. We're providing you with one of those 12 leads, so it doesn't pick up everything…. You can now capture aspects of your heart as you're living your everyday life."
One of the things users can do, Dr Desai explained, is to capture an ECG at the time they're experiencing palpitations or a skipped heartbeat. They can then provide that information when they follow up with a doctor.
Associate Professor Yeo Khung Keong, senior consultant at the Department of Cardiology, National Heart Centre Singapore, concurred that the Apple Watch ECG function is "good for picking up arrhythmias or irregular heart rhythms, and that's what we use it for."
However, an irregular reading on the watch is not a confirmation that something is wrong. 
"Don't panic," he said. "Then you come to see us in a hospital… and what they will probably do is a 12-lead ECG. If that 12-lead ECG shows Atrial Fibrillation, then pretty much that's the diagnosis. If they don't pick up anything, it doesn't mean that you don't have Atrial Fibrillation; it means that at that point that you did the 12-lead ECG, you did not have Atrial Fibrillation. So what we typically would do is we'll have to investigate further."
What the device provides, said Assoc Prof Yeo, is the opportunity to capture information over a long period of time. "If there's an abnormality detected – in this case an abnormal heart rhythm or suspected abnormal heart rhythm, you have a chance to then seek medical attention. Potentially offering you a chance to initiate treatment faster, before something bad happens."