Singaporeans are not eating enough vegetables – and health experts know why
Think you're better than meat eaters? Don't gloat too soon because those cucumber slices in chicken rice and strips of xiao bai cai in your noodles don't really amount to much.
Mum was right. We are not eating our vegetables – more specifically, we're not eating enough of the green stuff. But what about that sliced cucumber and tomato that accompany your plate of chicken rice? And don't you always ask for "extra veg" in char kway teow? 
Sorry, that doesn't cut it.

According to the National Nutrition Survey, which was last done in 2010, it was revealed that nine in 10 Singaporeans do not eat enough fruit and vegetables. 
"Most Singaporeans do not know how much vegetables they should eat daily. And they do not make the effort to try to achieve it," said Jaclyn Reutens, clinical dietitian and founder of Aptima Nutrition & Sports Consultants.

A GARNISH AT BEST

That sprinkling of bean sprouts in pad thai, the ketchup-drenched cucumber chunks that come with mee goreng, or the mixed vegetables served with your chicken chop may not even meet one fifth of the recommended servings, said Reutens. 
"Most cuisines serve vegetables along with the dish. However, it's usually as a small side dish or more as a garnish to make the dish look colourful," she said.

So, what is the amount of vegetables you should be eating? According to the Health Promotion Board, it's two servings per day. And no, fries and that corn cup don't count since starchy or root vegetables are regarded more like rice or bread. 
In fact, Reutens said that only one in three Singaporeans meet the two-serving requirement. The average Singaporean's intake of vegetables is just 1.78 servings a day, she said.

Here's how one serving of vegetables actually looks like, according to Health Hub.

Think you're eating your greens? Here are some common situations where you might be eating less vegetables and consuming less nutrients than you think.

SCENARIO #1: I ALWAYS ASK FOR EXTRA LETTUCE AND TOMATO IN MY BURGER

Your intention may be good but unfortunately, the greens in your sandwich or burger will hardly let you hit that daily quota. A typical sandwich or burger has less than one cup of iceberg lettuce – and a slice of tomato, if you're lucky.

"One cup of iceberg lettuce has 2mg of Vitamin C and 0.7g of fibre. But the amount in your sandwich or burger is not even close to half of that amount," said Reutens. 
You aren't getting much from the tomato, either. A slice is only worth about 12mg of Vitamin C, and 1g of fibre. As comparison, you need 90mg of Vitamin C, and 20g to 30g of fibre to stay healthy.

Still, Reutens recommended to continue asking for extra vegetable as "it reinforces healthy eating habits".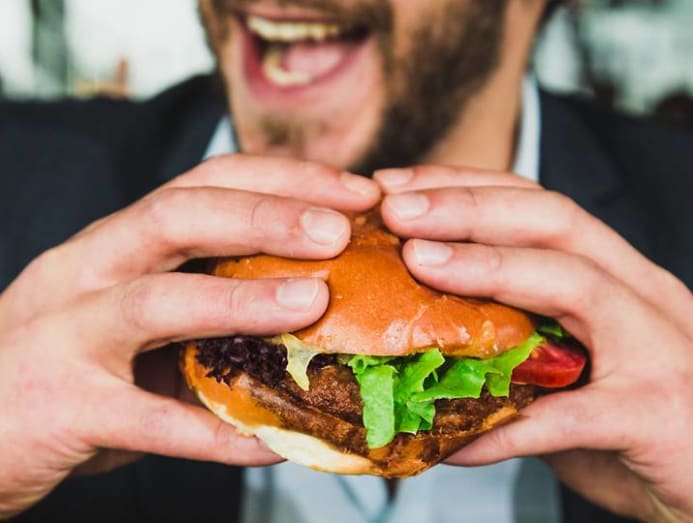 SCENARIO #2: I EAT SALAD FOR LUNCH A FEW TIMES A WEEK

Most leafy greens are good for you, but there are some that are better than others. For instance, iceberg lettuce has just 141mg of potassium compared to kale's 491mg. Lettuce's 502 IU of Vitamin A is also a far cry from kale's 9,990 IU.

But because iceberg lettuce is cheaper than kale or rocket, many cafes and casual dining outlets use them in their salads. 
"There are other vegetables, such as tomatoes, carrots, zucchini, capsicum, onions, and mushrooms, which are far more nutritious and normally do not come at an extra charge," said Reutens. 
Compared to iceberg lettuce, they contain higher amounts of dietary fibre, antioxidants and phytochemicals such as lycopene, inulin and selenium.

SCENARIO #3: AT THE ECONOMY RICE OR NASI PADANG STALL, I ALWAYS ORDER VEGETABLES

What's the trick to maximising your nutrients and minimising your fat and sodium at the hawker centre? 
Pick vegetables that look the least greasy, request to take the vegetables from the top of the pile, avoid vegetables cooked in coconut milk, and do not ask for the gravy where all the fat and sodium are, said Reutens. For instance, 100g of sambal kangkong can have up to 10g of fat.

Another good bet is to go with the vegetable's colour: The darker the colour, the more nutrients they contain. Examples include Chinese spinach, puay leng, kailan, xiao bai cai, and chye sim for their good amounts of Vitamin A.

Even if you don't hit your quota, don't fret. "There will be days when you can meet your requirements, and days when you fall short. It is better to have something than nothing at all," said Reutens.

SCENARIO #4: I DON'T LIKE VEGETABLES BUT I EAT DISHES LIKE PESTO PASTA AND CREAM OF MUSHROOM SOUP

They can count as part of the vegetable servings. However, it depends on how the sauce or soups were made, said Reutens. "If they were from the can or bottle, it is unlikely you will get close to even a quarter of a serving. The calories, fat and sodium contents increase exponentially if they are packaged or highly processed."

As comparison, stir-fried vegetables (5g fat, 293mg sodium) contain less fat and sodium than a vegetable samosa (11.4g fat, 311mg sodium), cited Reutens.

"If you do intend to cook your own mushroom soup, fried rice, and pasta, use more vegetables and less fat when cooking. For instance, use low-fat milk to replace regular cream to cut down on calories and fat. Use less or no salt when cooking."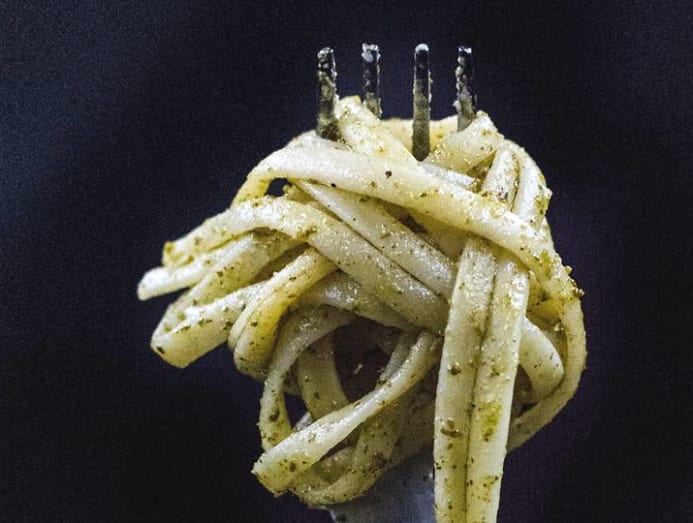 SCENARIO #5: I COOK MY OWN VEGETABLES

That's already half the battle won. To make it more worth the vegetables you're eating, don't overcook them as you can destroy their nutrients. 
"The best way to retain their nutritional value is either through blanching or steaming. Quick stir-fries can also retain the nutritional value but be careful of the amount of oil used. Too much will increase the fat content significantly," said Reutens.

Another tip: Cook your leafy greens before they turn yellow; otherwise, they would have lost some of the vitamins, namely Vitamin C, said Reutens. The same thing applies to cut vegetables. "Cutting exposes the vegetable to the air and allows the oxidation process to begin. Vitamin C gets depleted during this process."