Through sickness and health: Why caregivers of breast cancer patients need support too
CNA Lifestyle speaks to two families about their breast cancer journeys – the unwavering love and support that's needed for both patient and caregiver, till death do they part.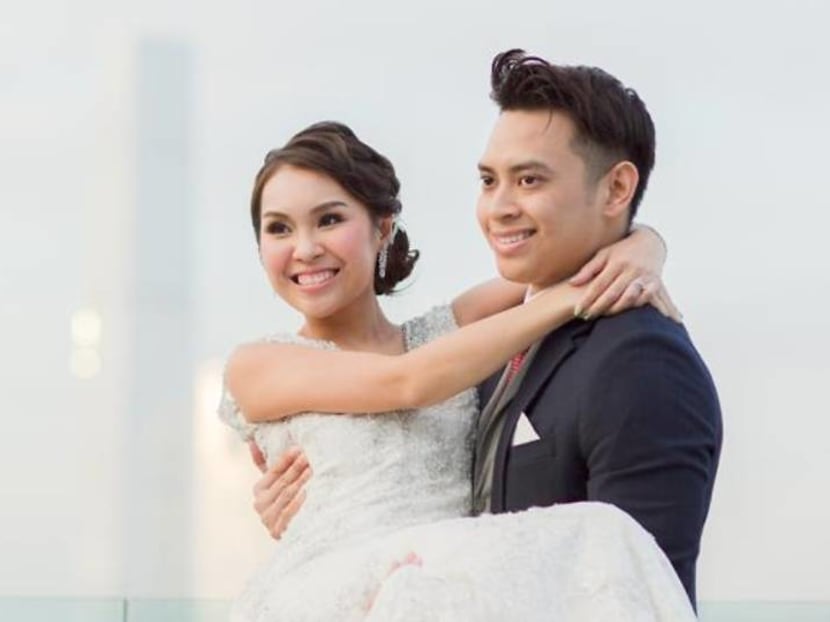 The very wedding vows that couples make to each other never rang truer for those who have been diagnosed with breast cancer.
As much as the patient has to endure the physical and psychological pain of treatment, the breast cancer journey is also about the caregiver. Often, the latter has to put his own life on hold to assume the demanding role of sole caregiver.
He plays full-time nurse, counsellor, driver, spouse – and sometimes, even dragon boat paddler.
Don't come and tell me you love your wife if you don't take responsibility for her well-being.

It is a 24/7 job that carries the heft for being responsible for a loved one's treatment and overall well-being. And sometimes, the caregiver needs care, too.

Here, to mark Breast Cancer Awareness Month, two caregivers share their experiences on how they coped with their roles and how they stayed strong for their wives.

THE LOWS: SUPPORT LIGHTENS THE LOAD IN EVERY WAY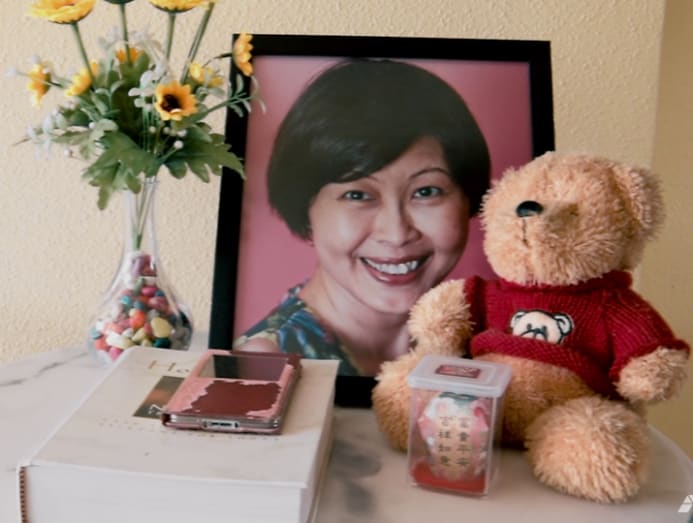 The maisonette that the Lows call home is painted a cheery yellow. The walls are adorned with large photo collages of the family. There are some showing two girls through their growing-up years. There are also photographs of a couple, their faces beaming.
"My wife did all this," said Low Sie Chong, gesturing to the collages. The 54-year-old father has kept the home mostly unchanged since he lost his wife, Eunice Tan, in 2015 to breast cancer. She was 50.

Eunice was 42 when she was diagnosed with Stage 4 breast cancer in 2007. The diagnosis came as a shock as the full-body checkup she had two years prior hadn't picked up anything. Furthermore, Eunice had no family history of cancer.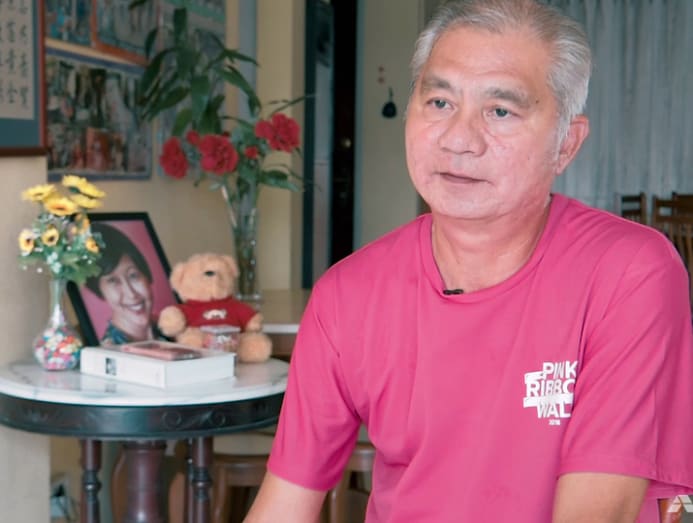 "About one-and-a-half years before the diagnosis, she became prone to fever and getting sick," recalled Sie Chong. "When I drove over road bumps, she would feel pain in her back." He remembered his wife going to the general practitioner for her ailment and receiving painkillers.

When the pain became unbearable, Eunice went to the hospital where she had a biopsy. That was when they broke the news to her.

I didn't allow my daughters to be involved in the cancer journey. I thought they needed to have a normal childhood.

Eunice underwent two months of chemotherapy and when that didn't help, the couple sought a second opinion and embarked on a new treatment, which did work.

To incorporate flexibility into his schedule, Sie Chong quit his job as the general manager of a small company and worked as a business consultant instead.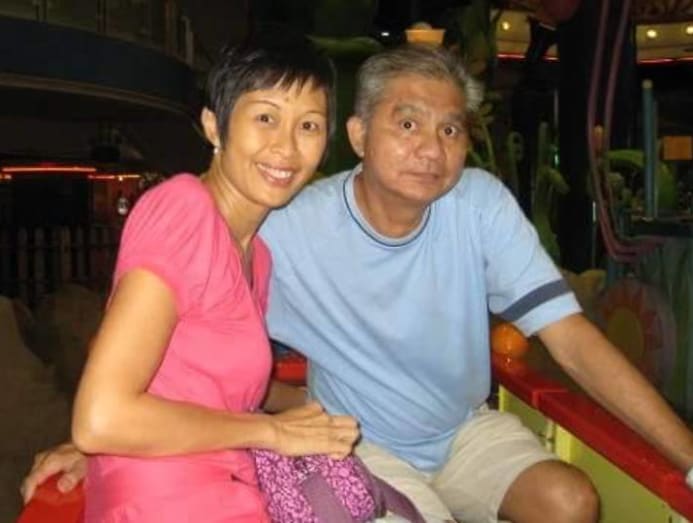 The couple made the decision not to involve their two daughters, then aged 11 and 7, in the process. Sie Chong was left to solely shoulder the burden of keeping the family going, working part-time and caring for his wife.
"I didn't allow my daughters to be involved in the cancer journey. I thought they needed to have a normal childhood," he said.

Eunice fought breast cancer for nearly eight years before succumbing. During the early stage of her chemotherapy, she was still "ok even though her hair had dropped", said Sie Chong.

"It was only the last three-and-a-half years that she was bedridden. She was in a wheelchair. That really affected us," he said. Eventually, Eunice spent her remaining days in the living room as she couldn't climb the stairs to get to the bedroom.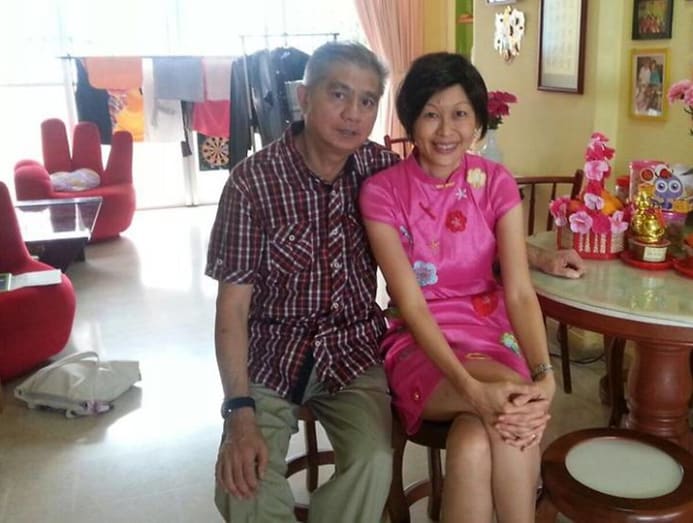 The pressure to keep the family going became too much for Sie Chong. "This is the 16th storey. There were many times I wanted to jump down. Many times," he shared. "I don't know what made me not jump."

"During that period, I had to travel to Myanmar's small provinces for work. I remember flying in those small planes. Whenever there was air turbulence, I would hope for the plane to crash."

THE TIPPING POINT

Sie Chong remembered there was a lot of anger in the beginning. "I blamed her; she blamed me; I blamed everything and everybody," he said.

It was fortuitous that Eunice came to know about Breast Cancer Foundation (BCF) six months after her diagnosis. While the intention was to seek support for Eunice, it was there that Sie Chong found camaraderie in the company of other husbands of breast cancer survivors – including the late Jackie Ng, a founding member of BCF and the husband of a survivor.

"The first time I cried after learning about my wife's diagnosis was in that room at BCF with Jackie," said Sie Chong. It was also to him that Sie Chong confessed his suicidal thoughts. A round of scolding from Jackie and the constant support of his fellow BCF members were what pulled him out of that period of depression.

"He was the one who told me to accept the cancer," said Sie Chong. "He said, you still have two daughters. You still have a wife. If you jump, your wife will die immediately. Who would look after your kids? You have to fight on. But don't worry, there will be support."

I blamed her; she blamed me; I blamed everything and everybody.

Having an "ecosystem" of support lightened his load, said Sie Chong. "The members don't just provide answers to my questions, they also provide someone to be with me. Till today, I still get support from them."

Gaining a different perspective on life also fortified Sie Chong's resilience to depression during the caregiving period. "When we went to the park, we would stroll and enjoy the scenery," he said. "We became more loving. We spent a lot of time together with each other and our family."

The Lows also travelled more, taking short trips to countries like Malaysia and Hong Kong. "My attitude in the past was, why travel? But that has changed. When my older daughter wanted to go to Canada on a school programme, I told her to get there early, and explore and experience life."

I miss everything about her.

It has been three years since Eunice passed away. Sie Chong volunteers at BCF and shares his story with new caregivers. He is also an outspoken advocate in getting his male friends to ensure that their wives are on top of their health checks. "Men should be responsible and get their wives to go for checkups," he said. "Don't come and tell me you love your wife if you don't take responsibility for her well-being."

However, the widower finds it difficult to speak to his own daughters – who are now 21 and 17 years old – about breast cancer. "Until today, I still don't have the courage to talk to them. I can talk to anybody at BCF, at work, friends, and tell them to get their wives to get checkups," he said. "But I still don't have the courage to talk to my daughters."

From Eunice's legacy, Sie Chong continues to derive comfort and solace: BCF's dragon boat team Paddlers In The Pink. He was her proxy paddler as her back pain prevented her from participating. And he still paddles today.

"I paddle because of my wife," he said, his voice breaking. "I paddle knowing she would have paddled with me if she was (healthy and) still around."

"I miss everything about her."

***

THE AZWARS: WHEN BREAST CANCER STRIKES EARLY
She is vivacious, petite, a lawyer by training, and originally from Hong Kong. He is muscled, tall and was a fellow intern at a law firm when they met. Now married, Branda Lai, 31, and Zairil Azwar, 28, look every inch the Instagram-perfect millennial couple.

Except for that fateful "something" that Branda felt in her right breast in January 2015. She had brushed it aside, thinking that at age 27 then, she was too young to have breast cancer, particularly when she has no family history of the disease.

Despite then-boyfriend Zairil's nagging to have the lump checked, Branda stalled.
One night, after watching three episodes of Dr Oz about breast cancer, he gave her an ultimatum: Get checked or we cannot be together.

During chemo, you don't just lose your hair – you lose your eyebrows, your eyelashes. You look so… cancer.

Branda finally relented. At her gynaecologist's, she was sent for an ultrasound and mammogram. She was then scheduled to see a breast surgeon, who performed a biopsy. The results were not good: It was Stage 1 breast cancer.

"Branda's family wanted her to go to back to Hong Kong for treatment, and I didn't have much of a say because I was 'just the boyfriend'," said Zairil.

But he had made up his mind to be with her and proposed – knowing very well that he would have to be her full-time caregiver. They were wedded in a simple ceremony in May, the same year her lump was detected.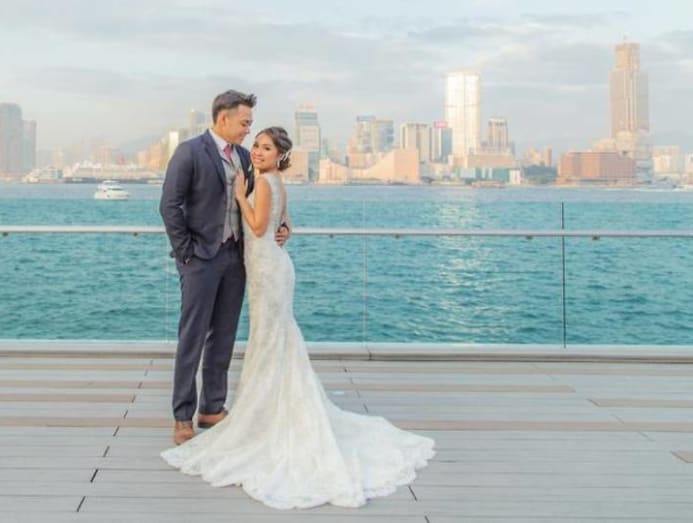 Zairil recalled that it was difficult for his new wife to accept the physical changes brought on by chemotherapy. Being aware of the potential depression caused by the impending hair loss, he helped her to shave her head the night before her first chemo cycle began.

Branda recalled: "During chemo, you don't just lose your hair – you lose your eyebrows, your eyelashes. You look so… cancer." 
Her self-esteem took a beating, and she would take it out on her husband. "I would throw tantrums, sometimes before we went out," she said. "I remember looking at the mirror, trying to put on my wig and getting so angry."

"But Zai would touch my head and say to me, 'You look beautiful'," recalled Branda. "It really made a difference."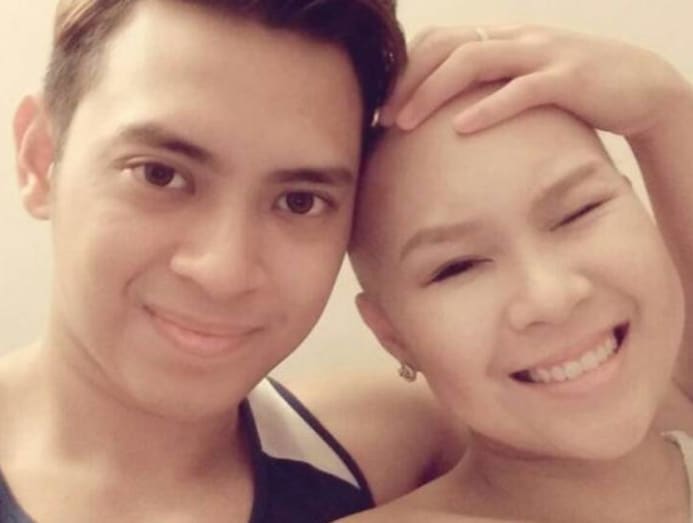 It isn't an exaggeration to say that Zairil cared for her day and night. He accompanied her on every medical appointment, including chemotherapy and radiation sessions. He even checked her breathing as she slept. 
"She didn't want to feel like a patient," he said. To do that – and knowing how Branda enjoys cooking – he went to Tekka Market to buy two large crabs for her to indulge in her passion. "It helped her feel more positive and forget that she has cancer," he shared.

THE TIPPING POINT

Despite the trying times, Zairil kept his focus on the light at the end of the tunnel. But it became apparent to Zairil that being difficult had become a habit for Branda. 
"She thought this was the way we were," he said. "I had to remind her of our happier times."
There were fights but the one where Zairil "exploded" was one-and-a-half years after the diagnosis.
Zai would touch my head and say to me, 'You look beautiful.'

During the quarrel, Branda brought up an incident that took place six months into her treatment. Zairil was supposed to drive her to chemo the next morning but she thought he had stayed up gaming instead of resting.

"She got angry when she saw me and said, 'Why are you so tired?' I couldn't tell her that I was up all night checking on her at that point in time." said Zairil.

Although Branda's family members would fly into town to help look after her for short periods, Zairil was the sole caregiver. Besides offering emotional and physical support, Zairil also had to ensure he didn't fall sick as her immunity was low during chemotherapy.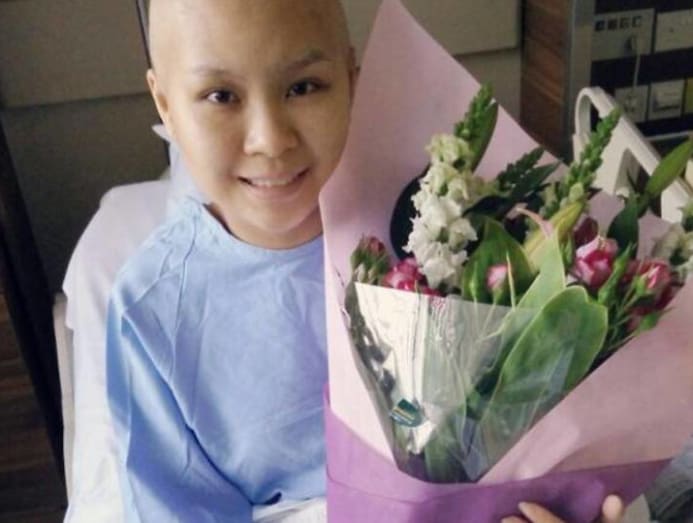 In addition, Zairil was unable to find support, or share his worries and frustration as nobody in his circle seemed to understand.
"I felt that it was so important to have someone come to me and say, 'How are you?' That simple 'how are you' could have done so much for me," said Zairil.

Like Sie Chong, he eventually found the support system he needed through his wife at BCF. She had signed up for pilates and yoga classes there, and saw that there was a support group for men.

"I spoke to some of the other caregivers, and they told me it was going to take a while before things got better. But they told me, 'Don't settle, keep fighting to improve the relationship.'"

BCF also provided Branda an outlet to express her thoughts and concerns, and this helped Zairil indirectly. "I felt it was good for her to speak. It alleviated a lot of pressure and our relationship improved." 

Never give up. Never forget what you're fighting for.

The couple is still involved with BCF. "We took part in the Pink Ribbon Walk (on Oct 6), and we support Paddlers In The Pink by taking videos," he said.

Branda recently got the all-clear for her cancer this year. Now, she works in people development at a legal firm, while Zairil does some work for her family and continues to be a stay-home husband.

"When we got married, it was right during the cancer period and we didn't have time to be a proper couple. So now is our honeymoon period," said Zairil. The couple flew to Hong Kong for their traditional tea ceremony in mid-2016 after she had completed her treatment.
As for starting a family, the Azwars are taking things as they come. "We'd discussed this earlier on. The priority is to recover and reduce the chances of a recurrence. We don't want to, for the sake of having a kid, put mother and baby at risk," he said. For now, they are fur-parents to a cat nicknamed Hamsup, Cantonese for lascivious.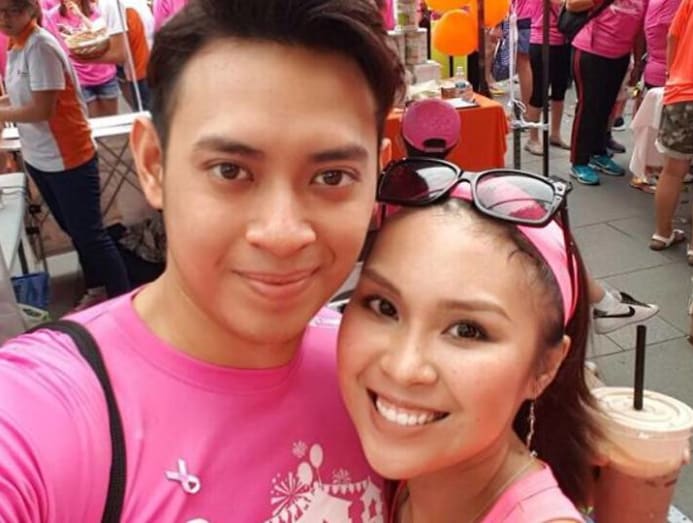 Things might have turned out differently if Branda had not caught the breast cancer at an early stage. "Early detection is key," she said. "You have so much more opportunity if you detect it early. Your prognosis is better."

As for caregiving husbands, Zairil has this advice for them: "The most important thing is to expect the worst, so that you won't get nasty surprises.

"Next, try to stay positive for your partner, and never stop making her feel beautiful. Never give up. Never forget what you're fighting for. Know that it's all worth it in the end."
UPDATE: Low Sie Chong is now the leader of Breast Cancer Foundation's (BCF) Caregivers Support Group and Befrienders. Meanwhile, Zairil Azwar has joined BCF as a full-time fundraiser.