Coping with grief: Alternative burial methods can help the living deal with loss
People are choosing to turn their loved ones' ashes into keepsake gemstones, encase them in biodegradable urns and more.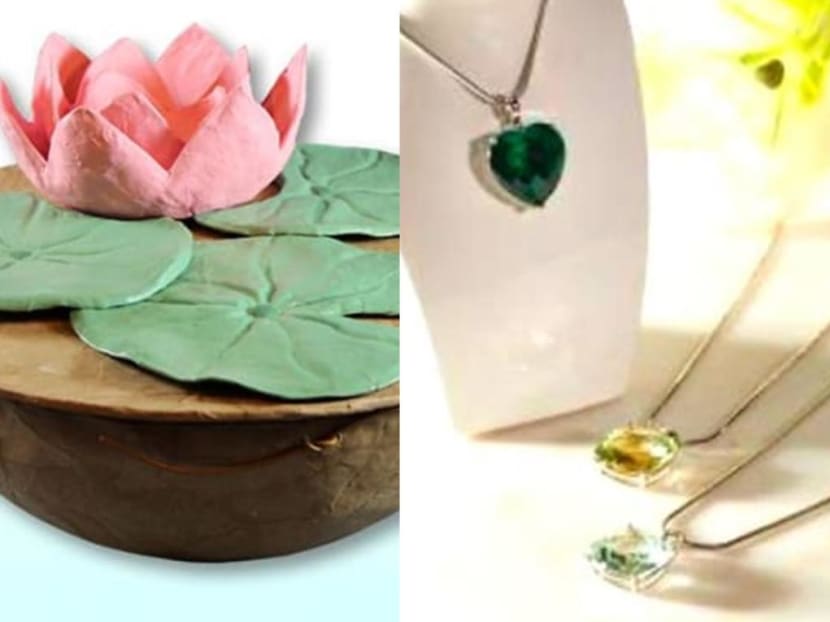 It may seem impossible - at the moment of losing a loved one - to imagine carrying on with life without him or her. But there can be an end to the grieving journey, and it is one that includes the burial or cremation of the deceased.
Grief is an individual journey and there is no "correct" way of coping with the loss, said Candice Tan, senior medical social worker from Tan Tock Seng Hospital's (a member of the National Healthcare Group) Department of Care & Counselling.
For instance, it is no longer surprising – and even acceptable - for people to memorialise their loved ones on social media. "Bereaved individuals may turn to online mediums to journal their experiences and reflections," she said.
Nonetheless, the impact of funerals and wakes on the living is irreplaceable. "The rituals assure the family that the deceased has been cared for till his very last physical departure, and has been ascribed dignity and respect. It also allows for the bereaved to say goodbye, which creates a sense of finality," said Tan. 
NO 'CORRECT' WAY TO GRIEVE
Sometimes, to hold on to the memories, you need something physical as a remembrance. Family members "may feel more reassured with something to hold on to, and may then not be so afraid of forgetting the deceased," said Dr Lim Boon Leng, a psychiatrist with Gleneagles Hospital.
Conversely, there are those who are open to back-to-nature practices such as sea burials and scattering the ashes in a garden. "Psychologically, it can signify freedom for the deceased and a return to nature," said Dr Lim.
Such back-to-nature practices can have their benefits, too, he added. "A potted plant can represent the continuity of life for the deceased in that some parts of him or her continue to live and grow through the plant."
In Singapore, cremation is more common than burials due to the land constraint and lack of burial grounds. If their faith permits, many families also find it practical to opt for cremation as the burial period in Singapore is limited to 15 years, according to the National Environment Agency (NEA) website.
Here's a look at the alternatives to burials and columbarium arrangements.
MEMORIAL GEMSTONES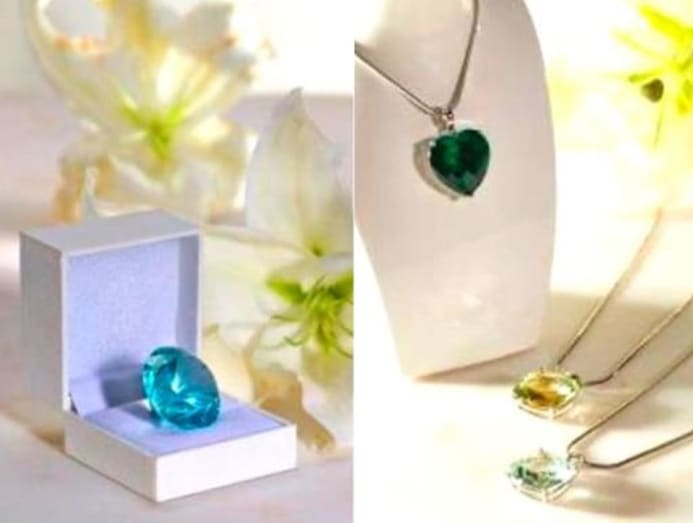 For those who find it macabre to keep an urn at home, these Memento Gem Stones made from human ashes let you use a portion of the cremated remains, leaving the rest at the columbarium. "A 1.5-carat Gem Stone, regardless of its shape, takes about 15g of ashes to create," said Calvin Tang, assistant general manager of Singapore Casket.
"The smallest can be as small as a green bean. The biggest, at 27 carats, is about the size of a 50-cent coin." The Gem Stone can be fashioned into a pendant or earrings, and set in 18K white gold - popular choices here.
The stone's colour, though, is determined by the deceased's bone marrow. "Sometimes, the Gem Stone created is light green; sometimes, it looks dark green or even dark grey," said Tang. To cater to the growing demand for blue gemstones, Singapore Casket has also introduced the Ocean Sapphire series, which uses a dye to colour the stones blue.
If you so choose, the same technology can also be used to convert all of the cremated remains – usually about 1.5kg to 2kg of ashes - into unpolished Gem Stones and displayed in a jar, said Tang.
KEEPSAKE BOXES
The same remembrance effect can be had with other forms of keepsakes. And it doesn't have to be ashes either.
"We have had parents, who lost their child, choose memorial necklaces. We place the child's hair into a necklace capsule instead because there may not be a lot of ashes when it comes to young children," said Angjolie Mei, managing director of The Life Celebrant (TLC). Families have also opted for keepsake boxes (about 8cm by 8cm) that can hold a portion of the ashes and displayed at home. 
"From what they have shared with me, this is their way of maintaining a continued connection and bond with their loved one," said Tan. "It allows them some form of assurance that their loved one is still living on with them in another form, and that death ends a life, but never a relationship."
BIODEGRADABLE URNS
Then, there are families who take the phrase "ashes to ashes, dust to dust" further by letting the cremated remains regenerate life. "We had a family who chose to encase their mother's cremated remains in one of our biodegradable earth urns, so that they could bury her remains in their private garden," said Mei.
The Bios Urn, as the biodegradable container is called, can also be placed into a pot for an indoor plant of the family's choice. These plants include the fiddle-leaf fig tree, Buddhist yew and even bonsai like the desert rose.
"We fill the pot with soil before placing the container into the pot. More soil is used to fill up the pot before the plant is put in," said Mei. "We nurture the plant for two to three weeks before delivering it to the family, or they collect it themselves."
LAND SCATTERING
If the idea of returning to nature had appealed to the deceased before his death, there is now a way of honouring his wish: Scattering the ashes in a garden. At the moment, that can be done at the secular Garden of Peace at Choa Chu Kang Cemetery Complex that is open to all faiths.
Religious ceremonies or rites like the burning of joss sticks, playing of instruments or music, and food offerings are not allowed in the garden.
A Garden of Serenity will be introduced at the new Mandai Crematorium Complex, which is expected to be operational by 2024. 
SEA BURIALS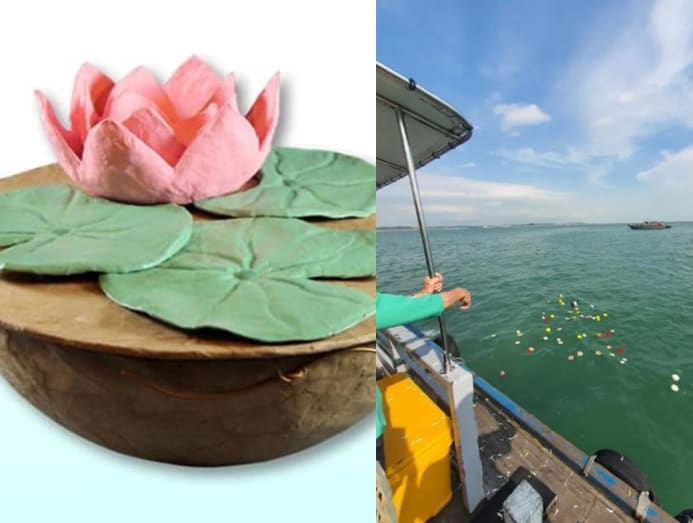 Releasing the ashes into the sea is not an option only recently adopted by Singaporeans; it is part of the Hindu practice, said Tang. It is only about 20 years ago that sea burials starting being accepted by the other religions, and now, Singapore Casket arranges for 10 to 15 such burials each year, he said.
Currently, the designated site for sea burials is about 2.8km south of Pulau Semakau and requires chartering a boat to reach the site.