Are COVID-19 vaccines safe for kids? Experts answer common questions from sceptical parents
A local survey showed that fathers are more vaccine hesitant than mothers when it comes to COVID-19 jabs for their children. And does social media influence parents' decisions? Find out what the common concerns are and what paediatricians say.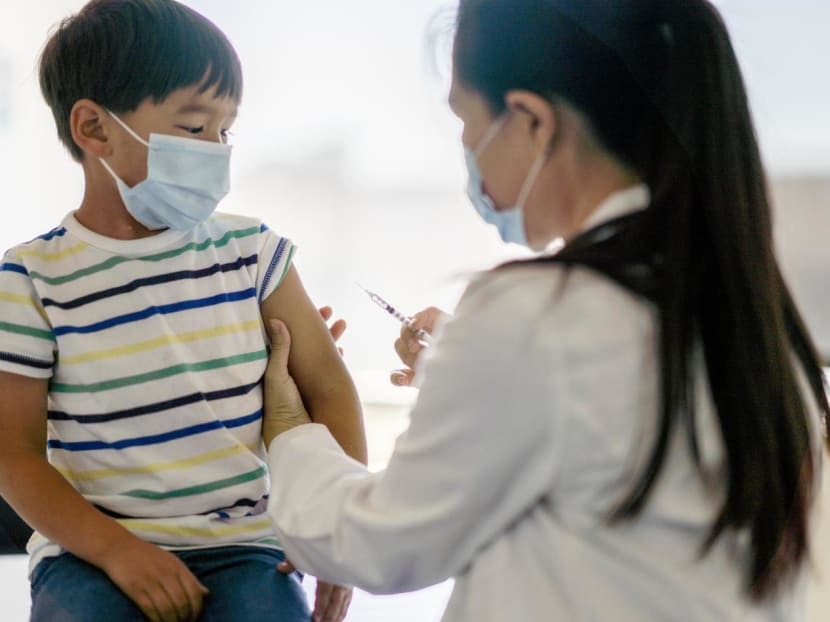 Other than developmental milestones, school enrolment and where to score the best family deals, parents of children aged six months to 17 years old have another hot topic to talk about these days: Paediatric COVID-19 vaccination. Are you for it or not?
As of Nov 1, 74 per cent of children aged five to 12 years old have completed the COVID-19 vaccination programme, according to the Ministry of Health's website, and 78 per cent of the same age group have received one dose. For teenagers aged 12 to 17 years, about 96 per cent have completed the two doses and 97 per cent have at least one dose.
Since Oct 25, when the COVID-19 vaccine was rolled out for children aged six months to four years, at least 14,000 children have signed up or have been vaccinated.
The numbers may look healthy but the uptake of paediatric COVID-19 vaccination is apparently slower compared to the adult and adolescent COVID-19 vaccination drives, according to the Ministry of Health's website.
Just how vaccine hesitant are parents in Singapore when it comes to their children's COVID-19 vaccination? Interestingly, a local survey on 628 parents with an average age of 39 in Singapore showed that two thirds of them aren't.
The survey, conducted by paediatricians from Khoo Teck Puat - National University Children's Medical Institute (KTP-NUCMI) at the National University Hospital (NUH), was published in the journal Frontiers In Pediatrics this October to determine the role of social media and device usage in parents' vaccine hesitancy.
Given smartphones' high penetration rate in Singapore (out of a total population of 5.6 million, the number of smartphones is estimated to hit 5.17 million in 2022), you'd think that many parents would be influenced by the social media content they consume on their mobile devices.
In the UK, higher social media and digital device usage among parents have been associated with greater hesitancy in vaccinating their children against COVID-19, noted the study's authors.
Not the case in Singapore. "We speculate that there is a huge amount of conflicting social media content, which may make it challenging for parents to discern which is trustworthy or not," said Dr Low Jia Ming, one of the researchers and an associate consultant with Department of Neonatology at KTP-NUCMI, NUH.
"In contrast, a traditional medium such as print is accountable to the public for reliable reporting and crediting their sources. This, in turn, may give reassurance to parents that it is more likely to be accurate," she said.
But if only a third of the parents are vaccine hesitant, why is the paediatric vaccination rate not quite up to speed?
The "single overwhelming factor" that the survey found was the lack of parental trust in their child's doctor, said Dr Lee Le Ye, another of the study's researchers and a senior consultant with Department of Neonatology at KTP-NUCMI, NUH. "The other factors are family income, education level, unvaccinated parents and lastly, knowing someone with an adverse reaction."
While the survey did not look into the "why" behind the low trust levels, "we postulate that (these parents) may have unpleasant encounters with their doctors due to their previous experiences", said Dr Lee.
Another interesting finding was that fathers were more likely than mothers to say no to the COVID-19 jabs for their children. Again, trust could be the issue, said Dr Lee. "Mothers may have more opportunities to meet their children's healthcare providers, and build trust to discuss the pros and cons of COVID-19 vaccination."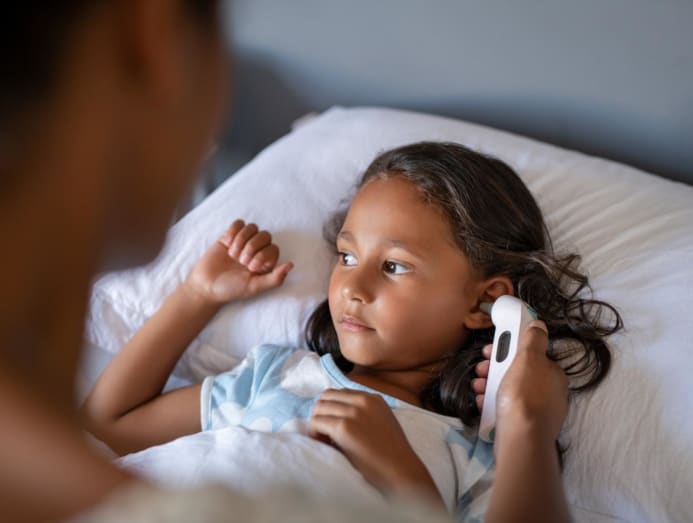 Furthermore, mothers also tend to be the ones to take their children for "other compulsory childhood vaccines" and this exposure may make mothers "more open to the idea of (COVID-19) vaccination", said Dr Lee.
This parental hesitancy makes for a worrying trend as unvaccinated children were found to be twice as likely to get hospitalised as compared to vaccinated children, according to this study.
But Singapore is hardly the only country in Asia to report such a trend. In fact, the survey's authors cited other studies that noted parental hesitancy in Bangladesh (42.8 per cent), Taiwan (10.8 per cent) and Vietnam (11.8 per cent).
Below, the authors of the study tackle some of the commonly held notions about COVID-19 vaccination for children:
SCENARIO 1: We don't know what the vaccine's long-term effects are. Let the other children take their shots first.
The side effects of the vaccine are expected within six to eight weeks of vaccination. "More than a million children aged six months to five years old worldwide have now taken the vaccine for more than two months, and many more children above five years have taken it for more than six months," said Dr Zhong Youjia, a visiting consultant with Department of Paediatrics at KTP-NUCMI, NUH.
"From these children, we have learnt that the vaccines are generally very safe, and that extending the interval between Doses 1 and 2 minimises the risk of vaccine-induced myocarditis. Therefore, we would recommend vaccinating children at an extended interval of eight weeks for the first two doses," she said.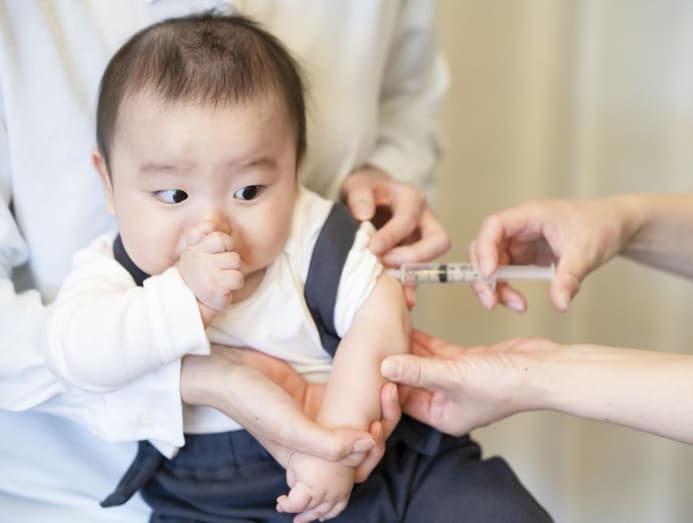 SCENARIO 2: Six months is too young to be receiving any vaccine that science hasn't had the time to prove its safety.
Younger children are the last group to be eligible for vaccination, so we "have had the benefit of evidence not just from clinical trials but real-world evidence from adults, adolescents and older children to inform our understanding of how these vaccines work, even before the trials were done in younger children between six months and five years of age", said Dr Zhong.
"This, combined with the evidence from trials and real-world data from children in this age bracket receiving the vaccines, gives us the confidence in the safety of this vaccine in younger children." 
THE COVID-19 VACCINATION PLAN FOR CHILDREN
Here's what the Ministry of Health recommends for children from ages six months to 17 years old as of Oct 25:
6 MONTHS TO 4 YEARS
Two doses, Moderna/Spikevax vaccine
Recommended interval: Eight weeks
5 YEARS TO 17 YEARS
Three doses, Pfizer-BioNTech/Comirnaty vaccine
Recommended intervals:
Between first and second doses: Eight weeks. The first and second doses were previously referred to as "primary vaccination".

Between second and third doses: Five months.
BELOW 5 YEARS AND HAVE COMPLETED VACCINATION
One dose, Pfizer-BioNTech/Comirnaty vaccine
Recommended timing:
After turning five years old

Five months from the last vaccine dose. This is known as the booster dose.
SCENARIO 3: My children have recovered from COVID-19 and are fine. They don't need the shots for extra antibodies.
That may be well and good but research done during the pandemic has shown that hybrid immunity, which is "the synergistic immunity one gets from a combination of infection and vaccination is the broadest and most enduring", said Dr Zhong. 
"For children who have natural immunity from COVID-19 infection, at least one booster dose of mRNA vaccine will consolidate that immunity in terms of quality and longevity."
Furthermore, this consolidated immunity is also being seen in Dr Zhong's and her team's study on COVID-19 immunity in Singaporean children.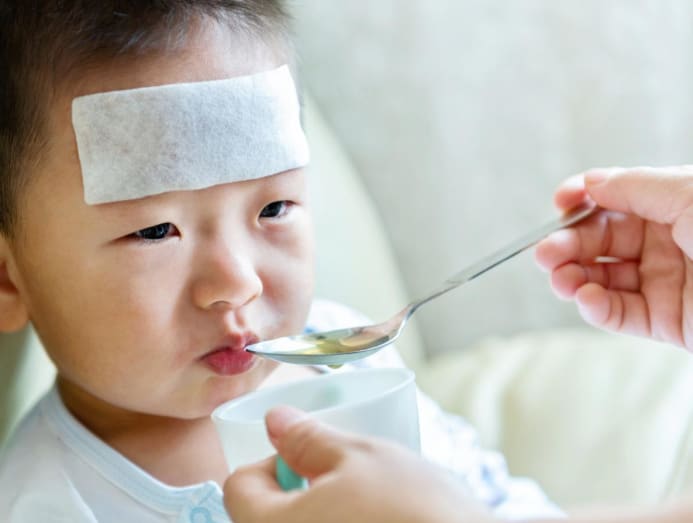 SCENARIO 4: My children's classmates who got infected recovered and did not get hospitalised or suffer any serious health issues. So it's okay if my children get infected.
"The Omicron variant has increased the risk of croup (upper airway infection that obstructs breathing and causes a characteristic barking cough) and neurological manifestations in children compared to previous variants, which can be dangerous for children who have smaller airways compared to adults," said Dr Zhong.
"And we do not know what complications future variants may have in children."
She continued: "Vaccination also protects against the rare but severe complication of multisystem inflammatory syndrome in children (MIS-C), which can occur with COVID-19 infection".
SCENARIOS 5: Being vaccinated doesn't mean our children will not get infected. So why subject them to twice the suffering from the vaccine's side effects and again if they get COVID-19?
It is a risk you don't want your child to take. Yes, vaccinated children may still catch COVID-19 but it will reduce the chances of severe infection that requires ICU stay, oxygen supplementation, or even death, said Dr Zhong. 
According to Dr Low, "most children take vaccinations well with minor side effects of fever and local reactions".
"On the other hand, unvaccinated children run the risk of more severe infections from COVID-19 requiring ICU stay, oxygen supplementation or death. Vaccinating our children helps to give additional protection against this."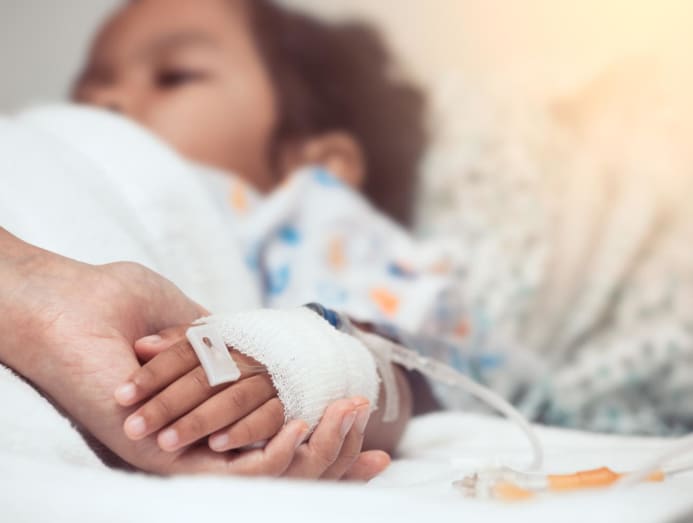 SCENARIO 6: The majority of Singapore's population is vaccinated. There should be enough herd immunity to protect the children.
Dr Zhong regards Singapore's population as being COVID-19 resilient in the sense that "we are likely not to have so many severe infections as to overwhelm the hospitals" should a future wave of variant COVID-19 infections hit us.
"However, as the variants are a little more different from the original SARS-CoV-2 virus each time, individuals who are vaccine- and infection-naive would be most susceptible to both infection and severe infection in future waves," she added.