Questions about COVID-19 vaccine if you've got allergies – or think you do
What happens if you go ahead even if you've got allergies? What if it's just an itch? Is it necessary to find out if you have an allergy in the first place? CNA Lifestyle asks some doctors.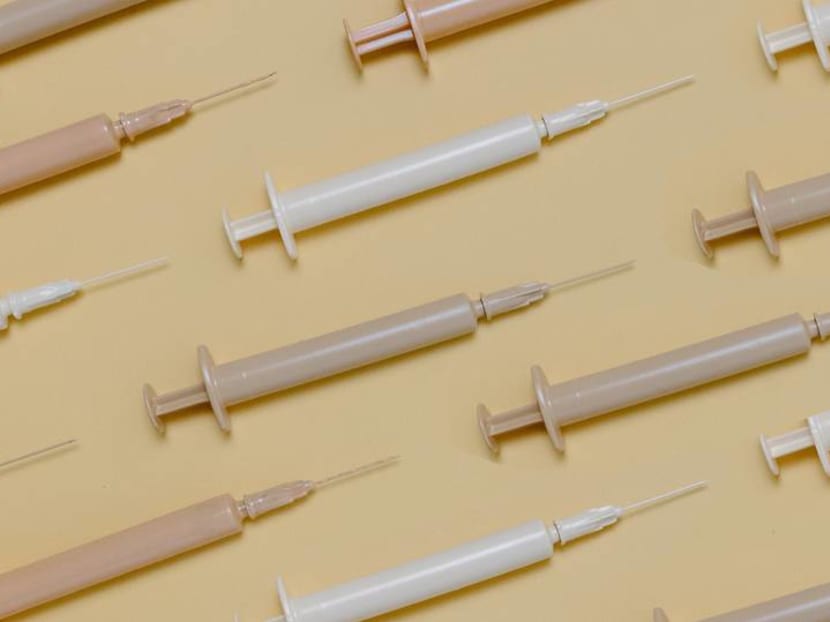 While my family, friends and colleagues over 45 are wondering whether they're getting the Pfizer or Moderna vaccine, I am living in FOMO (fear of losing out) mode.
As someone who breaks into hives, gets breathless and develops fishball-like eyes after popping an aspirin (classified as a non-steroidal anti-inflammatory drug or NSAID), I'm unsure whether these COVID-19 vaccines will suit me or not.  
My last allergic reaction was about two decades ago when I took an aspirin to relieve muscle aches. If you've watched the romantic comedy Hitch, I looked somewhat like Will Smith's character after he'd developed an allergic reaction while on a date.
I doubt the same reaction would elicit any chuckles from the personnel at the vaccination centre though. 
If you have allergies like me, do you rule yourself out for the vaccination and ignore the SMS reminders to schedule for an appointment? 
First, think back to your past allergic symptoms. If you've had two or more of what's on the list below, you should not receive the mRNA-based COVID-19 vaccines, according to the Ministry of Health (MOH):
Hives or face/eyelid/lip/throat swelling
Difficulty breathing
Dizziness
The MOH has the chart below to help clarify other scenarios and allergic symptoms:
If you are still unsure about your allergic symptoms (maybe you can't remember what the signs were as your last episode was a long time ago), discuss with your doctor, said Dr Amelia Santosa, a senior consultant with the National University Hospital's Division of Rheumatology.
I definitely recall mine but I want to find out if I still qualify for the shots. For that, I will have to check with my doctor. But it also got me wondering about allergies and vaccines. If you have non-fatal reactions such as an itch or runny nose, do you still qualify? 
Here's what the MOH and doctors advise in the following scenarios, so we can all be a bit more informed:
WHAT CAN HAPPEN IF I LIE ABOUT NOT HAVING DRUG ALLERGIES WHEN I ACTUALLY DO?
A couple of online questions stand between you and the jabs, so you decide to falsely declare that you do not have any allergies and succeed in making a vaccination appointment.
Not a good move because there is a good reason why the online screening is set up in the first place: To make sure it is safe for you to receive the vaccines.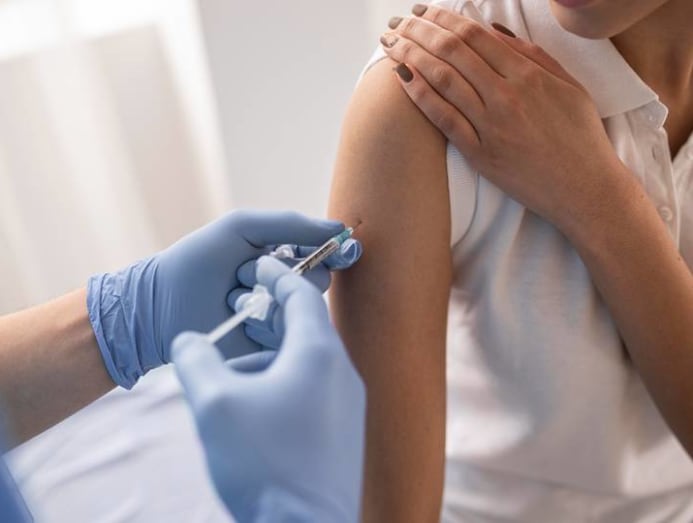 "I have had patients who have allergies severe enough to warrant hospitalisation. But they are very adamant on getting their COVID-19 shots because of the promise of overseas travel through the notarised COVID-19 vaccine passports," said Dr Julian Hong, resident physician at DTAP Clinic.
"From a medical standpoint, this would put their lives at risk," he said. "The repercussions for an allergy to take place on-site and result in a medical emergency may also potentially disrupt the confidence of those patients present."
HOW IS 'SEVERE ALLERGY REACTION' ACTUALLY DEFINED?
Right off the bat, if you have "a history of anaphylaxis to any drugs, vaccines, food, insect stings or unknown triggers", you are out of the vaccination game, according to the MOH.
And for good reason, too. Anaphylaxis is a severe, life-threatening allergic reaction that includes a combination of hives; swelling of the face, eyes or throat; difficulty in breathing; and dizziness due to a lowered blood pressure, said Dr Santosa.
According to the MOH, those who have a history of any of these uncommon but potentially life-threatening drug reactions are also not included in the vaccination drive:
Stevens-Johnsons Syndrome (SJS): Extensive oral, eye or genital ulcerations
Toxic Epidermal Necrolysis (TEN): Extensive skin blistering and sloughing
Drug Rash with Eosinophilia and Systemic Symptoms (DRESS): Red rash on the face and upper body, and organ damage
Drug-induced Hypersensitivity Syndrome (DiHS): Rashes, fever and multi-organ failure
"For their safety, these patients should defer vaccination for now," advised Dr Santosa. "They will be informed when new recommendations hopefully become available to allow them to receive their vaccinations safely."
IT'S JUST AN ITCH AND THE SNIFFLES WHEN I GET AN ALLERGIC REACTION. AM I STILL ELIGIBLE FOR THE VACCINE?
There are those who get an itch after eating har cheong kai (prawn-paste fried chicken) or after walking through grass. Others may start to tear and sniffle after tidying up a dusty room, patting someone's dog – or all of the above. Are these individuals in or out of the programme?
As long as there are no severe symptoms (like the life-threatening ones mentioned above), individuals with allergic reactions such as rashes, including hives; isolated swelling of the eyes or lips; nasal symptoms such as congestion, watering or sneezing; and eye symptoms such as itchiness and watering can be vaccinated, said Dr Santosa.
[Those who can't receive the vaccines] will be informed when new recommendations hopefully become available to allow them to receive their vaccinations safely.
Those with eczema, allergic rhinitis, asthma – or even a family history of anaphylaxis (but not a personal history) can also be vaccinated, according to the MOH. 
In fact, it noted that it is the "severity of the allergy" that determines a person's suitability – and not the number of allergies that he or she has "as long as the allergies are not life-threatening or anaphylactic in nature".
If you are still not sure about your allergies, see a doctor to clarify your doubts.  
WOULD HAVING ALLERGIES MAKE ME MORE LIKELY TO REACT TO THE VACCINES?
It would seem that individuals with previous allergies are at a greater risk of developing anaphylaxis, said Dr Loh Jiashen, an infectious disease physician from Gleneagles Hospital, citing a study published in January in the Journal Of The American Medical Association. 
Of the 47 cases of anaphylaxis with the Pfizer vaccine, 77 per cent of them have previous allergies; of the 19 cases of anaphylaxis with the Moderna vaccine, 84 per cent of them have previous allergies.
As worrying as that sounds, the risk of anaphylaxis is actually very small, said Dr Loh. For the Pfizer vaccine, for instance, the risk of anaphylaxis is 4.7 cases per million doses; for Moderna, the risk is 2.5 cases per million doses, he pointed out. 
Furthermore, such risks are "greatly mitigated by having 30 minutes of observation after vaccination and having resuscitation equipment on stand-by at vaccination centres," he said.
I'VE BEEN ADVISED BY MY DOCTOR THAT I SHOULDN'T GET THE COVID-19 SHOTS. DO I STILL NEED TO REGISTER ONLINE?
You can still do so, according to the MOH. This allows the ministry to keep you updated on future alternative vaccines you may be eligible for.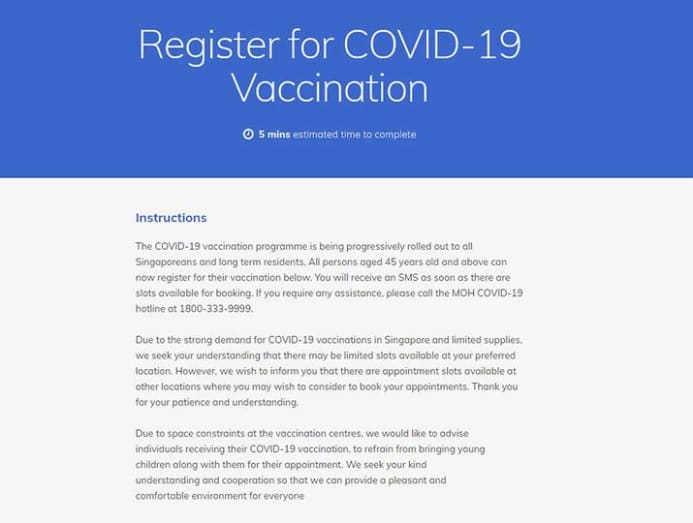 I'M ACTUALLY NOT SURE IF I HAVE AN ALLERGY. ARE THERE TESTS I SHOULD GO FOR TO FIND OUT?
There are no drug challenge allergy tests done in the general practitioner's clinic in most cases, said Dr Hong. "Some hospital allergy departments do offer drug challenges, but they come at a risk of incurring a potential severe allergy, even at very low doses."
Moreover, allergy tests do not replace your recount of the symptoms experienced during an allergic episode, said Dr Santosa. Furthermore, there are no tests that can predict whether you will develop a reaction to the vaccine, she added.
If you are not sure about your allergy, speak to your family doctor who knows your medical history and is able to discuss your concerns about the vaccination with you, advised Dr Hong. What is also helpful is to ask your doctor for a memo on your condition for the medical team at the vaccination site to assess your suitability for vaccination, recommended the MOH.
Not to worry if you forgot to get a note or still feel unsure at the vaccination centre – there will be another round of medical screening. However, note that the final decision to proceed with the vaccination or not is made by the medical professionals at the vaccination site, highlighted the MOH.
I DEVELOPED ALLERGIES AFTER RECEIVING MY FIRST SHOT. WHAT SHOULD I DO NOW?
If you have a severe or immediate reaction to the first dose, you belong to the only group of people who should not receive the second dose, said Dr Loh. "They may, in the future, receive a non-mRNA-based vaccine." As for switching to another vaccine for the second dose, Dr Loh said that more studies need to be done first to understand the implications of mixing vaccines.
What constitutes an allergic reaction in such a situation? A widespread rash or swelling of the eyes, said Dr Santosa. "Common reactions, such as a swelling over the injection site, fever or body aches for a few days after vaccination, do not indicate allergy to the vaccine," said Dr Santosa. "These patients can get their second dose."
You will be observed for 30 minutes after receiving your shot and the doctors at the vaccination centre will assess and advise you if you qualify for the second dose.
In the days leading up to your second dose, it is important to avoid consuming the food or drug that you know causes your allergy to avoid a false alarm, advised Dr Santosa.
For more information, visit the Ministry of Health's website.