Why limb amputation is the dark side of diabetes many people don't consider
Thirteen per cent of diabetic patients below the age of 50 were found to have developed complications that could require amputation, according to a local study.
When it comes to diabetes, most people would know that managing the disease involves diet restrictions and insulin shots.
Not many, though, would think of something as drastic as limb amputation as being a part of the equation.
However, the grim procedure required to treat diabetes-related lower extremity complications or DRLEC is found to be high among Singaporeans, according to research by National University of Singapore's Saw Swee Hock School of Public Health (SSHSPH).
The study, based on data on more than 156,500 patients with Type 2 diabetes between 2007 and 2017, found that 20,744 patients developed DRLEC.
Of this group, 1,208 eventually underwent limb amputation. The findings were published in the July issue of Diabetologia.
It's not only elderly grandfathers (men have a higher incidence than women) who were likely to develop DRLEC; 13 per cent of diabetics who developed the complications were below age 50, said SSHSPH's Associate Professor Kavita Venkataraman, citing the study's findings.
In fact, for patients below age 50, Assoc Prof Venkataraman said that the time it took for diabetes to progress to DRLEC is about 27 months. This is shorter than the average of about 31 months seen in older patients. 
In patients under age 50, it was about nine months on average between the onset of DRLEC to amputation, according to the study. In older patients, the average duration is shortened to about two months.
Furthermore, one quarter of those who underwent amputation already had DRLEC at their first diabetes consultation.
WHY THE FUSS?
The findings underscored what the government highlighted: The lack of awareness and control of diabetes. The latest statistics in 2016 showed that 400,000 live with the disease in Singapore.
Of these, one in three is not aware that he or she has it. Those who are aware of their condition, one in three has poor control over it.
And we haven't even considered those who are pre-diabetic, which according to this study, an estimated 430,000 Singaporeans aged 18 to 19 are.
Pre-diabetes is a state where the blood sugar levels are higher than normal but not high enough to be diagnosed as diabetes.
If left unchecked, nearly one million people in Singapore will have diabetes by 2050 – and by extension, a potential rise in DRLEC.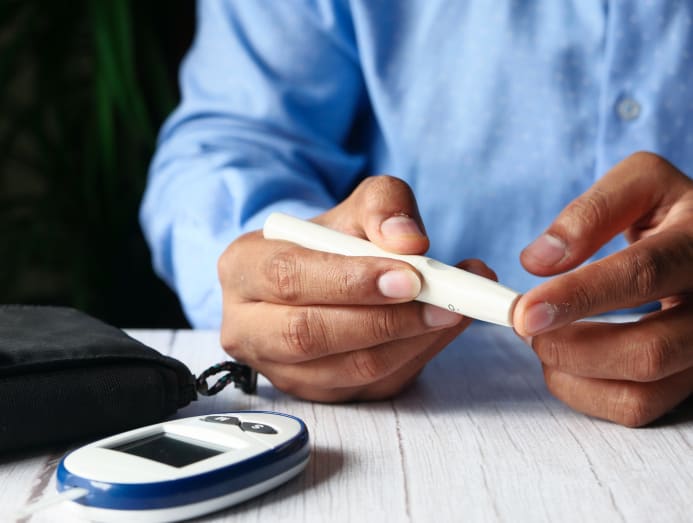 Limb loss aside, it also hurts the patient's pocket when it comes to managing DRLEC.
The amount is "healthcare system-dependent" here, said Associate Professor Andrew Choong, a consultant with the Department of Cardiac, Thoracic and Vascular Surgery at National University Heart Centre, Singapore.
A foot or leg amputation can cost between US$30,000 (S$40,670) and US$60,000 in initial hospital costs, he said, citing the Journal Of The American Podiatric Medical Association.
Then, it's another US$43,000 to US$60,000 for follow-up care over the next three years.
"This is a huge impact to any healthcare system," he said.
HOW DO YOU TELL IF YOU HAVE DRLEC?
DRLEC may be missed because many patients may not have any symptoms, said Assoc Prof Venkataraman. The initial signs may include:
reduced sensation in the toes and feet;

numbness or sensations of tingling or pins and needles;

pain in the feet;

pain in the calves, thighs or buttocks when walking and goes away when they stop.
The numbness or pain is more likely to occur in the toes and feet as the "nerve damage due to diabetes is length dependent", she explained. So, the "longer the nerve, the more likely it will get affected".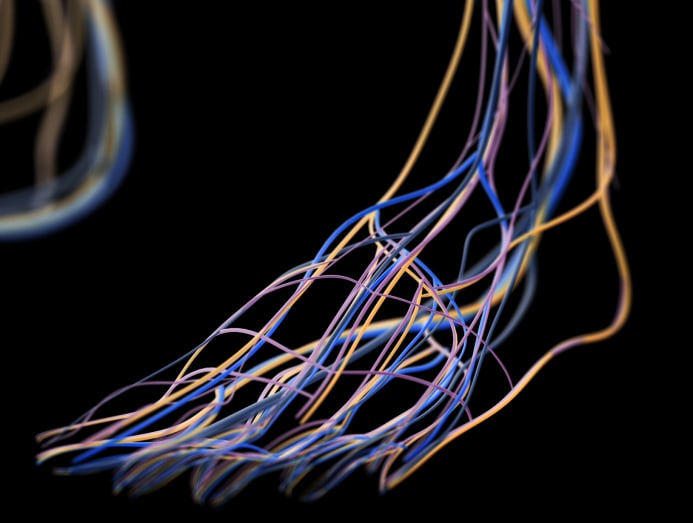 Another factor that leads to DRLEC is the reduced sensation in the feet due to the nerve damage.
These patients are likely to get small cuts or injuries on the toes or feet without realising it, said Assoc Prof Venkataraman.
"When they also have poorer blood flow, such cuts and ulcers will not heal easily, and they may get infected."
WHAT CAN CONTRIBUTE TO DRLEC?
The risk factors for DRLEC include having other chronic conditions at the time of diabetes diagnosis, poor control of diabetes, a high body mass index, smoking and age, said Assoc Prof Venkataraman.
Smoking, for instance, contributes to DRLEC by damaging the blood vessels in the lower limbs, she said.
A greater propensity for smoking aside, men are also predisposed to DRLEC by virtue of their hormones.
Assoc Prof Venkataraman said that some studies suggest men may lack the hormonal factors that protect women from nerve and blood vessel damage in the lower limbs.
As for age, growing older can stiffen blood vessels and render them less elastic. "This affects the amount of blood flow and increases the risk of other damage to these vessels," she said.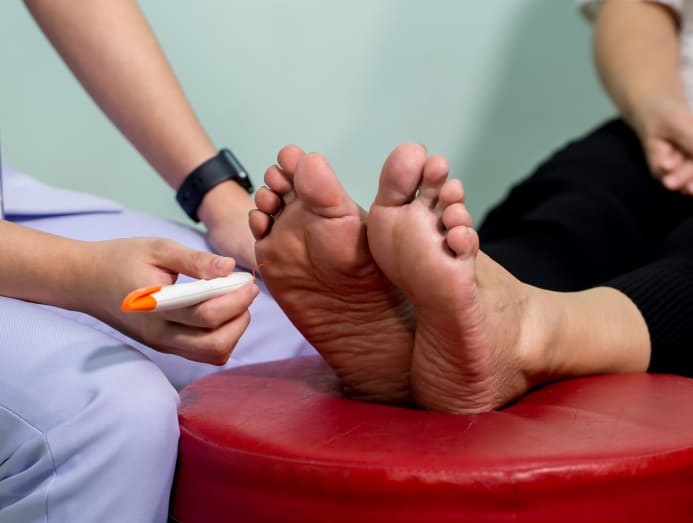 Assoc Prof Choong added that it is important for diabetics to "undergo regular foot screening and surveillance as part of their treatment".
"Closed-toe, well-fitting shoes are a must and daily foot checks are encouraged," he said.
DOES DRLEC ALWAYS END WITH AMPUTATION?
Thankfully, not every case of DRLEC will require the procedure, said Assoc Prof Venkataraman.
In general, amputation is only required when the ulcer is not healing well, there is a risk of the infection spreading to the rest of the body, or if the affected toe or foot area is dying due to the lack of blood supply, she said.
In fact, amputation should not be taken lightly, said Assoc Prof Choong. "The amputation of a limb, in most cases, is a bereavement.
"There is often a significant grief reaction associated which can lead to anxiety, depression and guilt. This is oftentimes amplified when our patients see their amputated limb or when they realise that they have lost function and cannot resume the activities they used to do."
Assoc Prof Choong said that generally, the higher the amputation and the more joints lost, the harder it is for patients to return to their pre-amputation function.
"It is very patient dependent. There are some patients who are unable to recover their full function and worry that they become a burden to their caregivers and families.
"As such, prevention and early surveillance are far better than having to manage limb amputation in the first place," he said.