They're see-through and zap germs: Unusual face masks that don't just cover up
Talk about fancy! Some of these innovative designs come with self-disinfecting UVC, transcribe your speech into text on your phone, and even allow fan attachments inside the mask.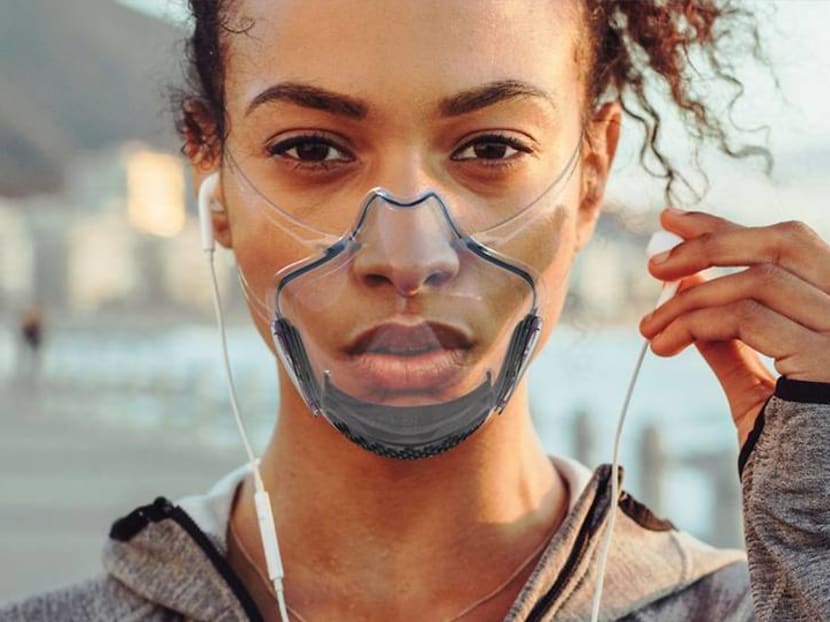 Face it, masks have become an indispensable part of our lives now. No one can venture out the front door without wearing one – and that's by law, if you still haven't caught on.
But other than the fashionable, reusable fabric masks made to complement your wardrobe (or mood), there are also some that look straight out of a sci-fi film. 
When it comes to mask designs and functions, researchers and manufacturers have dreamed up (some are still in prototype phase) – and even pushed through – some fantastical designs.
Going beyond three-ply protection and antimicrobial action, some of these levelled-up masks are self-disinfecting with built-in UVC light, while others don't even look like your usual mask. Here's a look at some.
IT STICKS TO YOUR FACE: THE VX MASK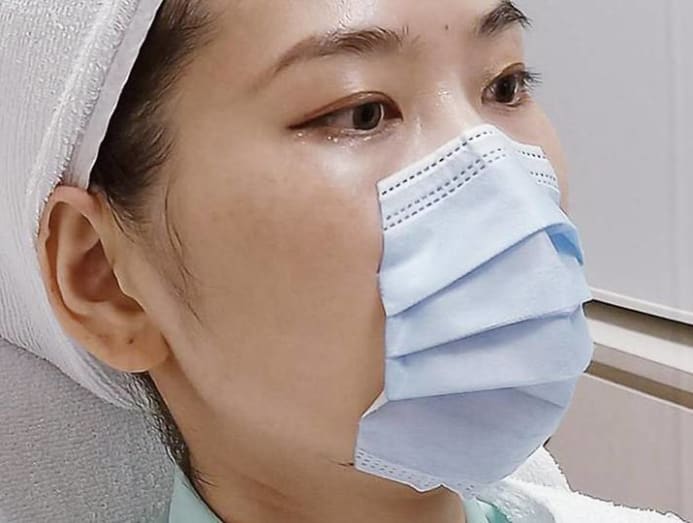 Before you ask, what's the point in sticking this tiny piece of three-ply mask on your face when it only covers the nose and mouth? Well, the VX mask isn't for schlepping to the coffeeshop for chicken rice. 
Instead, it is intended for your appointment with the doctor, beautician or hairdresser, where a regular mask would get in the way when they need to examine your face, carry out comedone extractions or cut your hair.  
Created by Dr SM Yuen from Atlas Medical - Derma-Regen Clinic, the self-adhesive VX mask has a filter in-between two hydrophobic, non-woven layers. 
It is supposed to be hypoallergenic (good news for sensitive skin), re-stickable up to six times, and can stay on your face for six to eight hours – shorter if you have an oily complexion.  
Another plus: Less covering means less fogging if you wear the mask with glasses.
Comes in small and large sizes. Available in boxes of 50 for S$2 per piece. More details here.
IT ZAPS GERMS: LIVINGUARD MASK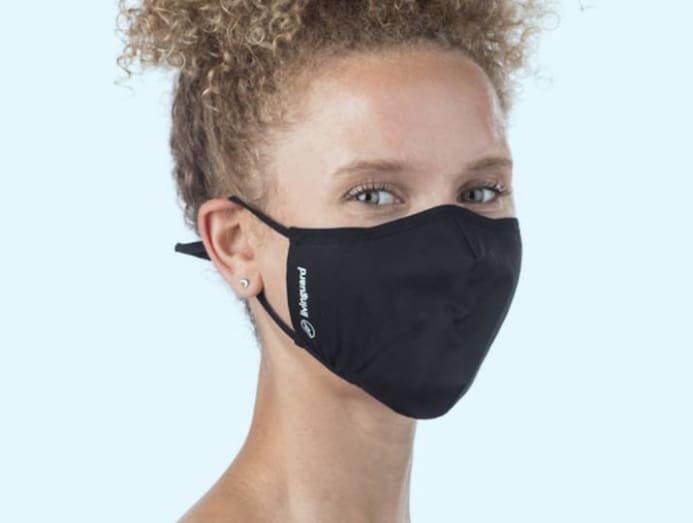 That's no ordinary fabric. The Livinguard mask's treated textile is said to destroy 99.9 per cent of SARS-CoV-2, the virus that causes COVID-19, according to its Swiss-head-quartered manufacturer and corroborated by the Free University of Berlin.
But first, some context: Ordinary fabric masks may filter off microbes but they remain – and remain alive – on the mask's surface. Handling and touching the mask can roll out the welcome mat for bacteria and viruses to your system.
Livinguard's duo layers are said to be positively charged, which makes them a magnet for negatively-charged bacteria and viruses. 
Once the micro-organisms are attracted and come into contact with the mask's surface, they are supposedly destroyed, leaving the mask ready to kill more microbes – and you, less at risk of getting infected.
The mask can be used up to 210 times without compromising its germ-destroying ability. 
Comes in small, medium and large sizes. Each mask is priced between S$25 and S$40. More details here.
SMILE! IT'S SEE-THROUGH: LEAF MASK
If covering the lower half of your face with a mask has led to miscommunication and not being able to unlock your phone using facial recognition, this transparent oxygen-mask-like contraption should solve your problem.
The Leaf mask is apparently the first Food And Drug Administration-registered clear mask. 
Its specs look pretty impressive, too: Exhaust valve to release exhaled air, activated carbon filter for odour removal, aerospace-grade HEPA filter that removes 99.97 per cent of particles as small as 0.3 microns (superior to N95 standard), and get this, a built-in UVC light for self-purifying.
The main covering is supposedly made of soft, sturdy, 100-per-cent recyclable, optical-grade silicone rubber.
It all sounds interesting, especially the Leaf PRO model (there's also the Leaf HEPA and Leaf UV) that lets you control the mask's ventilation and metabolism sensing through an app. 
Then, you scroll through the website and realise the mask is still crowdsourcing for funds on Indiegogo. Ah well, one can wait.  
From US$49 per mask. More details here.
IT TRANSLATES AND TRANSCRIBES: DONUT ROBOTICS C-MASK
Technically, the Bluetooth-enabled c-mask by Donut Robotics won't filter out COVID-19 but the plastic device is meant to be worn over your mask. And its key purpose is to provide transcription, translation and voice amplification.
Using the mask seems easy enough; press the button on the side to power up, launch the app on your phone and start talking. 
Whatever you say will appear as text on your phone. You can also translate the text into eight languages such as French, Japanese, Mandarin, Vietnamese, Thai or Spanish.
The Japanese startup hopes that c-mask would come in handy not just in meetings, where the instantaneous minute-taking function is certainly useful, but also in customer service and medical settings, where speech can be captured and displayed on monitors to avoid miscommunication.
Donut Robotics will be shipping 5,000 masks to Japan in September. There is also interest to cater to countries such as China, the US and Europe.
US$40 per mask. More details here.
IT SELF-DISINFECTS WITH UV LIGHTS: HUAMI AMAZFIT AERI MASK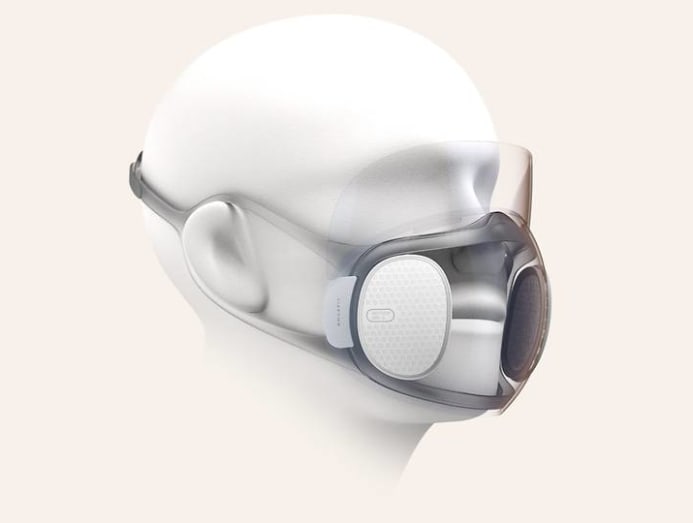 This is another transparent mask with a self-disinfecting function. Like the Leaf mask, it is also unfortunately still in the prototype stage. 
But while the Leaf mask resembles an oxygen mask, the Aeri looks decidedly like goggles worn over the nose and mouth.
Created by Huami, a Chinese tech company, the Aeri has built-in ultraviolet lights that supposedly disinfect the mask's removable filters in minutes when connected to a power supply. 
If the concept takes off, each filter could last one and a half months. The transparent panels will also be made with anti-fog material.
What's exciting is that the mask's modular design can allow for future accessories, such as a fan, to be added for breathable comfort. 
But it may take up to a year to see the Aeri materialise, according to Huami.
IT'S GOT NANO-PARTICLES: SONOVIA SONOMASK
The mask's polycotton blend is said to be coated with zinc oxide nano-particles using ultrasound technology. 
Zinc, which has been known to have disinfecting properties, is used in this instance to destroy bacteria, fungi and viruses that come into contact with the mask.
The Israeli manufacturer claims that tests showed the fabric's effectiveness of nearly 99 per cent against viruses similar to COVID-19. 
The technology uses high temperature and pressure to help the nano-particles to permanently adhere to the fabric. This allows the dual-layered mask to stay protective for a year even with frequent washing.
The Sonomask is also said to provide particle filtration from 5 microns and larger.
Comes in adult and children sizes. US$69 per mask, regardless of size. More details here.
IT SELF-CLEANS WITH HEAT USING YOUR PHONE CHARGER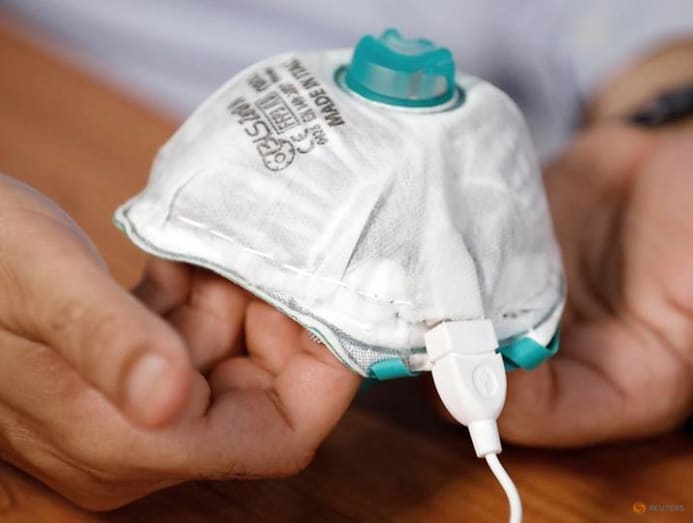 An Israeli scientist has created a prototype mask that can self-disinfect when hooked up to a phone charger. 
The mask looks like any N95 one except for a USB port for the power source and carbon fibres that heat up to 65 to 70 degrees Celsius to kill germs.
According to Yair Ein-Eli, the inventor from Technion – Israel Institute for Technology, a 15-to-30-minute heating cycle is sufficient to clean the mask.
But it may take some time before the actual product hits the shelves. And even then, Ein-Eli intends for the mask to be used by healthcare professionals first before targeting the mass market.