Getting an MC – and medicine in 90 min – on your phone? We tested it out
CNA Lifestyle roadtests the new medical collaboration with Grab that says you can get a consultation, medical certificate and drugs you need without leaving your house.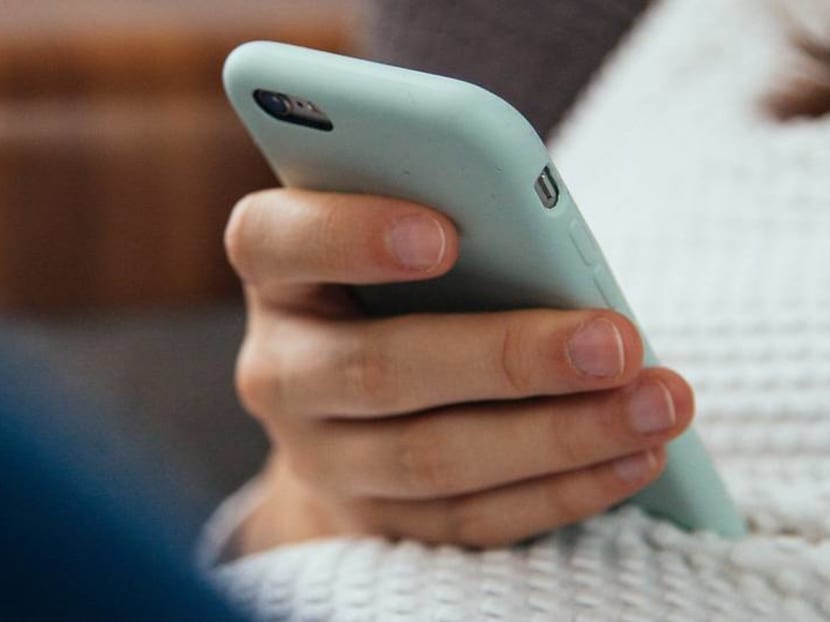 We have all had our share of sick days when we didn't feel like putting pants on and leaving our home. 
So when Grab emailed CNA Lifestyle about its new collaboration with WhiteCoat, an app that lets you consult a proper general practitioner (GP) via your phone, we were intrigued.
You mean I don't have to get out of bed and crawl to my clinic to get an MC? 
Other than making sure my upper body was decently clothed, there didn't seem to be much else for me to do during the mock consultation they had set up, except download the WhiteCoat app, fire it up and wait for a doctor to accept the video call.
But hang on, how would the doctor take my temperature and blood pressure? And is the medical certificate (MC) actually legit?
ARE THESE PEOPLE REAL DOCTORS?
WhiteCoat isn't new to the telemedicine game in Singapore; others such as Doctor Anywhere and MyDoc were already launched a few years ago.
Even then, I couldn't help but wonder: Are these doctors the real thing? I sure didn't want to get medical advice from a chatbot. 
According to WhiteCoat's chief executive officer and founder Bryan Koh, the in-house medical team consists of Singapore-registered GPs.
They come from "leading hospitals and private healthcare providers" and have "a minimum of 10 years of experience on average," he said.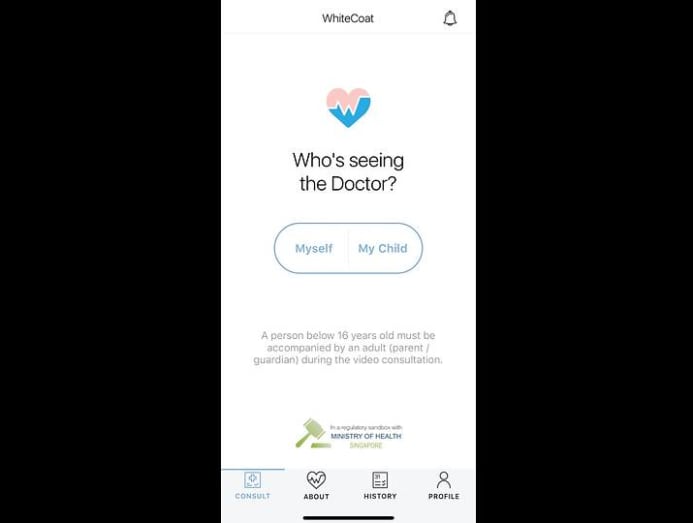 WhiteCoat has been around since 2018 and has been approved by Singapore's Ministry of Health to "diagnose, treat and manage a wide range of acute and chronic conditions," said Koh. 
To date, the top common health issues that come through the app include upper respiratory tract infection, gastroenteritis, headache/fever, skin conditions and musculoskeletal pain. And it can also be used to call in for your child.
SO... I HAVE A 'COLD'
After answering a few queries on the app about the "ailment" I had and my drug allergies, I dialled in and received a message that my appointed doctor was still busy with a patient.
I continued checking my emails without losing my place in the virtual queue.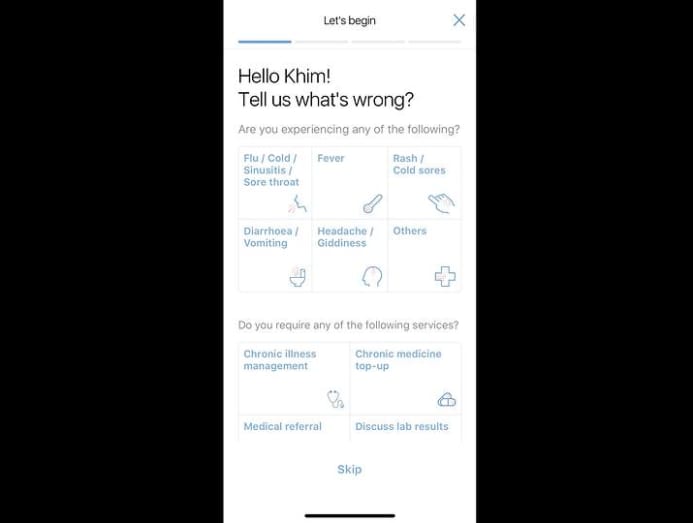 A few minutes later, I received a notification that my video call was ready to be connected – to a person and not an avatar. 
It was Dr Whitney Chua, one of WhiteCoat's six GPs, and she was video-calling me from WhiteCoat's licensed clinic at Henderson Road. 
Dr Chua said that there are at least one or two doctors on duty at any time during their operation hours (8am to 12am daily, including public holidays), with four to six rostered during peak periods.
HOW DOES THE DOCTOR MEASURE MY TEMPERATURE AND BLOOD PRESSURE?
Admittedly, the physical examination is limited, said Dr Chua. "Patients are encouraged to measure their temperature and blood pressure prior to the video consultation if they have the relevant devices at home," she said.
Of course, I didn't have one of those blood pressure gadgets. And the batteries in my digital thermometer were flat.
There are ways to get around that, namely verbal and visual cues, explained Dr Chua. For instance, they ask detailed questions about the patient's symptoms.
I told her I had chills, body aches, sore throat, cough and a runny nose – symptoms I cobbled together to paint a picture of the common cold for my mock consultation.
Dr Chua said that if they assessed that patients have to have their temperature and blood pressure measured, or that a condition that may not be appropriately treated via telemedicine, they refer the patients to a physical GP clinic, specialist or an A&E service provider.
The consultation fee of S$25 will also be waived.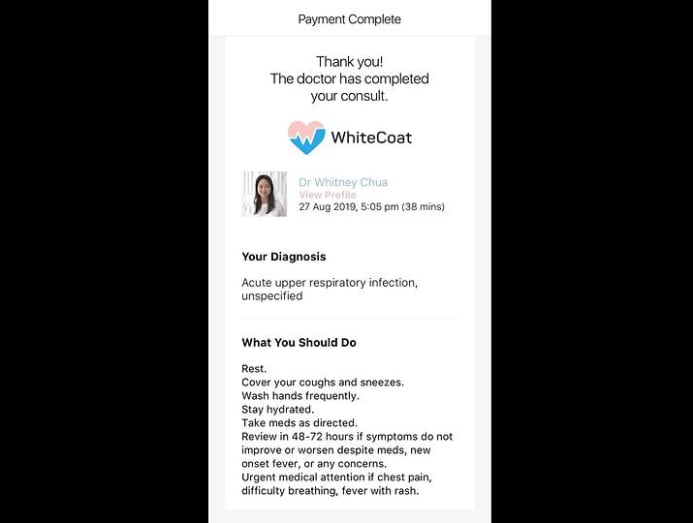 ISN'T IT EASY TO FAKE AN ILLNESS ONLINE TO GET AN MC?
Surely, it would be more difficult to see through a patient's act on camera? To check my "sore throat", Dr Chua asked me to open my mouth and bring my phone closer to it. 
"I am looking at the video of you on a desktop monitor, so I can see you clearer than you see me on your phone," she said. "And with today's phone camera capabilities, video quality is not an issue."
"We are trained to tell how ill the patient is from his or her facial expressions and appearance."
"Okay," added Dr Chua, "you look fine."
If the lighting is poor, the doctor may ask the patient to go near the window for a better source of light. Generally, the standard lighting in any room is sufficient. "We've even had patients call in while on the MRT," she said.
"But if it's at night and I can't see your features or verify that it's you on the video call, I cannot commence the session."
Other visual cues can come from uploaded pictures of your symptoms. "This is especially useful for diagnosing rashes," she said.
I was also asked to press on my cheeks to check for soreness. "It's to help me assess if you have sinusitis."
WHAT ABOUT MEDICINE? I DON'T NEED MORE PANADOL 
When it comes to the prescription, they have to make sure the patient isn't allergic to any medicine, said Dr Chua.
"For first-time patients, we need to assess their potential reactions to the medicine. So we'd ask more questions." 
Returning patients – especially those with chronic conditions such as diabetes or hypertension, and require long-term medication – may be asked some questions again to take into account recent medical developments such as a heart attack.  
For my "upper respiratory tract infection", or doctor-speak for the cold, Dr Chua prescribed Telfast D, Panadol and lozenges. But I didn't need Panadol as I had some at home, I said. Could that be removed? Yes, and easily done, too, by unticking the item.
In fact, I could choose to unselect all the medicine if I wanted to.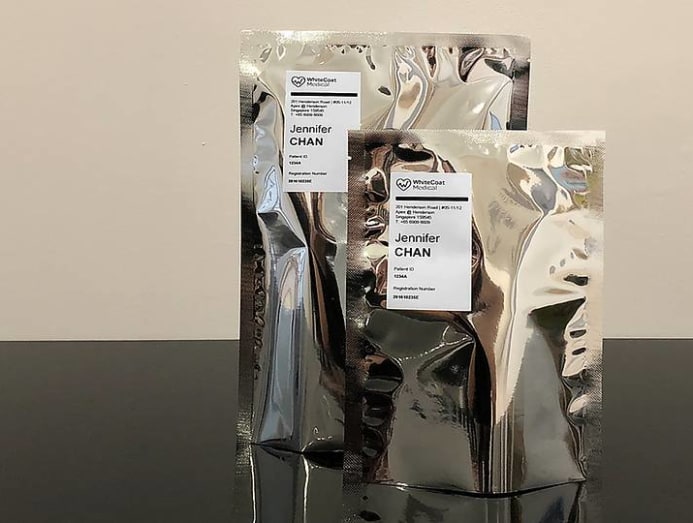 I didn't put the GrabExpress part of the service to the test but Koh said that patients would receive their sealed and temper-evident package within 90 minutes. I just had to specify the address and delivery time. 
"This partnership with GrabExpress reduces the patients' waiting time for the delivery of their medication from the current average of three hours," he said.
SO IS THE MC ACTUALLY RECOGNISED?
At the end of my eight-minute video call (minus the time taken to answer my queries on how the app works), I received the diagnosis, prescription, bill and an MC on my app. 
But would my boss accept this digital hall pass from work? It did have Dr Chua's signature on it.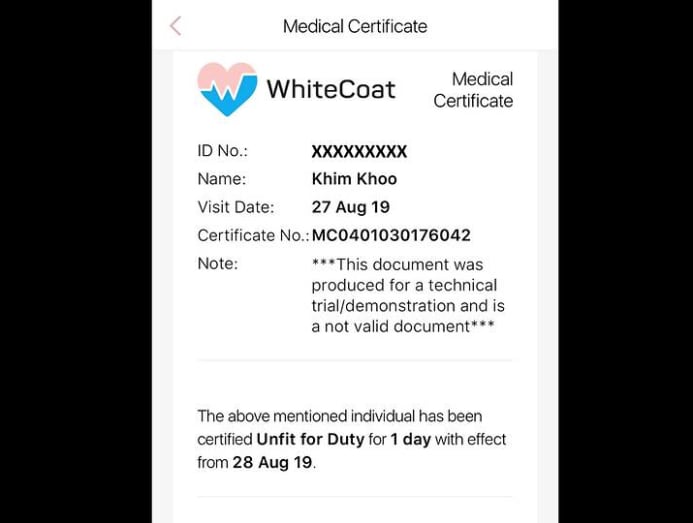 Koh said that the Ministry of Manpower has indicated that MCs issued by any registered doctor are recognised by employers, including those by WhiteCoat's Singapore-registered doctors.
WhiteCoat is definitely not for emergencies such as chest pains, severe difficulty in breathing, sudden numbness, seizure, fractures or dislocations, persistent bleeding or deep wounds, and severe abdominal pain.
"Even if your condition doesn't fall within those categories, we may make the clinical judgment not to assess you," said Dr Chua.
But say you have dizzy spells, or you need advice for your mum's health check results – those are cases that WhiteCoat doctors can attend to via telemedicine. "Some patients want the doctor's assessment to alleviate their anxiety," said Dr Chua. "We can be their first point of contact."
However, when it involves the elderly, "we are more cautious with the diagnosis and would refer the patient to see the GP in person," she said. 
You can also use the app for your child's non-emergency ailment. But if he or she is below 16 years old, you have to set up the account under your name, dial up the service and be present throughout the video call.
HOW MUCH DO I HAVE TO PAY?
My bill came up to S$44.40, minus the Panadol. It wasn't far from the S$40 or so fee I usually pay at my neighbourhood GP. But if I'd called during after-office hours (Monday to Saturday, 8pm to 12am; Sunday and public holidays, 8am to 12am), the consultation fee alone would have been S$50, not S$25. 
So what's my verdict? Would I use telemedicine for real? The convenience is a sweet sell.
But for some, like my elderly parents who are used to direct human interaction with the doctor, telemedicine might be a hard pill to swallow.