COVID-19 home recovery: A checklist of everything you'll need while self-isolating
Eligible for home recovery? Bringing all you need into the room with you at one go can minimise your contact with other family members and reduce the risk of infecting them. Also, what can you use in place of throat spray to keep COVID-19 at bay?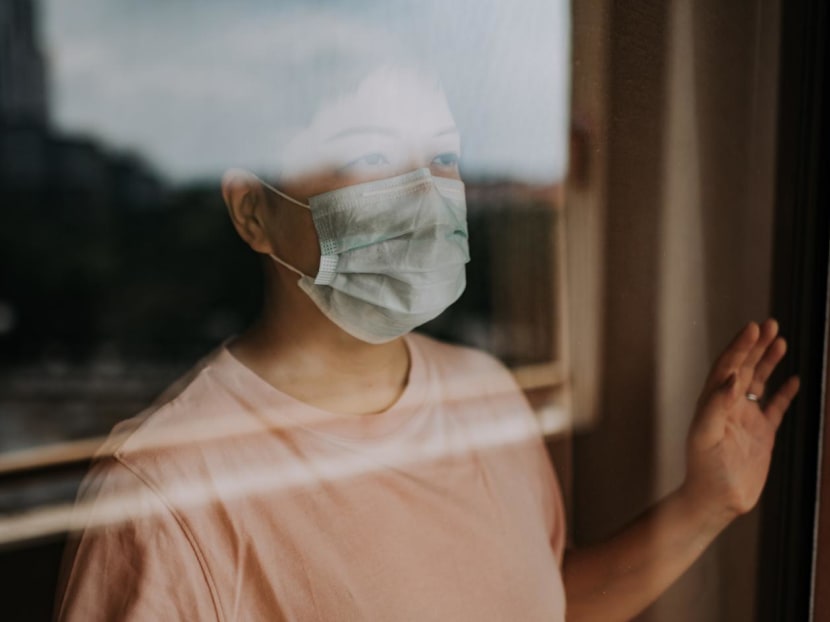 You've been coughing and sniffling. So you break out the ART kit to test yourself and just as you'd suspected, you're COVID-19-positive.
After determining that you're eligible for home isolation and deciding which room you'll be holing up in, the next question is: What items should you have with you for the next 72 hours?
Here is a checklist of the things to take with you for home isolation for the next seven days – in case you still test positive after 72 hours. If you're isolating with your child, remember to gather separate sets of supplies. It's important that you don't share.
As for how to prep the room, Dr Edwin Chng, the medical director of Parkway Shenton, advised that "non-essential items and those that cannot be cleaned with soap, detergent or alcohol should be removed from the bedroom".
"In general, COVID-19 tends to stay longer on non-porous surfaces (days to weeks) compared to porous surfaces (minutes to hours). However, the relative risk of fomite transmission is considered low compared to direct contact, droplet transmission or airborne transmission," he said.
In the meantime, gather the following items before you head into your Fortress of Solitude:
MEDICINES AND SUPPLIES: Cold/cough/fever medicines, throat spray/mouth gargle, ART kits, thermometer, oximeter, tissues and alcohol wipes
If you haven't been having much luck getting throat sprays because they are largely sold out, you can use a mouth gargle that contains povidone-iodine, said Associate Professor Raymond Seet, a senior consultant with National University Hospital's Division of Neurology.
Make sure you gargle (ensure the solution reaches the back of the throat) and not just rinse your mouth, he added. "Some studies suggest that the antiviral actions can occur within minutes of the SARS-CoV-2 virus' exposure to povidone-iodine," said Assoc Prof Seet.
Such mouth gargles are available over the counter in many pharmacies. However, he cautioned that those with thyroid disorders, allergies to iodine or who are pregnant should consult their doctors first before using povidone-iodine.
When it comes to the ART kits, make sure you have enough supply to last you a week and a bit more. For instance, bring in seven ART kits and add a few extra ones just in case. 
As for your daily medication from the GP, make sure there is enough stock as well as over-the-counter medicines for fever and cough, said Associate Professor Sophia Archuleta, a senior consultant and the head of NUH's Division of Infectious Diseases.
"A thermometer and pulse oximeter are also useful for the monitoring of symptoms and especially warning signs such as hypoxia or low oxygen saturation," she said.
PERSONAL HYGIENE: Toiletries (eg, shampoo, body wash, facial wash), toothbrush, toothpaste, floss, shaver and towels
Using a room with an attached bathroom is ideal as it minimises your contact with healthy family members. For that purpose, don't even share toiletries, said Dr Chng, to avoid cross-contamination.
If you want to minimise the contact with your family members further, bring in enough towels to last you for seven days. "Ideally, towels should be changed daily but for practical purposes, it can be changed every two to three days," said Dr Chng.
But if you have to share the bathroom, everyone should wear a mask when using it, advised Assoc Prof Archuleta. "The shared area should be well ventilated, such as keeping the bathroom windows open," she said.
More reasons to isolate in a room with an ensuite bathroom: Less cleaning and disinfecting to do. It's not enough to just clean the toilet bowl and flush with the lid down after each use. You should also clean and disinfect all accessible surfaces such as the sink, tap, soap dispenser, toilet roll dispenser, door handle and flush button, said Dr Chng.
"Disinfect the sink's U-trap and toilet floor trap with a cleaning solution. Clean the bathroom floor with the cleaning solution from the exit inwards," he said.
LAUNDRY: Clothes, underwear and a separate laundry basket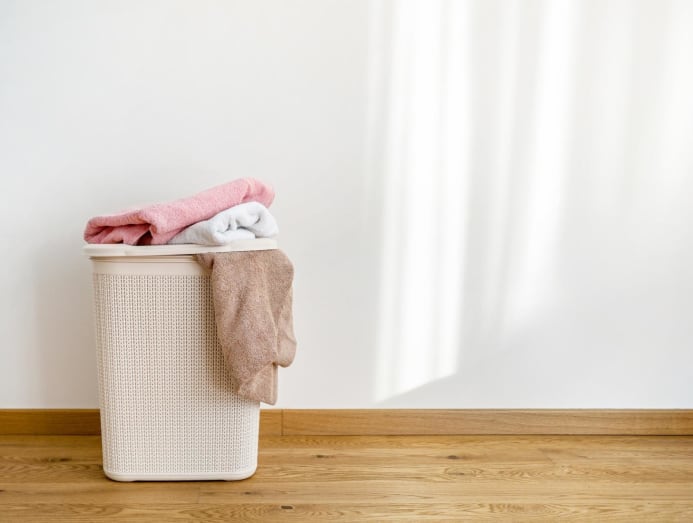 Bring in enough clothes and underwear for daily changes. Place your worn laundry in a basket, separate from the rest of the family's clothes, outside the room at the door, advised Dr Chng. "Avoid tossing or throwing the fabrics", which can stir up and disperse the virus.
You can use regular laundry detergent for the sick family member's clothes, said Assoc Prof Archuleta. Just use the warmest setting on the washing machine.
"Wash your hands after handling the laundry. If the laundry was visibly soiled, wearing disposable gloves would be a good idea," she said.
UTENSILS: Spoon, fork, knife, chopsticks, cup, sponge and dishwashing detergent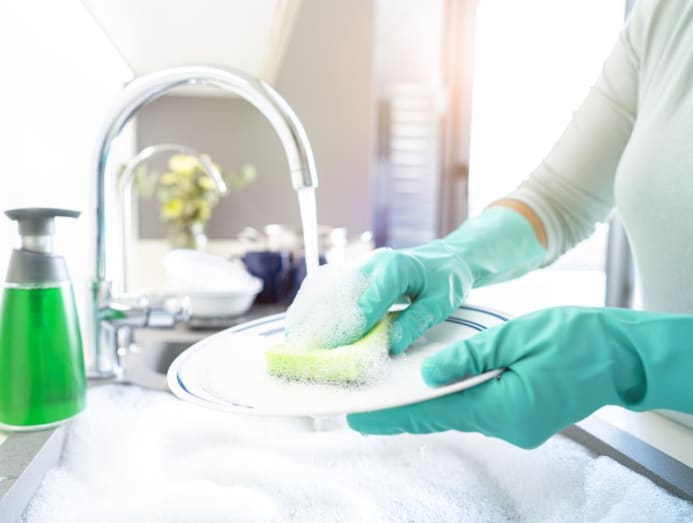 If you can, wash your own utensils to minimise your loved ones from touching your saliva.
But if you don't have an attached bathroom, place your used utensils outside your room, so that an assigned family member can wash them. Ensure that he or she wears gloves when washing your used utensils with soap and hot water, said Dr Chng.
"It is also ideal to use a separate sponge and dishwashing detergent from the rest of the family to avoid contamination," he said.
When done washing your used utensils and dishes, remind your family members to wash their hands after taking off their gloves, said Dr Chng.
TRASH: Trash bags and bin
Use a bin with a lid, so that your used tissue, ART kits and other trash are covered and not exposed to the air.
Double-bag the bin to prevent leakage and seal or tie the bags when you're ready to empty the bin, said Dr Chng. Then, leave the sealed bag outside your door. The family member who collects it for disposal should wear gloves before touching it.
ENTERTAINMENT: Toys for kids (plastic, wood and fabric) and gadgets (laptop, handphone and tablet) for grownups
There's no need to disinfect them before taking them into the room, unless they're dirty, said Dr Chng.
WHAT TO DO AFTER ISOLATION
It isn't necessary to clean and disinfect the room daily during your isolation period. But cleaning and disinfecting should be carried out at the end of the self-isolation, said Dr Edwin Chng, the medical director of Parkway Shenton.
First, protect yourself by donning gloves and mask before starting. "Avoid touching your face and eyes during the process of cleaning. And keep the room well ventilated during cleaning," he said.
Anything that can be wiped should be wiped with a cloth soaked with a cleaning and disinfecting solution, said Dr Chng. Before wiping another object, rinse and soak the cloth in the prepared solution first. Or use another cloth, he said.
"Items that cannot be washed or disinfected should be set aside and not be used for at least three days after recovery."
Wash the bed linens separately from the family's clothes with regular laundry detergent and use the warmest setting.
Mop the room's floor with a cleaning and disinfecting solution, starting from one end of the room to another. "Avoid moving from an area that has not been cleaned to an area that has been cleaned, to avoid dirtying the cleaned area," said Dr Chng.