Using TikTok and other tips to stay motivated while exercising during the circuit breaker
Finding it hard to keep on working out? Fitness ambassadors share their tricks to stay focused at home – from dance challenges on social media to training apps.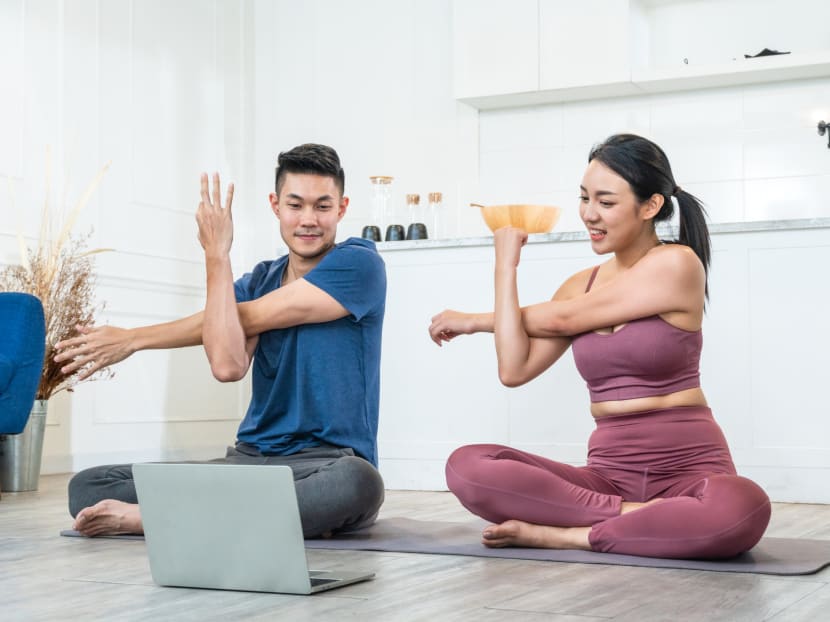 Those workout YouTube videos fronted by beautiful, sculpted fitness influencers sure are inspiring. You want her abs, his pecs, their infectious body confidence, that outfit – and you promise yourself you'll get there by sticking to the workouts.
But by the second week or so into the "circuit breaker" period, you might already be feeling as deflated as a burst exercise ball. There was the recalcitrant offspring to home-school (who's now on holiday), Zoom meetings to attend, always-urgent emails to reply – and what about that Dalgona coffee recipe that you still haven't tried out?
So, instead of laying out your yoga mat, you're lying down on the sofa. Instead of lifting dumbbells, you're lifting your self-imposed ban on snacking. And you start to wonder: How does anyone stay motivated to exercise during this time?
Well, we've asked some fitness experts – from a mother of four to someone recovering from dengue – how they do it. And no, not everyone works out every day.
FIGHT BOREDOM WITH VARIETY
Sari Marsden is like the real-life version of Linda Hamilton from Terminator (those arms!). And like the kickass character, the Indonesia-born former radio DJ had a rebirth 12 years ago when she traded her microphone for weights. Today, she is a full-time life coach and a Nike trainer.
While the 40-year-old claims she is training "less frequently" during the circuit breaker period, just reading her routine is enough to make us pant: She exercises four or five days a week for 45 minutes per session, devoting time to strength, cardio, full-body mobility or yoga.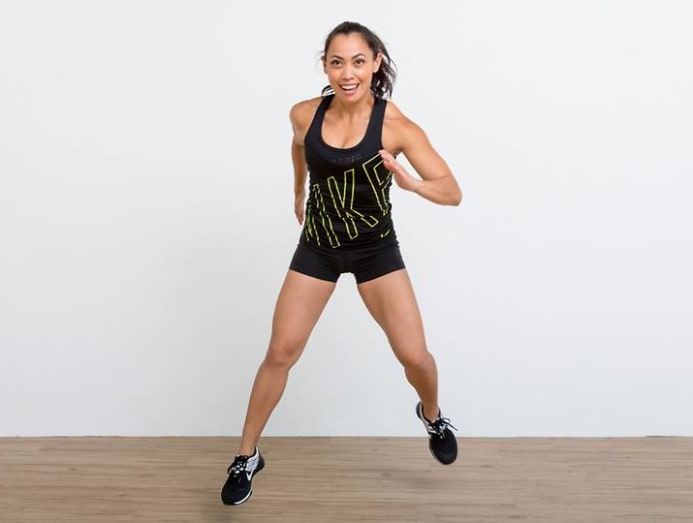 But you'll be surprised that boredom is a constant battle even for the pros. "At home, I need to be a little more creative in order to get the job done," said Marsden. "I'm really paying attention to my form these days, instead of focusing on the number of workouts I complete."
Variety is another way Marsden uses to beat workout boredom; more specifically, she uses the Nike Training Club (NTC) app for its wide variety of workouts, and follows the virtual NTC community workouts in Singapore. 
Marsden's pro tip to continue wanting to exercise: Find a powerful reason and start with small, achievable targets. "For example, a five-minute movement session is enough for you to kick off a long-term routine. Then, you just have to keep building it up from there."
SEE EXERCISE AS THERAPYDawn Sim is a human dynamo. How else do you bring up four energetic girls ranging from ages four to 14, run a yoga studio, teach yoga and pilates – and still exercise for yourself every day?
This 41-year-old lady boss of Trium Fitness sees "movement as therapy", herself benefitting from yoga after a sports injury in her teen years. So when the circuit breaker restrictions kicked in, Sim's motivation to exercise comes from the reminder that exercise "can help me prevent so many diseases. And of course, it keeps me looking younger for longer!"
As for family duties getting in the way, Sim sets exercise "as a priority". "I plan for my workouts or squeeze them in whenever I can should my plans be disrupted. Even 10 minutes of exercise each day helps and on some days, that has been the case," she said.
"I also involve my kids in my workouts whenever possible. I have been sharing multiple videos online to help others have fun with their kids and work out together, too."
DO TIKTOK DANCE CHALLENGESActivities such as wakeboarding and Brazilian jiu-jitsu are out of the question for Sandra Riley Tang – one quarter of local band The Sam Willows – but she's found ways to stay active and "offset all the snacking", shared the 29-year-old, who exercises two or three times a week.
"We've got a little home gym set up with a pull-up bar, barbell, weights and other accessories, so I usually rotate between weight training and yoga," said Tang, who is also a yoga instructor and co-owner of The Yoga Collective.
And like everyone, Tang's "motivation comes and goes". "When motivation is low, I embrace it and rest, or I try to get inspired by something else. Recently, I've found the joys of doing TikTok dance challenges. And let me tell you, it is a workout!
"Usually by the time I learn a dance and film it, I'll be drenched in sweat and I'm done for the day," she said. Not convinced? Tang has a TikTok challenge for you to bust out your moves to her new song. 
DO WHAT SUITS YOUDiana Chang believes in exercising within your limits. The 40-year-old founder of women's athleisure brand Yumi Active would know as she had recently recovered from dengue last October.
"I know HIIT (high intensity interval training) and versions of it are very popular these days," said Chang. "But it might not be suitable for everyone, especially if you have been inactive for a prolonged time, or if you have some injuries or health conditions."
The entrepreneur does "a combination of cardio, strengthening and toning exercises" three to five times a week now that she has more time and a more flexible schedule – compared to the once- or twice-weekly workouts from before.
"Listen to your body as it can be quite discouraging if you feel completely breathless after five to 10 minutes. Choose workouts that suit your current body condition and level up slowly. As you feel the progression, it keeps you motivated."
Of course, wearing the right clothes can also be motivating for Chang. "You set yourself up in the right mood to work out when you are in your favourite activewear. For me, a comfortable and supportive sports bra with stretchy leggings to keep me cool and fresh is the way to go."
CHALLENGE YOURSELF Align Studio's founder Gajendra Badwal may be the expert in yoga, but he is not above adding other exercises to his own workout to keep tedium out of his routine.
"It's time to shake things up when a routine feels too repetitive and easy. The human body can adapt to almost any workout thrown at it, so having variety is the key," said the 37-year-old yoga teacher. To keep his workouts fresh, Badwal often throws in "squats, push-ups, pull-ups, long hold planks and lots of stretching".
The strategy works for him. Badwal works out more often now than before, from three or four times a week to daily workouts – and he hasn't found it humdrum yet.
Another tip that he uses to stay on track: "Different people may find motivation from different sources. For me, my motivation to work out isn't fuelled by how I look, but by how healthy I am. So my goal is to be healthy, happy and enjoy life with my loved ones. Working out with friends or family is icing on the cake."