Flossing your teeth: Why do my gums bleed? Should I brush or floss first? Is there a right way?
You would think you know how to floss your teeth by now. But here's the thing: You might be doing it wrong.
Flossing is an important habit one should have to get rid of plaque, that sticky, whitish biofilm of bacteria that forms on teeth.
When plaque is allowed to accumulate along the gum line, the bacteria can trigger inflammation in the gums and lead to gingivitis or gum inflammation, said Dr Haw Sue Yi, a dental surgeon with SingHealth Polyclinics. Those red and bleeding gums you might have? Those are signs of gingivitis.
"If left untreated, gingivitis can progress into periodontitis, where there is loss of supporting bone, which can result in shaky teeth," said Dr Haw.
And it doesn't take long for plaque to form, mature and harden into tartar – just 24 to 72 hours – after which gingivitis starts to develop, she said. Tartar is much harder to remove than plaque and can only be done at the dentist.
Got other questions on flossing? Here are the answers.
DO I FLOSS OR BRUSH FIRST?
It might be a better idea to floss first, then brush your teeth, said Dr Haw. Doing so "allows the debris to be removed from the interdental spaces and subsequently, brushed off", she said.
"Flossing first also means that a larger clean tooth surface area will be exposed to the fluoride content in the toothpaste."
HOW SHOULD I BE FLOSSING?
Don't hold your piece of floss straight and just go up and down with it. And never snap the floss onto the gums as it can hurt them, said Dr Haw.
Instead, curve the floss around the base of the tooth in a C-shape, and gently use an up-and-down motion to clean the surface of the tooth, she said. "Make sure you reach slightly below the gum line."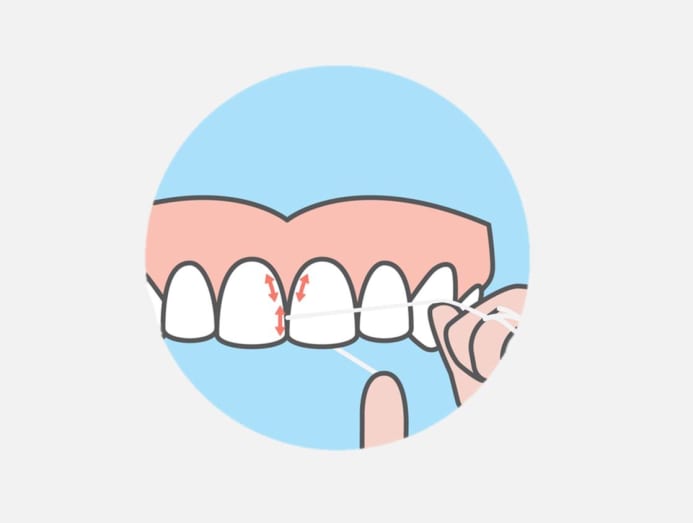 WHAT IS THE BEST TIME TO FLOSS?
At night – and the good news is, you only need to floss once daily.
Right before bedtime is best because "our salivary flow is reduced when we sleep", said Dr Haw. This means that the acid produced by plaque bacteria isn't washed away by saliva and the overnight exposure to the acid bath can result in more decay. 
WHY DO MY GUMS BLEED WHEN I FLOSS?
It is normal as long as the bleeding stops by the time you've finished flossing and brushing. The bleeding could be caused by a rough or improper flossing technique. Or your gums just aren't used to the stimulation created by flossing.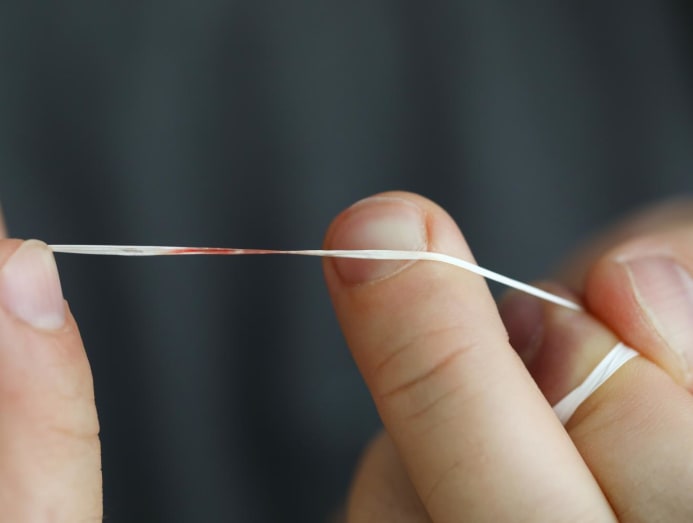 However, don't let the bleeding deter you from flossing the area (if you've ascertained it isn't caused by dental or health issues). Avoiding flossing can "ultimately become a vicious cycle and result in the further buildup of plaque or tartar", said Dr Haw.
Keep at it and you should be able to floss without seeing blood after seven to 10 days. But "if you find that your gums bleed frequently, make an appointment to visit a dentist", said Dr Haw. It may be due to gum disease such as gingivitis or periodontitis.
I DON'T THINK I'M DOING IT RIGHT
There are alternatives to the dental floss such as interdental brushes, said Dr Haw. These are small, narrow brushes that come in different widths to suit the size of the gaps between your teeth.
In fact, if you have "black triangles" (large interdental spaces between your teeth that look like, well, black triangles), interdental brushes may be more effective for you, she said.