How healthy and mentally resilient are Singaporeans compared to other Asian neighbours?
In a wellness survey involving Indonesia, Thailand, Malaysia, Philippines, Hong Kong and Singapore, let's just say the results show that we need to work on our health and wellness a bit more.
How healthy and mentally resilient are Singaporeans compared to our Asian neighbours? Seems like we all need to work on these a bit more, if a recent study is anything to go by. 
Fitness First recently released the results of its first Evolution Wellness Study, which involved more than 10,000 respondents from its markets, Singapore, Indonesia, Thailand, Malaysia, Philippines and Hong Kong. The survey concluded in October 2021 and the results were released this month.
How did we fare in terms of hitting our fitness and wellness goals? Unfortunately, not very well indeed. In fact, we scored lower than the Asian average on our wellness report card. In the overall rankings, Singapore came second to last with a score of 69, just beating out Hong Kong's 67. Indonesia ranked first with 79 followed by Thailand with 77. 
Here are some takeaways on how we fared compared to the Asian average.
WE ARE MORE TIRED THAN OUR NEIGHBOURS
In terms of knowing just what to do to be healthy and fit, Singaporeans aren't too far off from the average Asia score. But "knowing" and "doing" what it takes to keep you energised are quite different things. The survey shows that only 55 per cent of Singaporeans have enough energy to carry them through the day and noted that perhaps "external barriers such as lack of time stop them from living a healthier lifestyle".
The lack of sleep could be another source of the power shortage: Only 36 per cent have enough sleep each night, and about a third wake up feeling refreshed. By comparison, the Asia average is almost 50 per cent for those two attributes.
WE ARE EATING A LOT OF JUNK FOOD
For a country that prides itself on its culinary repertoire, we are not eating well. We don't mean dining at Michelin-starred restaurants but the quality of the food we eat. In fact, the survey found that Singapore has the poorest eating habits among the six.
For starters, only about half say they eat more whole foods than processed ones, while nearly half eat a balanced diet. But when it comes to hydration, the majority of us are chugging enough water throughout the day. Mum would be proud.
WE ARE SO STRESSED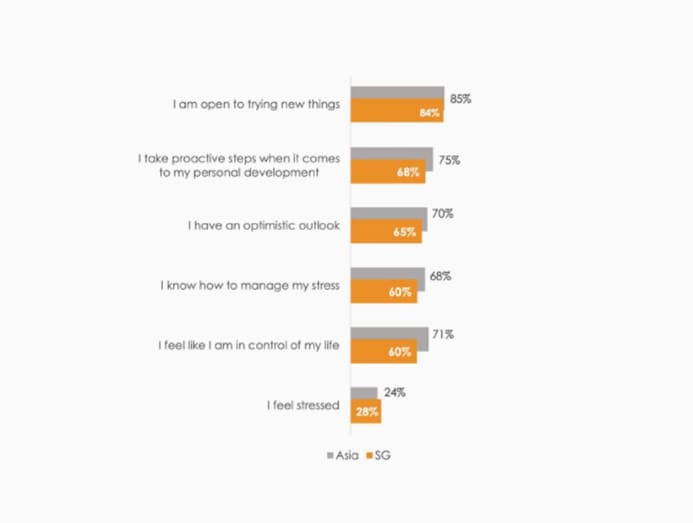 If you think a lack of work-life balance is the cause of our stress, the survey has other findings. Compared to the other countries, Singapore scored lower in terms of being proactive in our personal development. When it comes to mental resilience, we have a more negative outlook and a sense that we're not in control of our lives.
It's no wonder that nearly 30 per cent of Singaporeans feel stressed, compared to the 24 per cent in other countries. Perhaps it's time we had a chat with our elders on stress management; baby boomers (above age 55) on the whole were found to be better at handling stress than Gen Z, according to the survey.
OUR FAVOURITE REFRAIN: "I DON'T HAVE ENOUGH TIME"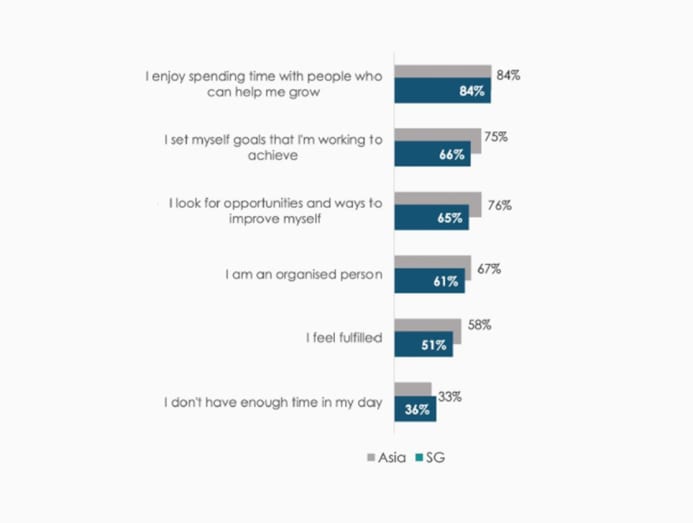 You'd think that result-oriented Singaporeans are all about goal setting and being organised. Not quite, according to the findings. Only 66 per cent set goals compared to the Asia average of 75 per cent. We are also less organised than the rest.
Like our Asia compatriots, we enjoy spending time with people who can help us grow. But when it comes to seeking out opportunities and ways to improve ourselves, we don't fare as well. We are also more likely to feel unfulfilled and not have enough time in the day.
WE VALUE OUR SUPPORT SYSTEM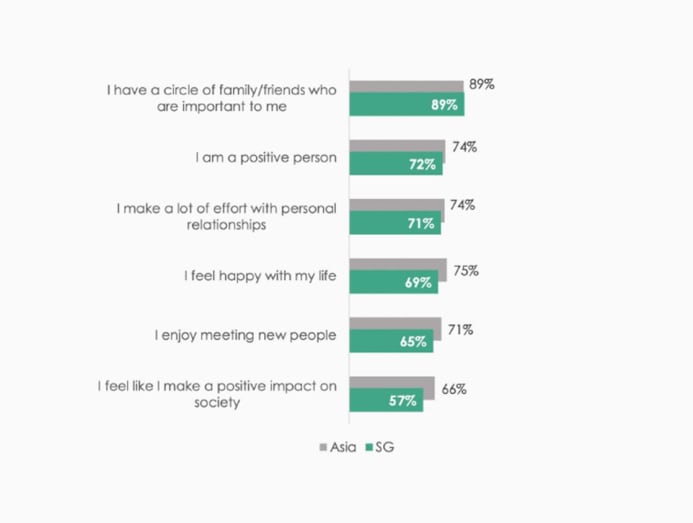 If there's one thing everyone found important, it's our circle of family and friends, according to the survey. And Singaporeans do make a lot of effort with these personal relationships, albeit a little less than the rest.
While more than 70 per cent of Singaporeans describe themselves as positive, more than 30 per cent are not happy with their lives. We are also rather reclusive; more than a third do not enjoy meeting new people.