How Instagram fitness star Kelsey Wells beat post-baby weight – and you can, too
The social media star and creator of the PWR programme will also be conducting her signature workout in Singapore for the first time at FitnessFest By AIA.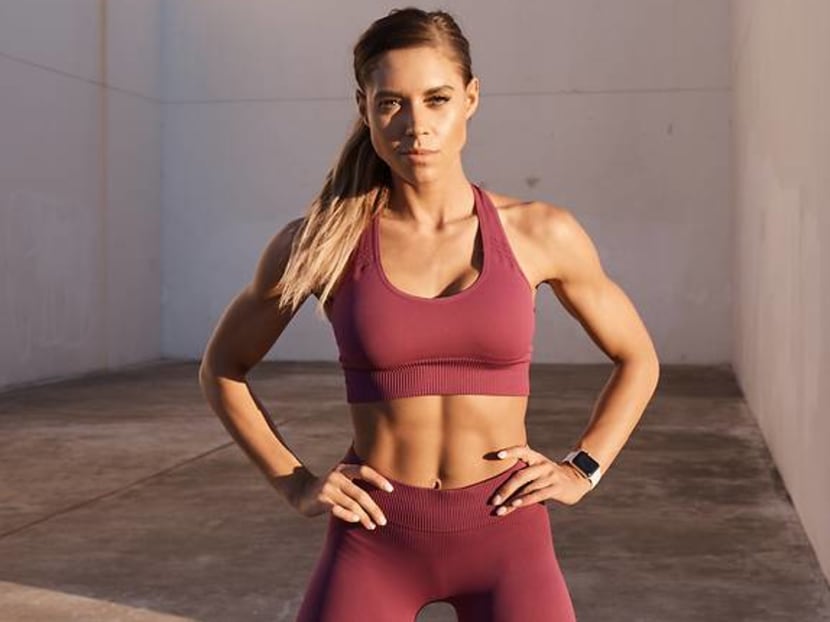 Who has the time and energy for exercise when you're struggling to feed, diaper change and bathe a newborn?
And whatever spare time new mums have goes into grabbing random bites of food, going to the bathroom and most importantly, sleeping.
It is a predicament that US trainer Kelsey Wells knows too well. The social media star (she has over 2 million followers on Instagram and counting) didn't care about exercising before motherhood and lived on a fast food diet.
And get this, she had never set foot in a gym and regarded exercise as "the ultimate chore", according to the 29 year old.
"I worked full-time as an interior designer, and had an hour's commute either side. I didn't think about my diet. I ate fast food for lunch and had a lot of fizzy drinks," she told The Sun.
On top of that, Wells gained over 25kg during her difficult pregnancy.
"Most days, it was all I could do to make it through and not throw up. I'm open about how unhealthy I was because I want to tell women, 'Don't beat yourself up'," she said.
Five years on, Wells is one of the world's most famous fitness mamas and creator of the strengthening PWR (short for power) workout for women.
Ahead of her headlining segment at the third edition of FitnessFest by AIA on Apr 27, where she will be conducting her signature 45-minute PWR Bootcamp for the first time in Singapore, CNA Lifestyle finds out how she got into better shape than before her pregnancy.
SHAPING UP
"Life is busy and finding a balance is challenging at any stage, especially as a wife and mother," Wells, who has been married for over a decade, told CNA Lifestyle. 
"The truth is, we make time for the things that matter most to us, and our health (physical, mental, and emotional) needs to be a priority.
"Women need to understand that self-love is not selfish. I understand it is tough to make the time but doing so will actually allow you to give more to your family and those around you."
For the post-partum health role model, self-care became a big part of her life after her son Anderson was born five years ago.
It started when her doctor advised her to exercise and eat better to cope with her hormonal changes and post-natal anxiety two months after her delivery.
"I had no guidelines at all, but I knew I had to try," she said in The Sun.
Wells revealed she couldn't afford a gym membership then and didn't even have an exercise mat.
So, she did the next best thing she knew: Follow online fitness videos, mainly Kayla Itsines' BBG programme. (Incidentally, Wells' workout can be found on the same app as Itsines'.)
"I also started going for long walks with the pram for 40 minutes. On the days I exercised, I felt lifted. It empowered me.
"Things started getting easier and well before I saw changes in the mirror, I felt better," she mentioned in The Sun.
A few months later, she started to make small changes to her diet but "nothing extreme".
"I started with just no soda and no alcohol. Once I'd got used to that, I tried to eat less fast food, then I'd have a side of veg with dinner rather than chips."
The baby steps paid off; a year later, Wells had changed her diet completely.
Craving an outlet to share her experience and meet other women, Wells got onto Instagram nine months after starting her exercise routine.
She also got certified in personal training as well as pre- and post-natal fitness.
These days, this full-time athlete, who usually starts her day at 6am, schedules "my gym session into my day the week ahead and make my workout hour non-negotiable", she told CNA Lifestyle.
"It's a non-flexible meeting with myself that I respect just as much as my meetings with others.
"Be firm in your resolution to exercise each week, but be flexible in your methods and always give yourself grace. Focus on what you can do, instead of what you cannot."
ACCEPTING YOUR "PROBLEM AREAS"
As fulfilling as motherhood is, it also changes your life. And some of these changes can compound the body insecurities you already had in your pre-baby days (and who doesn't have them?).
"Most importantly, I want women to remember to be patient with themselves and recognise that their bodies have just been through something miraculous," Wells told CNA Lifestyle.
"Begin with the goal of healing your body and showing it the care and love it deserves" even though "your body may feel and look unfamiliar to you".
But how do you get started if you hadn't been active to begin with, never mind the lack of motivation? "Exercise should never be viewed as a punishment or chore to change yourself," she said.
"Exercise is a celebration of what our bodies are capable of and an imperative way to connect with yourself and look after your health.
"When your efforts to eat well and exercise are grounded in that positivity, you'll empower yourself through fitness, and any physical aesthetic goals you're seeking will simply be a bonus," she said.
GETTING STARTED
Wells is all too familiar with many mothers' lack of energy for anything other than crawling into bed.
"It can be hard when you are a new mum and you are overwhelmed, tired, time-poor, and your body is healing," she said.
And that's not mentioning the "many changes during pregnancy and delivery, and regardless of your fitness level prior to or during pregnancy, you need to be sure you are attending to these changes," she added.
The fitness guru's antidote? The PWR Post-Pregnancy Programme that she launched in 2017.
"I felt there was a massive need for a programme that mums could do with a lack of time, with little or no equipment, from the comfort of their own home, and safely.
"There is no need to modify or wonder if the moves you are doing are safe," said Wells.
According to her, the most important areas for new mums to focus on are the core and pelvic floor, and regaining lost strength in these areas.
"Many women experience diastasis recti (abdominal separation) and doing traditional core work postpartum can prevent healing and exacerbate the problem," she said.
But it can be difficult to say when you are ready to exercise, according to Wells.
"Every woman and every pregnancy is different, so it is vital that women check with their healthcare professional before resuming any kind of exercise after giving birth," she said.
KELSEY WELLS' POST-PARTUM WORKOUT
Each of the exercises below begins with you lying on a yoga mat.
Bend your knees and position your feet firmly on the floor, hip-width apart and keep your spine in a neutral position. Rest your arms by your sides on the mat.
Perform the movement on alternate sides until you have done 10 repetitions per side.
HEEL SLIDES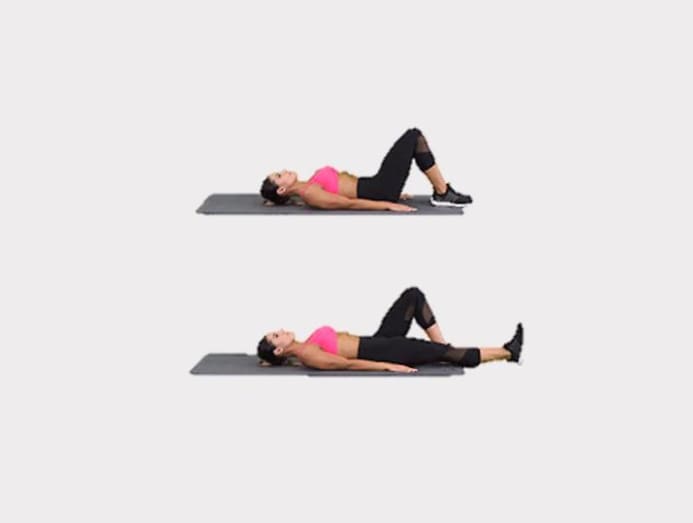 Inhale. Exhale and extend your right knee, sliding your heel along the mat.
Inhale and bend your right knee, sliding your right heel along the mat to return to the starting position.
Exhale and repeat with your left leg.
BENT-KNEE FALLOUT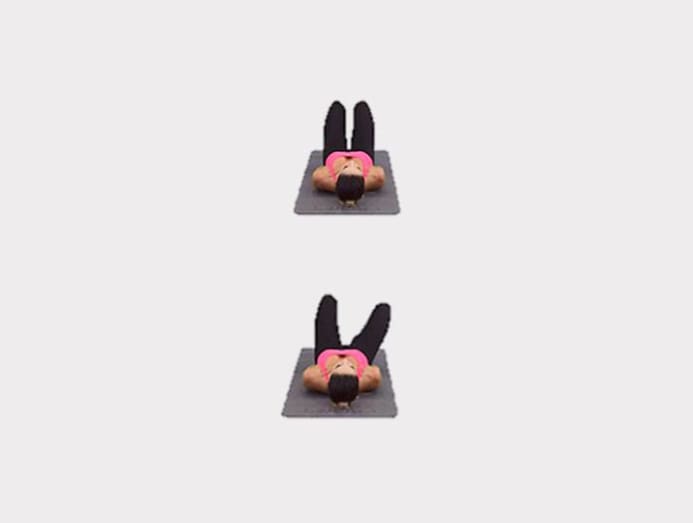 Inhale. Exhale and slowly lower your right knee outwards towards the floor as far as you can, keeping your pelvis and left leg still.
Inhale and raise your right knee to the starting position.
Exhale and repeat with your left leg.
FOOT LIFT
Inhale. Exhale and lift your right foot off the ground slightly.
Inhale and lower your right foot back to the starting position.
Exhale. Inhale and repeat with your left foot.
ARM PREPARATION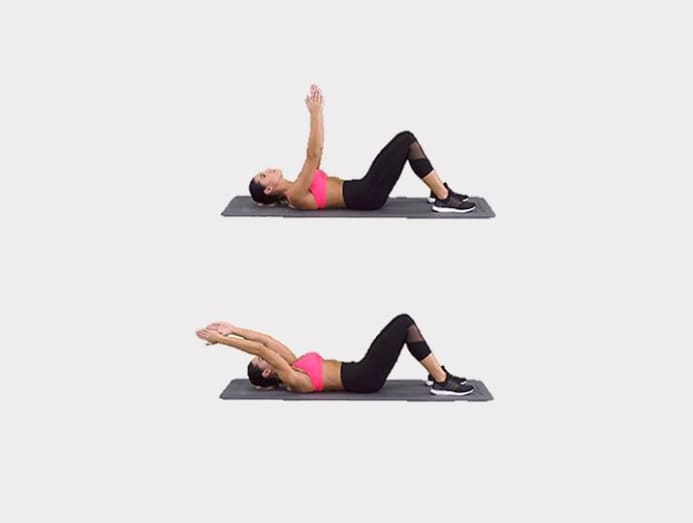 Extend your arms above your chest with your palms facing inwards. Draw your shoulder blades down and back.
Inhale. Exhale and bring your arms overhead as far as possible.
Inhale and bring your arms towards your chest to the starting position. Repeat 15 times.
FitnessFest by AIA is on Saturday, Apr 27, 9am at Marina Bay Sands. Tickets to the various workouts can be bought at fitnessfest.sg/tickets.