Planning your first virtual race? Tips on how to run some of it on the treadmill
Virtual races have now become popular among fitness enthusiasts. While doing it outdoors is always an option, sometimes, running the race at home or in the gym is just as effective – and it doesn't have to be boring.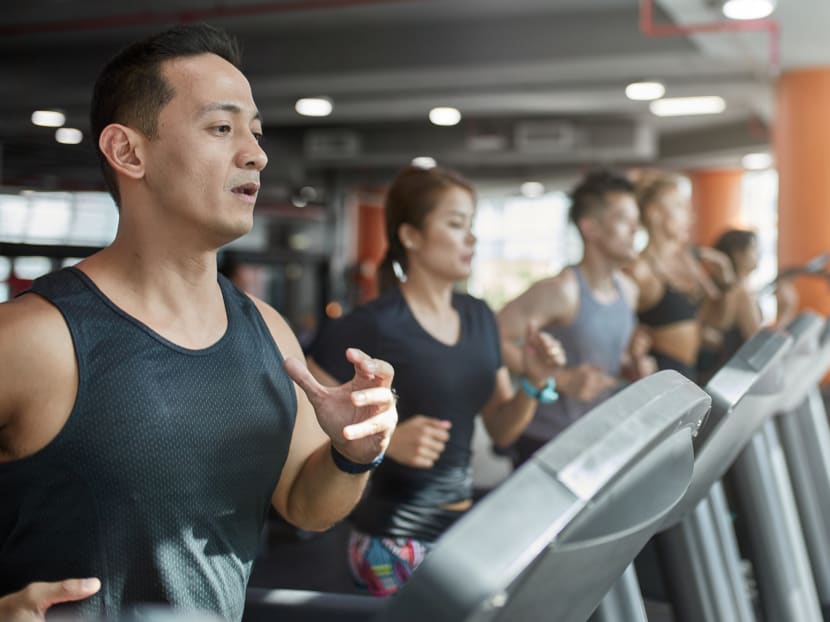 Just two years ago, no one would have thought running a race on the treadmill would be a thing. But like many aspects of life during the pandemic, races have also pivoted to be COVID-19-safe and have become virtual events.
What makes these competitions "virtual" is that you register online, complete the race in your own time and place, upload your results for verification and receive your finisher medal via mail. 
Yes, you can choose to run around your own neighbourhood or even on a treadmill as long as you can prove the distance covered within the stipulated period of time (cue: your GPS and distance-tracking app). You decide where and when to run – within the organisers' rules, of course.
That convenience can also make it less daunting for race newbies to sign up. There's no stress to get up before the sun rises on race day and get yourself to the start line. There's no pressure from seeing fast runners zip past you. You are familiar with the route and other fellow runners because it can be the same path you take when you go for your after-work evening run.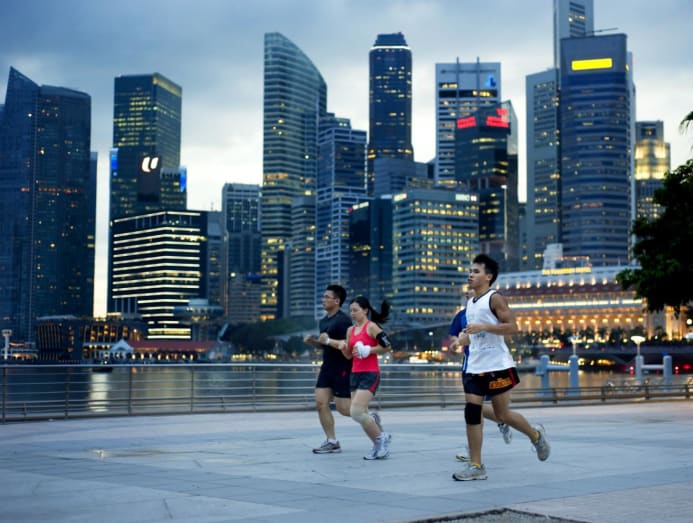 And there are a few virtual events to choose from. Coming up in December, there are the Great Eastern Women's Run, The Limitless Run, Run for Hope and the Rail Corridor Trail Run, to name a few. (Note: Some of these races have already closed their registration) Each race lets you support a different cause in addition to running different race distances.
Even the running event of the year, the Standard Chartered Singapore Marathon (yes, the details are finally in), is bringing back the virtual race format for the second straight year from Dec 1 to 12, as well as an in-person race for vaccinated runners on Dec 4 and 5 at The Float @ Marina Bay.
GETTING ON THE HUMAN HAMSTER WHEEL
Since you can technically complete the race indoors on a treadmill, you aren't limited by the usual obstacles.
Sure, nothing beats the outdoor air and breeze but "when it's raining heavily, when it's too hot at lunchtime, or when the air quality is bad", the treadmill can help you to clock in those kilometres, said Andrew Cheong, the head coach and founder of running club SSTAR.fitness.
But if you are planning to run a virtual race and thinking of doing it partially on the treadmill, hold your horses first.
You're likely to have questions; for instance, how many sessions should you break the race into? Is it considered cheating if you lower the gradient of the treadmill to help you last longer? And the most common question: How do you beat the monotony of a never-changing scenery?
Here are some pointers to get you up to speed before you step up onto the moving belt.
FIRST OF ALL, DO I REPLICATE MY OUTDOOR PACING ON THE TREADMILL? WHAT ABOUT THE GRADIENT?
Don't try to match your outdoor pacing, advised Laura Norris, a US-based certified running coach, who began her passion for running on a university gym treadmill. The lack of a changing scenery and other feedback such as wind resistance means that your brain can't accurately replicate the pacing anyway. Instead, focus on effort, she wrote on her blog.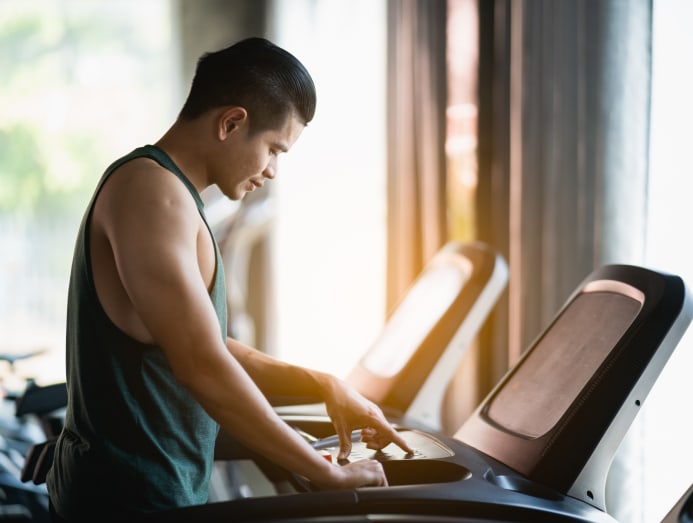 Cheong suggested basing the effort on the rate of perceived exertion (RPE) scale from one to 10. If you're a complete newbie, start with a brisk-walking pace, then increase to a comfortable running pace where conversation is possible. "Once you are used to that, increase the speed further to a moderately hard effort," he said, or level six out of 10.
"A treadmill run can be as short as 15 minutes, but once sufficient stamina is built up, running up to two hours on the treadmill, even for a relatively new runner, is possible," said Cheong.
You'd think that a completely flat belt would be best but it's not. According to Cheong, treadmills should be inclined at 0.5 per cent to 1 per cent to mimic the way you run outdoors.
Varying the gradient during training can also keep boredom out and strengthen you up. "A strong runner is a fast runner," wrote Norris. Opt for treadmill programmes such as long climbs, rolling hills or hill repeats of varying lengths, she suggested.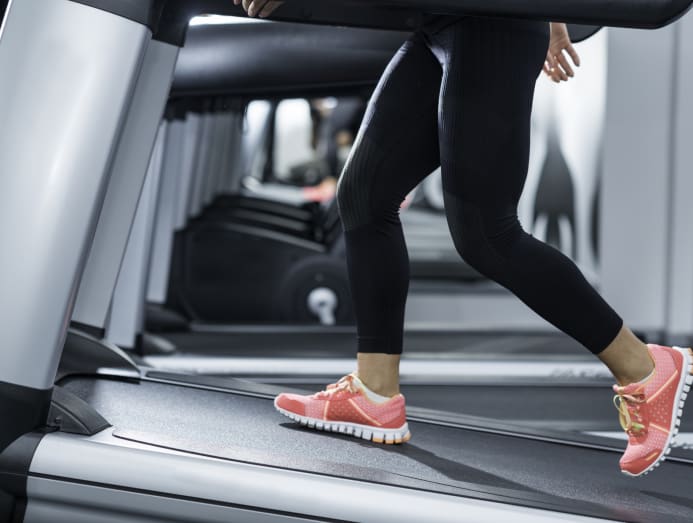 SOME RACES HAVE A LIMIT ON THE NUMBER OF SESSIONS WE CAN BREAK THE DISTANCE DOWN INTO. BUT WHAT IF THERE ISN'T A CAP? HOW DO WE DECIDE HOW MANY SESSIONS TO DO?
There is no hard and fast rule, said Cheong, as it depends on your training and goal. For instance, do you want to complete a 50km virtual run by doing 10 sessions of 5km each, or push yourself and earn the bragging right of running 50km non-stop, he asked.
Generally, if it's within the race rules to spread out the mileage over a period of time, most people will break the distance into one long session, followed by a few short ones, he said. "Making the first session the longest is a better approach as it is harder to run on tired legs after doing the first session," he said. For instance, to complete a 42k marathon, do a 21km distance, then split the rest into two 10.5km sessions.
However, there are some events that require you to complete the entire race in one session, highlighted Cheong. These are typically short distances covering 2.4km or 5km, so be sure to check the criteria carefully before registering.
HOW DO I DECIDE WHICH SESSIONS TO RUN OUTDOORS OR ON THE TREADMILL?
Schedule your longest or high-priority run outdoors, advised Norris. Do it on the weekend as it is usually less encumbered by work and family duties.
For training, the weekend is also the time for longer runs. "For 10K and 5K runners, this workout may be a speed workout or tempo run," she wrote. However, Norris cautioned against scheduling a long run and a hard workout such as intervals or a tempo run on consecutive days as it hinders recovery.
WHAT CONSTITUTES CHEATING IN VIRTUAL RACES?
With technology such as GPS and distance-tracking apps, it's not easy to get away with duplicitous information on your distance and pacing. Still, it is difficult for the organisers to find out if someone has paused multiple times during a session, leisurely cycled the distance instead of running it, or asked a friend to take over.
"If pausing the watch mid-way during a treadmill virtual race is considered cheating, then would a non-stop run be the preferred approach?" said Cheong. "If that's the case, to last longer, set the incline to zero per cent, run at a pace that you are comfortable with, and be prepared to slow it down if necessary."
IT CAN BE SO BORING RUNNING ON THE TREADMILL. HOW DO I KEEP MYSELF GOING?
There are some mental strength techniques you can use, said Cheong. "One of the most effective is disassociation, that is, distract yourself from the discomfort or pain caused by the run." By that, he meant listening to music, an audio book or podcast. Do up a playlist or cue up your favourite YouTube videos ahead of time to keep you company for an hour or so.
If your machine has a console or you have a TV nearby, put on a video that has virtual courses or real marathon races, recommended the Wired Runner website.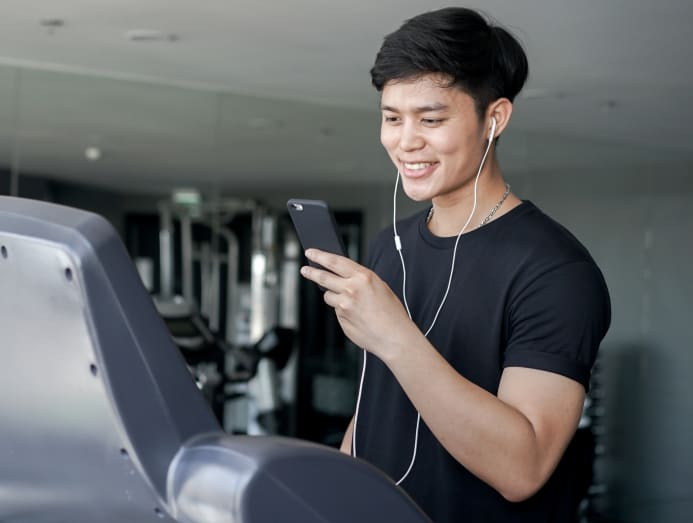 If you have a friend or friends who are racing next to you, even better. You can keep each other motivated.
Running buddies not there with you physically? The Wired Runner website suggested calling them up for a quick chat and motivation boost. Or Zoom with a friend who's also racing virtually in a different location. You may be more out of breath but you can catch it back after you hang up.
Alternatively, switch up the speed and gradient of the treadmill to vary your pacing and give certain muscles a break, said Norris.
I HAD A LONG DAY'S WORK AND I'M MENTALLY NOT GOOD FOR A RUN. HOW DO I MOTIVATE MYSELF TO JUMP ON THE TREADMILL AND GO?
It may be easier said than done but focus on the present and not what transpired at work, advised Cheong. "By actively practising putting yourself in the current moment, it will make it easier for you to achieve this over time."
To help ground you in the moment, have two clearly defined training goals for every run that you do: A challenging "A" goal and an achievable "B" goal, said Cheong.
To help you further, he said, "zoom in on the short-term immediate goal like covering a defined distance (for example, 8km) in a specific time or pace (for instance, 6min/km)".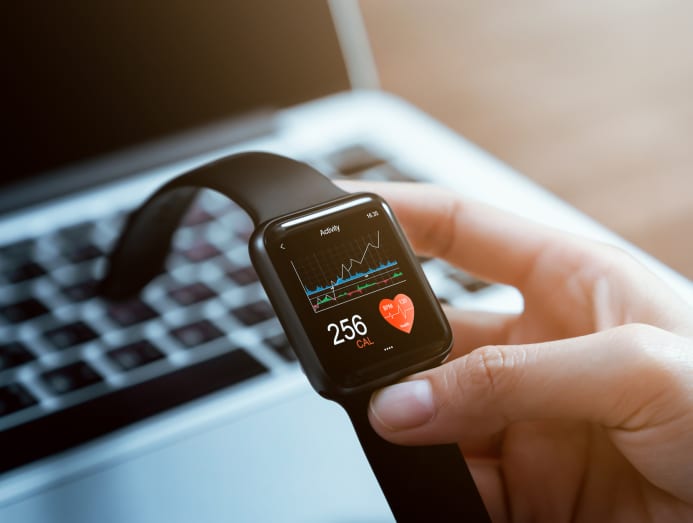 But take a break from running if you're unwell and have signs such as headaches, sore throat or a fever, advised Cheong. "Don't run if you have an injury, and stop if the injured area gets progressively worse as you run.
"Another thing to avoid is over-training," said Cheong, and that is done by check your resting heart rate first thing in the morning. "Take note of what that is. On days that your resting heart rate is seven to 10 beats higher than usual, it's a sign that your body is physically not rested enough for another hard training session."