Cooking tips: How to make canned food and instant noodles more nutritious
Fresh food is the best but canned food and instant noodles can have their merits in a pinch, especially if ordering in is burning a hole in your pocket.
If you haven't been donning your mask and heading to the supermarket lately, chances are, you're already dipping into that stash of canned food – and that's perfectly fine.
Although fresh meat, vegetables and fruits are the best, tinned sustenance isn't completely devoid of nutrients either.
"Canned fish like tuna and salmon are high in lean protein and zinc," said Jaclyn Reutens, a dietitian and founder of Aptima Nutrition & Sports Consultants. "Canned beans such as chickpeas, black beans, kidney beans, lentils are all high in fibre, especially soluble fibre, as well as minerals such as magnesium, zinc and potassium."
However, don't take this as the green light to fry up luncheon meat fries every chance you get, or open up a can of chicken curry or stewed pork for every meal. Not unless you want to preserve your insides.
"Salt and sugar are the main preservatives. Sodium nitrite is usually used in canned meats to preserve its colour," said Reutens. "Other additives such as food stabilisers and flavour enhancers are also used to maintain the shelf life".
If you're considering adding some canned food to your meals occasionally, there are ways to make them healthier – and we don't mean adding a handful of chopped spring onion into your instant noodles. 
Reutens shares some ideas on how you can jazz up the nutritional values of your favourite instant noodles and canned food with frozen food and other canned food.
INSTANT NOODLES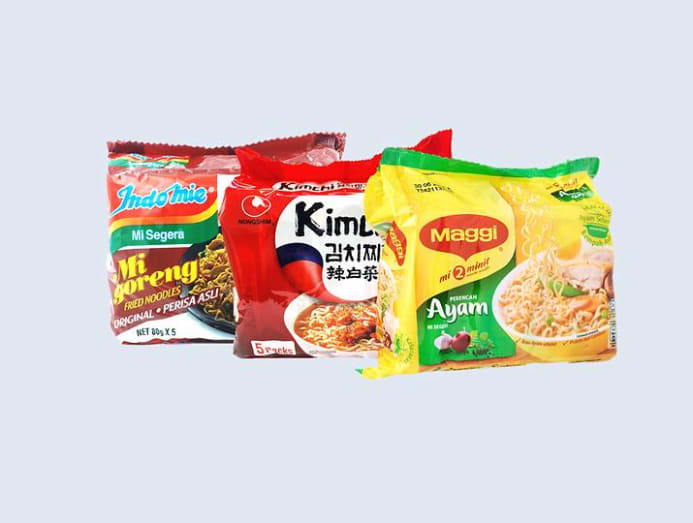 Most people would just crack an egg into their instant noodle soup and call it a meal. But you can do better. For instance, you can add frozen chicken fillets and frozen broccoli into the saucepan (not cup noodles) for a boost of lean protein, Vitamin A, zinc, iron and folate. 
And since you have time at home, other ingredients to try include frozen prawns, frozen spinach as well as canned items such as black beans and button mushrooms for added selenium, folate, zinc, potassium and fibre.
What about instant spicy or kimchi ramen? Instead of topping it with a slice of cheese, try these combos in the saucepan (again, not for cup noodles) to jazz up the flavours and nutritional values:
Frozen pork slices or minced pork and canned straw mushrooms for B vitamins, protein, zinc and fibre
Canned tuna in springwater (drained) and rehydrated dried shiitake mushrooms for protein, zinc, selenium, Vitamin B12 and fibre
Frozen edamame (de-shelled) and frozen carrots for phytoestrogens, beta-carotene and fibre.
As for Indomie or any dry instant noodle fans, you can add more than just the accompanying black sauce:
Add stir-fried canned tuna in olive oil with frozen mixed vegetables for omega-3 fatty acids, B vitamins, Vitamins C and D, and fibre.
Add stir-fried frozen minced beef and frozen green beans for iron, folate, magnesium and fibre.
Boil and drain canned kidney beans and frozen cauliflower for fibre, protein, potassium and folate; then add to the noodles.
To make it even healthier: Choose instant noodles with lower sodium seasoning. Good to also opt for noodles made from whole grains or non-fried noodles to reduce fat intake.  
LUNCHEON MEAT AND CORNED BEEF
Chop up that hunk of luncheon meat or corned beef, and stir-fry with corn kernels or frozen corn nibblets for a hit of Vitamins A and B6, niacin and fibre. Or you can stir-fry the meat with frozen peas for Vitamins A and C, folate, manganese and fibre. 
Either way, you'll only need pepper for seasoning as luncheon meat and corned beef already have copious amounts of sodium. Serve the stir-fry with warmed-up frozen chapatti (it's low in fat and carbs) for a snack or meal.
To make a pasta sauce, dice up the meat and cook it with canned tomato paste, frozen mixed vegetables. The vegetables will add Vitamins A and C, potassium, lycopene and fibre.
To make it even healthier: Luncheon meat, corned beef, stewed pork, chicken curry and other canned meats are usually made with fattier cuts of meat, and are very high in saturated fat and sodium – so limit them to once a week. Whenever possible, look for versions with reduced sodium, fat and preservatives.
CHICKEN CURRY AND CHICKEN RENDANG
Add canned chickpeas for fibre, protein and potassium to balance out the high-sodium content of the curry and rendang. Vaccum-packed tau kwa is another ingredient to consider for lean protein, along with frozen carrots and French beans for fibre, potassium and Vitamin A.
To make it even healthier: See luncheon meat tips.
SARDINES
Instead of the usual chopped onion, frozen vegetables are also the perfect accompaniment to canned sardines. You could do a stir-fry with frozen vegetables such as carrots (beta-carotene and fibre), de-shelled edamame (phytoestrogens and soluble fibre) and broccoli (folate, cancer-fighting sulphoraphane and bone-protecting manganese) for a complete dish.
To make it even healthier: Pour away the liquid as most of the sodium is found there. If you can, opt for fish canned in water or olive oil instead as you can discard the liquid easier and rinse it in water for good measure.
TUNA
Other than tuna sandwiches, there are other ways to use canned tuna such as cooking it with canned tomatoes or bottled pasta sauces as well as frozen mixed vegetables for a delicious and nutritionally balanced pasta sauce.
If you're tired of pasta, tuna can also be stir-fried with frozen vegetables such as asparagus, Brussels sprouts or spinach for B vitamins, fibre and iron. Add canned kidney beans and you'll get extra protein and fibre.
To make it even healthier: See sardines in tomato sauce tips. For those with hypertension, remove the brine as much as possible. Include frozen vegetables and frozen fruit such as strawberries and blueberries in your meal as the potassium in them helps to balance out the adverse effects of sodium.
PORK KNUCKLE WITH MUSHROOM AND BRAISED PORK BELLY
Most people use these canned meats in fried beehoon. But you can also convert the meat into a main dish by combining it with canned or dried mushrooms (Vitamin B12, potassium and selenium), canned bamboo shoots (Vitamin B6 and potassium), canned peanuts (magnesium and B vitamins) or canned black beans (soluble fibre, zinc and mangnesium). These ingredients can also add more flavours to your favourite canned pork dish.
To make it even healthier: See luncheon meat tips. Like all processed meat, it also contains the preservative sodium nitrite, which has been linked to cancer. 
VEGETABLES SUCH AS MUSHROOMS AND BAMBOO SHOOTS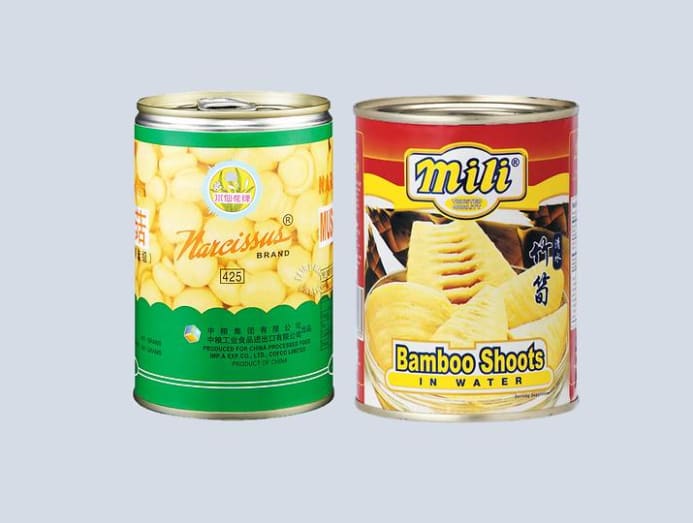 Out of fresh or even frozen vegetables? Canned vegetables aren't too shabby when combined with seafood. For instance, steam or pan-fry frozen barramundi, salmon or cod fillets with bamboo shoots and mushrooms for a lean source of protein, omega-3 fatty acid and zinc. Bamboo shoots and mushrooms are also delicious – while adding a hit of iron and protein – when stir-fried with frozen prawns or scallops.
To make it even healthier: There are "no added sodium" or "low sodium" varieties of canned food out there, too. Check the labels.
BEANS SUCH AS BAKED BEANS, KIDNEY BEANS AND CHICKPEAS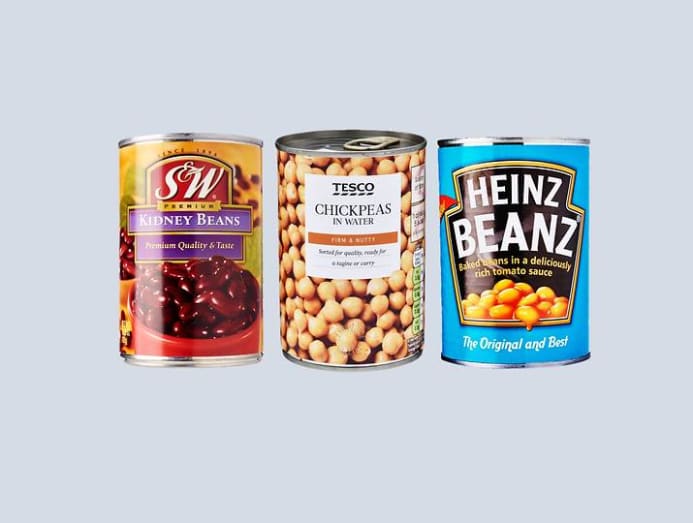 Beans such as kidney beans or chickpeas are great when added to canned vegetable broths to make a richer vegetable stew. You can take it up a notch by including other canned vegetables such as mushrooms and corn. Frozen vegetables such as cauliflower and carrots are other good options to include for a hearty soup.
As for baked beans, they are great on baguettes or multigrain bagels for a protein-packed breakfast – suitable for vegetarians, too.
To make it even healthier: See vegetables tips.