How to manage loneliness when you're living alone in a pandemic situation
Stay-home orders have hit those who live alone particularly hard. Here's what could be done to help.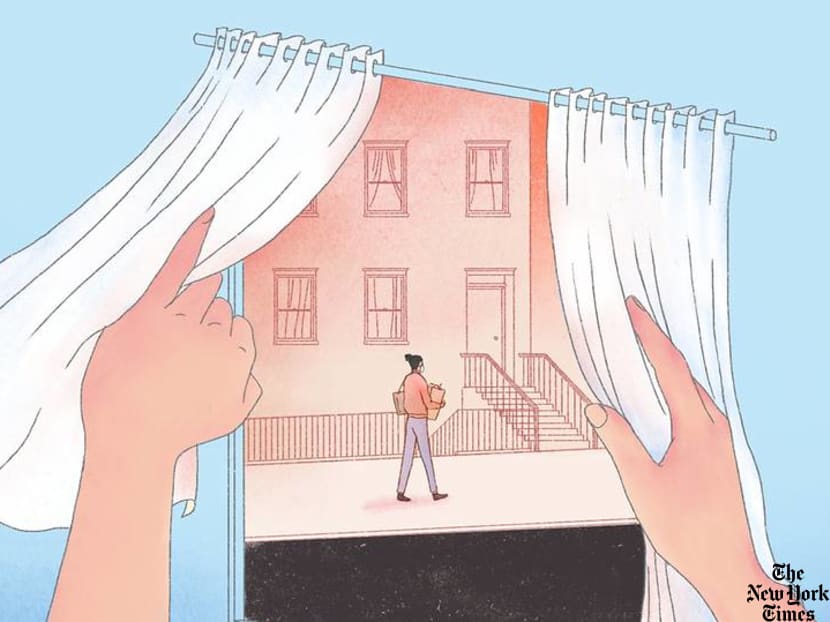 Afia Ofori-Mensa, 39, has lived alone for 16 years. For nine of those years she taught at Oberlin College in rural Ohio, where she had a limited social network.
Last August, she moved to New Jersey to become director of Princeton University's presidential scholars programme – which provides resources to help undergraduates, including those from populations underrepresented in academia, pursue PhDs.
She said she was finally hitting her social stride, reconnecting with Oberlin alumni and family members in the area and routinely hopping on the train to attend events in neighboring cities.
But then, COVID-19 hit and it brought her feelings of isolation into sharp focus.
"The moments that are most difficult are when I think about not knowing when I'll be able to touch another human being again," she said.
As someone with no pets, no partner – not even a plant – she said she felt profoundly lonely. "Sometimes I feel like I'm disappearing," she said.
Julianne Holt-Lunstad, a professor of psychology and neuroscience at Brigham Young University who has studied loneliness extensively, says social connection is something we biologically crave.
"We're social beings and our bodies respond when we lack the proximity to others," she said. So the new normal prompted by COVID-19 "is a difficult kind of situation where we need to try to still remain socially connected while being physically distant," she said.
Dr Holt-Lunstad has found that loneliness can lead to serious consequences. One of her studies found that lacking any social connection may be comparable to smoking up to 15 cigarettes per day as a risk factor for mortality.
Another study found that loneliness increases the risk of an earlier death by 26 per cent. She also found that social isolation, loneliness and living alone exceed the risks of death associated with obesity, physical activity and air pollution.
Susan Pinker, a psychologist and author of The Village Effect, said that loneliness is a subjective feeling of being alone against your will.
She said that you can be alone and not be lonely or you can be lonely even if you're surrounded by people. It's "a feeling of being excluded and of existential angst," she said.
The situation is particularly serious, given that many Americans had been lonely even before the COVID-19 pandemic hit.
According to a January 2020 survey of 10,000 Americans ages 18 and over conducted by Cigna, 61 per cent of adults – three in five – reported they are lonely.
That number is up seven percentage points from 2018. With Americans more physically isolated now because of COVID-19 stay-at-home orders, the sense of loneliness is even greater, said Dr Doug Nemecek, Cigna's chief medical officer for behavioural health.
Cigna's study indicated that major factors corresponding with loneliness were a lack of social support and too few meaningful social interactions; it also found those who telecommute are more lonely than those who work in an office.
"Because of COVID-19, this is impacting many more of us. We're socially distanced. We can't interact with friends or neighbours.
We can't visit elderly parents who are in nursing homes," he said. "All of this has the potential of impacting how we feel from social connection and loneliness."
The Cigna study indicated that 79 per cent of those aged 18 to 22 considered themselves lonely. Among this group, heavy social media users were more likely to say they're feeling lonely, Dr Nemecek said, "so leveraging social media in the right way to make and maintain meaningful connections with someone else is very important."
For example, he said it's likely to be more beneficial to have a video chat instead of just reading the news on social media or scrolling through Twitter posts.
There can be a greater risk of depression among those who have no social contact or social support, said Lisa Cox, a licensed clinical social worker and professor of social work and gerontology at Stockton University.
But she says if those individuals exercise self-care, they can fare well. This includes participating in online support groups, yoga and stretching, keeping a gratitude journal, practicing mindfulness and immersing yourself in creative endeavours like drawing and listening to music.
Dr Cox acknowledged that it can be difficult to exert the energy to try new things when you're lonely, but said it's worth giving it a try.
Dr Pinker said video chats are the next best thing to being there – anything that mimics the reciprocity of real interactions, or where you're all "paying attention to the same thing at the same time."
It's an ideal time to pick up the phone and check in with friends and family with whom you've lost contact, she said.
And just getting out and taking a walk around the block can help replicate the routine of your day as you once headed to work or a coffee shop, creating the opportunity to "see people in a casual way," Dr Pinker said.
Both she and Dr Cox say apps like Houseparty, which allows you to participate virtually in activities like games with friends or Netflix Party, where you can watch movies with friends who aren't with you, can provide a means of social connection.
This time can be particularly challenging for older adults. A 2020 report by the National Academies of Sciences, Engineering and Medicine found that nearly half of adults ages 60 and older report feeling lonely.
Lisa Marsh Ryerson, president of the AARP Foundation, cites AARP findings that over 42 million Americans – a third of the population age 45 and older – were lonely before COVID-19 hit and says those numbers are on the rise in the current situation.
She suggests that older adults prepare a "Friendventory", a list that begins with an inner circle of friends and neighbours and expands to include former work colleagues and classmates. "It's hard for people to take the first step, but it's important to reach out," she said.
She also suggests that everyone else call at least one older adult each day who may be at risk for loneliness to ask how they're doing and listen to their response.
Perhaps you can also help by offering to talk them through setting up virtual chats with their friends and family.
Dr Ofori-Mensa has started pushing herself to address her feelings of loneliness during this challenging time by connecting more to her surroundings.
She's begun to actively listen to her downstairs neighbour's recordings of classical and jazz piano music that he plays in the evenings.
Another neighbour has been cooking with garlic more often. "And I like to pause in the hallway and take a deep breath every time I go out for a walk."
Daily walks allow her to share space with other people, even if only from a distance.
"In the absence of being able to touch anyone, I've become so much more aware of other sensory details that remind me that I'm not alone."
By Julie Halpert © The New York Times
This article originally appeared in The New York Times.
https://www.nytimes.com/2020/04/20/smarter-living/how-to-manage-your-loneliness.html