Free kiss or a S$6,900 spa bath? How to beat stress according to your budget
From "forest bathing" to cat cafes and seeing a life coach, CNA Lifestyle lists the ways to feel better.
The weekend's over and another hectic week at work beckons. If you've been having trouble sleeping, getting the occasional migraine, or simply feeling tired and skittish in the office, that's stress getting to you.
And you're not alone – a recent study has revealed 60 per cent of employees in Singapore admitted to having above average or high levels of stress.
So, how does one cope with it? Different people take to different things: Like going to the gym, practising meditation or – our favourite – getting a massage.
But there's actually a whole range of ways to relieve different levels of stress – some of which you could do easily and others which you would need to fork out a bit more. Here's a list of ways to relieve stress according to budget.

1. TAKE DEEP BREATHS: FREE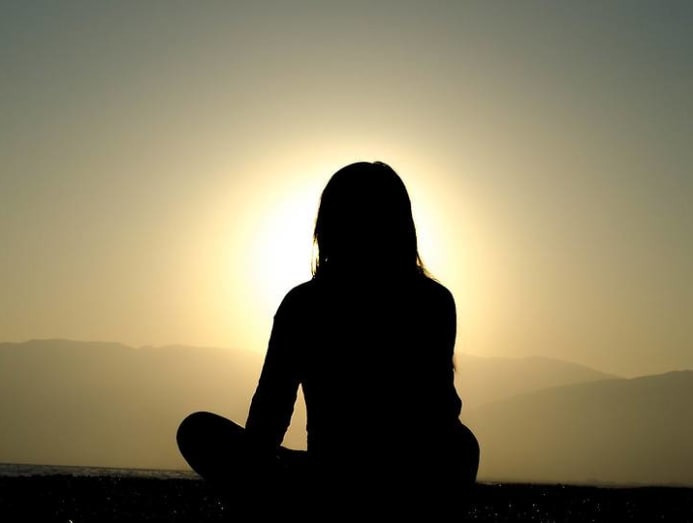 Breathing properly isn't just for yoga practitioners. In fact, it's the easiest way to calm down – and all you need is 10 minutes and quiet place for these two basic exercises.
The easiest one is to inhale and hold for four counts before exhaling for another four – all through your nose. A slightly more advanced one is abdominal breathing. Put your hands on your chest and belly, take a deep breath through the nose while making sure it's your diaphragm expanding not the chest. Do six to 10 breaths per minute for 10 minutes each day.
2. TAKE A WALK IN NATURE: FREE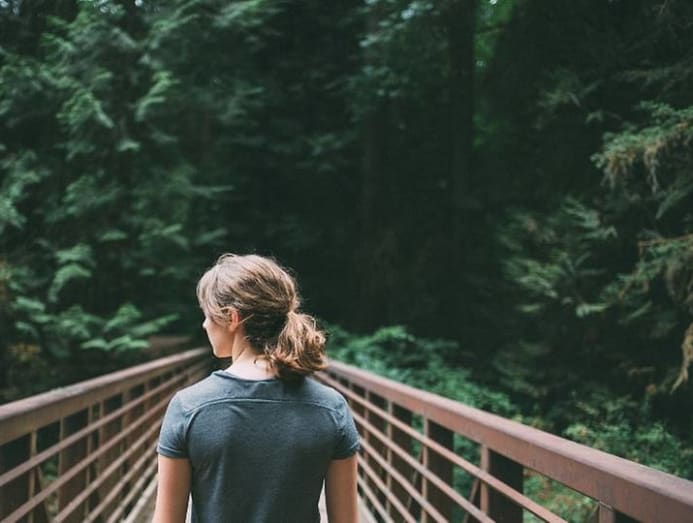 There's a fancy term for walking around MacRitchie Reservoir – it's called "forest bathing".
An activity that began in Japan in the 1980s, shinrin-yoku is a form of nature therapy that is slowly catching on in Europe and America – and for good reason. It's been proven to lower heart rate and blood pressure, boost the immune system, and reduce the production of cortisol, aka stress hormones. It doesn't actually have to be a forest – as long as there are lots of trees and greenery, like the Botanic Gardens or Tampines Eco Park.
3. KISS SOMEONE: FREE (OR S$1.90 FOR BREATH MINTS)
Pucker up because smooching is good for you. When those lips touch, your brain explodes with chemicals that give you that euphoric high – oxytocin, dopamine and serotonin. It also lowers your cortisol (stress hormone) levels to calm you down. Just make sure your partner is willing. And pop a mint first. (Note: Air-kissing does not apply.)
4. SQUEEZE A STRESS BALL: S$4.99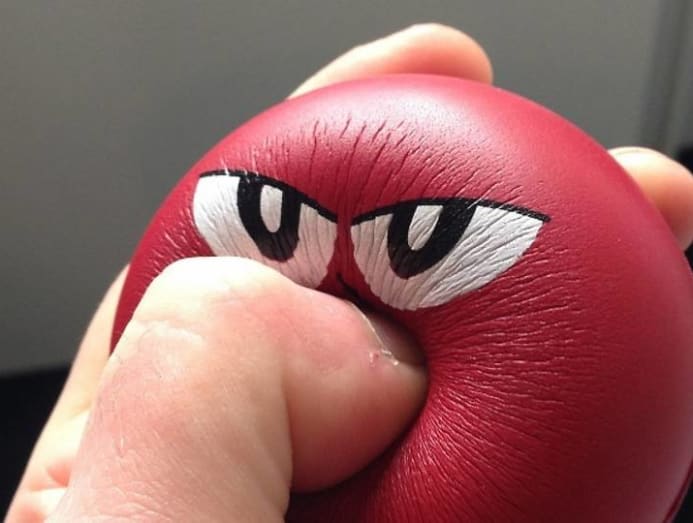 The next time you want to strangle someone with your bare hands at work, reach out for a stress ball instead. Being stressed means your body is all wound up and all that energy has nowhere to go, according stress expert Dr David Posen. Squeezing the life out of that small thing helps release a bit of that. It's not a long-term solution, however, but if you're this close to exploding…
5. GET A COLOURING BOOK: S$8 AND UP
Colouring books for adults was a popular wellness trend a couple of years ago, but we think it still works. While not exactly art therapy, there has been research done on the effects of colouring on one's mental wellbeing. 
According to NYU professor and art therapist Marygrace Berberian, it has the potential to reduce anxiety, make one focus and bring about mindfulness. In research done in 2005, anxiety levels dropped when someone coloured mandala patterns (doodling had no effect, though). Alternatively, you can download some apps to use on your smartphones or tablets.
6. BUY A PLANT: S$10.90 AND UP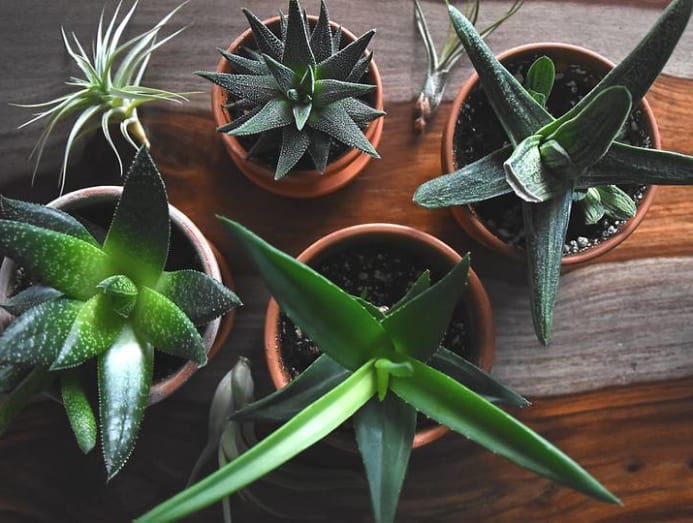 Not the outdoor-type? Don't worry, simply buy a potted plant. They'll not just make your place look nice enough for you to come home to, but some actually help maintain the air quality and reduce the toxins in the air. Some of your best bets include aloe vera, mother-in-law's tongue (or snake planta) and spider plant. 
Two that actually get a huge thumbs up from NASA itself when it comes air-filtering are the bamboo palm plant and the humble English ivy. And the best thing about these? You can just drop by any Far East Flora or Ikea to get one. Or a few.
7. BINGE ON NETFLIX: S$ $10.98 to $16.98 (A MONTH)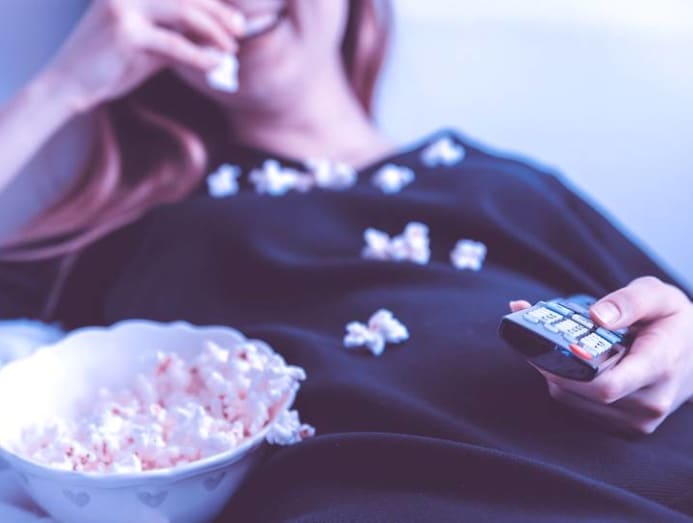 "Netflix and chill" may mean something else entirely but you can literally do that. Spending your time binging on shows might not be good for your eyes but it could be good for your cortisol levels. A study released last year revealed watching TV has the potential to lower women's "stress hormone" levels. 
The possible reason is that it's such a passive activity and we watch knowing we want to enjoy. Another study, meanwhile, added that watching re-runs can actually energise you. So yes, the next time you come to work with eyebags after a full-on Orange Is The New Black marathon, know that it was all for a good cause.
8. HANG OUT AT A CAT CAFE: S$12 to S$15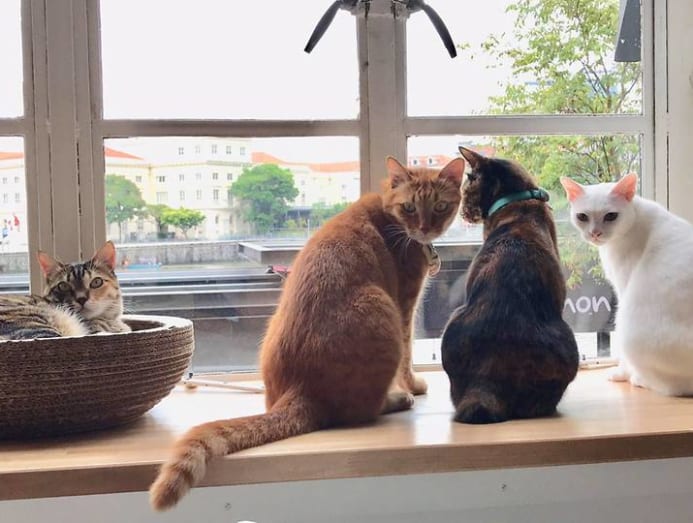 Cuddling up to your furry pet always works, and the health benefits of having one is well-known.
If you don't have one, visit a cat cafe like, say Neko No Niwa or The Cat Cafe. The former, located at Boat Quay, is Singapore's first cat cafe and charges S$12 for the first hour (S$32 gets you a whole day pass, with free hot chocolate if you're a student). Meanwhile, The Cat Cafe at Bugis is S$15 per entry, with a complimentary soft drink. At these places, you can chill out with some of the cutest adopted and re-home strays to your heart's content. Just remember to follow the rules – you can't force these fabulous felines to do anything.
A (free) alternative would be to volunteer your time at animal shelters – it's a win-win situation for both you and your new four-legged friends.

9. EAT ICE CREAM: S$14.45 FOR A TUB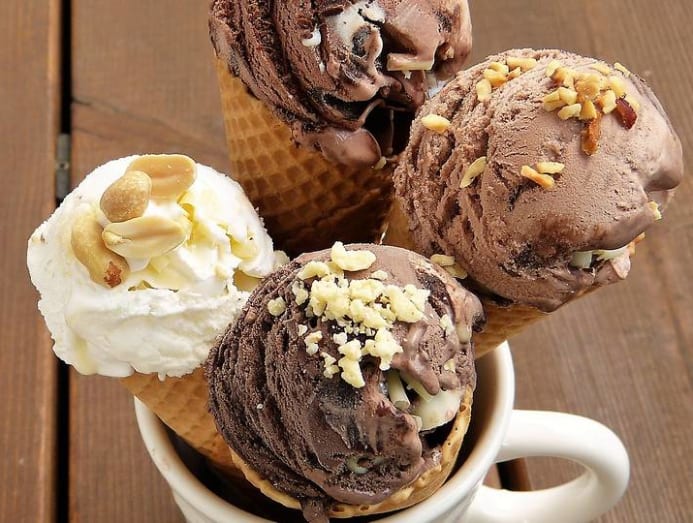 We're not advocating stress eating – but that Chocolate Fudge Brownie is just so damn tempting. As long as you don't binge, ice cream does make you temporarily happier, increasing the amount of serotonin, or feel-good hormone, in your brains.
If you want something healthier, dark chocolate always works – it contains phenylethylamine, which is similar to endorphins. Fruits like bananas and oranges are good too – the former's potassium-rich content regulates blood pressure, while the latter helps restores your cortisol levels (which affects your immune system) – which spikes when your stressed.
10. SMASH THINGS AT WILL: S$38 to S$350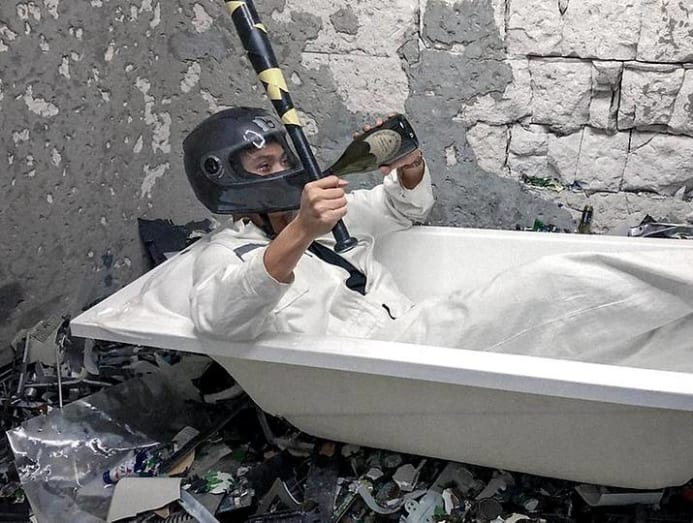 Sometimes, there's no better satisfaction than picking up something and hurling it against a wall. But rather than go berserk at the office or at home – or take it out on your phone, laptop or hapless officemate – there's The Fragment Room at Balestier Road. 
At this "rage room", you can channel your inner Hulk in peace – S$38 gets you a baseball bat, a create of breakables and half an hour to smash, smash and smash even more. Not enough? You can break as many things as you want for an entire hour for S$350 with the, ahem, Annihilation package. For S$75 you can tag-team with an equally stressed out friend for half an hour.

11. USE A FLOTATION POD: S$90 to S$450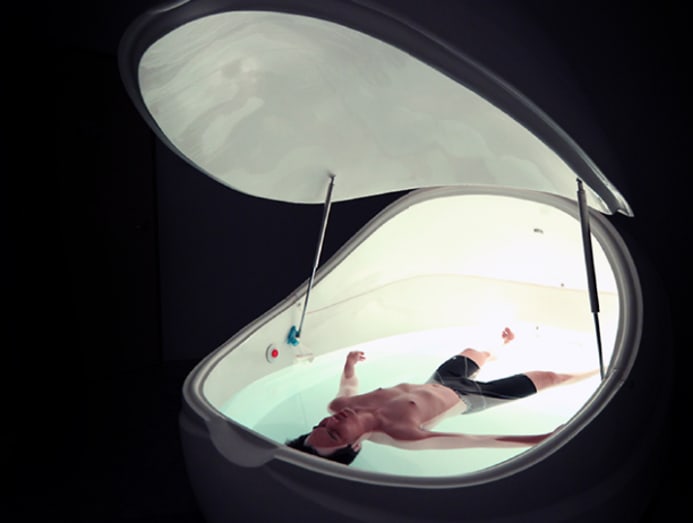 Flotation pods have been around for a long time and the past couple of years have seen it gaining traction in stressful Singapore, which is no surprise given how it's the perfect way to get away from it all, assuming you're not claustrophobic.
How does it work? You get into this futuristic-looking contraption filled with Epsom-salt water, close the hatch and float in complete silence and darkness, with no care in the world. Palm Ave Float Club at Kampong Bugis offers an hour-long session at S$90, and there's also a S$450 package for six 90-minute sessions, which you can split with a friend. Creative industry folks and athletes swear by its effects (apparently Wayne Rooney owns a pod and Stephen Curry uses it regularly too).
If you want something more, there's a two-hour Airbnb experience called Sanctuary Retreat that combines a float session at the venue, with a guided sound meditation right after. The whole thing costs S$145 and you get a free downloadable album too.

12. TALK TO A LIFE COACH: S$660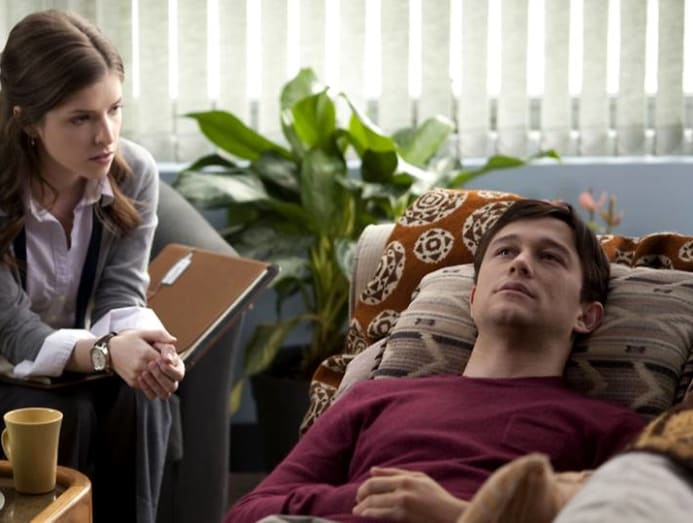 All that ice cream, floating, potted plants and cats not doing it for you? Try talking to an expert. Going to a counsellor or therapist might sound like overkill but sometimes, stress can lead to even bigger problems.
Stress.sg, for instance, offers a couple of courses to help you relax and get some sleep. There are two types of relaxation – physical and mental, said counsellor and therapist Chris Tan. Often, some "remedies" offer a temporary fix of one aspect but not the other. 
"You go to the gym and you relax physically but your mind can still be stressed. Or people go to the movies and they feel mentally relaxed but the body is still stressed."
To fix both, you can consider either the Stress Buster and Perfect Sleep courses. Both are priced at S$660 for three two-hour private sessions, where Tan lays down the skills you need. That said, these are for dealing with "light levels" of stress. To deal with bigger issues like anxiety and depression, you may need the help of a psychologist or psychiatrist. 
Tan also offers life coaching as "a way to continuously have a connection with someone you can trust and talk to for advice". These 45-minute sessions (at S$150 each) take place every two weeks. His clients often come in sessions of five to 10.

13. TAKE AN EVIAN BATH: S$6,900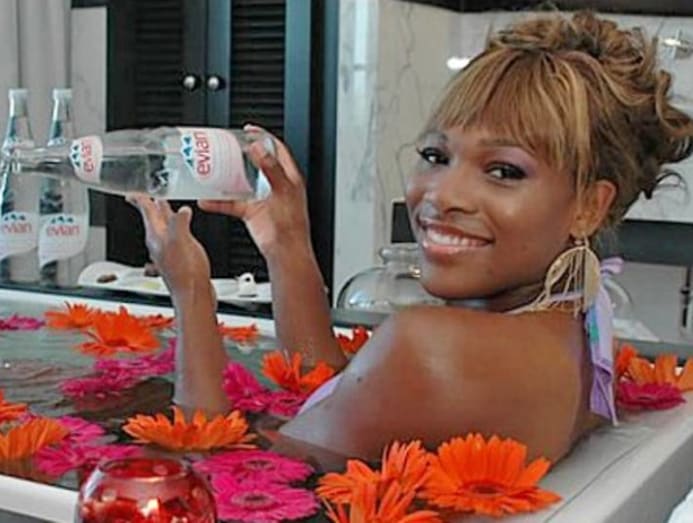 Ok, we're just putting this here because we found this rather amusing. There are a few ways to de-stress in the most insanely luxurious ways possible – caviar facial anyone? – but we think this takes the cake. Hotel Victor in Miami Beach, Florida, lets you soak in a bathtub filled with 1,000 litres of Evian spring water straight from the springs of the French Alps – all while the hotel staff fawn over you, and an assortment of indulgent treats within arm's reach.