Is the pandemic making you anti-social? How to ease into the outside world again
Wondered if your social skills have turned rusty and you've turned into a recluse after months of staying at home? It's perfectly normal – and all you need is time to readjust.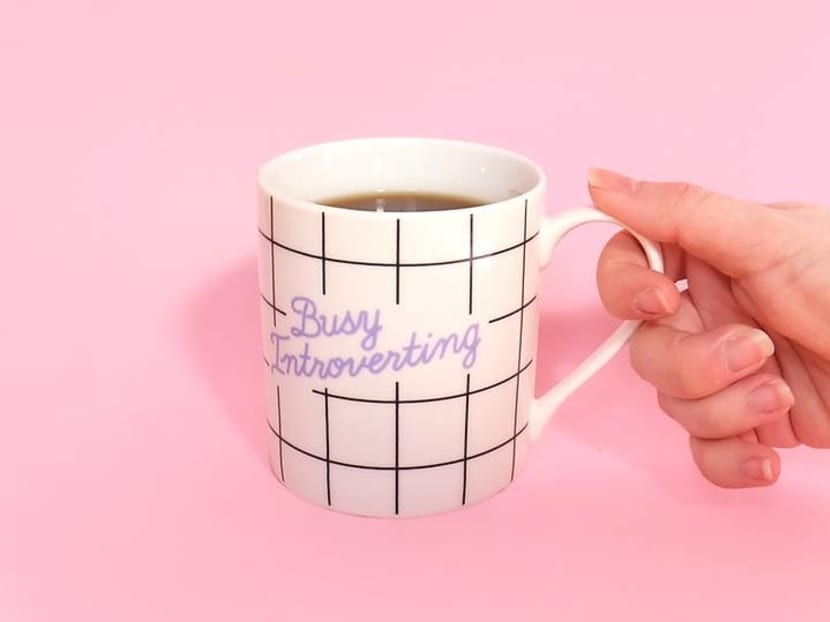 Jun 18 will go down in Singapore history as the day we could finally dine out, visit family, shop and exercise in gyms – with safe-distancing measures in place, of course. 
As someone who dreads the words "let's meet up", but is also looking forward to some human interaction, I started Phase 2 with both trepidation and relief. For introverts like me, I worried if my bubble of Netflix, cooking and tending to my plants would be burst by social obligations. 
At the same time, things were starting to feel amiss. I still work from home after the circuit breaker (CB) period ended but I was craving interaction like an office lady needing her afternoon bubble tea. 
So I struck up conversations with the neighbourhood zi char uncle and drinks stall auntie. I chatted a little longer than my usual "makan already?" when I see the cleaner in my building. I sat in the cafe (mask on, of course) with a cup of latte and people-watched.
AREN'T INTROVERTS SUPPOSED TO DO WELL DURING ISOLATION?
Admittedly, those pockets of interaction weren't quite enough – and this, coming from a self-professed introvert.
But as it turned out, introverts need to socialise, too.
"While introverts tend to be quite happy doing things on their own and enjoy 'me' time, it is not true that they do not need to socialise," said Dr Lim Boon Leng, a psychiatrist with Gleneagles Hospital. "The total lack of human contact can be debilitating, even for introverts."
Furthermore, Dr Lim said that introverts may not have a big group of friends and "may not be inclined to start conversations or invite others to chat on social media". "This puts them in an even more vulnerable position," he said. Yikes.
As for introverts coming out of the CB in better shape than extroverts, John Lim, the chief wellbeing officer at Singapore Counselling Centre (SCC), said that's not necessarily true.
Reiterating Dr Lim's point that introverts need socialising, too, Lim said that working from home would deprive them of the opportunity and "the deprivation of human connection can lead to them feeling isolated".
He added: "Conflict or tension at home, which becomes a source of stress, can make it difficult for individuals to weather the CB."
Another stressor could come from having to adapt to work-from-home arrangements and/or home-based learning for their children. "These demands can make them feel stretched, with little time and space where they can spend time alone to recharge," said SCC's Lim.
CAN YOU LOSE YOUR SOCIAL SKILLS?
I was also curious: Could the CB have made me less of an introvert? Here I was, craving interaction when I would usually shun company.
"It is important to note that introversion and extroversion exist on a scale," said SCC's Lim. "There are individuals who are also ambiverts, where they have a balance of introvert and extrovert features in their personalities."
The other thing I was concerned about were my social skills. As someone who often finds her foot in her mouth in social situations and group chats, would my conversation-stopping ability degenerate further into that of an earthworm post-Phase 2?
The impact is likely to be negligible, said Dr Lim. Unless you have extreme shyness or social phobia, which may cause you to be "worried about having to interact with others again and about how others may judge them", the limited socialisation is "unlikely to cause much problems for most people". 
Good to know I'll stay as socially awkward as ever.
However, SCC's Lim highlighted that for children, the lack of interaction with their peers – especially those who are put on home-based learning – may affect their social skill development and "adversely affect" them.
"It is pertinent for parents to actively engage in conversation with their children over meals or before bed to help them regulate their emotions and ensure they are coping well," said Lim.
HAVE YOU BECOME MORE RELUCTANT TO SOCIALISE?
For some, the isolation may be "more comfortable for them and they may be reluctant to get out of the comfort zone to have to deal with the hassle of socialising again", said Dr Lim.
You could also find yourself turning down more invitations to meet up because there's no peer pressure to say "yes" to every brunch or post-work gathering, said Dr Lim.
"Many people may have thought that socialising was necessary and important, especially when there is peer pressure to do so in the community.
"But the CB may have proven that this is not necessarily true and that they feel more at ease with less socialising or when they are more selective with the people they hang out with. As such, they may not want to re-engage in some of these social gatherings."
On the other hand, there are those who are using the safe approach as their reason for staying home, highlighted SCC's Lim. "As there are still cases being reported daily and recommendations for individuals to continue staying home where possible, it is highly likely that we may still turn down invitations for gatherings to minimise the risk of exposure to the virus."
Dr Lim added that because "social distancing is now seen as the norm or the right thing to do", more people may use it as an excuse to turn down social events. "They will not feel as judged by others for doing so like in the past before the pandemic."
WHEN DOES STAYING HOME BECOME TOO MUCH?
There are a few ways to determine if you are having too much alone time, said Lim. "You no longer feel connected to others and feel that your conversations lack depth. You yearn for someone to talk to, yet feel distant from the current circle of friends you have."
Another sign could be excessive indulgence, continued Lim. This could translate into too much time spent on the screen, constant binging or sleeping.
"Loneliness is a feeling that leads to indulging excessively in other activities as a form of distraction from." I counted the number of plants I'd accumulated since the CB started – and I'm close to turning my apartment into a jungle.
But how much me-time is too much? "This can vary significantly between individuals and as such, cannot be defined," said Dr Lim. Likewise, there's no minimal number of invitations you're allowed to decline before you're deemed a recluse, he told me.
"If a person is spending so much me-time that it is causing social-occupational dysfunctions, we will be worried that there may be underlying psychological issues like depression or anxiety disorder," said Dr Lim.
"And the me-time is simply the individual not being able to attend to his real-world responsibilities due to his condition.
"As long as the individual tends to his responsibilities and is functioning well, he is really entitled to all the me-time he feels he needs," he added. 
Well, I did submit this article.
EASING BACK TO YOUR SOCIAL LIFE
Filling up your social calendar after a period of non-activity can cause anxiety for some. What if no one wants to meet me? What if I run out of things to say? What if I've become boring during this period of little human contact?
There's no need to rush into it, said SCC's Lim. Here, he offers some tips to start socialising again:
Come up with a timeline that you are comfortable with and slowly ease into it. Be patient and forgiving with yourself as everyone has been socially isolating and everyone has different ways of coping during this period.
Rushing into meeting a big group of people might be intimidating for some as they have been alone for such an extended period of time. You can start by interacting with one or two close friends who understand your need for personal space. From there, build your comfort for interacting with others.
In times of uncertainty, it is understandable that there will be fear of socialising with others. It is important to be gentle with yourself, and interact only when you are comfortable. There is no need to rush into it.