What happens when a child is disciplined using force? How can parents and caregivers better manage difficult behaviour in a kid?
Parents and caregivers sometimes use force to get children, especially very young ones, to comply. Here are some tips from the experts on dealing with children who are acting out.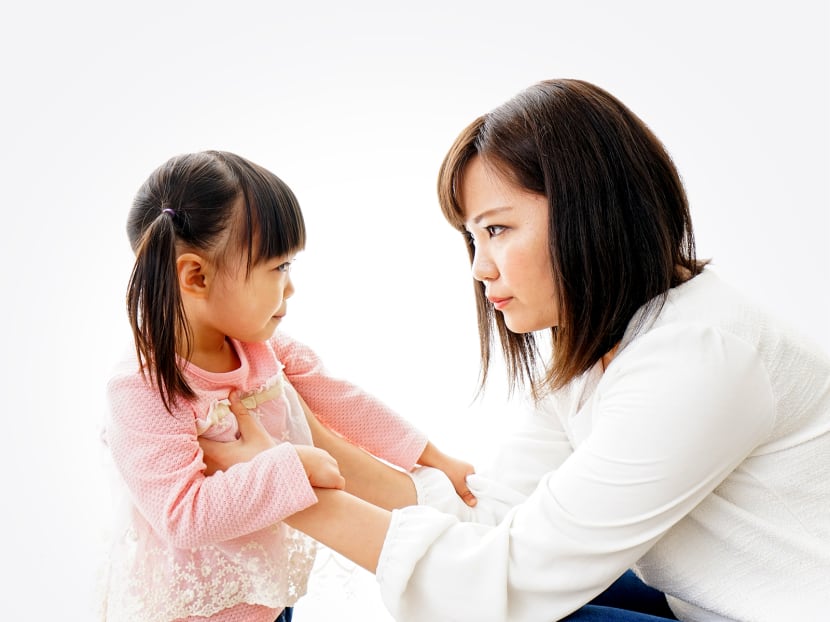 It could be the sight and sound of your toddler throwing a tantrum over the ice cream you refuse to buy for him. Or it could be the little one taking her time to put on her shoes when the school bus is just minutes from arriving.
So, you do what it takes to get your child moving: You yank his arm to get him out of the store, or hurriedly pull her off the chair and set her on her feet.

But does that flash of temper and heat-of-the-moment action have a longer-term impact on your child? What is the right way to discipline them when they are not willing to listen or are being difficult? 
"Manhandling is defined as holding or touching someone with force, often in a rough manner to get the person to go somewhere or do something", said Terri Chen, the head and a senior principal psychologist with National University Hospital's (NUH) Department of Psychological Medicine, Psychology Team.
"It usually happens when adults have expectations that children are not able to meet during time-sensitive situations that require immediate compliance or obedience. The adult might also be feeling overwhelmed with frustration, anger or anxiety."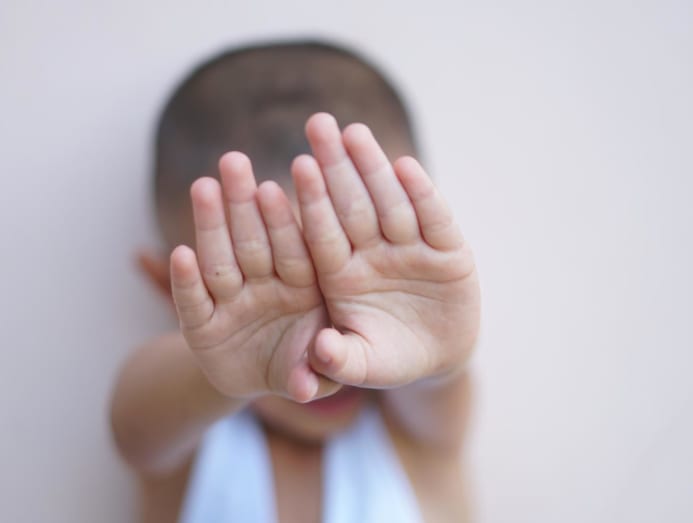 Younger children are more likely to experience manhandling than the older ones, said Chen. This is likely due to their difficulty in understanding and complying with instructions as well as their inability to express themselves clearly.
As a result, the rough treatment an adult metes out to get things done his or her way, may escalate into physical discipline if that goal is unattained, she said.
WHEN PARENTS MANHANDLE THEIR KIDS
Children's difficult behaviours can trigger parents to take physical actions in response. Sometimes, it could be the parents' perception that the manhandling is a much-needed form of discipline.
Citing a study by the Singapore Children's Society and Yale-NUS College, Chen said that almost 45 per cent of parents were found to use one form of corporal punishment as a mode of discipline. Given that there are parents who don't regard physical punishment as abusive, it is likely that there are parents who "might not think manhandling a child would be inappropriate".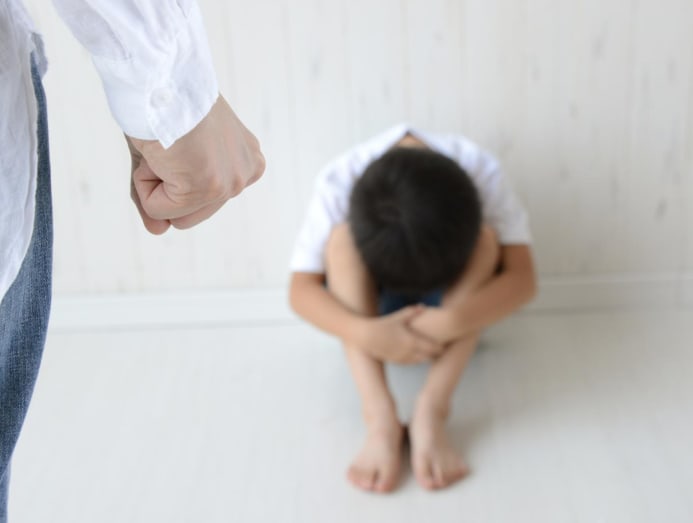 Another reason parents may resort to manhandling their children is mistaking their little ones' behaviours as acts of rebellion, said Dr Chin Zhen Hui, the principal psychologist with NUH's Department of Psychological Medicine, Psychology Team.
"Children's misbehaviours may heighten parents' insecurities and vulnerabilities, such as 'I'm a bad parent' or 'I'm not good enough'. When one is highly charged with negative emotions, it is difficult to handle the situation appropriately," she said.
However, when parents treat their offspring roughly, society seems to cut them more slack than caregivers.
"There may be a perception that society applies double standards as we may expect child service providers to go above and beyond the minimum standard," said Dr Annabelle Chow, a clinical psychologist with Annabelle Kids. "In my opinion, society should hold parents and service providers to a minimum standard of care.
"Parents expect their children to be physically and emotionally safe while in a preschool but might not regard caning at home in response to unwanted behaviours to be physically hurting," she said. "In all situations, it is not acceptable for a parent or caregiver to physically or emotionally abuse or neglect a child."
Furthermore, whether the rough handling of a child is carried out by a parent or preschool teacher, the legal repercussion is the same for the perpetrator, said Dr Chin. The difference, she said, are the societal beliefs. Parents who manhandle their children are assumed to mean well and are acting out of love for their kids.
SENDING THE WRONG MESSAGE: YOU HAVE TO BE ROUGH
As for the child, "the most immediate effects would be shock and anxiety to be treated as such", Chen said. "The message sent to the child is that there is no safe space and he or she will need to be rough to get his or her way."
And the intensity of these emotions deepens with repeated episodes, she added, which further cements the child's perception of an unsafe world.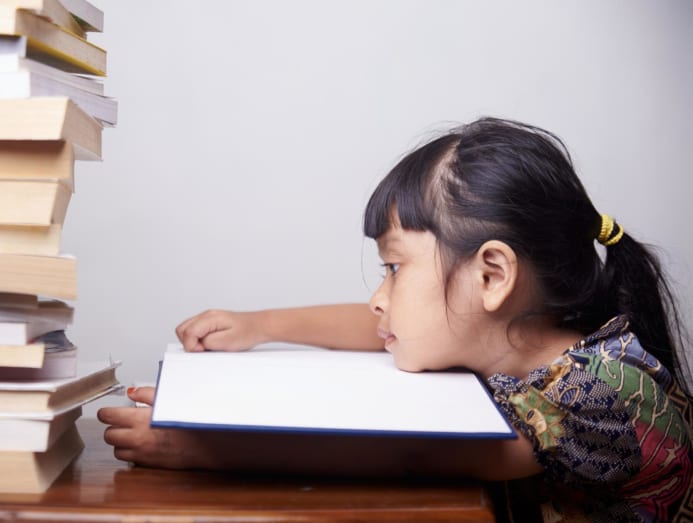 The repercussions of the prolonged physical abuse suffered by children can go further, according to the Ministry of Social and Family Development's website. In school, they may develop slower than their classmates and have low attention span and poor results. The ability to create friendships and close relationships with family members and romantic partners later in life is another challenge for them.  
If a child is frequently manhandled, it is even "likely that we would see a similar outcome to corporal punishment as the child would experience a lot of stress, anxiety and helplessness", said Chen.
These strong emotions can even alter a child's brain structure and stress regulatory system. "It will affect the child's fear response, ability to regulate emotions and potentially, his or her health. These individuals are likely to engage in unhealthy behaviours later in life, such as the use of illicit substances or self-harm, in order to regulate their emotions." 
HOW ADULTS CAN RETAIN THEIR COOL
Dr Chin's advice is to be mindful of your emotional state when dealing with your child's difficult behaviours and to take steps to calm down when needed. "Remind yourself that your child's behaviour could be due to many other reasons, such as a lack of communication skills or understanding, a sign of wanting to explore or an indication of needing comfort or protection."
Framing your child's meltdown at the toy store this way, for example, "can help parents to reduce the intensity of their frustration and focus more on understanding the situation", she said.
Dr Chow has a catchphrase to help parents self-regulate: Practise the pause. "When we practise the pause, we put a space between our intense feelings, such as anger, and reactions. This helps us reduce the likelihood of manhandling our children as a result of our emotions."
When you're ready to handle the situation, assess the possible reasons for the child's earlier outburst, for instance, and address the situation, said Dr Chin. "Ensure your child's attention is on you before talking to him," she said, which may involve bending or sitting to be at your child's eye level.
"Whenever possible, pre-empt the situation by telling your child what the expected behaviours are," said Dr Chin. "Give your child sufficient heads-up before he finishes a task, especially one he enjoys doing, to reduce the chance of emotional dysregulation."
HELP YOUR CHILD LEARN TO HANDLE HIS EMOTIONS
How you handle your own emotions also forms the modelling basis for your child. "How parents demonstrate problem-solving to their children in difficult situations and regulate feelings of anger, frustration or sadness are more effective than merely verbalising or repeating them," said Dr Chow.
One way to teach children how to identify and manage emotions, said Dr Chow, is to use the traffic light system: Red means stop (very intense feelings), amber means wait (edgy, irritable, mounting feelings) and green means go (happy, content).
"For example, in situations where we are in the red zone (very angry), we can tell our children that 'Mummy is in the red zone now. I will take a shower now and we can speak later'."
But beforehand, boundaries and consequences need to be discussed and drawn, said Dr Chow. "Children test boundaries and observe the consequences of their actions. Consequences need to be explained and consistently enforced. This helps children to realise that certain boundaries are non-negotiable, including behaviours that hurt others or damage property."
Don't forget to use praise when your child gets it right – and make it clear what it is you're praising. For example, say "thank you for clearing your plate after your meal" as your child is bringing the plate to the sink.
"Praise during and not after the act," said Dr Chow. "Additionally, look at your child's efforts when he or she fails to accomplish something. This reinforces the idea of trying and putting in the effort, and that the outcome is not always the important factor. These scenarios can also help to reinforce the importance of asking for help if children need it."
OVERCOMING THE DISTRESS OF BEING MANHANDLED
How a child processes the strong feelings from being manhandled depends on his resilience. "A stable and supportive social environment" consisting of secure relationships between the child and his parents, grandparents and teachers can promote his resilience, said Dr Chin. "The child needs to feel safe and supported to explore the world and know that he can easily turn to his social support for protection and comfort when needed."
As for the extent of damage caused by manhandling, it depends on the duration of the rough treatment, said Dr Chow. "The damage caused can vary in severity but is not necessarily irreversible."
Dr Chin advised to process the incident with your child to explore how he feels and "to let the child understand that it is not him who is at fault". This is also an opportunity to teach him how to protect himself from such situations in the future, she said.
"Build the child's self-esteem, which includes pointing out his strengths, to strengthen the belief that he is good enough."
If you're not sure how to go about it, seek help from a child psychologist or therapist, said Dr Chow. "It may take time to support children in learning about healthy relationships, trust or attachment but through consistent positive interactions and appropriate discipline, it can be possible."
Should parents and caregivers themselves feel the need to learn effective and non-physical ways of enforcing rules and boundaries with children, there are free online resources, training classes and parent support groups that they can join, said Dr Chow.