How a visit to your heartland optical shop can help you detect eye diseases early
More than just a place to buy spectacles and contact lenses, these shops – including those in shopping malls – are an untapped resource to spot early signs of eye diseases such as glaucoma and cataracts.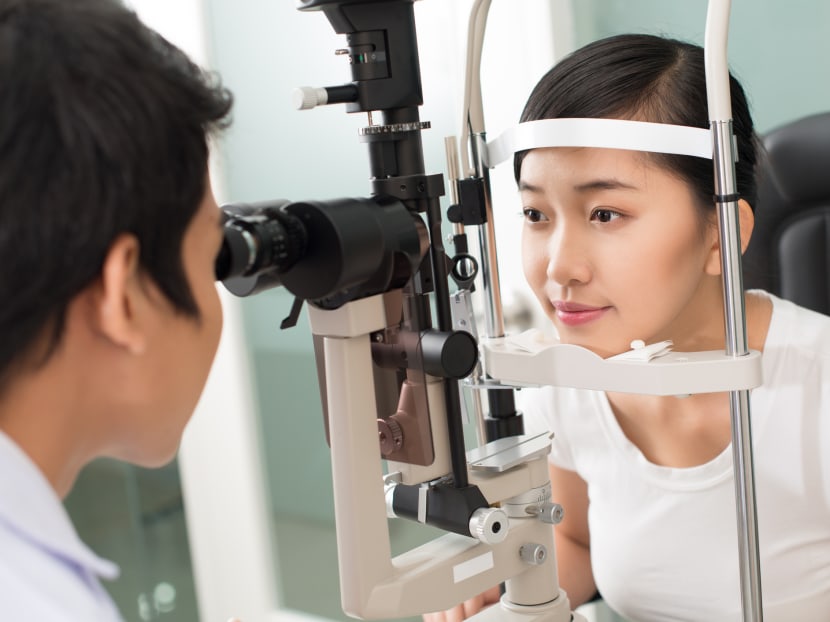 You probably only nip into the optical shop to stock up on your supply of disposable contact lenses. And the only time you get your eyes checked? When you can't read the subtitles on your favourite Netflix show or the fine print on the menu with your current spectacles.
But worsening myopia and presbyopia aren't the only issues that the optical shop can address. Whether it's a part of an optical retail chain in the shopping mall or a humble neighbourhood shop, there would be an optometrist who can perform eye examinations to catch eye diseases in their initial stages.
"An optometrist may be able to detect early signs of eye infections and common eye diseases such as cataracts, glaucoma, diabetic retinopathy, age-related macular degeneration," said Associate Professor Marcus Ang, a senior consultant with Singapore National Eye Centre's (SNEC) Corneal and External Eye Disease Department.
This is important as "many eye conditions such as glaucoma or myopia-related degeneration may be insidious with subtle or few symptoms before permanent visual impairment", said Assoc Prof Ang, who is also the clinical director of SNEC's Myopia Centre.
"The optometrist can then refer such patients to other healthcare practitioners such as the ophthalmologist for further management if any eye abnormalities or diseases are detected."
These checks are especially crucial if you have risk factors such as high myopia or a family history of myopia-related complications, he added.
MORE THAN JUST SPECTACLES AND CONTACT LENSES
Another reason to pop into an optical shop yearly (that is if you're healthy and have no pre-existing health problems or medical history): The eye examination costs from just S$20 (up to S$80 in shops offering more specialised checks), less than what a protein bowl and soy latte in the CBD might set you back.
In most cases, the fee can be reduced – or waived – with purchases of glasses or contact lenses.
So why aren't people making use of these services at optical shops? First, there is the misconception that optical shops only sell spectacles, sunglasses and contact lenses, which then leads customers into expecting nothing beyond eyewear from such shops.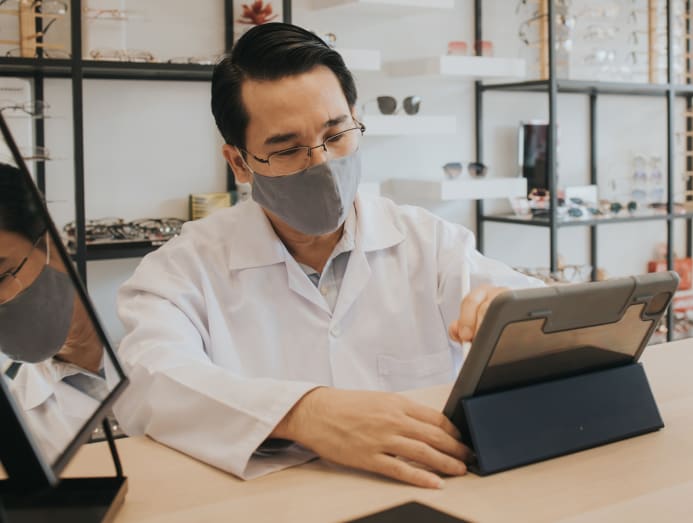 For instance, OWNDAYS's senior manager in business development and marketing, Rain Wong, shared that what the majority of its customers wants are eyewear products, not eye checks. "We believe the common sentiment among consumers is that primary eyecare is provided at medical centres and eye clinics."
The eye examinations that the chain provides at its selected outlets are "additional value-added services", "instead of being the core service", she said.
Indeed, many people associate eye examinations with ophthalmologists – and an expensive medical bill, said optician Shawn Au from EMME Visioncare. "But because of the high cost, many people wouldn't want to make their way to an eye doctor.
"So, we're the first gate for them to come through and detect signs of eye conditions, if any. Sadly, eyecare is not prioritised; it is not even as prioritised as dental care or any other medical care," he added.
Secondly, there is confusion as to what an optician, optometrist or ophthalmologist does. (You can find out if your optician or optometrist is registered here.)
"Most of the public sees us as just spectacle makers," said optometrist Alex Ong from Ong's Optics. "The main issue boils down to poor public education and awareness of what optometrists are capable of, which includes providing eye examinations.
"Many, whom I have encountered, say that they don't need eye examinations from optometrists as we are not medical doctors. But this thinking can reduce the chances of picking up any eye disorders and delay the treatment that can be provided," said Ong.
WORKING WITH DOCTORS
Indeed, your neighbourhood optical shop can help to screen out a range of eye-related problems, from serious glaucoma and cataract symptoms to lifestyle-induced problems such as eye infections from contact lens misuse, eye strain and dry eyes brought on by long WFH hours.
"Just this weekend, we had a customer whose doctor couldn't clear his health screening without him getting new glasses," recalled Jack Lok, an optometrist from Chew's Optics.
"He couldn't even read the big numbers when we tested him and when we took a photo of the back of his eye to check, we realised that he had something quite serious, a vein occlusion (an eye stroke). We advised him to see a doctor immediately," said Lok.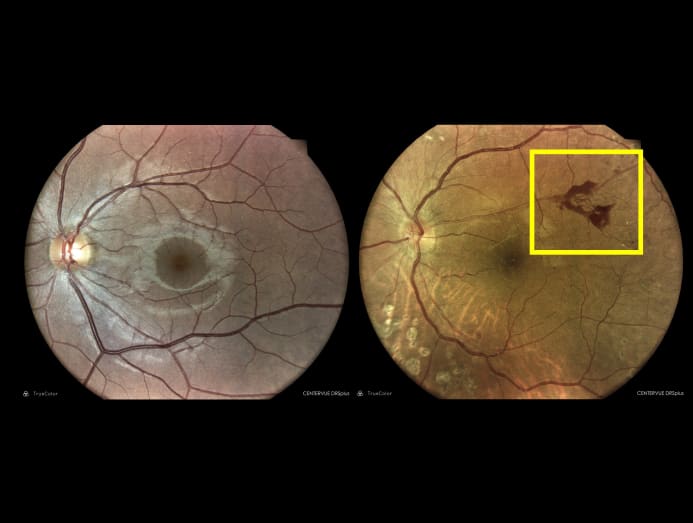 He added: "Usually, we'll advise our customers to go to the polyclinic for a hospital referral. If they want, they can also go straight to a private hospital or specialist clinic. It depends on their financial situation."
There are other scenarios where you may be referred to an ophthalmologist, too. According to Ong, optometrists aren't allowed to use medication, even eye drops to dilate the pupil for a better look at the back of the eye. "If there is a condition that I suspect requires examination but I am unable to get a good result, I will refer the customer to a doctor."
Essentially, said Au, any assessment that requires medication would require an ophthalmologist's attention, even antibiotic eye drops for contact lens complications.
SO WHAT CAN OPTICAL SHOPS DO?
Many people regard the eye check (known professionally as the refraction test) as only for assessing the "power" or "degree" of their lens prescription. And they'd be right as it is indeed "just for checking the refractive error and not a full eye examination", said Ong.
This is why most optical shops would offer it along with the slit lamp examination – making these two tests the most common and basic that most optical shops would have, said Au. Contact lens wearers may further undergo a lens fitting assessment "to determine if contact lens wear is suitable for them", said Wong.
Some optical shops go beyond those checks by offering more specialised services such as assessing children's suitability for orthokeratology (contact lenses for cornea reshaping) to treat myopia; fundus photographs for customers to take to their doctors for further medical assessment; and checking the tear film for symptoms of dry eyes. 
Assessing your myopia (near-sighted), hyperopia (far-sighted) or presbyopia (inability to focus due to ageing) is one of the key checks that every optical shop can and will perform before prescribing you your new lenses.
This is usually done with the refraction test, where you are asked to read letters of varying sizes on a wall chart in one of these two ways: 1) wearing special glasses that allow the optometrist to change the lenses; or 2) using the phoropter, an eye mask-like instrument with flip-able lenses.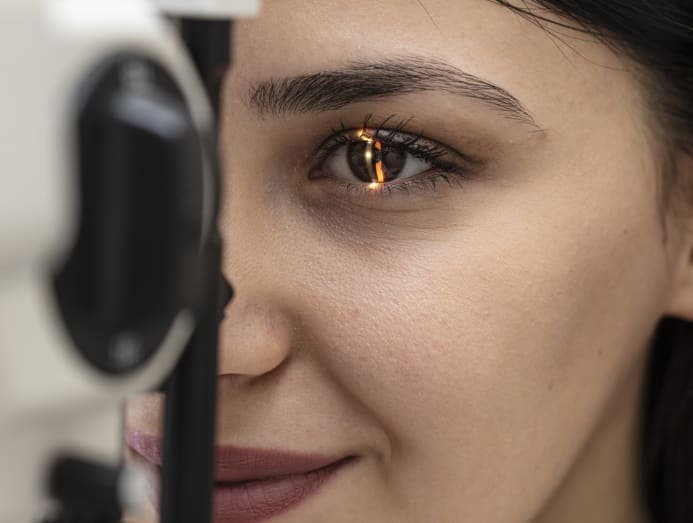 This is the machine where you put your head on a chin rest while the optometrist directs a light toward your eye to check your cornea, said Au.
The slit lamp microscope does more than detect cornea issues such as those created by prolonged contact lens use.
It also lets the optometrist check the health of your eye's lens (for cataracts), the back of the eye or retina (for AMD) as well as the optic nerve (for glaucoma).
Similar to the slit lamp exam, you prop your head on a chin rest in front of a specialised digital camera. The equipment then flashes and snaps a series of images.
The result of which are photographs of your retina taken through each pupil using microscopic flash photography. They typically look like red lines (blood vessels) zigzagging across an orange background (the interior of your eyeball).
"These photographs let us see if there are any changes to the optic nerve and can screen for normal tension glaucoma," said Lok.
"The photos are also helpful if the customer chooses to go to an eye doctor as they are records of changes captured."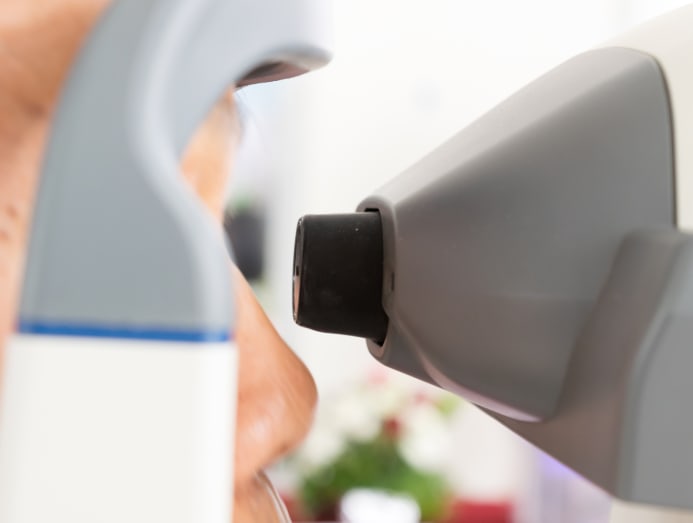 The tonometer measures the intraocular pressure (IOP) or pressure within your eye. This is crucial as a pressure that is too high can damage the optic nerve, leading to glaucoma.
"We will refer the customer to the eye doctor for better glaucoma screening for any pressure above 21 mmHG," said Lok.
There are a few methods to test the eye pressure: Gently pressing a probe against the surface of the eye; using air pressure to slightly flatten the cornea; or blowing a brief puff of air at the cornea.