Worried about 'lao hua' later in life? You can now store eye tissues for the future
Yes, you read that right. The corneal tissues removed to correct your shortsightedness can now be kept just in case you develop presbyopia. But what if you've already done LASIK?
Picture this: You've had laser surgery before where the eye doctor removed slivers of tissue from your corneas to fix your shortsightedness (it's not LASIK but hold your horses). And voila, everything's as clear as day again.
But then, further down the road, as you approach your 40s, you've got another medical issue to worry about: Presbyopia or "lao hua" (the gradual loss of your eyes' ability to focus on nearby objects). 
What if those eye tissues – medically known as corneal lenticules – that were taken out years ago (and thrown away) could actually be stored and used again to fix your future problem? 
What sounds like something from a science-fiction movie is actually possible right now in Singapore, courtesy of a new technology and an actual place where you can "bank" those eye tissues.
The latter is a corneal lenticule banking service called OptiQ. Meanwhile, two doctors from the Singapore National Eye Centre's (SNEC) research arm Singapore Eye Research Institute, Professors Donald Tan and Jodhbir Mehta, have invented a technology to re-implant those bits of cornea back into the eyes to correct "lao hua".
Sounds like good news for this nation of myopics (82 per cent of 20-year-olds in Singapore suffer from myopia), who are pretty big fans of laser eye surgery, considering more than 500,000 LASIK procedures were done at the SNEC over the last 20 years.
But how does this actually work? CNA Lifestyle finds out.
WHAT DOES LASER EYE SURGERY NOW HAVE TO DO WITH 'LAO HUA' LATER?
It has to do with the lens-shaped corneal tissue the doctor removes to re-contour the cornea and correct shortsightedness. (Again, this is not LASIK, which we'll explain in a bit.)
These corneal lenticules can be re-implanted back into the eyes to correct not just presbyopia, but also hyperopia (farsightedness) and certain eye conditions such as keratoconus (the abnormal shaping of the cornea).
What's interesting is that the removed corneal tissue will be used like a corrective lens; for instance, if you have 300 degrees of myopia, the extracted lenticule will provide a corrective power of 300 degrees. It's like recycling bits of yourself.
IT'LL BE YEARS UNTIL I HAVE AN ISSUE WITH PRESBYOPIA, SO WHERE DO MY EYE TISSUES GO?
That's where OptiQ comes in. What they'll do is cryopreserve the corneal tissues at temperatures below -150 degrees Celsius. In other words, they're put in a freezer for future use.
OptiQ was recently opened in March this year by Cordlife. The Ministry of Health-licensed service is from the same company that's been offering stem cell banking services in Singapore since 2001. In fact, OptiQ leverages on Cordlife's biological tissue storage facilities.
WHAT IF I'VE ALREADY HAD LASIK?
You won't be eligible because the creation of a flap on the cornea during LASIK makes it unsuitable to later extract tissue from it, said Prof Mehta. A quick recap: The flap opens up the cornea and allows the laser to reshape the eye's contours. The flap is then closed back and stitched to hold it in place.
In the first place, LASIK doesn't involve any tissue extraction to correct myopia or astigmatism, so it isn't a suitable procedure if you're considering freezing your corneal tissues.
At the moment, the SMILE (short for Small Incision Lenticule Extraction) procedure is suitable and is offered at the SNEC. To correct myopia and astigmatism, it removes a bit of tissue through a small keyhole to reshape the cornea. (See the Instagram post below for illustration.)
To ascertain your eligibility for SMILE, you'll have to undergo a refractive assessment and be screened, said Prof Mehta. "Those who aren't eligible are those below the age of 21, those with unstable myopia or certain eye pathologies, pregnant women and people on certain oral medications," he said.
At the moment, about 30 per cent of SMILE patients who are interested in lenticule banking opted for OptiQ, said Tan Poh Lan, the group CEO of Cordlife.
WHAT'S THE STORAGE COST AND FOR HOW LONG?
There are two payment options to consider: Upfront and an annual plan. The former is available for S$4,500 and covers 20 years of storage. "If both the lenticules are utilised, the remaining cost of storage will be waived," said Tan.
The yearly plan consists of a one-off payment of S$1,800 along with an annual fee of S$180 for the next 19 years of storage. (That's a total of S$5,220, if you do the math.)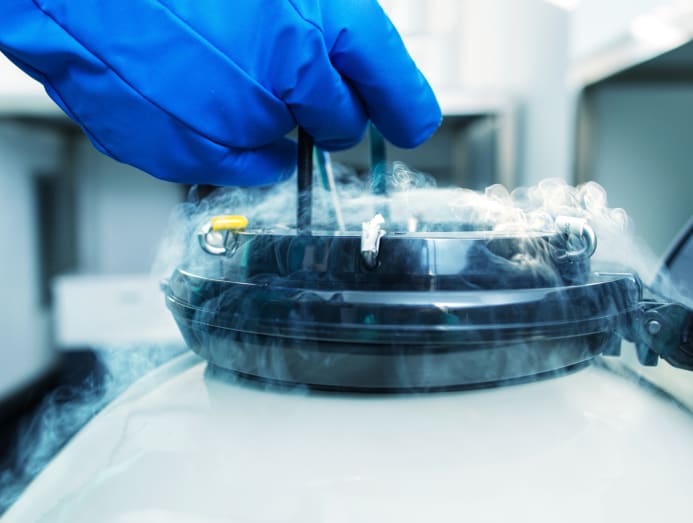 Although the duration is 20 years, you can choose to continue storing the corneal lenticules beyond the period since presbyopia's onset is almost certain to hit around 40 years of age, said Tan. Moreover, there isn't a use-by date for the lenticules.
Similar to laser eye surgeries (be it LASIK or SMILE), the storage cost is not covered by insurance or Medisave.
HOW DO THE EXTRACTED CORNEAL TISSUES CORRECT PRESBYOPIA?
Each corneal tissue or lenticule is cut convex-shaped when it was first removed, so that when it is re-inserted like a patch, it flattens the central cornea. This changed shape, in turn, enhances near vision to correct presbyopia.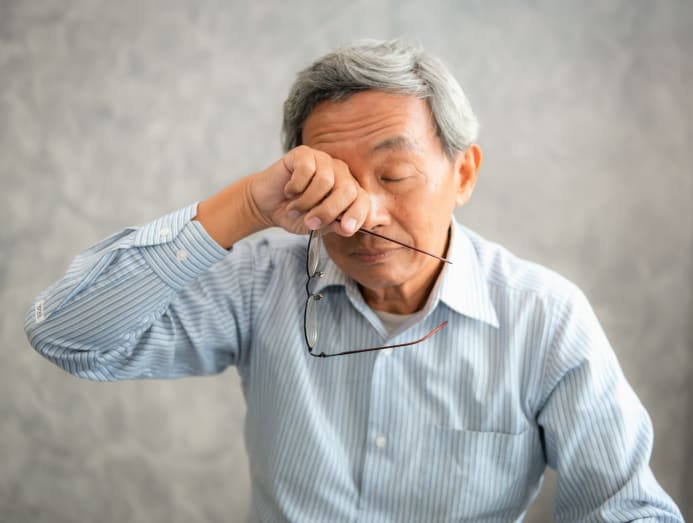 WHAT'S THE SUCCESS RATE OF PUTTING THE CORNEAL TISSUES BACK?
The implantation is still being researched on but once it becomes standard therapy for presbyopia, it will provide those who have stored their corneal lenticules more treatment opportunities.
In the meantime, the SNEC has performed two implantations so far, said Prof Mehta, who cited COVID-19 restrictions as the reason for the low number of cases, although "we have people on the waiting list".
"The success rate, based on our experience and that from medical literature, has been high, over 95 per cent," he said, adding that the use of keyhole surgery, sterile techniques and topical antibiotics help to keep infection rates low.
These biological corneal inserts have another advantage: A lower risk of scarring, said Prof Mehta, which can be as high as 10 to 40 per cent when artificial ones are used instead.
The biological ones are also less likely to be rejected by your body and lead to complications such as corneal haze, which causes your cornea to turn cloudy or opaque. 
Currently, only the SNEC is equipped and has the intellectual property rights to perform the implantation.
CAN IT BE REVERSED?
Should the implanted corneal tissue need to be removed, it can be done without causing lasting effects, said Prof Mehta. "The main medical issue is to ensure that the donor has been properly screened for possible infectious diseases," he added.